Content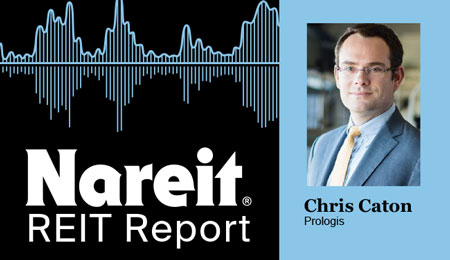 In the latest edition of the Nareit REIT Report podcast, Chris Caton, global head of strategy and analytics at Prologis, Inc. (NYSE: PLD), discussed the impact of COVID-19 on the warehouse and logistics industry.
The current uncertainty is likely to be a headwind for the economy and all forms of real estate, logistics real estate included, Caton said.
In the short term, supply chains will see a delay in the transmission of product, according to Caton. Over the medium and long term, however, he sees three key developments that could result in higher demand once uncertainty subsides:
An increase in inventory levels. Supply chains have been built to be lean and efficient, he explained, which doesn't work in a crisis. "Inventory-to-sales ratios really had a 30- to 40-year downward trend...that troughed in the last cycle and has begun to creep higher. We have every expectation that supply chains and our customers will carry higher inventory levels going forward," he said.
Accelerated adoption of ecommerce; and
Diversification of manufacturing locations.
Caton pointed out that logistics real estate has benefited from historic low vacancy rates and strong demand and disciplined supply. Potential customers who have had a difficult time securing space up until now may see that situation change, he said.
Investors, meanwhile, are likely to recognize "the relative beneficial attributes of logistics real estate in terms of the long-term demand drivers against other categories that have more uncertainty," Caton said.
"We think investors are going to have the potential to look through current volatility and reassess the logistics real estate space. It's something that's been happening over the last decade, and I think it will continue to happen given some of the structural changes that are likely to come out of all of this volatility," Caton said.
Meanwhile, Caton noted that potential volatility on the demand side also has the potential to curtail development activity, given that many projects can take less than a year to complete. "The responsiveness of supply to uncertainty in demand is higher in logistics real estate than in other categories, so we're watchful for how the development market responds. That in turn may mean that vacancy rates may remain a bit lower than would be expected," he said.