Content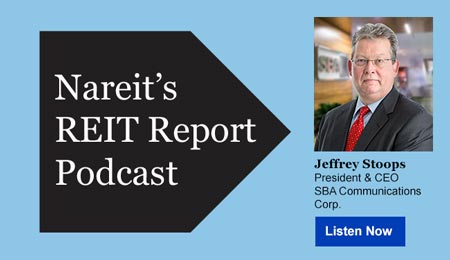 Jeffrey Stoops, president and CEO of SBA Communications Corp. (NASDAQ: SBAC), was a guest on the latest edition of Nareit's REIT Report podcast.
SBA Communications is a wireless infrastructure REIT active in North, Central, and South American markets. The company has been in operation for nearly 30 years. Today it owns and operates close to 30,000 towers across the Western Hemisphere—from the upper reaches of Canada to the tips of Argentina and Chile.
Stoops described the domestic leasing environment as "probably as good as it's been in the last four or five years." All four major wireless carriers are busy pursuing projects and enhancements that ultimately will advance their transition to 5G technology, he said. SBA benefits in terms of new leases and tenancies on towers where carriers may not have been before.
As for international markets, Stoops said SBA is seeing the same kind of developments and growth as at home, although for the most part companies are several years behind where carriers are in the United States. "It really is playing out to the same script that we've seen in the U.S., which allows us to understand how we want to position our assets and operations," he commented.
In the transition to 5G, exclusive assets that are well-positioned will continue to be essential, according to Stoops. He noted that 5G will result in greater densification of customer cell sites. SBA expects to play a "critical and front row role" in the transition to the new technology platform, he said, just as it has done in previous technology transitions.
Meanwhile, SBA is watching the proposed Sprint/T-Mobile merger "very closely," Stoops noted. While the prospect of four customers becoming three could be perceived as a negative, he stressed the positive aspects of the transaction. If approved, the combined company would be able to invest more in its network than either company could have achieved alone, he said.