Content

Message from the President

With Labor Day fast approaching, summer is quickly drawing to a close. The end of summer is always a good reminder of the work still to be done in the year. Congress returns from its own summer recess on Sept. 9 with a full legislative slate that will be highlighted by debates over the debt ceiling, the federal budget and tax reform. Of course, we've been closely monitoring these discussions and regularly meet with key lawmakers and staffers regarding these issues.

In addition to the aforementioned issues, NAREIT will also be actively engaged with policymakers and regulators on other issues, including FIRPTA reform, modifications to be made to financial reporting standards by the Financial Accounting Standards Board and International Accounting Standards Board, GSE reform and the renewal of TRIA, terrorism insurance.

In addition to a busy fall for political outreach activities, NAREIT's Investor Outreach and Communications teams will continue to effectively disseminate the REIT investment story to investors far and wide. Notably, we will be ramping up to an early 2014 launch of an enhanced NAREIT web presence that will better help us tell our industry's story online.

Of course, preparations are already underway for our three fall meetings: SFO Workshop in New York on Sept. 16-17; HR Forum in Washington, D.C. on Sept. 30-Oct. 1; and REITWorld in San Francisco on Nov. 13-15.

Everyone at NAREIT looks forward to working with you during the rest of 2013 to further the REIT approach to real estate investment.







Steven A. Wechsler
President and CEO
 
Summer REITing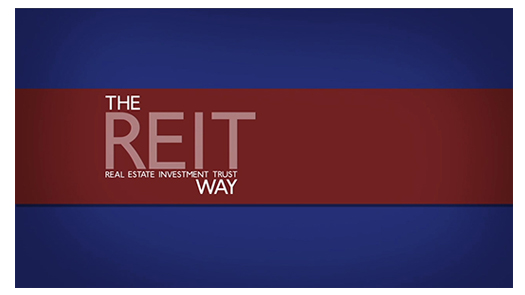 While crime stories, romance novels and other paperback fare might be considered more typical summer reading, a large number of individuals spent at least a portion of their July reading about REITs.

July saw a record number of visitors to REIT.com, which topped the 75,000 visitor mark for the first time. The increased traffic was due in part to the continued roll-out of REITWeek interviews, enhancement of "REIT 101" content, and the launch of the interactive map, REITs Across America.

Another sign of the ongoing interest in REIT investing, NAREIT's "The REIT Way" video, which offers a primer on REITs, was posted to YouTube in January, has now reached 41,000 views. That includes more than 10,300 views in July alone.

NAREIT continues to review and refine its communications efforts in order to meet the information needs of various constituents. As such, you can expect to see new and updated offerings in the coming months.

(Contact: Matt Bechard at mbechard@nareit.com)
IRS Finalizes Built-in Gains Regulations
The IRS published regulations earlier this month that finalized proposed regulations issued in April 2012 that addressed two situations involving the transfer of appreciated property from a non-REIT C corporation to a REIT.

The final regulations largely resemble those that were proposed in 2012. The IRS favorably addressed the comments to the proposed regulations NAREIT submitted in 2012.

NAREIT issued a Tax Report last week with further information on the IRS's decision.

(Contact: Allen Kenney at akenney@nareit.com)
NAREIT Podcast: John Langer, SunTrust Banks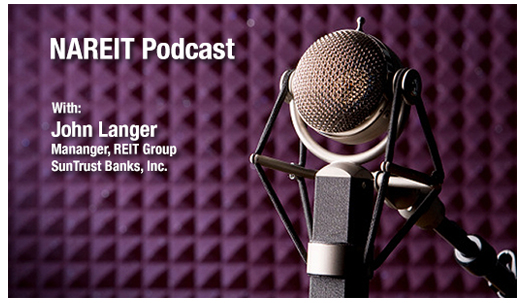 In the latest edition of the NAREIT Podcast , John Langer, manager of the REIT group at SunTrust Banks, discusses some of the latest developments in the REIT capital markets.

CLICK HERE to download the latest edition of the NAREIT Podcast. You can also subscribe to the podcast via iTunes.

(Contact: Allen Kenney at akenney@nareit.com)
NAREIT Welcomes Two New Members
NAREIT is pleased to welcome Physicians Realty Trust and JAVELIN Mortgage Investment Corp. as its newest Corporate Members.



Physicians Realty Trust is a newly formed, internally advised, public equity REIT that acquires, develops, owns and manages health care properties that are leased to physicians, hospitals and health care delivery systems. Its properties are typically on a campus with a hospital or other health care facilities or strategically located and affiliated with a hospital or other health care facilities. Based in Milwaukee, Physicians Realty Trust is listed on the NYSE under the ticker symbol DOC. Tommy Thompson, former Governor of Wisconsin and former Secretary of Health and Human Services under President George W. Bush, is chairman of the company. John Thomas is president and CEO.



JAVELIN Mortgage Investment Corporation is a public mortgage REIT that invests primarily in fixed-rate agency residential and fixed-rate and hybrid adjustable rate non-agency residential mortgage-backed securities. Based in Vero Beach, Fla., JAVELIN is externally-advised by the same entity that externally advises current NAREIT Corporate Member ARMOUR Residential REIT. JAVELIN is listed on the NYSE under the ticker symbol JMI. Scott Ulm and Jeffrey Zimmer are co-CEOs.

(Contact: Bonnie Gottlieb at bgottlieb@nareit.com)
Order Your 2013 Compensation Survey Today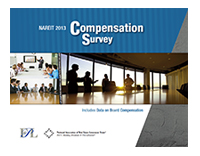 With 110 organizations participating and providing information on a record 124 positions, the NAREIT Compensation Survey remains the most comprehensive survey of its kind in the industry. Click here to order your 2013 NAREIT Compensation Survey today or click here to view a sample.

NAREIT and FPL Associates L.P., which conducted the survey, have captured the latest market trends and developments across the real estate industry and broader legislative/corporate governance areas. As usual, comparisons are made to prior years' studies in order to identify current trends, and address relevant questions and competitive issues and approaches to compensation and benefits within the real estate industry.


The survey report provides the latest insights into the following:
 
Compensation program design/structure and latest trends.


Employment agreement practices in terms of prevalence and key features.


Board of Directors practices, including retainers, meeting fees, equity award grants and stock ownership guidelines.


Compensation data for 124 positions across 28 functions, including a variety of unique real estate roles.
NAREIT Corporate Members who participated in this year's survey receive one complimentary copy. Additional copies may be purchased at a discounted rate of $500 per copy. Non-participating Corporate Members also can receive copies at a reduced rate of $2,000 per copy. Bulk discounts also apply.
(Contact:
Megan Peichel
at mpeichel@nareit.com)
Sign Up for SFO Workshop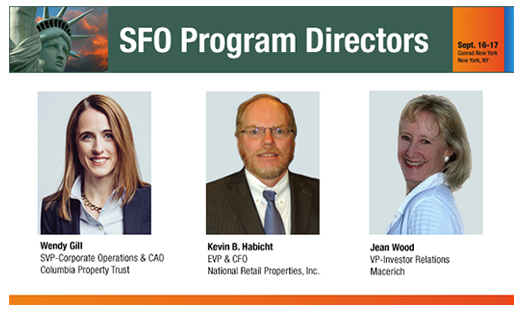 The NAREIT 2013 SFO Workshop, which is being held Sept. 16-17 in New York City, is designed exclusively for NAREIT Corporate Members with a focused educational program tailored to REIT officers who manage accounting, financial reporting, capital markets and investor relations. A schedule of this year's program can be found on REIT.com.

The SFO Workshop program is structured to provide REIT executives with pertinent information that can be taken back to the office and implemented right away. This year's program directors are Wendy Gill of Columbia Property Trust, Kevin Habicht of National Retail Properties (NYSE: NNN) and Jean Wood of Macerich (NYSE: MAC).

Registration is now open. Be sure to act soon to take advantage of early-registration discounts.

(Contact: Afia Nyarko at anyarko@nareit.com)
REITWorld Registration



REITWorld 2013®: NAREIT's Annual Convention for All Things REIT® provides a unique opportunity where REIT and real estate executives, experienced investors, industry leaders, and academic experts come together in one setting to share their specialized knowledge and experience.

A series of general sessions provides attendees with valuable information, current trends, deeper understanding of specific sectors and insight into the evolution and growth of REITs over the years.

General Sessions this year will:
 
Examine current economic trends.


Provide valuable updates on capital markets.


Delve into specific sectors, including Hotel REITs and Net Lease REITs.


Watch for details about two special lunch sessions -- one to recognize the nearly 20 REITs that launched their IPOs 20 years ago; and another where Sam Zell will revisit the memorable and visionary speech he made about our industry 20 years ago.
Visit the
REITWorld Event Page
to register and to get all the details regarding the event as they become available.
NewsBrief Will Not Publish Next Week
NewBrief will not publish next week. The next issue of NewsBrief will be published on Monday, September 9.