Content

Message from the President

Last week's storm "Sandy" brought with it death and destruction to a 15-state region that accounts for about one-third of our nation's population and its economic output. More than 100 lives were lost, more than one million people remain in the cold and dark without electrical power, and preliminary estimates of the storm's economic toll amount to $50 billion.

A number of NAREIT corporate and individual members, their employees and their tenants felt the impact of the storm. New York and New Jersey, however, took the brunt of the storm's force. Nearly 50 of NAREIT's approximately 200 corporate members are headquartered in these two states, and a number of other REITs have properties in the region.

REITs and real estate investment are all about communities, and too many communities touched by the world of REIT-based real estate investment are suffering today. Our sympathies, thoughts and best wishes for speedy and successful recovery go out to everyone touched by the storm. In keeping with past practice, the NAREIT Foundation is making a contribution to the American Red Cross to assist those individuals in need.

In the aftermath of the storm, more than 1,000 members of the REIT community from around our nation and the world are planning to be in San Diego next week for REITWorld 2012: NAREIT's Annual Convention for All Things REIT. Our convention program promises to be informative and thought provoking, and we are working now to ensure that panel discussions at REITWorld 2012 also will be helpful to better understand the lingering and longer-term effects of "Sandy."








Steven A. Wechsler
President and CEO

 
NAREIT Names 2013 Leadership Team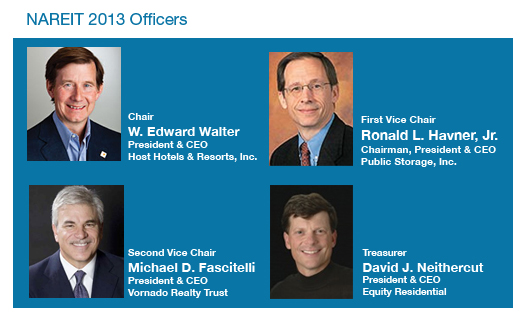 On Oct. 11, 2012, NAREIT corporate members elected NAREIT's 2013 Officers and other members of its Executive Board, effective Nov. 1, 2012. The results of the election were consistent with the final slate of recommendations that the NAREIT Governance Committee made on Sept. 28, 2012 and in accordance with NAREIT's Bylaws.

The NAREIT Governance Committee consisted of the following individuals: Donald Wood (Chair), Federal Realty Investment Trust; Jon E. Bortz, Pebblebrook Hotel Trust; David B. Henry, Kimco Realty Corporation; David J. Neithercut, Equity Residential; and, Timothy J. Naughton, AvalonBay Communities, Inc.
Elected as 2013 Officers and Members of the 2013 Executive Board:
Chair:
W. Edward Walter
President and CEO
Host Hotels & Resorts, Inc.

Second Vice Chair:
Michael D. Fascitelli
President and CEO
Vornado Realty Trust
First Vice Chair:
Ronald L. Havner, Jr.
Chairman, President and CEO
Public Storage, Inc.

Treasurer:
David J. Neithercut
President and CEO
Equity Residential
Elected as Members of the 2013 Executive Board:
Jon E. Bortz
Chairman and CEO
Pebblebrook Hotel Trust

Andrew F. Jacobs
President and CEO
Capstead Mortgage Corporation

David B. Henry
President and CEO
Kimco Realty Corporation

Dennis D. Oklak
Chairman and CEO
Duke Realty Corporation

Robert S. Taubman
Chairman, President and CEO
Taubman Centers, Inc.
Richard J. Campo
Chairman and CEO
Camden Property Trust

Edward J. Fritsch
President and CEO
Highwoods Properties, Inc.

Rick R. Holley
President and CEO
Plum Creek Timber Company, Inc.

Steven B. Tanger
President and CEO
Tanger Factory Outlet Centers, Inc.

Thomas W. Toomey
President and CEO
UDR, Inc.
Serving as a Member of the 2013 Executive Board as Past Chair:
Donald C. Wood
President and CEO
Federal Realty Investment Trust
On Nov. 2, 2012, the 2013 NAREIT Executive Board elected the members of the 2013 Board of Governors and the members of the 2013 Audit and Investment Committee, effective Nov. 2, 2012. The results of the election were consistent with the final slate of recommendations made by the NAREIT Governance Committee on Sept. 28, 2012. A full list of NAREIT's 2013 Board of Governors is available on REIT.com.
Elected to serve on the 2013 Audit and Investment Committee:
Timothy J. Naughton (Chair)
President and CEO
AvalonBay Communities, Inc.

David J. Neithercut
(Ex-Officio, NAREIT's Treasurer)
President and CEO
Equity Residential
Daniel B. Hurwitz
President and CEO
DDR Corp.
(Contact:
Laura Hawxhurst
at lhawxhurst@nareit.com)
REIT.com Video: Brad Case, NAREIT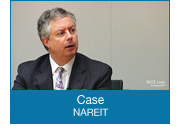 While Superstorm Sandy closed the markets for two days last week, severe weather events historically do not have lingering impact on the stock market, according to Brad Case, NAREIT's senior vice president of research and industry information.

"Even fairly large weather events typically have little impact on the overall market. The U.S. economy is very resilient and very well diversified in terms of what sources of earning companies have and in terms of geographic distribution of their activity," Case explained in a video interview with REIT.com.

In Case's analysis of the October REIT market, he said it was a "soft month" in general for investors. He attributed that to continued uncertainty about the outcome of the election.

"A large part of what happened during the month was an increase in uncertainty about what's going to happen on Election Day, both in respect to the White House and other races," he said.

Case also discussed the market's historical response to a presidential election, stating that new or surprising information is what moves the market.

"What moves markets is new information and surprises," he said. "To the extent that the market moves one way or the other depends on what kind of surprises we have. Market participants have worked really hard to try and find out which party and which candidate at several levels are going to win on Election Day and what that's going to mean for public policy that affects the markets."

(Contact: Brad Case at bcase@nareit.com)
NAREIT Joins Coalition in Commenting on Basel III Regulations


On Oct. 22, NAREIT, together with representatives of other bank borrowers in the commercial real estate sector, submitted a comment letter on the proposed Basel III capital regulations to the Board of Governors of the Federal Reserve, the Office of the Comptroller of Currency and the Federal Deposit Insurance Corporation requesting further study by these regulators of the effect of the proposed capital rules on lending to commercial, multifamily and single-family real estate borrowers.

The Basel III proposal would require banks to hold more capital than ever before and would impose higher risk weights for many asset classes, including residential and commercial mortgage exposures, repos and similar transactions, and securitization exposures. The proposed capital rules, together with the recent rules implementing the Dodd-Frank Act, could significantly curtail real estate lending by the banking sector.

(Contact: Victoria Rostow at vrostow@nareit.com)
Sakwa's ISI Team Takes Top REIT Honors

ISI Group took top honors in Institutional Investor magazine's annual awards honoring the top REIT analysts. This is the third consecutive year that Stephen Sakwa, senior managing director and head of ISI's real estate research team, has been ranked number one.

Sakwa joined ISI in 2009 and manages a team of five researchers. The group follows 34 REITs. Prior to joining ISI he was a managing director at Merrill Lynch.

Institutional Investor noted that one investment fund manager cited Sakwa with being "on top of all the issues, all the time."

Michael Bilerman, Citigroup's managing director and head of real estate, and his team finished second for the third consecutive year.

"Our achievements could not have been achieved without the hard work and dedication of the entire Citi REIT team," said Bilerman, whose team has ratings on 75 stocks. "We are independent, not afraid to ask the tough questions and get our hands dirty."

Citigoup was followed by Barclays, led by Ross Smotrich, which tracks 45 stocks. Runners-up in the awards' REIT category for best research team included Jeffrey Spector and his team from Bank of America Merrill Lynch and J.P. Morgan's Michael Mueller, Anthony Paolone and team.

Institutional Investor's "All-America Research Team" list is part of the magazine's 41st annual ranking of the leading analysts in the financial sector. Members of the All-America Research Team were selected by sending questionnaires covering eight categories and 65 investment sectors to the directors of research and the chief investment officers of major money management firms.

(Contact: Michael Grupe at mgrupe@nareit.com)
REIT.com Video: George Yungmann, NAREIT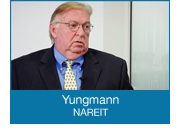 The Financial Accounting Standards Board (FASB) and International Accounting Standards Board (IASB) are currently making progress in their efforts to converge their rules for the accounting of leases, according to George Yungmann, NAREIT's senior vice president for financial standards. Yungmann covered some of the latest developments in accounting and financial reporting in two video interviews with REIT.com.

FASB and IASB are revising their proposed standards regarding lessors and lessees, Yungmann said.

"This has been in response to constituents' views that there's more than one type of lease and that each of those types of leases should be reported differently to provide useful information to financial statement usersinvestors, analysts, credit rating agencies and so on," Yungmann said.

The boards have concluded tentatively that there are two types of leases, Yungmann noted.

"Both types would require that lessees report a liability a liability on their balance sheet for their obligations under a lease, but they would change the income and expense recognition that was proposed a year ago," Yungmann said.

One type of lease covers property, according to Yungmann. This includes leases on buildings and land. The boards' tentative conclusion holds that both lessors and lessees would recognize income and expense similar to the way that currently do so on a straight-line basis. The boards are expected a release a re-exposure draft of the standard in the spring of 2013.

In the second of the video interviews, Yungmann said a review of NAREIT member companies' financial statements from 2011 has found that more than 90 percent report funds from operations (FFO) in accordance with the NAREIT definition. NAREIT's definition of FFO provides a "consistent metric" for members companies, Yungmann said.

Yungmann covered some of the latest developments in accounting and financial reporting in a video interview with REIT.com at NAREIT's headquarters in Washington. Yungmann said approximately 50 percent of the companies also reported a supplemental FFO metric.

"This may cause a bit of confusion when analysts develop their estimates of future earnings or future FFO," Yungmann said. "Some of the analysts project FFO as defined by NAREIT. Some project FFO as reported by this secondary FFO measurement as reported by the companies."

Financial information provider First Call operates by a "majority rules" standard regarding consensus estimates, according to Yungmann. In talking with First Call, Yungmann said it appears as though First Call will provide space in their table that will include room for analysts' projections of FFO as defined by NAREIT and FFO as defined by the company's secondary metric.

(Contact: George Yungmann at gyungmann@nareit.com)
EPRA/NAREIT California Road Show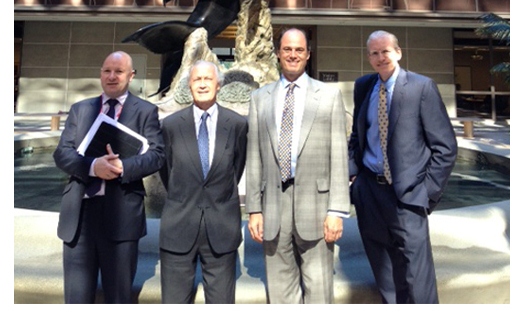 Pictured left to right: EPRA Director of Research Fraser Hughes; EPRA CEO Philip Charls; NAREIT Vice President of Research and Industry Information Calvin Schnure; and NAREIT Senior Vice President of Investment Affairs and Investor Education Kurt Walten.


Last month, NAREIT and EPRA joined forces for the third-consecutive year in a series of joint investor outreach meetings with major investment organizations in California. NAREIT and EPRA representatives met with decision-makers at 11 major pension funds, investment management firms and pension fund investment consultants.

Based on the interests expressed by investors in recent meetings, most of the meetings in California led off with representatives of EPRA and NAREIT discussing the current macroeconomic outlook and its implications for commercial real estate and listed REITs and real estate securities. A key part of the message was tied to the benefits of global real estate investment. Together with EPRA, NAREIT made the case that a global investment strategy can be implemented efficiently and effectively through listed REITs and real estate securities.

(Contact: Kurt Walten at kwalten@nareit.com)
REIT.com Video: Henry Chamberlain, BOMA International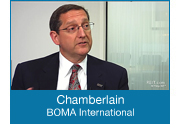 Office building owners will likely face ongoing concerns over vacancy rates in 2013, according to Henry Chamberlain, president of BOMA International.

While more markets are showing signs of recovery, Chamberlain said vacancy rates and asset values will be issues to keep an eye on in the coming year. In terms of whether or not cost-cutting strategies during the downturn will be phased out as the economy recovers, such as consolidation of office space, Chamberlain said the sector is seeing a tale of two markets.

"Corporate space users are really looking at downsizing in some ways to drive away cost. But when you look at the multi-tenant marketplace, the 10,000-square-foot tenants, they are really hanging on to that space," he said.

Chamberlain added that the multi-tenant space users may redesign their offices or do something different to leverage technology and how the teams work together. However, they are still holding onto their office spaces.

"The trend in corporate is definitely reducing office space in big ways. But with the multi-tenant [customers], I think you're going to see a little bit of stability," he said.

With new development practically at a standstill and not much more expected in 2013, Chamberlain said building owners are taking a closer look at their existing building stock. Many are hoping to refurbish the properties that they already own, rather than building new ones.

"There are some really good plans for existing building stock, particularly in the central business districts," said Chamberlain, adding that this is happening not only in gateway cities, but in markets such as Little Rock, Ark., Des Moines, Iowa, and Denver. "There's just a lot of good economic activity in those buildings, and they're repurposing the old ones and then filling in their niches with that."

(Contact: Matt Bechard at mbechard@nareit.com)
Investor Outreach Team Closes Active October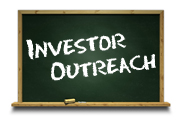 NAREIT's Investor Outreach team spent October visiting with a diverse range of 28 organizations in the institutional investment market controlling more than a combined $7.2 trillion in assets. The 28 meetings were held with organizations across all targeted investment cohorts, including: five with prominent domestic and international pension, retirement and sovereign wealth fund plan sponsors representing more than $280 billion in assets; one with an investment consultant with assets under advisement of $730 billion, and 17 with investment managers sponsoring global and domestic products for the institutional and retail investor markets and representing over $6 trillion in assets under management.

In response to growing investor interest, many of our meetings continue to lead off with a discussion of the current macroeconomic outlook and its implications for commercial real estate and REITs. The macroeconomic news has been disappointing; especially the continued weak job growth and concomitant lack of significant improvement in the unemployment rate. Despite sluggish growth in the overall economy, however, commercial property markets have firmed modestly in 2012, with occupancy rates edging higher. This favorable relative performance is due to new construction levels that are well below their long-term trend, as well as significant pent-up demand, especially in the multifamily sector. Over the medium and longer term, the supply picture suggests REITs are well positioned for strong performance as the fundamentals for commercial real estate continue to improve.

Through the end of October, NAREIT has conducted 357 meetings with many of the largest and most influential investment organizations within the institutional investment marketplace. Collectively, these entities represent over $40.5 trillion in assets under management or advisement.

(Contact: Meredith Despins at mdespins@nareit.com)
REITs in the Community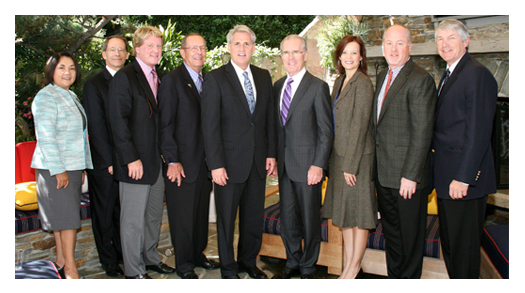 Oct. 4, 2012: U.S. House of Representatives Majority Whip Kevin McCarthy (R-CA), center, met with executives from several California-based REITs to discuss the industry's activities in his district and in California. In addition to thanking Rep. McCarthy for his support on several policy issues, these executives expressed their support for passage this year of the Marketplace Fairness Act. Pictured with Rep. McCarthy, left to right, are: Pilar Hoyas, vice president, public affairs, Watson Land Company; Ron Havner, president, CEO and chairman, Public Storage and NAREIT second vice chair; Wayne Hughes, Jr., trustee, Public Storage; Dana Anderson, vice chairman, Macerich; Bruce Choate, president and CEO, Watson Land Company; Jennifer Johnson, director, public affairs, Watson Land Company; Tyler Rose, executive vice president and CFO, Kilroy Realty Corporation; and Robert Dibblee, senior vice president, government relations, NAREIT.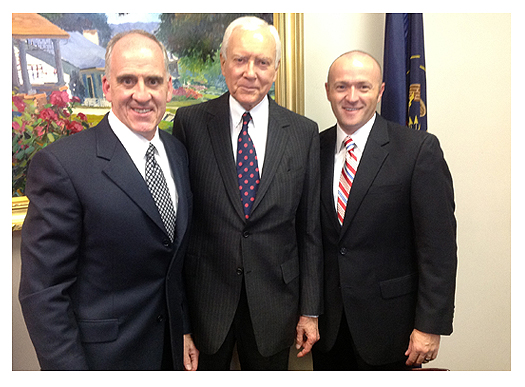 Oct. 23, 2012: Sen. Orrin Hatch (R-UT), center, ranking member on the Senate Finance Committee, met with Extra Space Storage President and CEO Spencer Kirk, left, and Clint Halverson, Extra Space's vice president of investor relations, in Salt Lake City. Kirk and Halverson updated Hatch on the company's assets in Utah and throughout the nation. They also discussed the issues that Congress will undertake next year, in which Sen. Hatch will play a critical role.

(Contact: Kate Smith at ksmith@nareit.com)
Attending REITWorld? There's an App for That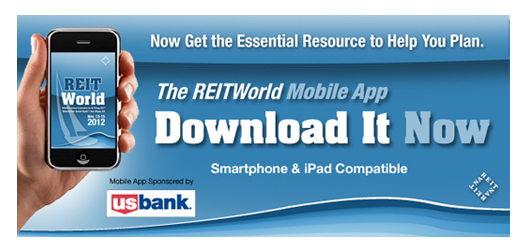 REITWorld 2012: NAREIT's Annual Convention for All Things REIT, is right around the corner, Nov. 13-15 in San Diego. At REITWorld, time is precious. There are meetings to attend, sessions to participate in, and networking to be done. You don't want to waste a minute, so you need to stay organized while also being mobile.

Download the REITWorld Mobile App now and have all the critical information you need to stay organized and mobile right at your fingertips. With the touch of your finger, you can:

• Add sessions and events to your own customized schedule.
• Send all your notes, from all your sessions, in one consolidated email back to your office.
• Locate your position and figure out how to reach your destination via the hotel maps.
• Receive valuable alerts about any event changes.
• Identify speakers and the sessions where they are presenting.
• Find great local restaurants and attractions near the hotel for off-site meetings.
• Visit our sponsor websites to better understand how their services help REITs.

The REITWorld Mobile App can be a significant time-saver that provides you with many valuable tools to help you manage a successful and productive REITWorld experience. All that is needed to get started is to download the App. If you have questions about the app, please visit our FAQ page.

Visit the REITWorld Event page to register and to get all the details regarding the event, including a detailed schedule and list of speakers.

(Contact: Jeff Henriksen at jhenriksen@nareit.com)
REITs Highlighted in Real Estate Finance & Investment Review
Brad Case, NAREIT's senior vice president of research and industry information, wrote an article on "Correlations and Diversification for Long-Term Investors" that was featured as the leading article in the 2012/13 Real Estate Finance & Investment Review, published by Euromoney. The article showed that the correlation between European and U.S. stock markets is substantially higher over the longer investment horizons that are relevant for most institutional investors than over the short investment horizons that are often reported.

In contrast, the long-horizon correlations of European stock markets with either European or U.S. REIT (listed property company) markets is much lower than short-horizon correlations. The implication is that diversification by asset classthat is, exposure to the real estate market through REITs and (in other countries) listed property companiesis more important to institutional investors than cross-border diversification within non-REIT stocks.

(Contact: Brad Case at bcase@nareit.com)
NewsBrief Will Not Publish Nov. 12
NewsBrief will not publish on Monday, Nov. 12 due to the start of REITWorld 2012: NAREIT's Annual Convention. NewsBrief will return the following week with coverage of the event.

NewsBrief was not published on Monday, Oct. 29 due to Hurricane Sandy.

(Contact: Matt Bechard at mbechard@nareit.com)