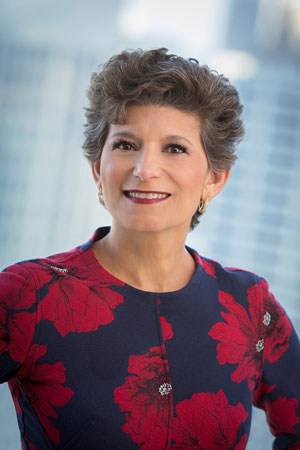 When I joined Ventas (NYSE: VTR) as its fledgling CEO almost 18 years ago, REITs were led by incredible entrepreneurs, executives and founding family members with names like Zell, Roth, Cooper, Simon, Taubman and Crocker.
Then, Ventas was a troubled company with a $200 million market cap, a sole, bankrupt tenant, 100 percent of our assets dependent upon government programs and just 10 employees. Now, Ventas is an S&P 500 company valued at over $30 billion, with a diverse portfolio of high-quality properties located on two continents and about 500 employees. We've delivered 27 percent compound annual return along the way.
Between "then" and "now," I've learned enduring lessons from the mentorship of many of those outstanding REIT leaders. They've counseled me at key junctures, picked me up when disaster struck, appointed me to leadership roles within our industry and applauded Ventas' successes. Because I have seen the power of mentoring very directly, I am committed to mentoring others and "paying it forward."
Within Ventas, mentorship is essential to building and retaining a highly skilled, collaborative team that is innovative and focused on sustaining excellence. It's a two-way street characterized by trust and commitment to the common cause of building a great enterprise and creating lasting value.
Every day at Ventas, we seek excellence by demonstrating two of my favorite things, learning and teaching. These principles are evident in daily conversations with Ventas's leadership team, hearing their views, digging into data and making key decisions together. For our younger employees, mentorship means guiding them to excel at their assignments and asking them to give their all, every day. In exchange, we're committed to teaching them, responding when they need us, including them in strategic discussions and working directly with them, frequently without layers, to help further their careers. There is no greater joy than watching these young men and women gain confidence and grow.
Remembering the early influences of my mentors, I engage with new REIT CEOs, women leaders determined to achieve, and high potential individuals at all levels who seek ideas, support, encouragement and advice.
I am excited to see a terrific cadre of next-generation leaders in the REIT space. Both home-grown REIT talent and corporate executives are drawn to the unique energy and opportunity of our industry. And we must encourage women and minorities to fill REIT senior positions because diversity leads to better decisions and performance. Tailored mentoring can help all types of executives and entrepreneurs achieve their potential.
Mentoring the next generation of REIT leaders is a privilege. REITs have expanded beyond the wildest expectations of those brilliant leaders who put us on the map. REITs have provided tremendous opportunities for me and my peers to expand and drive that success as REITs have gone global, exceeded a trillion dollars in market cap and become a "must own" asset class. Now it's our turn to mentor and challenge our rising leaders who will strengthen, reinvent and elevate the REIT industry to even greater levels of achievement.
Debra A. Cafaro is chairman and CEO of health care REIT Ventas, Inc., an S&P 500 company. She is also a former NAREIT Chair.