Hudson Pacific saw a rare, long-term opportunity to acquire two historic studios and 25 acres in a prime media market where talent wants to both work and live.
02/06/2017 | by

In October, streaming media company Netflix, Inc. signed a 10-year, multi-stage lease for 99,250 square feet of stages and production offices at Hollywood's Sunset Bronson Studios. The deal, the latest in an ongoing partnership with Hudson Pacific Properties, Inc. (NYSE: HPP), came shortly after Netflix preleased Hudson Pacific's entire 323,000-square-foot adjacent ICON office development on Sunset Boulevard completed at the end of 2016.
The deal highlights a renewed interest in Hollywood as a center of production among film and television companies and networks, increasing demand for studio real estate as Netflix continues to produce popular original content such as "House of Cards" and "Orange is the New Black."
"Netflix's arrival signals the location's official resurgence as the epicenter of global media and entertainment production," explains Christopher J. Barton, Hudson Pacific Properties' executive vice president for development and capital investments. "Leading companies and networks want to be there for the history, the talent and, increasingly, proximity to each other."
IRREPLACEABLE ASSETS
Hudson Pacific Properties turned its focus to Hollywood in 2007 when it first acquired Sunset Gower Studios, the original headquarters for iconic Columbia Pictures on Sunset Boulevard. Like Sunset Gower, Sunset Bronson Studios – acquired in 2008 – was built in the 1920s. It is steeped in old Hollywood history as the home of the original Warner Brothers Studios and the first talking film, "The Jazz Singer."
The publicly traded REIT saw a rare, long-term opportunity to acquire two historic studios and 25 acres in a prime media market where talent wants to both work and live.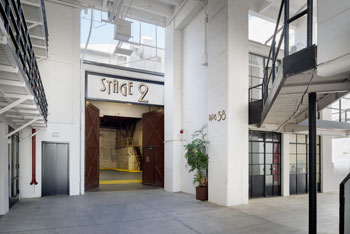 "At the time we acquired them, we also knew we'd be able to capture upside from improved operating efficiencies, which we have since achieved. And there were several unique development opportunities due to existing studio lot land utilization and available zoning density," explains Barton. "So, in every sense of the word, these assets are irreplaceable."
Renovating these studios into full media campuses also required bringing them up to the latest production standards and preserving some of their history. For example, Hudson Pacific restored the site's landmark radio tower, one of two matching towers built in the mid-20s to serve Warner Brothers' affiliate radio station KFWB, and returned it to its original location on the Sunset Bronson lot. Hudson Pacific also restored the Warner Brothers Mansion listed on the National Register of Historic Places.
"We worked extensively with Hollywood Heritage on developing a scope and plan for the Mansion restoration project," says Barton. "These considerations had to be balanced with the ultimate goal—to design a building that would help usher Sunset Bronson into the modern era of media and entertainment production, positioning the studio as a world-class facility where industry leaders want to be."
"As you might imagine, building over 500,000 square feet in phases on two active studio lots has required extensive coordination among our onsite employees, our construction team, our tenants and the community," he says.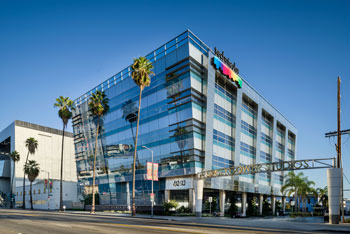 To coordinate these efforts, Hudson Pacific has worked closely with the city of Los Angeles – including the Mayor's office, Councilman Mitch O'Farrell and the city planning department. "We have [also] worked very closely with local community groups to incorporate their feedback and address any concerns in terms of the design of the various projects undertaken at Sunset Gower and Sunset Bronson," says Barton.
This includes managing traffic impact, pedestrian experience, coordination with existing tenants, and "enabling business to proceed as usual— as much as possible, mitigating noise disruption, and creating clear and safe paths of travel for everyone on the lot."
Sunset Gower currently houses Technicolor's North American headquarters and 12 sound stage facilities. It is one of the largest independent entertainment properties in the country at roughly 16 acres. Sunset Bronson's media campus also provides production, post-production and support facilities. Both studios boast numerous hit television and production credits.
LOOKING AHEAD
Along with renovating existing properties, Hudson Pacific saw the larger trend towards streaming media and the increasing demand for studio office space. Its vision for the soon-to-open class-A ICON office building on the northeast corner of Sunset Bronson lot immediately attracted the attention of Netflix's leadership, who were looking to consolidate and expand.
"Netflix's desire to be proximate to production facilities and stages was the driving factor in its decision to sign a long-term lease for the entirety of ICON," explains Bill Humphrey, general manager for Hudson Pacific Media. "They were able to lease rather than own their facilities— different from the traditional network model, centralize their Southern California operations in a single location, and customize the space to reflect their unique corporate culture."
"Silicon Valley companies realize not only the facilities, but the talent and the history is in L.A. and especially in Hollywood, and they want to be there," says Humphrey.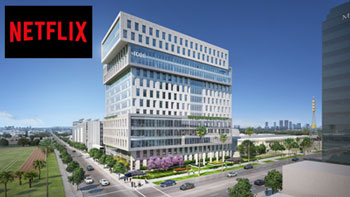 Hudson Pacific designed ICON with these needs in mind.
"A campus environment is all about collaboration and connection, which is so integral to today's media firms," explains Barton. "ICON features large, nearly 25,000-square-foot open floor plates with 45-foot column-free spans, providing a potential tenant with ultimate flexibility."
The vertical campus, designed by Gensler Architects, includes multiple outdoor common spaces with patios and terraces that facilitate indoor-outdoor work flow and provide natural light and panoramic views. Other amenities include electric car charging stations, bike storage, showers and locker rooms.
Hudson Pacific developments in the works include CUE, a 90,000-square-foot creative office building adjacent to ICON at Sunset Bronson scheduled for a mid-2017 completion. Hudson Pacific also utilized the vertical campus design of ICON to design a recently approved 300,000-square-foot creative office tower across the street from Sunset Gower.
BUILDING A BLOCKBUSTER
In recent years, Hollywood has witnessed a renewed interest in its creative community and its longstanding reputation as a media production center. That is in part due to improved facilities and new developments like those at Sunset Bronson and Gower Studios, especially those adapting to changes in content distribution.
"Fundamental shifts in how content is created and distributed are in large part behind this resurgence, although the urbanization movement—the preference for companies to locate in 24/7, live-work-play neighborhoods—has also increased Hollywood's desirability. This is a transformation that's really been underway for several years now," explains Humphrey.
Longer leases mean more predictable cash flow. "On all fronts, the studios have surpassed our expectations, and many of our investors' expectations of value," Barton says.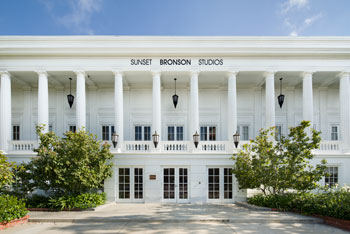 In November, Hudson Pacific reported an 8.6 percent increase in third quarter revenues from the year-earlier. Revenue from the REIT's media properties increased by 22.1 percent.
"Hudson Pacific's studio ownership affords us unparalleled facilities and capabilities to capitalize on these industry changes," says Humphrey, citing the demand for constant streaming content as one component that helps Hudson Pacific attract and retain both Silicon Valley companies and traditional media companies as tenants. "Without question, heightened demand—and a growing desire to have a guaranteed footprint at a predetermined cost—enhances both our cash flow predictability and the value of our stages and stage-adjacent office space," he says.
Barton agrees, adding that, "Having a leading, visionary player like Netflix put down roots at Sunset Bronson signals Hollywood's best days are ahead, and this is a place where the most forward-thinking companies want to be."