A variety of options are on the table for REIT sustainability reporting.
07/29/2016 | by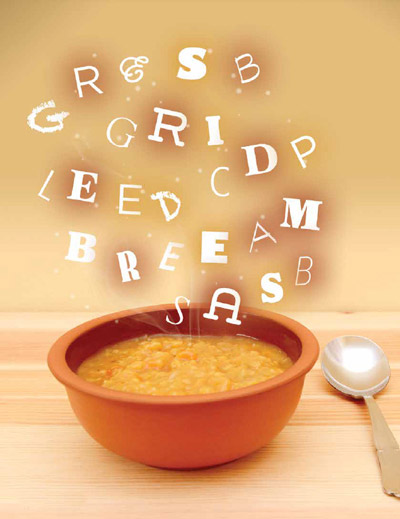 Nowadays, there's about a dozen or so real estate sustainability standards competing for the attention of investors, according to RealFoundations, a real estate consulting firm. 
There are BOMA 360 by the Building Owners and Managers Association International, Global Real Estate Sustainability Benchmark (GRESB), Sustainability Accounting Standards Board (SASB) and AccountAbility's AA1000 series. There are the Global Reporting Initiative (GRI) and CDP, formerly known as the Carbon Disclosure Project. Meanwhile, there are building certification programs such as LEED, BREEAM and Green Star. There are also 30 or so ranking and index systems, such as Forbes, MSCI, Asset4, Climate Counts and CSRHub. All the names, systems and methodologies are enough to make an alphabet soup. In terms of reporting, programs have different coverage periods and deadlines, making life more difficult for sustainability managers wrangling how to best distill data related to energy, sustainability and governance (ESG).
"Globally there are a dizzying array of nonstandard surveys, requests, assessments and indexes on the topic," says David Stanford, chief executive of RealFoundations. "There's no clearinghouse for ESG reporting programs."
For REIT sustainability managers, compliance reporting for a growing number of systems has come down to triage of sorts, with real-estate-specific platforms getting top priority. This all comes in addition to a company's work on its own sustainability report for investors. "There are a lot of reporting frameworks out there, and a lot of them are very time consuming," says Sara Neff, senior vice president of sustainability at Kilroy Realty Corp. (NYSE: KRC).
With no consensus on standards, REITs and other companies have had to deal with multiple survey requests and also the tailored requests of their own investors. That said, it's a two-way conversation, says Hans Op 't Veld, head of listed real estate for PGGM, a Netherlands-based institutional investor with significant U.S. REIT holdings. "It is something that is not only up to the companies to figure out, but also on the part of the investors to find common ground there and establish a way of communicating," he says.
While a universal standard may be a long way off, sustainability is becoming a more important part of operational focus for many REITs. This only increases the need for common reporting standards and disclosures. All of the methods and approaches have good intentions, focusing mainly on reduction of energy consumption, greenhouse-gas emissions, water consumption and waste generation. However, what information is disclosed, how it is collected and presented, and the level of detail necessary remain up for debate, and will be hashed out in the years to come.
Work in Progress
What's not up for debate are the potential consequences for REITs that ignore the issue. For one, investors are paying closer attention to sustainability. While there haven't been instances yet of divestitures based on lack of sustainability programs at a REIT, the increasing quantification of the science could mean that day will eventually come.
For example, PGGM is already looking at the long-term risk of its investments with positions in drought prone areas such as the Southwest in the United States, the Southeast of Australia and the Middle East, Op 't Veld says. "If you are in Henderson, Nevada, and there is a serious water shortage, you want to know the risk if your assets become stranded," he says. "If you cannot function anymore with your property, the actual value of it is likely to be around zero."
Fortunately for REITs, a good starting point has been the GRESB framework. GRESB uses an annual survey to benchmark sustainability performance of real estate and infrastructure companies. Yet, with so many competing standards, REITs have had to work to make sure the unique attributes of real estate get included on other platforms.
Last year, for example, NAREIT communicated with SASB to give input for proposed standards on reporting. As a result, the 14 metrics for the subgroup "real estate owners, developers and investment trusts" that went into effect in March had significant input from REIT industry players. About three-quarters of the quantitative metrics align with GRESB, says Bryan Esterly, sector analyst for infrastructure industries at SASB. "There is not general consensus or agreement around which metrics are the most important," he says. "That is the exact problem we are trying to solve."
But SASB is just one platform. Given the fast proliferation of ratings systems and indices, there's worry about reputation risk with sustainability ratings firms. "It's the responsibility of companies to make sure what they are reporting on you is accurate," Neff says.
New products keep emerging. RebecoSAM, an asset manager focused on sustainability investing, and S&P Dow Jones in April announced the launch of the S&P ESG Index Series. It's designed to measure the performance of companies in its respective underlying index with a weighting methodology based on an ESG score. The index series is based on RobecoSAM's annual corporate sustainability assessment, which covers more than 2,000 companies in the major indices, and uses an online questionnaire and company documentation. Another platform includes Bloomberg, which provides ESG data on more than 11,000 companies with over 700 ESG indicators, using company-sourced filings and third-party information, covering virtually the entire publicly investable universe.
The proliferation concerns sustainability managers, who are having a hard time keeping up, Stanford says. Sometimes the information about REIT ESG performance is plain wrong. "There are a number of surveys out there that use public information," he notes. "They scrape what they can from public filings and news stories, and create their own ratings sometimes without talking to the companies, and sometimes they end up in indexes. That whole thing drives people nuts."
It All Starts With Good Data
While the real estate industry wrangles with standards on a macro level, the REIT sector must deal with persistent challenges in data collection on the micro level. "We're in the preseason of collecting environmental performance data from the buildings and building systems," Stanford says. "That's a very emergent thing."
With REITs, the good news is industry leaders have developed some common practices of their own. For one, many use the Environmental Protection Agency's Energy Star Portfolio Manager software to measure and track energy and water consumption and greenhouse gases.
That said, REITs, especially ones dependent on triple-net leases, still face challenges in getting full building data, especially for assets with multiple tenants. Green clauses in lease renewals have helped align interests, but many tenants remain independent. "It can be very difficult to get an accurate assessment of a landlord's ability to manage an asset," says Daniel Egan, vice president and head of sustainability and utilities at Vornado Realty Trust (NYSE:VNO). "The facts may be that little of the energy consumed is within the landlord's operational control."
AccountAbility, a global consulting firm that specializes in corporate responsibility and sustainability, has worked with NAREIT for the past year to study and refine best practices suited to the REIT industry. In an interview now available on REIT.com, AccountAbility CEO Sunny Misser discusses the results of AccountAbility's analysis, key takeaways from the exercise and broader trends in corporate responsibility.
Yet, a common thread among various sustainability methodologies is an emphasis on working with tenants. One of SASB's metrics requires listing the percentage of tenants that are separately metered or submetered for electricity and water. It also has a qualitative metric for describing the approach to measuring, incentivizing and improving the sustainability metrics of tenants.
For example, Vornado as a landlord accounts for about 40 percent of its energy consumption from its properties, while tenants generate the other 60 percent, according to Egan. "To further the effort in energy reduction, we must continue to have ongoing and meaningful conversations with our tenants," Egan says. "At the same time, there needs to be a cultural shift in the workplace on how these issues are treated. It should be encouraged by the landlord, but part should also come from a change in general public sentiment."
While platforms exist, the triple-net leases often mean a manually intensive process, where managers must request the utility bills of their customers. "We have to go through an effort to ask them for their bills and enter them into a data management platform to look at them year over year to see how they are performing," says Jeannie Renné-Malone, vice president of sustainability for Prologis Inc. (NYSE: PLD). When a tenant moves out, REITs like Prologis have the opportunity to negotiate a green lease clause in order to have the right to collect utility data. But new tenants can lead to another wrinkle if they consume more energy, something that's also outside of the landlord's control, Renné-Malone notes.
Nuances like these are part of the appeal of a standard such as GRESB and its real estate focus, since it allows for explanations.
"GRESB enables us to have the opportunity to clarify what we know about the data that we are disclosing," Egan says. "We can choose directly or indirectly managed assets. We can choose whether energy represents a whole building, tenant or common area."
GRESB, whose funding comes in part from large institutional investors, also favors transparency over performance, as it's hard to make comparisons among the REITs. For example, a 2 percent reduction in energy use for Kilroy is an accomplishment, Neff says. But for a REIT that's embarked recently on the management of energy, 2 percent might not be so impressive.
"From an investor standpoint, how do you differentiate what number is good? It's very hard to compare apples to apples," she says.
GRESB is also working with partners to ease the process of collection and reporting. NAREIT's Leader in the Light Award program was embedded in the GRESB survey in 2012, whereby the GRESB survey accounts for 70 percent of an applicant's score, with the remaining 30 percent coming from a set of supplemental questions. Another example is an export button within Portfolio Manager's software to GRESB, which quietly was rolled out last year. Data from 9,000 of 60,000 assets came through the automated data pipes last year, says Chris Pyke, chief operational officer of GRESB. This year, he expects the number to rise to as much as 27,000.
"It reduces by a lot the hardest part of the assessment," he says. "Our obligation to the market is to make data flows more automatic and institutionalized." 
A law passed in 2015 authorized another program aimed at creating incentives for building tenants to adopt sustainable practices. The Energy Efficiency Improvement Act of 2015 created Tenant Star, which recognizes tenants and building owners working together to reduce energy usage in leased spaces. The Environmental Protection Agency is currently working on developing criteria and options for Tenant Star assessment.
Filling the Void
REITs just getting up to speed in sustainability need to work with what's out there and forge their own path, Stanford says.
"In the absence of a common standard, you just have got to pick something and create your own de facto standard," he notes. "Put in place a disciplined process to collect the same set of information reliably, hour-by-hour, day-by-day, week-by-week and month-by-month. You can start using that data to benchmark and look at the actual performance of those buildings. Then you'll be able to use that for performance-based reporting."
 "There is a connection between overall management quality and success in sustainability," Neff says.