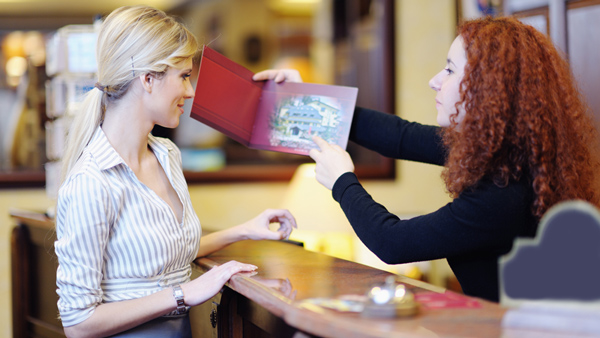 While Airbnb certainly isn't the only player in the sharing economy to allow people to rent a room or their entire home to strangers for a short-term stay, its success story has become the topic of significant discussion among hospitality REITs. Yet, lodging REIT executives and industry analysts see the sharing economy as a peripheral issue for hotels so far, but they're watching intently to monitor the trend for future potential impact.
"The concept of renting out a room or a home has been around a long time, but the way Airbnb has taken off in the past two years has made more consumers realize they have more options than in the past," says Mark Woodworth, a senior managing director with CBRE Research – PKF Hospitality Research. "On the surface, it seems like this must be having an impact, but the reality is that hotels have literally never done better than they did in 2015 and we expect occupancy and price records to be broken again in 2016. Demand is growing faster than supply, and we don't think that will level off until sometime in 2017 or later."
Airbnb hosting is booming in markets with high-cost housing and expensive hotel rates because hosts can make enough money there to offset their rent, says Ryan Meliker, managing director of equity research with Canaccord Genuity. In addition, he says markets such as Miami, New Orleans, New York and San Francisco have extremely high leisure travel demand.   
"A lot of people compare Airbnb to Uber, but they have two very different business models," Meliker says. "Uber offers a superior product to cabs for a better experience at the same price. Airbnb offers a different experience at a lower price, which works for leisure travelers sometimes, but rarely for business travelers."
Sharing Economy and Market Impact
Woodworth says data continue to be gathered on Airbnb, but one aspect of the sharing economy that makes it harder to track is that the supply is fluid. 
"Most Airbnb hosts are driven by an opportunistic approach, so they will list their home when they know there will be a surge in demand, such as the Pope coming to town," says Woodworth. "Hotels are not competing every day with every Airbnb host."
The supply of Airbnb rooms runs from 2 percent to 6 percent of all hotel rooms in different markets, which is the equivalent of adding a big competitor, says Mike Barnello, CEO of LaSalle Hotel Properties (NYSE: LHO).
"It's tricky, though, because there's no rhyme or reason most of the time about when any particular room is available," Barnello says. "So it's more of a potential competitor so far."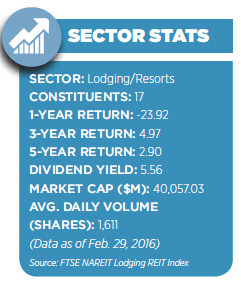 However, Woodworth says that in some markets individual hosts who have multiple homes on Airbnb list them consistently and compete with traditional hotels. He says Airbnb's share of room revenue in New York City was about 5 percent in 2015. A small amount, but growing. 
"Some of the differences between Airbnb accommodations and hotels suggest that competition between the two could be limited," Woodworth says. "Airbnb hosts often have a two-night or longer minimum stay, which isn't usually an issue with hotels. Hotels have amenities such as housekeeping and concierge services, but Airbnb rooms usually have a kitchen and a washer-and-dryer."
Barnello says that the main reason people choose to stay in an Airbnb is price, which means that the potential impact could be lower room rates everywhere, but that isn't happening yet. 
"The greatest interest is in looking at how Airbnb impacts pricing," Woodworth says. "When the next downturn comes, Airbnb hosts will have the ability to lower their rates more easily than hotels and yet still make money." 
Domestic and international leisure travelers are the primary users of Airbnb, says Krissy Gathright, COO of Apple Hospitality REIT (NYSE: APLE). "Business travelers and many leisure travelers, too, want the product consistency and onsite conveniences like housekeeping services, in-room amenities, food and beverage, and front desk assistance that our hotels offer. Many frequent travelers also want to take advantage of rewards programs," she says.
Business travelers and their corporations want the safety, security and liability protection offered by hotels, says Meliker. However, Morgan Stanley and other companies allow employees to participate in Airbnb's business travel network. That includes streamlined expense reporting and business amenities.
Compression Periods
Airbnb may not be impacting most hotels, but owners believe the sharing economy influences pricing during "compression periods" that fill hotel rooms across a city with leisure travelers. These include events such as Austin's South by Southwest festival or a Comic-Con convention. Gathright says that while occupancy rates remain strong during citywide events, room rates are not driven as high as in the past because of the extra supply of short-term rentals. 
"Our research found that price increases were 2.5 percent smaller in 2015 compared to 2013 during periods of high demand," Meliker says. "However, the impact is less important than it might seem from that number because in many markets there has been no negative impact at all."
PKF's research on Austin during the South by Southwest festival indicates that Airbnb's presence has not had a "materially negative impact" on the performance of traditional hotels in the city over the past few years. In fact, hotels' rate premiums have increased during South by Southwest despite Airbnb's growth.
Push for Regulation
A major concern of hotel owners and operators is the lack of regulation of Airbnb. Meliker estimates that 25 percent of New York City's Airbnb listings would vanish if the regulation against short-term rentals was enforced.
Barnello notes that locales such as New York City, Key West and West Hollywood do not allow rentals for less than 30 days, but these regulations are rarely enforced. San Francisco, where Airbnb started, allows unlimited rentals so long as the host is also home during the rental period and limits rentals to 90 days per year when the host is not home. Meliker says few jurisdictions require or enforce revenue reports. 
"If hosts had to pay taxes on their Airbnb income, that would reduce the supply of these homes," Meliker says. 
Another concern, says Barnello, is the potential lack of compliance with the Life Safety Code, which was created to set standards for fire and life safety preparedness in buildings. "The hotel industry just wants to make sure we're competing on a level playing field," he says.
In particular, hotel operators are wary of people who have turned Airbnb hosting into a full-time occupation.
"The hotel industry isn't focused on people who rent out a room occasionally to make some extra money," Gathright says. "We're focused on commercial operators who own multiple units that they rent the majority of the year through Airbnb and who are not adhering to local zoning laws, tax regulations and safety and security standards."
Adapting to the Sharing Economy
Gathright acknowledges that the sharing economy will always be part of the hospitality industry, which poses a challenge. It also creates an opportunity to explore new ways to meet guests' expectations. For example, she points to Hilton's partnership with Uber to provide quicker access to rides and locally sourced information from Uber riders on restaurants and attractions for Hilton Honors members.
Woodworth highlights possibilities such as a hospitality company providing housekeeping or food services to Airbnb hosts and guests. There's also the potential to revamp the booking experience or use data on demand for Airbnb rentals to evaluate the possible locations for a new hotel.
"We expect hotels will continue to step up their game to improve the guest experience," Gathright says. 
Apartment REITs Ready to Check-In with Airbnb?
Some apartment renters host Airbnb guests in their homes, potentially breaking the terms of their leases. Consequently, apartment owners are looking into bringing the secret sharing into the open for potential profit.
The Wall Street Journal reported last year that apartment REITs AvalonBay Communities (NYSE: AVB), Equity Residential (NYSE: EQR) and Camden Property Trust (NYSE: CPT) had discussions with Airbnb in 2015 to talk about pursuing a potential revenue-sharing arrangement. Drew Babin, a senior research analyst with R.W. Baird, says these REITs are very early in the process of exploring opportunities, so nothing will necessarily come of the talks. In theory, though, tenants might be willing to pay higher rents if they were allowed to offset that expense with Airbnb income. 
"We're all just trying to understand the issues associated with home sharing," says Sean Breslin, COO of AvalonBay Communities. "There's a very fragmented regulatory framework for short-term rentals, with some places not regulated at all and others with strict zoning rules that prohibit any rentals of less than 30 days."
Breslin says multiple issues, including taxes, also need to be addressed.
"There's a fundamental premise that we could benefit somehow from participating in the sharing economy, but we still don't know how," Breslin says. "Maybe in a particular market without a regulatory framework, something could work, but we still need to look into local zoning laws, determine who is paying taxes on these short-term rentals and whether they are a potential violation of the lease. Even more importantly, we need to know how our customers will feel if they didn't want to live in a hostel and don't want their neighbors renting to strangers."
Krissy Gathright, COO of Apple Hospitality REIT (NYSE: APLE), says apartment owners will need to be careful to understand regulations if they establish a relationship with Airbnb. She points out that if they choose to cordon off a section of apartments for short-term rentals, that could be construed by regulators as a hotel, which is subject to additional rules.
An arrangement between apartment owners and Airbnb would be "universally negative [for lodging REITs] because of the added supply of rooms," according to Babin. The potential impact on apartment REITs is less clear.
Ultimately, Breslin says everyone is talking about the sharing economy, but no one knows at this point how to take advantage of it—or if it even makes sense to try: "We're still in investigative mode at this point."