Park Hotels & Resorts adds "scale" to the lodging marketplace.
03/22/2017 | by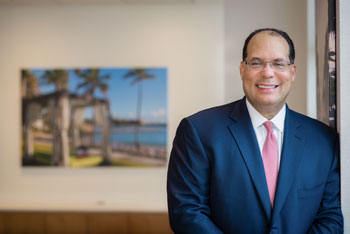 For many real estate companies, growth is a slow, methodical process. Just ask Thomas J. Baltimore Jr., who spent more than a decade growing the venerable RLJ Lodging Trust (NYSE: RLJ) one deal at a time. 
Today, Baltimore—who co-founded RLJ in 2000 with entrepreneur Robert L. Johnson of BET fame—sits at the helm of a new hotel REIT, Park Hotels & Resorts (NYSE: PK), which in January became the second-largest player in its sector in one fell swoop following its Jan. 3 spinoff. 
Based in McLean, Virginia, the company was formed when Hilton Worldwide, where Baltimore once held management positions, spun off most of its owned real estate into a separate public REIT. Park Hotels is the latest entrant into a sector long dominated by Host Hotels & Resorts Inc. (NYSE: HST), which still dwarfs all other stock exchange-listed hotel REITs in terms of size. Park Hotels had a market capitalization of nearly $5.3 billion in early February, while Host's market cap was more than $13 billion at the time. 
"Your typical hotel REIT tends to have a market capitalization of anywhere from $1 billion to $2 billion," said Patrick Scholes, a lodging analyst at SunTrust Robinson Humphrey Inc. Prior to the formation of Park Hotels, "if you were a large-cap investor who needed liquidity, there was only one name in which you could invest, Host," he added.
Baltimore describes his departure from RLJ last May as "bittersweet," but says the opportunity to serve as chairman, president and CEO of Park Hotels was too compelling to pass up. As the longtime CEO of RLJ, he earned a reputation on Wall Street as a straight shooter and savvy hotel-property investor and asset manager. Baltimore also had a loyal following within the company, where he presided over a senior team of men and women that had very little turnover over the course of more than 15 years. 
"When [Hilton CEO Christopher J.] Nassetta called me about the opportunity and spinning out Hilton's owned real estate, it was the one opportunity that I found too compelling to pass up," said Baltimore, who had first-hand knowledge of Hilton's portfolio from his time at the company.
Quality and Quantity 
Park Hotels owns a $9 billion portfolio of 67 large-scale, high-end hotels, including iconic properties stretching from coast to coast. Its trophy properties include the New York Hilton, which spans an entire city block in Midtown Manhattan; the landmark, 1,544-room Hilton Chicago Downtown, boasting nearly 200,000 square feet of meeting space; and the oceanfront, 2,860-room Hilton Hawaiian Village in Honolulu. 
"You start with a portfolio with heft and scale. It's truly an iconic portfolio that would be really difficult to replicate in this environment," Baltimore said.
Baltimore not only sees upside potential in the 35,000-room portfolio of upper-upscale and luxury hotels, but plans to grow Park Hotels through acquisitions of like properties in leading hotel and resort markets. The company already has holdings in 14 of the top 25 U.S. hotel markets. Baltimore also believes the fragmented lodging REIT sector is ripe for consolidation and that Park Hotels will be able to acquire smaller competitors over time.
In his new role, he is taking nothing for granted and aiming high. "The real goal and vision," explained Baltimore, "is that we want to build credibility over time and be the preeminent lodging REIT" by generating superior long-term returns for investors.
Heavyweights at the Helm
When Baltimore returned to Hilton prior to the spinoff, he quickly got to work assembling a team of seasoned executives to lead the future Park Hotels. "Job one was hiring an experienced team with aligned interests and shared values," said Baltimore, who recruited a number of professionals from Hilton.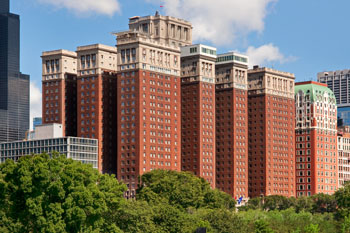 The company's newly formed management team not only includes hotel-industry veterans, but well-known executives within the REIT world, said Lukas Hartwich, a senior analyst at Green Street Advisors. 
Like Baltimore, Sean M. Dell'Orto, Park Hotels' executive vice president and chief financial officer, is also a Hilton veteran. Most recently, Dell'Orto was Hilton's treasurer and a senior vice president. 
Park Hotels' senior leadership team also includes Executive Vice President of Asset Management Robert D. Tanenbaum, the former chief operating officer and executive vice president of asset management at DiamondRock Hospitality Co. (NYSE: DRH), and Senior Vice President of Design and Construction W. Guy Lindsey, a 13-year veteran of Sunstone Hotel Investors Inc. (NYSE: SHO).
"When a company comes public, you often have a management team that people [within the REIT industry] aren't too familiar with. With Park Hotels, people essentially know what they are getting. It's a good team," Green Street's Hartwich said. 
Zeroing in on High-Growth Markets 
A major priority for Baltimore and his team is to grow the company's presence in the top 25 U.S. hotel markets and leading resort destinations. That goal rests in part on a plan to selectively sell holdings in slower-growth markets and reinvest in markets that are expected to benefit disproportionately from the anticipated uptick in international travel to the United States over the next several years.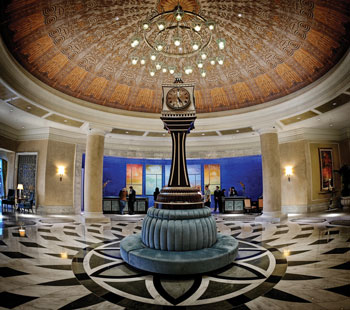 From 2000 to 2016, inbound international arrivals to the United States grew at a compound annual rate of nearly 3 percent, according to Baltimore. Through 2020, that rate is expected to climb to about 4 percent. Much of that growth, he said, will be concentrated in a handful of markets, including Hawaii, San Francisco, Los Angeles, Chicago and New York.
"You have a growing middle class in Asia and other parts of the world. Where do they want to come when they visit the United States? There are a half dozen markets they are focused on visiting," said Baltimore, adding that Park Hotels already has a strong presence in most of those markets and is poised to become an even bigger player. 
"We want assets of scale, typically greater than $100 million [in value]," he said, adding such properties often trade "off-market" and attract a limited number of bidders. "Our scale gives us a real advantage to be able to purse and acquire assets like that." 
Through acquisitions, Baltimore also hopes to bring greater brand diversity to the company's holdings. Its lack of brand diversity is among the factors that have weighed on Park Hotels' stock post-spinoff, according to analysts. 
"We are one-brand concentrated right now," Baltimore said. "We seek brand and operator diversity over time." This is similar to what happened in 1993 after Marriott International spun off what is now Host Hotels.
A Portfolio with Room to Run  
Baltimore believes there's still plenty of upside in the company's existing portfolio. To free up "embedded ROI [return on investment]," he and his team are mulling various options, such as value-add projects.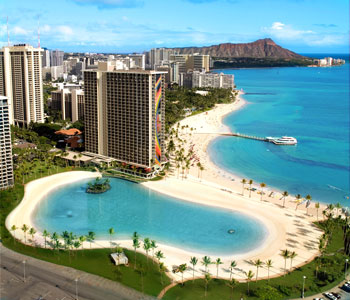 "Hilton was focused on an asset-light strategy," explained Baltimore, alluding to Hilton's primary focus on managing and franchising hotels. "We will look at developing, selling, partnering," in other words opportunities to "activate the real estate," he explained. 
While Hilton will continue to manage the vast majority of properties it spun off, oversight of operations under Park Hotels creates a system of checks and balances that should eventually translate into higher profits, said Ryan Meliker, an analyst at Canaccord Genuity Inc.
Meliker says that Baltimore and his team can take some relatively simple steps to improve profit margins, such as adding resort fees, eliminating room service at certain properties or doing time-motion studies to keep a tighter lid on labor costs.
To boost revenue per available room, the company might consider ratcheting up group business, which now accounts for 29 percent of the company's revenue mix. That shift, according to Meliker, would reduce the supply of rooms available to so-called transient travelers. That should, in turn, give the company's hotels more pricing power and allow them to book less business through online travel agencies, which tend to charge hefty commissions to hotels.
"Hilton, like most brand owners, doesn't have corporate oversight of property-level management to make sure they are maximizing profits for the owner. There is not that system of checks and balances," Meliker said.
Optimism Out of the Gate
As he looks ahead, Baltimore concedes that there are a few big-picture issues that give him pause, but says that he's generally optimistic about the hotel sector's outlook. "Trade wars or any extensive restrictions on immigration that negatively impact travel are always a concern," he said. "But I try not to worry about things I can't control. I'm an optimist. We live in a great country, a resilient country."
Indeed, he's hopeful that the pro-business environment the stock market has been anticipating since election day will materialize and, over time, translate into stronger hotel demand. There is a high correlation, he notes, between business investment and hotel demand.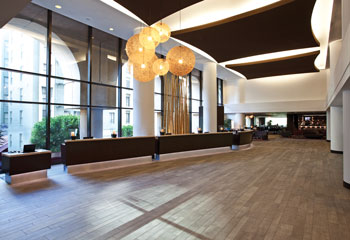 According to Green Street, weak corporate profits have weighed on business travel, which accounts for 75 percent of demand for the higher-quality hotels that REITs tend to own. But corporate earnings growth turned positive late last year, which Green Street says could presage an increase in hotel demand. Meanwhile, leisure travel is holding up relatively well thanks to a healthier job market and higher incomes, according to Green Street. 
"Business sentiment is beginning to turn a little more positive, and that could serve as a real catalyst toward extending the cycle," said Baltimore, whose career has also included stints in management at the former Marriott Corp. and at Host. 
Baltimore may be a veteran of the hotel real estate sector, but he hasn't lost his enthusiasm for the business and is clearly up for a new challenge. "I really enjoy the journey. I love the industry: no two days are alike, and I love building and leading teams," he said.