Technology is changing how people travel, and hotel guests expect REITs to keep pace.
03/12/2018 | by
When you walk into the Hotel Vintage Portland in Portland, Oregon, you will see a row of bicycles in the lobby available for guests to borrow to explore the neighborhood. It's, well, vintage Portland—biking has long been a favored activity of the area's residents.
That is exactly the message that the hotel's owner, Pebblebrook Hotel Trust (NYSE: PEB) wants to send.
"Travelers want to collect experiences, as opposed to things. They want to experience a city on the same level as a local might," says Pebblebrook Hotel Trust CFO Raymond Martz. "We have found that if we provide a unique experience, both business and leisure travelers will benefit from it—especially business travelers as they are on the road all the time."
The hotel business is in a constant state of flux; owners have to remain ready to adapt quickly to the changing tastes and preferences of all kinds of different clientele. Maybe it's bike racks in lobbies or superfast broadband internet access. As demographics shift and the pace of technological change speeds up, lodging REITs find themselves moving as nimbly as ever to offer their own answers to what choosy customers want.
Sharing-Economy Disruption
If you're looking for the greatest game-changer in the hotel space right now, it's Airbnb. Covering 65,000 cities in 191 countries, the accommodations-sharing service has undercut hotel room prices in major cities, purporting to offer users "unique travel experiences" by "being connected to local cultures."
Hotel owners have pushed back, seeking to ensure that Airbnb participants are subject to the same safety standards and regulations that they are. Hotels are also taking their case directly to consumers by offering them similar features and designs in the hotel, along with an array of tech-enabled amenities that they may not have considered before.
Hotel brands are adapting their designs to reflect the popularity of the sharing economy, says Arthur Adler, JLL chairman, Americas, Hotels & Hospitality Group. Meeting rooms are being renovated to offer co-working spaces, and common areas are being designed to be more appealing and accommodating to guests, he says.
"The hotel industry is very good at breeding innovation and new thinking," Adler says. "The industry has a great way of adapting to changes and remaining profitable." 
Technology Driving Other Changes
Indeed, Adler says, "there's no reason why hotels, which are already 24/7 operations, can't take on certain characteristics of what consumers want in this sharing economy." For instance, he says, some of the flagship brands, such as Marriott, have implemented the concept of shared living room space for guests to use to relax in public and talk with other people.
In other cases, REITs are harnessing new technology to deliver more amenities to guests—and to drive rates in hotels. For example, Ashford Inc. (NYSE: AINC), which serves as the advisor to Ashford Hospitality Trust (NYSE: AHT) and Ashford Hospitality Prime (NYSE: AHP), has rolled out two initiatives in which evolving consumer preferences and tastes have been married to a tech solution.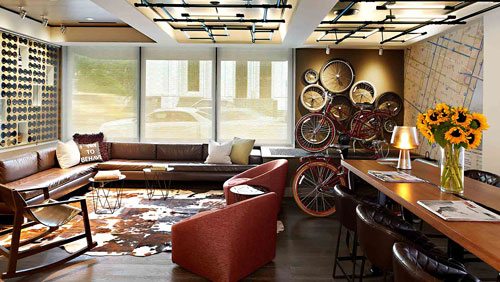 One is called Pure Rooms, which is a service in which a room gets a deep cleaning that includes disinfecting all surfaces, the encasement of the mattress and pillows, and the installation of an air purifier unit, which reduces pollutants and allergens by 99 percent.
"What we are finding is that guest satisfaction scores coming out of those rooms are incredibly high," says Rob Hays, chief strategy officer of Ashford. "It costs a few thousand dollars to perform this service but the hotel gets a great payback on the investment very quickly—not to mention very high customer satisfaction."
Ashford's asset-managed hotels that have been included in the Pure Rooms program have experienced internal rates of return as high as 50 percent to 70 percent on this investment, Hays says.
More Changes to Come
Down the line, automation will affect how lodging REITs approach their operations, according to Dan Hansen, chairman, president and CEO of Summit Hotel Properties, Inc. (NYSE: INN).
"We haven't gotten to the point where we have robots vacuuming rooms, but I think at some point those technology advances will make the operations and the experience much more efficient," Hansen says.
And just wait a few years until hotel REITs will have even more advanced technology to enthrall and enthuse guests.
Last year, both Marriott International and Hilton Hotels announced initiatives in which they are experimenting with advanced technology to build the guest room of the future. Hilton Hotels opened a new 4,300-square-foot Innovation Gallery, which offers a product showcase, a food and beverage concept studio and a virtual reality stage among other features that will serve as an incubator for new guest services. Many of the products already on display have been developed through Hilton's partnerships with such companies as IBM, LG, Amazon and Tesla.
The Innovation Gallery, according to Hilton Chief Customer Officer Jon Witter, is a "space for us to incubate, test, scale and showcase the products and processes we're creating to enhance our guests' experiences and redefine the future of hospitality."
As for Marriott International, it has teamed up with Samsung and Legrand to launch an Internet of Things, or IoT, Guestroom Lab. Here will see the development of such scenarios as users asking a virtual assistant to start their showers at a certain time in the morning and at the temperature they want.
"By teaming with best-in-class partners, we are leveraging mobile and voice-enabled technology to give our guests the ability to set up the room to best meet their needs—whether that is creating the ultimate relaxation environment or one that enables productivity for business travelers," said Stephanie Linnartz, Marriott's global chief commercial officer, when the lab was first announced.
Mobile Key Provider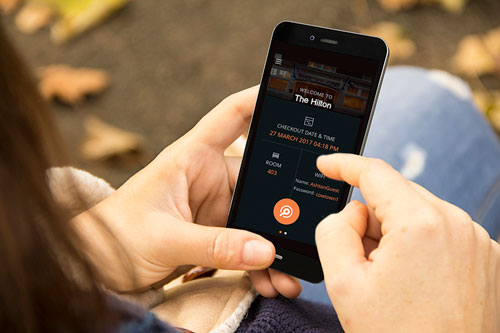 Ashford's other initiative is a venture the company launched called OpenKey, which has quickly become the leading mobile key provider to hotels. It is an app that opens a guest's hotel room door via a smartphone and Bluetooth technology. Assuming the hotel is participating in the program, it doesn't matter what brand the hotel operates under. "It allows the guest to skip the entire check-in process and just go straight to their room," Hays says.
"We anticipate that OpenKey is going to be in around 35,000 hotel rooms over the next year or so," he adds. "We are now in eight countries on four different continents."
This investment is a telling one for the hotel industry, Hays believes: It will bring more uniformity to the sector and benefit to the consumer.
"Consumers don't want to have a Marriott app, a Hilton app, a Starwood app, a Hyatt app, a Choice app and so on on their phones," he says. "They want one app to open their hotel rooms."
Because OpenKey is still in its early stages, data on the return on investment doesn't yet exist. Hays explains, though, that the return to hotel owners comes from reducing the use of plastic keycards, a reduction in manpower needed at the front desk, cutting other expenses related to the check-in process and growing future revenues by positively impacting customer satisfaction scores.
What do you Expect to be the Biggest Game Changer for the Lodging Industry Over the Next Five Years?
Richard Stockton
CEO, Ashford Hospitality Prime, Inc.
What has historically been a very fragmented and competitive industry may see further brand ownership consolidation. Consumers will still have the choice between the various brand offerings at different service levels and price points, but ultimately, they will be beholden to the pricing structure dictated by only a couple of major hotel management companies.  
The pace of technological evolution will also continue to deliver opportunities and challenges to our industry.  As we implement customized profiles for our guests, we will be able to provide more and better services and experiential opportunities for them.  Owners will need to refresh in-room technology more frequently to remain competitive.  Concierge services and room service will be available primarily via mobile applications.  Most guests will bypass the front desk by utilizing mobile key applications such as OpenKey, or others provided by the major brands.  In general, there will be far fewer human interactions needed to deliver the optimal guest experience.  
Jay Shah
CEO, Hersha Hospitality Trust
There has been a marked shift in spending from products to experiences and consumer spending for travel has been outpacing the demand for goods.  We believe that this shift in tastes and preferences combined with the continued democratization of travel and robust airline competition is going to be a driver for the industry in the foreseeable future.  
To best leverage this secular shift, we are focused on using technology—specifically artificial intelligence, the internet of things, voice and automation—to drive personalization of the guest experience.  Differentiation in our sector is crucial to meaningfully connect with our customers, remain relevant and to build loyalty.  In addition to enhancing the guest experience, we are going to explore opportunities to use technology to increase efficiency, affording more resources to deploy towards service delivery, while driving superior earnings before interest, taxes, depreciation and amortization (EBITDA) growth.
Colin Reed
Chairman and CEO, Ryman Hospitality Properties, Inc.
We believe the biggest game changer for lodging real estate in the next five years is the increasing demand in the large group segment that make up the core customer at our Gaylord Hotels properties. Couple that growth with the lack of new supply of large-scale, full-service hotels under development that can accommodate this demand and you have an interesting dynamic. This supply demand imbalance is coming on the heels of the Marriott - Starwood merger, which we believe will generate economies of scale for both transient and group-oriented properties.   
Jon Bortz
Chairman, President, and CEO Pebblebrook Hotels
The lodging industry moves towards the airline industry's pricing model and approach and the potential for blockchain technology.  The current structure of the major brand redemption programs, combined with a lack of change fees, has created a disadvantageous dynamic across the lodging industry.  This has negatively affected pricing integrity.  In addition, with the lack of change fees, guests are encouraged to cancel and rebook, or make multiple reservations across multiple properties.  The airline-pricing model is much better and encourages customers to book in advance and not make multiple reservations.  Tiered pricing choices for the customer, from the lowest price with the least flexibility to the highest price with the most flexibility, but with change fees, and something in between, are in the process of being adopted in the hotel industry. The adoption of this approach would benefit the entire hotel industry, particular hotels in urban markets, as pricing integrity would improve profitability. 
 The other big game changer could be the use of blockchain technology. This could enable all hotels to make their inventory available to all guests, without third-party intermediaries.  This would reduce third-party booking costs (and channels) while also potentially making brands less relevant.