Residential REIT Camden Property plans ahead for fewer drivers.
03/22/2019 | by
Editor's note: Innovative Ideas is a new series for 2019 looking at some of the specific ways in which REITs are thinking creatively to remain leaders in their field.
When Camden Property Trust (NYSE: CPT) opened its Lincoln Station apartment complex in 2017, it had one eye on the current market and one looking to the future. The 267-unit building, situated in suburban Denver, has all the amenities to attract high-income renters: quartz countertops, stainless steel appliances, dual-vanity sinks, walk-in closets, and views of the Rockies. Less obvious to renters, however, are the unique aspects of its parking garage, which could enhance the asset's income stream down the road—a day when part of the structure could be converted to apartments.
The clearing heights on the ceilings are 10 feet on the first floor and 9.6 feet on the three floors above, instead of a typical height of eight feet. The columns are spaced 27 feet apart to allow an apartment to fit comfortably between them. Concrete was poured in place to customize the site with additional utility conduit for future use. Overall, the garage was more expensive to build, but it gives Camden the option to maximize the space for a day when fewer renters will need parking spaces, as more people abandon car ownership for ride shares and car rentals. 
"In the next five years with autonomous cars, you could have far fewer vehicles on the road and less demand for that parking space," says Ric Campo, chairman and CEO of Camden. "We're going to be able to adapt and reuse those garages." 
While many real estate developers are reluctant to add adaptable features to garages due to the higher construction costs, there are signs REITs like Camden and other owners are warming to the idea. Ride sharing continues to gain prominence, and advances in technology have brought the idea of ordering up a driverless car for local trips no longer a far-flung idea. Paying more for the additional raw materials and labor to make garages adaptable could be money well spent, reducing the costs for demolition of possibly unused parking floors in the future. 
Eyeing Future Needs
Camden has been making its garages adaptable ever since opening Flatirons, another apartment complex in suburban Denver, in 2015. Meanwhile, Hudson Pacific Properties, Inc. (NYSE: HPP) has included adaptability features in its EPIC office project under construction in Los Angeles, and AvalonBay Communities, Inc. (NYSE: AVB) is planning to do so for the garage underneath a 475-unit apartment building that could begin construction late this year in downtown Los Angeles.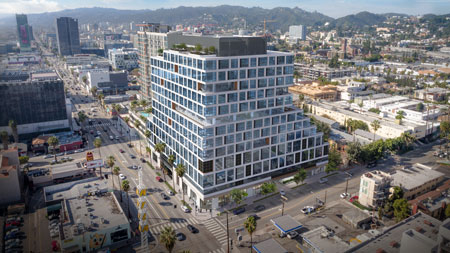 Architects are working closely with REITs and other developers to make garages more adaptable for re-use. Gensler, a global architecture firm, has been encouraging clients to pay the higher construction costs now. 
"We are working on major projects around the world that need to be future-proofed," says Andy Cohen, co-CEO of Gensler. "If we are not going to need all this parking, how can we create adaptable, flexible parking structures that can be designed so that they can be changed for other uses?"
For one, make garage ceilings higher, Gensler tells clients. For Gensler's work on 84.51 Centre, a 280,000 square-foot mixed-use building in downtown Cincinnati, Gensler designed the lower floors to be used for parking, with a façade that blends in with the rest of the building. The parking levels above grade are built to be converted to offices in the future. Gensler also designed Hudson Pacific's 13-story EPIC, which will be occupied entirely by Netflix starting in 2020. EPIC's garage will have four above-grade levels that will convert to two lofty office floors, with the potential for installing mezzanines. Two other floors are designed to be removed, and two below-grade levels would remain.  
Higher clearing heights make all the difference for adaptability, in part because they allow for space to add electrical, plumbing, and ventilation. 
Making Garages Adaptable
Standard parking garages today are usually built with slanted floors, which serve as ramps, but this doesn't translate to conversion. That, instead, calls for building ramps in part of the structure or on the outside, so that there's plenty of flat floor space. At Camden's Lincoln Station, its garage is flat on the ends, with ramps on the inside. The ends could serve as future sites for conversion to more apartments.  
Adaptable garages also need thicker floors. For parking structures, their live load requirements—the weight they need to support while in use—are about 40 pounds per square foot, notes Jess McInerney, a principal and engineer at Watry Design Inc., a parking consulting firm. That's actually much less than what's needed for other uses such as offices and apartments. These other uses can demand as much as 100 pounds per square foot, to account for furniture and a greater number of people. Traditional garages aren't built for that, and there's often a bounciness to the floors, due to long support beams of 60 feet or more. So, more concrete is needed to remove the flex.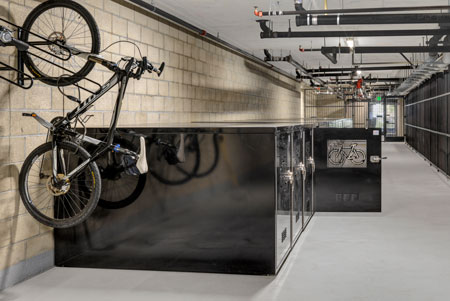 "You need more mass to support the loads and control the noise and vibration," McInerney says. 
Designing the Future
At Camden, the move to make garages adaptable sprung from Campo's attendance at conferences, and the growing chatter about the eventual arrival of driverless cars. Earlier this decade, Campo started to challenge his team to come up with ways to start thinking about a world with fewer cars. Uber and Lyft pickup areas were an easy thing to incorporate into building design, yet modifying the structure of the garages presented a tougher challenge. Camden's first modifications came with Camden Flatirons in 2015, followed up by the Camden in Hollywood, Los Angeles in 2016. 
For its new garages, Camden uses so-called conventional steel mats, where concrete is poured into a lattice of rebar typically spaced 12 inches apart. That takes more steel than conventional garages, which often use prefabricated concrete slabs. 
For all of its new garages now, Camden favors cast-in-place concrete, meaning it's poured on site, rather than arriving on a truck as a precast slab. That means higher labor costs, and generally more steel than with traditional garage floors. In some markets, an adaptable garage can cost two to three times more than its mono-use counterpart, depending on a market's labor, concrete, and steel costs, estimates Steve Hefner, senior vice president of construction and facilities at Camden. 
Developers also need to decide carefully where to put the parking ramps. Some of Camden's new garages put ramps in the interior, designed to be removed later, with the flat floors surrounding it. Others, like the one at Camden Flatirons, are built in a "podium-style" format, with the garage underneath the units. There, the first level is a garage, with four floors above. The garage could be converted to more apartments since Camden has also provided open-air parking at the site.  
Column spacing also needs consideration for adaptability. Camden is typically spacing out its columns in 27-foot intervals, allowing for three, nine-foot-wide parking spaces. Doing so creates a footprint of 27 feet by 30 feet or more for a future apartment that could be in the range of 600 square feet to 700 square feet, Hefner notes.  

Overall, all of the extra expenses from construction can add 5 percent to the cost of a project. But its adaptable garages will likely see conversions. 
"We believe that is going to be a very viable solution, especially if you are building in these high-density, urban in-fill sites," Hefner says. 
While apartments and offices have yet to show big drops in parking demand, there has already been a marked decrease in the need for hotel parking, Cohen notes. Business travelers are opting for ride shares and forgoing the task of renting a car. For example, Uber was the most expensed vendor in 2018, accounting for 11 percent of all transactions among various spending categories, according to Certify, an expense management software vendor. That compares with 8.7 percent in 2017. Parking is also down at restaurants because people opt for ride shares to avoid drinking and driving, Cohen notes.
While builders see the need for less parking across the board, for now they're mostly constrained by local building codes. Zoning and regulations of municipalities often mandate minimum parking ratios, whether or not the space is needed.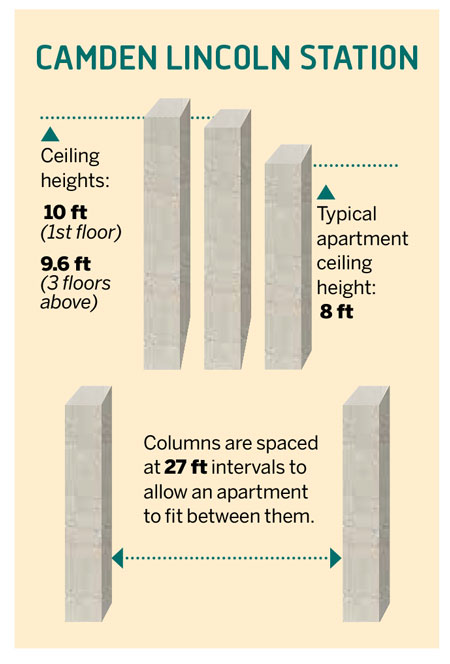 ""Sometimes they need to actually get changed in order to permit the kind of flexibility innovative organizations want to employ," says Ken Meyer, a principal at Deloitte. Cohen of Gensler calls the building codes "antiquated" for the coming drop in demand for parking. 
Advantage, REITs
Still, building adaptable garages and waiting for people to change behavior is a tough sell for developers looking to quickly sell a completed asset and move on. REITs, on the other hand, have an advantage as they build new garages in their development pipelines. Yes, the cost is higher, but as long-term holders of real estate, it's often worthwhile to spend more now than having to demolish a garage down the road. 
The strategy fits into Camden's plan to spend more upfront on amenities and quality of materials, so it can keep operating costs down over time with lower maintenance and less capital expenditures when upgrades are needed. That leads to higher funds from operations, higher dividends, and by extension, higher net asset values assigned to the company, Campo notes.
We're putting in better infrastructure systems that lead to lower operating costs," he says. "If you are growing your NAV and FFO at a faster rate than you would otherwise—because you are being smart about how you build to maximize the efficiency of operating costs in the first five to 10 years—then all of sudden you are driving value and your stock price goes up."
So overall, building garages for the future is an attractive choice for Camden. 
"I would rather have a lower yield going in and spend the money up front, and then have a growing cash flow that isn't impeded by issues five to 10 years out," Campo says.