Equinix Inc. (NASDAQ: EQIX), the global interconnection and data center REIT, marked its 17th birthday in 2015. That year, Equinix also took a bold step—becoming the first data center company to publicly commit to a goal of 100 percent renewable energy use across its portfolio.
What prompted Equinix to set this ambitious goal? For starters, its customers—many of whom, like Equinix, are Fortune 500 and Forbes Global 2000 companies—have a growing interest in using renewable energy and partnering with like-minded suppliers.
At the same time, advocacy groups, investors, and employees have become more vocal about the vast amounts of electricity consumed by data centers and large companies in general. For its part, Equinix also wants to do the right thing, says Jennifer Ruch, the company's global utilities and sustainability senior manager.
Equinix's 200-plus data centers, according to Ruch, consume about the same amount of electricity each year as would be used to power 500,000 U.S. homes—in other words, the same amount of electricity required to power a mid to large-sized city.
The firm's renewable energy initiative falls under the environmental pillar of its expansive corporate sustainability program. Equinix has also sought to minimize its energy usage by building highly efficient data centers and upgrading existing facilities, among other steps.
"We recognized that electricity usage by our data centers is our number one environmental impact. The generation of electricity is mostly fossil fuel based, and the associated greenhouse gas emissions are implicated in climate change as well as pollution on a local level," explains Ruch. "Equinix is trying to transition itself from a carbon-intensive business to a carbon-neutral, or lower-carbon business, and renewable energy (e.g., wind and solar) helps us get there."
Moving Target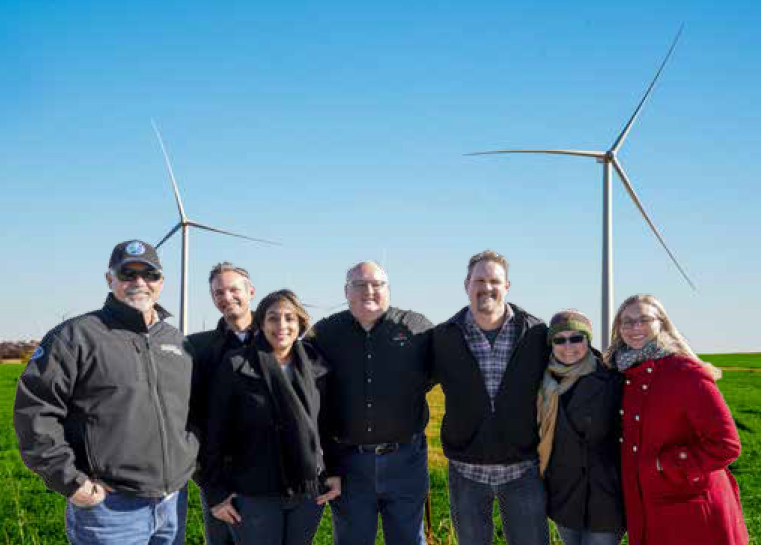 Since 2015, Equinix has made steady progress toward its long-term, renewable energy goal. In 2017, the company announced that it had achieved 77 percent renewable energy coverage for its global platform, up from 33 percent two years earlier. Over the two-year period, Equinix more than doubled its renewable energy coverage, despite its rapid growth and the challenges associated with procuring large amounts of renewable energy on a global scale. In 2017, Equinix's U.S. load alone doubled in size (as measured by total number of data centers) when it made a $3.6 billion acquisition of a Verizon data centers.
"We set a goal in 2015 to reach 100 percent renewably powered at some point in the future. We know this is a moving target because our business is growing rapidly. But we have made very significant progress toward our goal," Ruch says. So far, Equinix has had to purchase off-site renewable energy (either directly or indirectly) since its data-center rooftops aren't large enough to accommodate the number of solar panels that would be needed to directly power its facilities.
In Europe, which has a longer history of investing in renewables than the U.S., Equinix buys renewable energy directly from local suppliers. But the company has taken a different approach in other regions.
In the U.S.—where policies and renewable energy pricing can vary widely from location to location—Equinix has long-term, power purchase agreements with wind farms in Oklahoma and Texas. Renewable energy certificates (RECs) from projects like these provide businesses with a way to support renewable energy generation and meet their clean energy goals, according to the World Resources Institute. A REC is issued when one megawatt hour of electricity is generated and delivered to the electricity grid from a renewable source, according to the Environmental Protection Agency (EPA).
In Asia, many countries are "just scratching the surface of renewables," says Ruch, adding that Equinix owns a large portfolio of international RECs in the region and continues to look for opportunities to buy renewables as they become available. "At this point, it is very difficult to purchase renewables for each site individually. There are a lot of local issues, and in the U.S. there's a lack of national policy toward renewables."
Green Leadership Recognized
Despite such challenges, Equinix now purchases enough renewable energy in the U.S. to cover 100 percent of its domestic load. "We are adding renewables to our portfolio faster than we are growing," Ruch says.
The company's leadership on the green power front hasn't gone unnoticed. Last year, Equinix, along with such companies as Microsoft Corp. and Google, received the EPA's annual Green Power Leadership Award for "excellence in green power use." And, as of last October, Equinix ranked sixth out of 100 top green power users belonging to the agency's Green Power Partnership.
"When it comes to renewables, we consider ourselves to be a leader in the REIT space and the data center space. And it's pretty evident that we're a leader in the broader space as well," Ruch says. "Furthermore, by investing in renewables, Equinix is helping green the supply chains of our customers—who increasingly care about where their electricity is coming from."