JBG SMITH's selection as the developer of Amazon's Northern Virginia headquarters accelerates the REIT's revitalization plans.
03/19/2019 | by
The JBG SMITH (NYSE: JBGS) office in Chevy Chase, Maryland, had its own nickname last year—Speculation Station. It summed up the daily back and forth of competing theories as to where retail behemoth Amazon would pick for its highly anticipated second headquarters, or HQ2, and when the announcement would be made.
Now that Amazon has chosen JBG SMITH to develop the Northern Virginia site now known as National Landing as an HQ2 location, speculation has turned to the reality—and excitement—of getting the job done.
"Collectively, the team feels a real sense of accomplishment but also a real sense of, okay, now the real heavy lifting starts," says CEO Matt Kelly, as he points to the over 4 million square feet of new office space that will be developed for Amazon under tight timelines. Amazon is expected to start moving into two leased office buildings in the later part of this year, and a third leased building by the end of 2020.
For JBG SMITH, the Amazon decision came on top of what was already a full plate, ranging from active capital recycling to repositioning plans that were already in place for the National Landing submarket, he notes. "Adding Amazon into the mix is a significant addition…people are busy but excited. Our natural state here is to be in fast motion."
Kai Reynolds, chief development officer, emphasizes that the Amazon decision simply accelerates plans that were already in the works for National Landing, which comprises Crystal City, the eastern portion of Pentagon City, and the northern portion of Potomac Yard.
"We had already started looking at opportunities in that submarket three or four years ago. This is everything we would have done anyway, it's just going to happen so much faster with the addition of up to 37,850 new jobs within the submarket," Reynolds says.  
Mid-Century Modern Roots
JBG SMITH was created in 2017 when Vornado Realty Trust (NYSE: VNO) spun off its Washington, D.C.-area business, Charles E. Smith, and merged it with private real estate development firm, The JBG Companies.
JBG's roots extend back to the 1960s, and over the decades it earned a "stellar reputation as a developer, investor, steward of institutional capital, and as a value creator," says Stifel analyst John Guinee. He notes that while the merger coupled JBG with Vornado's "somewhat challenging D.C. portfolio," the portfolio "got a lot better very quickly" when the Amazon deal was announced.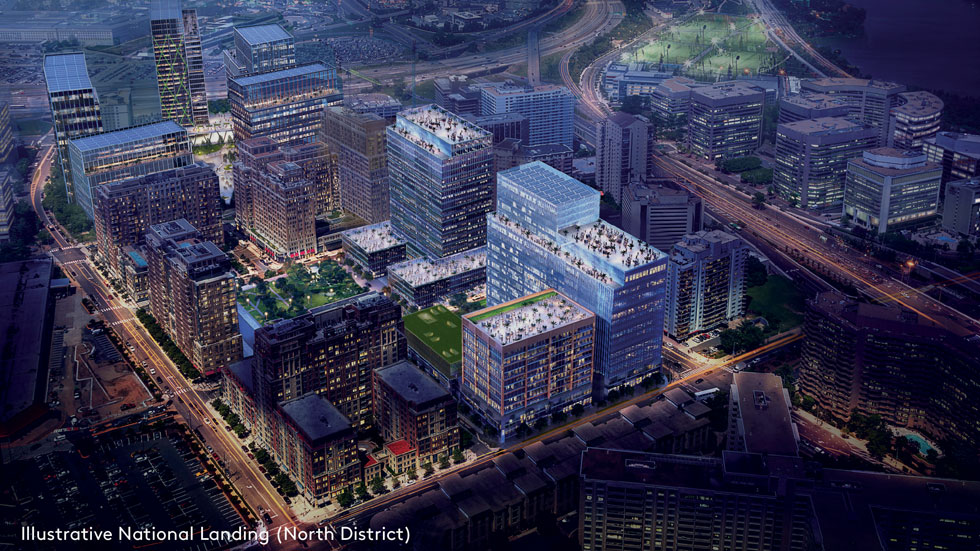 Green Street Advisors analyst Daniel Ismail adds that the Amazon decision "really fixed a big portion of the portfolio that we and other investors were concerned about, which was the high level of office vacancy in Crystal City." Ismail is also encouraged by steps taken by JBG SMITH in the last 12 to 18 months with respect to capital allocation and corporate governance, including opting out of the Maryland Unsolicited Takeover Act (MUTA).
Benefits of a Single Partner
The process of choosing a second Amazon headquarters was thorough, methodical, and in retrospect, predictable—not in the choice Amazon made, but in how long it took and the steps along the way, according to Kelly. He points out that the core Amazon search team was only five to 10 people who were responsible for evaluating each potential site and touring the 20 finalists.
Kelly believes that one of the things that was critical from Amazon's perspective was to be able to work with a single landlord and partner on the deal. A little less than half of JBG SMITH's assets sit within a half-mile of HQ2. In addition to the space that Amazon will occupy, JBG SMITH has 7.4 million square feet of unencumbered land for new development within a mile of the site.

"Dealing with a counterparty like us, who could not only satisfy this initial need but also had lots of other opportunities, was very compelling to Amazon. It gave them a high degree of certainty that if they picked this location they then had a local partner who owned enough real estate to enable them to grow and not slow them down by having to assemble parcels or buy a site and then find a development partner. Those are the things that can cause a lot of friction and loss of time," Kelly says.
Reynolds adds that the Washington, D.C. region provides Amazon access to a "tremendous workforce." He notes that there are many similarities between Amazon's South Lake Union headquarters site in Seattle and National Landing.
"We were very simpatico in our thinking with Amazon about the opportunity to create a real neighborhood, not a campus. That was a driving force and something they repeated several times," Reynolds says.
Focus on Urban Placemaking
David Ritchey, JBG SMITH's executive vice president of commercial leasing, adds that in addition to being Amazon's development partner, JBG SMITH will also be its retail leasing partner on the entire ground floor of their buildings.
"Through the relationship-building phase of the pursuit we were able to demonstrate that we really understood urban placemaking," underscored by JBG SMITH's efforts in several emerging neighborhoods in the Washington, D.C. area, Ritchey says. "They saw an opportunity at National Landing for us to take that highly curated approach to urban retail and bring it to the community."
Because the merger with Vornado had closed just 18 months before, JBG SMITH was still immersed in the entitlement and design approval process for the future National Landing site during its discussions with Amazon. As a result, Amazon "had a lot of questions about the neighborhood, where the potential had yet to be realized. They were very focused on how we intended to deliver on that," Kelly recalls.
Reynolds points out that ever since the "rebirth" of the former JBG in 1998 (when it sold assets and its commercial property management business to Canada's TrizecHahn Corp.), "it's really been deep in our DNA to make investments in neighborhoods and communities and make sure that our tenants, residents, and customers all feel that we've made a positive contribution to the neighborhood. This was not a pitch to Amazon, it's what we do and believe in strongly, and it resonated very positively."
Another selling point for the deal was the strong alignment between JBG SMITH and Amazon on the importance of infrastructure, adds Ritchey, highlighting the planned connector bridge between National Landing and Reagan National Airport. The partnership will also result in full funding from the State of Virginia for two new Metro transit entrances and the lowering of Route 1, the elevated highway that separates Crystal City and Pentagon City.
Tilt to Multifamily
Kelly explains that JBG SMITH's development plans in the National Landing neighborhood are heavily oriented toward delivering new multifamily units, to make it more of an 18-hour environment. "Amazon brings to the neighborhood tens of thousands of well-compensated employees that we expect will probably skew a bit younger and will more likely be apartment renters," Kelly says.   
Overall, Kelly expects an additional 3,000 to 5,000 multifamily units could come online in the National Landing submarket in the next five to 10 years, noting that JBG SMITH controls over two-thirds of the developable land around HQ2.
In terms of JBG SMITH's total portfolio, at the time of the company's launch in 2017 the balance was about 75 percent office to 25 percent multifamily. Kelly says the goal is to migrate the portfolio to at least 50 percent multifamily. "Getting to 50 percent will require quite a bit of capital recycling, asset recycling, and acquisition and development—all of which we have been doing and making good progress toward. The Amazon tenancy will allow us to do that even faster," he says.
While JBG SMITH has not set a timeframe for the shift, given that recycling assets, investing in existing multifamily, or building new multifamily are all market and cycle dependent, Stifel's Guinee anticipates that the shift could occur fairly quickly, possibly in three to five years. Kelly emphasizes that given where market prices are today, coupled with JBG SMITH's view that the real estate market is in late cycle, the focus now is on taking advantage of attractive pricing to sell certain office buildings to accrue capacity, deleverage, and continue funding the development pipeline.
Indeed, JBG SMITH exceeded its 2018 goal of shedding $700 million in assets, selling or recapitalizing nearly $970 million in assets or non-income producing land . "We did better from a pricing perspective than we thought we would on virtually every one of those asset sales," Kelly observes. "We feel great about where we are focused now, which is more on the almost fully-leased trophy, under-construction office assets. And then, some of these well-positioned class-B office properties, where vacancy is much tighter."
For 2019, the company expects to dispose of $400 million in assets. Given that many REITs, including JBG SMITH, are trading at a discount to net asset value, Kelly sees the disposal of assets as the most attractive source of capital at this time.
"As the cycle evolves, we may find ourselves in a year, or two, or three, with much better buying opportunities, Kelly says. "We have an overarching strategic objective, and we will execute in that direction as opportunity presents itself."
It's Not All About National Landing
While the focus of late has been firmly on the National Landing site, there's plenty more going on elsewhere in the JBG SMITH portfolio. Ritchey notes that the under-construction office portfolio is performing "very well." For example, 1900 N Street, an under-construction office asset in northwest Washington, D.C., has already had three floors preleased by law firm Goodwin Procter. In December 2018, JBG SMITH signed its second and third leases for the property with law firm Beveridge and Diamond, and global real estate services firm CBRE, bringing the building to 65 percent pre-leased. The building topped out in November 2018 and is expected to be completed in early 2020.
"Having CBRE, which is viewed as one of the leaders in commercial real estate services, relocate its Washington, D.C.headquarters to 1900 N Street really validates the exceptional design of that building," Ritchey says.
Meanwhile, 4747 Bethesda Avenue in downtown Bethesda, Maryland, is 77 percent pre-leased about a year prior to delivery. In addition to housing JBG SMITH's own offices, the building will be home to the new headquarters of fellow REIT Host Hotels & Resorts Inc. (NYSE: HST).
In addition, 500 L'Enfant Plaza in downtown Washington, D.C. is 75 percent pre-leased. "That's a submarket that is quite strong and active. We feel really good about our remaining inventory there," Ritchey says. He adds that JBG SMITH's class-B office portfolio in Washington, D.C., is more than 90 percent leased. "We continue to see strong demand there, and opportunities for continued rent growth."
As Reynolds puts it, "We think we have the best assets under construction in the best submarkets, and all delivering between late 2019 and early 2021." At the same time, JBG SMITH has 19 million square feet in its future development pipeline, including land it will sell to Amazon.
Best Neighborhoods
Before merging with the Vornado assets, JBG had been in the process of negotiating a deal to merge with New York REIT, a move that would have significantly altered its geographic footprint. While the deal was ultimately terminated, the question remains whether there are risks in having a narrow geographic focus on the metropolitan Washington region.
Kelly doesn't think so and believes investors like to "mix and match" markets themselves. "They don't necessarily want the management team telling them how much of New York, or Boston, or San Francisco, or L.A., or Chicago they should have. The local sharp shooters tend to have an edge over the multi-market players. That's been our experience."
Ismail at Green Street confirms that JBG SMITH has earned its reputation as experienced local experts. "The perception in the public and private market is that these are D.C.-area sharpshooters with a specialty in placemaking. Investor confidence in the team seems to be pretty high and well-deserved."
Where JBG SMITH excels, according to Kelly, is in giving investors not just the ability to invest in office in its local submarkets, but to invest in the full spectrum of economic activity within the best neighborhoods in the city, including retail and multifamily. "These are mixed-use communities, mixed-use assets, where the synergy of uses actually creates a value that is greater than the sum of the parts."
Ismail agrees. "While I think that the D.C. metro market overall is a fairly weak office market, I think their increasing multifamily exposure, as well as having Amazon as an anchor tenant at National Landing, does provide a decent amount of risk mitigation."
Why the REIT Approach Works
While JBG SMITH is a newcomer to the public REIT space, JBG had REITs in place within its private investment funds, dating back to 2008. "We are very familiar with the REIT rules, limitations and opportunities, and advantages and disadvantages that come along with that. Some of the things that we are known for, in this market, are being agile, flexible and creative," Kelly says.
Kelly says the company's repositioning as a public REIT brings many advantages. "The permanent capital structure of REITs in the public market affords you ultimate flexibility. Hopefully what investors have seen is that the REIT regime  has not held us back from being active and aggressive recyclers of capital. Just as we were in the fund business."  
Being a Good Neighbor
Last year, JBG SMITH launched the Washington Housing Initiative, in partnership with the Federal City Council, to address the issue of affordable housing in rapidly gentrifying neighborhoods. It aims to preserve or build up to 3,000 units of affordable workforce housing in the Washington, D..C region over the next decade.
JBG SMITH's Executive Vice President of Social Impact Investment AJ Jackson notes that the goal of the initiative is to try to bring together private and philanthropic capital, and JBG SMITH's skills and expertise, to create a solution that is "scalable and sustainable, so that other capital comes and repeats the initiative and starts to move the market in a meaningful way."
As part of the initiative, the Washington Housing Conservancy, a non-profit, will own and operate the housing. The initiative is also comprised of the Impact Pool, a vehicle managed by JBG SMITH. Capital from the Impact Pool will bridge the gap between traditional mortgage financing and charitable contributions with mezzanine investments.
"There have been policy solutions around affordable housing before, but they just haven't produced enough housing. Most of that housing is not targeted at the core of the workforce, but at lower income households. We really saw this need for people who earn too much for traditional subsidies, but not enough to be well-housed within the region," Jackson explains.