In December 2018, New Yorkers welcomed the city's first open-air rooftop ice skating rink atop Pier 17 in the Seaport District of lower Manhattan. The 5,100 square foot Winterland Rink offers panoramic views of the East River and Brooklyn Bridge, and amenities such as the speakeasy rooftop lounge R17 with seasonal fireside seating; Tank, a "warming hut" bar and restaurant; and Skyline Hall event and community space. These same views are offered year-round to the public with versatile new features based on the season.
The venue's ability to evolve and cater to a diverse clientele reflects the new Seaport District's larger philosophy—to meet the varied appetites of New Yorkers and visitors as a "port of discovery."
"It was built with New Yorkers in mind and you can tell that from their original community-oriented programming," says Jessica Lappin, president of the Alliance for Downtown New York, which provides services and advocacy for the area and manages the Downtown-Lower Manhattan Business Improvement District (BID). "You see locals at the summertime food pop-ups, the winter skating rink, and other events," she adds.
Its inaugural rooftop concert venue season launched in the summer of 2018, and the series sold out 18 of 23 shows, welcoming more than 60,000 attendees to its shows featuring artists from Amy Schumer to Kings of Leon and Sting.
These first seasonal transformations at Pier 17 mark the latest developments to the reimagined Seaport District by The Howard Hughes Corp. (NYSE: HHC). The ongoing redevelopment of the city's historic commercial hub encapsulates several city blocks, with plans for approximately 450,000 square feet of culinary, fashion, entertainment, and cultural experiences to reestablish lower Manhattan—one of the city's fastest-growing residential districts in New York—as an entertainment and cultural destination.
"Our new 1.5 acre year-round rooftop community amenity will continue to be a major driver in attracting both new tenants and visitors—not just to the Seaport District but to lower Manhattan overall," says Howard Hughes Corp.'s CEO David Weinreb.
Restoring A Historic Commercial Center
From its inception, the area now known as the Seaport District played a key role in the economic growth and development of New York. Once a 17th century outpost for the Dutch West India Company, the area developed as the key commercial hub and import-export cargo center for American trade in the 19th century. It was also home to the famous Fulton Fish Market, one of the oldest wholesale fish markets in the United States.
By the mid-20th century, the area no longer served as a key port and had fallen into disrepair, eventually becoming inactive for decades. In 2005, the Fulton Fish Market had formally reopened in the Bronx after a fire at its original site. Hurricane Sandy took a further toll on the once-pedestrian friendly area in 2012.
Despite the challenges, the area was still home to the historic Seaport Museum, and continued preservation efforts meant that its cobblestone streets and maritime buildings were patiently awaiting thoughtful redevelopment. When Howard Hughes Corp. inherited the Seaport District properties from General Growth Properties (GGP) in 2010, the area still attracted roughly 1 million tourists every month, but it had lost its relevance to locals and offered little retail or amenities, says Weinreb. Its rich history and stunning waterfront views, coupled with the rapid growth in lower Manhattan post 9/11, pointed to the untapped potential of the area.
"We believed that the redevelopment of the Seaport District held significant potential to create a dynamic destination in lower Manhattan for both local residents and tourists alike, one that would reshape the identity of the area and significantly enhance the value of an asset with vast untapped potential," Weinreb says.
Incorporating the area's significant history was part of those plans.
Unlike its preexisting mall structure, Pier 17's new design echoes New York's iconic streetscapes, featuring smaller structures housing individual retail and restaurants with open-air pedestrian thoroughfares designed to extend the city grid toward the East River. The building materials for both the facade and pier are marine grade and able to withstand environmental extremes with minimal maintenance.
The Seaport boasts the city's largest concentration of restored maritime buildings. "We have meticulously preserved the integrity of many of its buildings and continue to authentically pay homage to the district's history with the design of new construction, focusing on issues of resiliency, without compromising the district's historic fabric," Weinreb says.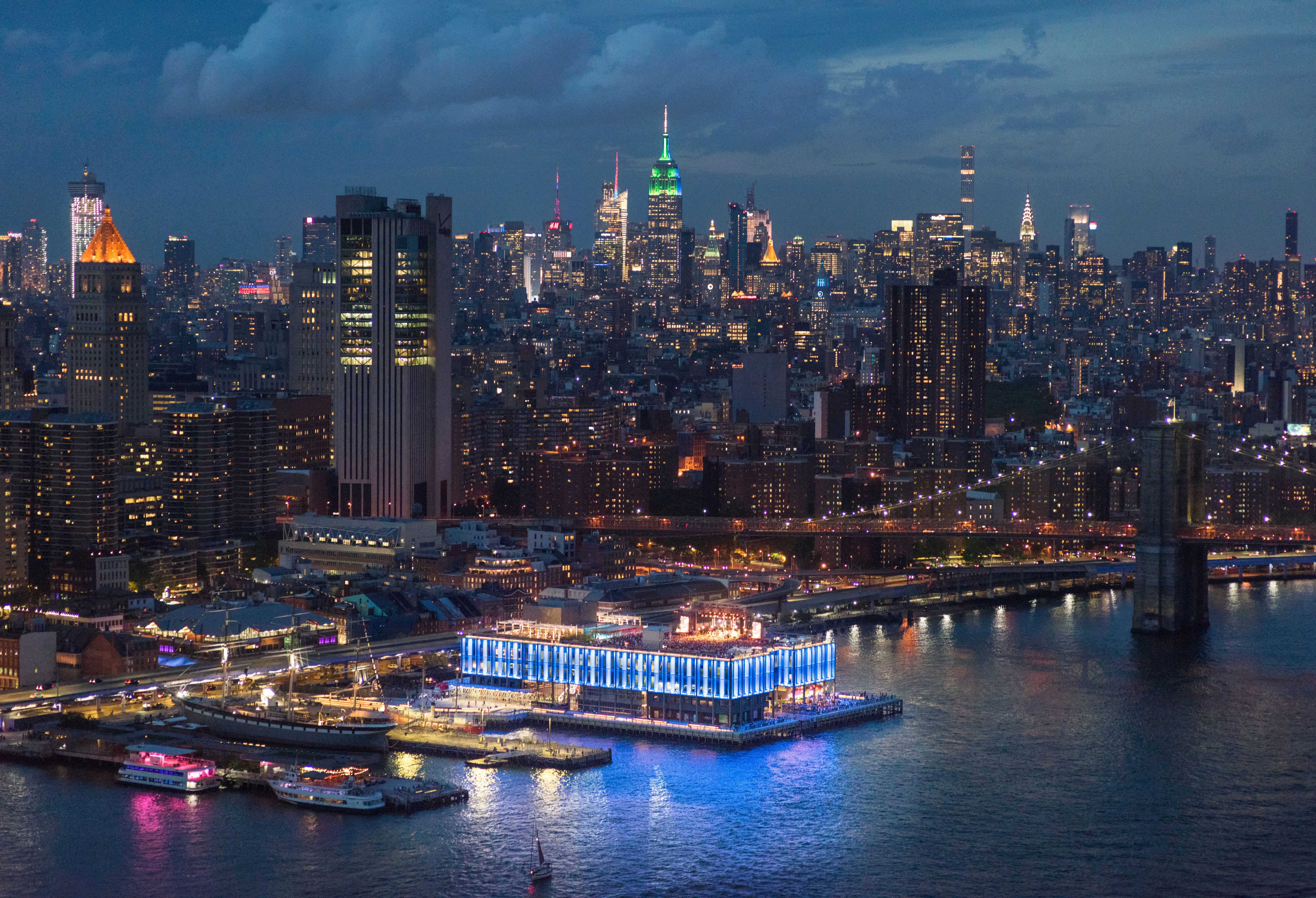 Working closely with the city's Landmarks Preservation Commission and state historic preservation office, Howard Hughes Corp. created a comprehensive salvage plan for one of the area's most notable landmarks, the Tin Building, which formerly housed the Fulton Fish Market. This included carefully deconstructing and cataloging materials prior to beginning rebuilding it 30 feet east of its original location.
"The new Tin Building will be elevated atop a new pier above the 100-year floodplain, restoring the visibility it had in the early 20th century," explains Weinreb. Once completed, the building will house a one-of-a-kind, 50,000 square foot food hall and gastronomic experience by renowned French-American chef Jean-Georges Vongerichten, which will open in 2020.
"We hoped that Howard Hughes Corp. would reinterpret the site's historic past as a market and center of commerce," Lappin says, "which is why we appreciate their ongoing work with the Seaport Museum and the tour group Black Gotham," an immersive visual storytelling tour that explores the impact of the African Diaspora on New York.
Capitalizing on a Virtuous Cycle
Howard Hughes Corp.'s reimagining of the Seaport District aligns perfectly with its larger corporate strategy.
"The Seaport District is no doubt one of our most high-profile developments given its iconic nature and location," says Weinreb. He has been with the company since its inception in 2010, when it emerged as a spin-off from GGP—now Brookfield Properties Retail Group (NYSE: BPR)—as an independent, publicly traded real estate company. The newly formed Howard Hughes Corp. included more than 30 assets. "What is most unique about us is the combination of our three business segments that provide us with a number of competitive advantages," Weinreb says.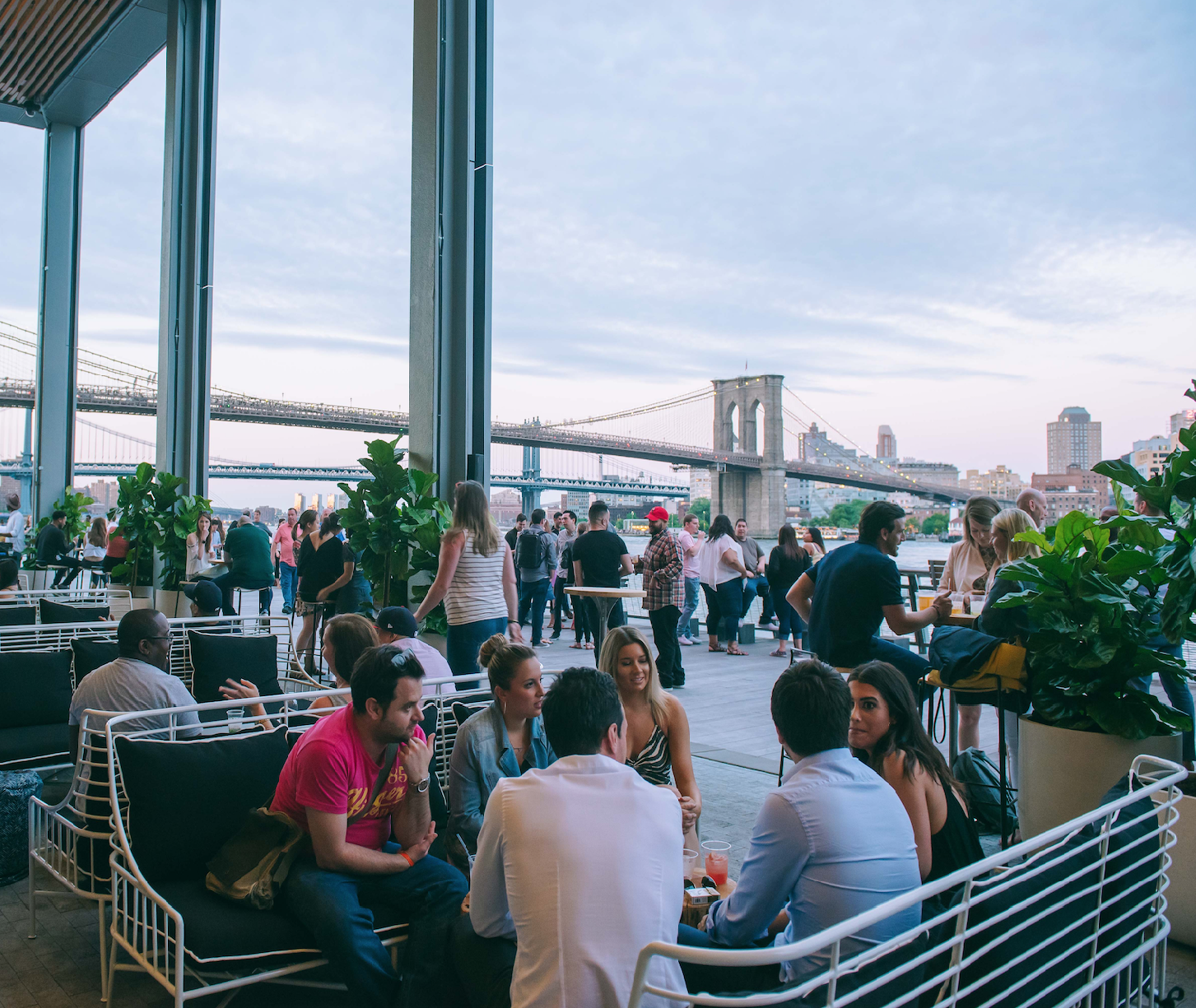 The company's three business segments include: master planned communities, consisting of residential land horizontally developed and sold to homebuilders; strategic developments; and operating assets.
"Together, these three business segments create an economic moat that enables us to deliver superior risk-adjusted returns," Weinreb says. The organization's core assets are located in five geographic markets: The Seaport District in New York; Columbia, Maryland; The Woodlands, The Woodlands Hills, and Bridgeland in the Greater Houston area; Summerlin in Las Vegas; and Ward Village in Honolulu, Hawaii.
Weinreb credits the company's imbedded virtuous cycle with making the company's business model self-funding.
"As we generate cash flow from recurring net operating income, land sales to homebuilders, and profits from condominium sales, we recycle our capital into our substantial development pipeline of more than 50 million square feet of entitlements and deliver these commercial amenities at outsized risk-adjusted returns." The end result is producing a growing stream of operating income and an increased demand for homes in its MPCs, which simultaneously increases community desirability and the value of remaining residential land, fueling commercial development. "This self-funded virtuous cycle repeats itself over and over again and enables us to position our assets for long-term success and leverage our placemaking platform," explains Weinreb.
"Port of Discovery"
As one of Howard Hughes Corp.'s most iconic assets, the Seaport District has already attracted top talent and businesses, bringing much-needed change to this part of the lower Manhattan neighborhood. "The opening of Pier 17 has brought more food, entertainment, and excitement to the area," says Lappin. "The Seaport District is a radical departure from the old Seaport that was full of tourist traps and t-shirts."
The district is now home to the only U.S. location of Carla Sozzani's 10 Corso Como, Manhattan's first iPic Theater, Roberto Cavalli and Cynthia Rowley, the first permanent SJP by Sarah Jessica Parker in New York, the district's first boutique hotel Mr. C Seaport, and local favorite Big Gay Ice Cream.
"Our vision was to build on the Seaport's rich history and create a 'port of discovery,' bringing unique experience-driven offerings to the Seaport that could not be found elsewhere in the city and inviting New Yorkers to visit the Seaport again and again," says Weinreb.
In April, it welcomed the television sports network ESPN, a division of The Walt Disney Co. "We had been seeking a location for some time that really screamed New York City," says ESPN Senior Vice President Chris Calcinari. "Views of the Brooklyn Bridge and the East River, coupled with the ability to activate on the roof, river deck, and throughout the Seaport District made this site compelling." ESPN's viewing audience now gets to enjoy the same cityscapes of lower Manhattan, the Statue of Liberty, the Freedom Towers, and the Empire State Building that attracted ESPN to the Seaport.
"This location is a true content factory," Calcinari says. "Our morning and afternoon line-up of studio shows shines with iconic views from lower Manhattan, we have access to a deeper line-up of guests that either live or are visiting the city, and our employees really enjoy this fantastic new ESPN work location." With locations around the globe, ESPN currently has 70 employees at its Seaport studios including on-air talent, producers, technicians, and management. The site also serves as one of the company's go-to spots for hosting media and advertising events.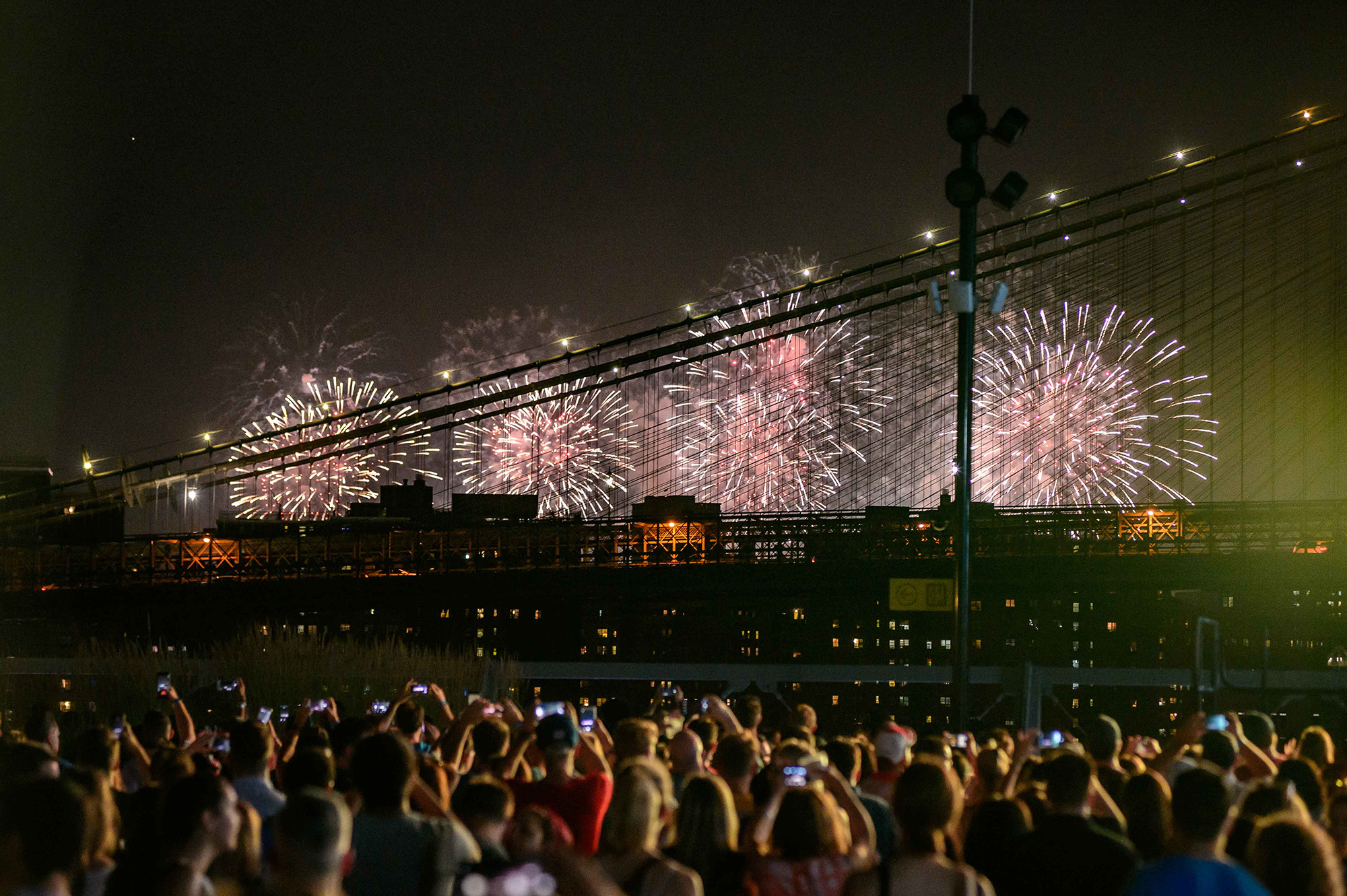 "The impact to our business can be seen each day across the ESPN networks and platforms," he adds. "No other location provides the essence of New York City the way that the Seaport District does."
A Pier Above
 Lower Manhattan is currently one of the fastest growing neighborhoods in the city with a rapidly-growing residential population and a high concentration of millennials seeking a live-work-play destination.
"Our careful curation of dynamic experiences continues to attract tenants—retailers, designers, chefs, and more—who want to be a part of what we see as New York's next creative hub, as well as today's customers who are looking for an engaging, multifaceted experience, both within an individual store or restaurant, and in the surrounding neighborhood," says Weinreb.
The Seaport District will soon welcome new restaurant concepts from culinary talents such as Jean-Georges, David Chang, Andrew Carmellini, and Helene Henderson of Malibu Farm. Its Summer Concert Series on The Rooftop at Pier 17 will kick off its second season in May. Howard Hughes Corp. has also recently purchased 250 Water Street, a one-acre site situated at the entrance to the Seaport District, which they will unveil development plans for at a later date.
"This is New York. Change is a natural part of our city's evolution. I've heard very positive feedback about what's happening here," Lappin says. "With each passing week, it becomes clearer that the Seaport District is closer to reaching its enormous potential as both a community treasure and a powerful driver of meaningful economic activity."