David Simon looks back on 20 years and ahead to the future.
07/17/2013 | by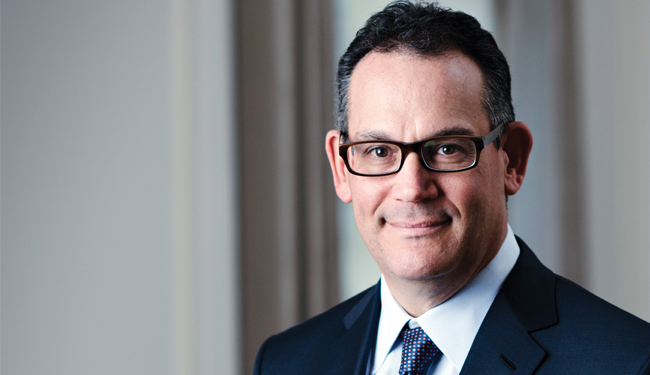 The largest real estate company in the world isn't headquartered in New York or Los Angeles or London or Tokyo.
Mall REIT Simon Property Group (NYSE: SPG) calls the great state of Indiana home. In conversation, chairman and CEO David Simon reflects the firm's Midwestern sensibilities. He deliberates thoughtfully over questions before offering up substantive answers on topics ranging from his hobbies to his company's plans for global expansion. (When asked if he'd ever consider joining some of his CEO peers in making the leap into reality television, his response doesn't leave much doubt: "Absolutely, positively, unequivocally—no.")
With the 20th anniversary of Simon Property's initial public offering approaching in the fall, REIT magazine interviewed the company's chairman about its meat-and-potatoes approach to the top.
REIT: What kind of legacy is Simon Property Group creating?
David Simon: We're not perfect in any of these areas, but, first of all, I'd like for our company to be considered a good place to work.
I also want our properties to contribute to their communities in one way or another. Even simply paying real estate taxes can provide a great benefit to the community, because a lot of those taxes are used for schools and things like that.
I also want us to be a good investment for our shareholders—that they feel good about investing in the company.
If you have a good product and you make the product better, most of the stuff that I mentioned follows along from that.
REIT: Outside of the REIT industry, give us a CEO whom you admire?
Simon: He probably doesn't know this, because I don't know him that well, but the one gentleman that does jump out at me is Steve Wynn (chairman and CEO of Wynn Resorts).
I think he's got a great vision for the business that he is in, but he's also very sophisticated financially. You have to go beyond vision. You have to have vision, but you also have to understand how to implement it. He has been one of the CEOs who has been able to balance and do both of those as well as anybody.
REIT: So, what is a typical work week like for the CEO of the world's largest real estate company?
Simon: I work on deals. I focus on our properties. I deal with our retailers. I go through development plans. I do a little bit of everything.
Take today, for instance. We're getting ready to embark upon a huge redevelopment project at Roosevelt Field in New York. I spent today walking through the plans and the scope of the redevelopment.
"Managing is important, but you have to make decisions as if you're a 100 percent owner of the business."
It is critically important in focusing on our properties and our retailers. That's where I spend most of my time.
REIT: OK, that's the work week. What do you do to unwind?
Simon: Nothing crazy. When the weather is good on the weekends, I'll play golf every once in a while.
But it's basically spending time with the family. I've tried to attend all my kids' sporting events over the years. I don't know if that's unwinding, but it's what I do. For parents watching their kids play sports, it's probably not as relaxing as it should be. (Laughs.)
REIT: Speaking of sports, I imagine basketball has to be in your blood. Besides being from Indiana, your uncle is still the owner of the NBA's Indiana Pacers. Could you ever see yourself taking an active ownership in a sports franchise, perhaps screaming and sitting courtside like Mark Cuban?
Simon: Well, I do love to scream at the refs—not as an owner, but as a fan. I really don't see myself doing that at all. I'm too busy watching my kids' sports.
REIT: What would you have said if someone told you in 1993 that your company would become the largest public real estate company in the world?
Simon: I never would have thought that.
It's hard to imagine that it has been 20 years as a public company. In the back of my mind, maybe I was thinking that over the years we could become a leader in this industry as we grew, so I'm very proud of the organization that we've been able to do that. It has been a great run, but I never would have guessed that we'd be in the spot that we're in today.
Up Close
Age: 52
Education: B.S., Indiana University; M.B.A.,
Columbia Business School
Family: Wife, Jacqueline, and five children
Currently Reading: "Back to Blood" by Tom Wolfe and "The Great Deformation: The Corruption of Capitalism in America" by David Stockman
Favorite Vacation Spot: San Jose Del Cabo
Professional Activities: NAREIT, International Council of Shopping Centers, Business Roundtable and The Business Council
REIT: What has fueled that growth?
Simon: We still have all the discipline that is required in being public. On the other hand, I think we're very entrepreneurial, because I don't think companies today can really be leaders in their industries unless they have an entrepreneurial flair.
That's a lot of heritage from my dad (Simon Property co-founder Melvin Simon, who died in 2009). You really don't want to lose that entrepreneurial focus, because entrepreneurs have created the most value in this country. I don't want us to ever lose that hallmark.
We can't take anything for granted. We've got to always improve the product. I think so much of that is just not losing that entrepreneurial spirit.
On our senior management team, we think like owners. You never want to separate that thinking as an owner, as opposed to just a manager. Managing is important, but you have to make decisions as if you're a 100 percent owner of the business. Sticking to that philosophy has helped us grow in a smart fashion.
REIT: That growth has come in part thanks to a number of major acquisitions that you've spearheaded. In hindsight, is there one deal you can point to that was most instrumental in propelling the company forward?
Simon: Not really. They've all been very good building blocks to where we are today—one led to another, which led to another.
When we went public, we did feel that increasing the scale and the quality of our real estate was really important in how we approached growth and that it would help us in driving our cost of capital down. It was also about improving our relationships with retailers and giving us the platform to see a lot more opportunities that others couldn't act upon or wouldn't be able to see.
I think all of our acquisitions have built upon each other in a coherent fashion. We've never done deals just to do deals. We've always done them because we thought they would add to the quality of the portfolio or our cash-flow growth. I can't tell you how many times we were criticized over our history of deal-making, but it generally worked out in a positive fashion.
REIT: What about one that got away?
Simon: There are a couple deals that I regret we didn't have the courage to do. One was a preeminent Canadian company in the late 1990s. We had a chance to participate in the buyout with a highly thoughtful Canadian pension fund.
Unfortunately, if you go back in the late '90s, our stock was trading around where our IPO price was. The REIT industry generally was way out of favor because of the Internet bubble.
We could have played a role in that deal, and it would have been a great deal. We should have done it, but we just didn't want to take the heat from our shareholder base about doing another deal. It was right after our merger with Corporate Property Investors, and a lot of people felt we had overpaid for that portfolio.
That would have been a great platform for us in Canada, which has turned out to be a great place to invest. We had it, it was available to us and we could've played a nice role in it. We just didn't have the courage to look at the naysayers and tell them that this was the right thing to do.
REIT: What has been the most dramatic change in the mall business, or retail in general, over the last 20 years?
Simon: I'd clearly say the Internet. We've been extremely profitable, but it would have been fascinating to have seen our results had the Internet not surfaced.
We have suffered to some extent because of the Internet. Certain retailers have lost market share, like the book and record stores.
"It has been a great run, but I never would have guessed that we'd be in the spot that we're in today."
Now, we've got to sort through how to use it to our advantage. There is a real opportunity for us and other landlords to use e-commerce to really drive traffic. We've got to use it to create an ally in our business.
Look, would I have preferred that the Internet not sell some of our products that used to be sold in malls? No question about it. But I do think it creates an opportunity in the future where we do create a mall environment that's really sophisticated from a technology point of view and can help the customer navigate the shopping experience.
REIT: Simon Property already has a presence in international markets, but do you expect the company will further increase its global footprint in the near future?
Simon: What we've noticed internationally is that we really do add value to the investments that we've made. A lot of our management techniques and our capital-allocation skills can be exported.
I'm confident that we can continue to do prudent deals, but it's not for the faint of heart. You add elements to the business that you don't have to worry about domestically, such as currency movements and the like. But I've been comfortable with what we've been able to do and the profitability of our investments, so we'll continue to look for opportunities. It won't dominate what we're doing, but we'll hopefully supplement some of the investments that we've made over the upcoming years.
REIT: Events such as the anniversary of your company's IPO seem to serve as reminders that as more time passes, the executives who ushered in the start of the Modern REIT Era are stepping down and making way for a new wave of industry leaders. What advice would you give to a new REIT CEO?
Simon: I would not be obsessed with the stock price. I would be obsessed with the product that you have. How do you make that product better? Whether it's a hotel or an office building or a medical-services building, that should be your focus.
At the end of the day, if we make our product better, our cash flow will increase. That will ultimately get the attention of investors over a period of time. Don't get carried away if your stock is up 20 percent—or even down 20 percent—so long as you're taking care of the product.