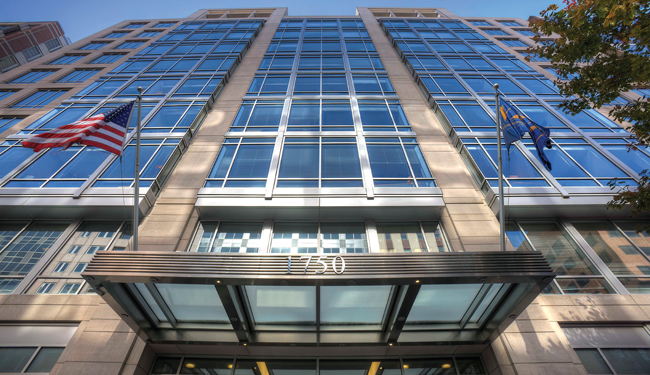 In late 2009, when many REITs were still finding their footing in the midst of the Great Recession, First Potomac Realty Trust (NYSE: FPO) embarked on an aggressive acquisition campaign in the Greater Washington, D.C,. area. In a two-year period, the Bethesda, Md.-based company acquired nearly $1 billion worth of office properties and, in the process, gained a foothold in downtown Washington.
Earlier this year, First Potomac took another step forward in its planned transition to a company largely focused on the office sector in Washington and its suburbs. In January, it put the majority of its industrial assets up for sale, timing the planned sale to capitalize on the robust demand among institutional investors for industrial property, says Chief Executive Officer Douglas J. Donatelli, who co-founded First Potomac in 1997 and took it public in late 2003.
First Potomac Realty Trust At A Glance:
Address:7600 Wisconsin Avenue,
11th Floor
Bethesda, MD 20814
Tel:301-986-9200
Website: www.first-potomac.com
Management Team: Douglas J. Donatelli
Founder, Chairman & CEO
Nicholas R. Smith
Founder, EVP & CIO
Andy Blocher
EVP & CFO
James H. Dawson
EVP & COO
In the years following its IPO, First Potomac, which had been spun off from privately held Donatelli & Klein Inc., grew to become a major player in the industrial and business-park sectors in Washington's metropolitan area. Its acquisitions and, to a lesser extent, developments, pushed the value of its portfolio from about $200 million in 2003 to more than $1 billion in 2008.
About three years ago, the company decided to change course, figuring that its growth prospects were far better in the region's much-larger office sector. The D.C. metro area is the country's second-largest office market and its 30th-largest industrial
market, according to CBRE, which included the District, Maryland (excluding Baltimore) and Virginia in the industrial ranking.
"Washington, D.C. is not really an industrial town," says Donatelli, who co-founded the company with Nicholas R. Smith, its current chief investment officer. First Potomac had gross assets valued at $1.8 billion late last year.
"We want to simplify our story, and we can create a lot more value for shareholders by focusing on a combination of value-add and stable office properties," Donatelli says.
Staying Local
From late 2009 through 2011, First Potomac leveraged its many local connections to make a series of office acquisitions, many of them off-market deals. For the most part, the company bought newer, multi-story office buildings, most of them fully leased. It also bought a handful of newly built suburban properties that required significant lease-up – which caused concern among some investors when the region's office market, a bright spot during the recession thanks to government-sector growth, began to soften in early 2011.
Leasing activity in the D.C. area has slowed significantly as a result of the federal government's fiscal woes and uncertainty among contractors – creating what Donatelli describes as a bifurcated market that favors newer, LEED-certified office properties in urban locations or in so-called live-work-play suburbs that are well-served by public transportation.
Sprawling suburban office parks, he says, are falling out of favor with many tenants at a time when businesses are generally eager to use both energy and space much more efficiently. Twenty-seven percent of First Potomac's multi-story office buildings are LEED-certified, and the company expects the figure to climb to 31 percent this summer.
"You have a limited supply of high-quality space in the D.C. metro area and heavy demand for it, along with a tremendous supply of lower-quality, older buildings. That creates a situation where you have winners and losers. We have created an office portfolio that gets in front of that demand," Donatelli says.
Gone are the days when law firms, which make up a big slice of the D.C. tenant base, typically sought out enough space to accommodate secretaries for every partner as well as huge law libraries and meeting rooms, according to Donatelli.
"They want much more collaborative spaces with higher ceilings, rather than chopped-up spaces. They are paying more per square foot to move into higher-quality spaces, but taking less square footage in the move," he says.
Cutting Leverage
Once its planned industrial sale is complete, First Potomac will own some 10 million square feet, about 52 percent of it consisting of office assets. Its business parks – low-slung buildings that generally combine warehouse/showroom space with a minimal amount of office space – will make up about 42 percent of its portfolio, as measured by square footage. The company's remaining industrial assets will comprise slightly more than 6 percent of its total square footage.
First Potomac plans to use proceeds from the sale of 4.3 million square feet of industrial space, about 2.6 million square feet of it in Southern Virginia, largely to reduce its leverage. The company is seeking to improve its debt profile in an effort to secure an investment-grade credit rating and lower its cost of capital, says Donatelli.
New chief financial officer, Andy Blocher, who joined First Potomac late last year from Federal Realty Investment Trust (NYSE: FRT), is overseeing a capital plan aimed at improving what some analysts say are relatively thin debt-coverage ratios resulting from past acquisitions supported by a low level of equity issuance.
Donatelli credits Blocher, Federal Realty's former CFO, with helping that company to achieve one of the lowest costs of capital among publicly traded REITs. First Potomac is aiming for a six-times debt-to-EBITDA ratio. It had an eight-times debt-to-EBITDA ratio in the fourth quarter of last year.
The company will continue to look for "select capital recycling opportunities" within its portfolio and, according to its capital plan, seek to grow its asset base by making acquisitions that are financed with a mix of equity and other capital. In January it announced an annualized per-share dividend reduction of 25 percent.
"You could question one or two of the office assets they acquired, but they generally made good decisions on the left side of the balance sheet. However, they were unwilling to absorb much dilution, so there was little equity issued to support the acquisitions," says David Rodgers, an analyst at Baird Equity Research.
Office Offensive
Despite the weaker demand for office space on its home turf, First Potomac has made headway when it comes to filling up its so-called value-add office properties, which, on average, were 15 percent leased at the time of their acquisition. Donatelli says he expects the five properties to be "stabilized" at 95 percent leased by early 2014.
"Demand has been soft, but these properties have benefited from being in the right locations. Our average cash-on-cash return on these acquisitions is approaching 9 percent, which is stout," he notes.
"You have a limited supply of high-quality space in the D.C. metro area and heavy demand for it."

—Douglas J. Donatelli, Founder, Chairman & CEO
While most of the buildings are newly constructed, First Potomac undertook a complete renovation of one property, which was in foreclosure and vacant when the company purchased it in April 2010 for $13.6 million. The company spent about $10 million to renovate a tired, eight-story office building in Oakton, a Northern Virginia submarket. It replaced the building's exterior windows, updated its interior and put in new mechanical systems. It also added a fitness center for tenants, conference facilities and a rooftop terrace. The company achieved LEED-Gold certification in 2012 for the 197,700-square-foot building, called Three Flint Hill. While Northern Virginia has been particularly hard-hit by the government-spending squeeze, First Potomac expects Three Flint Hill, which was 85 percent leased and occupied earlier this year, to be 100 percent leased by the end of this year.
The company is undertaking a similar repositioning of a 105,000-square-foot office building near the U.S. Capitol and Union Station that it acquired in 2011 for $15.3 million. The renovation of 440 First Street NW, which was built in 1982 and occupied by a single tenant until mid-2007, is expected to be complete this summer. First Potomac is seeking LEED-Platinum certification for the renovated building, which will have retail and restaurant space on the ground floor.
"We think there are lots of opportunities to take older, 70s- and 80s-era buildings, at the right price and location, and add value by bringing them up to today's standards," Donatelli says.
Return to Normalcy
The company's recent progress on the leasing front hasn't gone unnoticed. First Potomac has "made huge strides in terms of leasing these buildings, but when you aggregate them in with the overall portfolio, it drags the statistics down," says Sheila McGrath, a managing director at Evercore Partners.
Earlier this year, First Potomac's core office portfolio was 98 percent leased, while its value-add office portfolio was nearly 80 percent leased, according to Donatelli. The industrial portfolio it put on the market was about 80 percent leased, and First Potomac's business parks were approximately 90 percent leased. In blended terms, its portfolio had an occupancy rate of 83 percent and was 85 percent leased.
Some experts say the leasing climate in the D.C. market isn't likely to get much worse, but it isn't entirely clear when it will improve. In the fourth quarter of last year, the Washington office market had a vacancy rate of 13.5 percent, up slightly from 13.3 percent in the previous quarter, and negative net absorption of 769,410 square feet, compared to positive net absorption of 271,813 square feet in the third quarter, according to a CoStar Group report.
"The general view is that the market is unlikely to get worse from a leasing standpoint, but it is hard to know when it is going to get better," says Brendan C. Maiorana, an analyst with Wells Fargo Securities.
The contraction of the government sector, according to Donatelli, has masked strong job growth in the region's private sector. The federal government cut 20,000 jobs in 2012, but the region still had a net gain of 30,000 jobs last year thanks to private-sector hiring, he says.
The metro area also has one of the nation's most highly educated workforces, and during the past five years about a half dozen Fortune 500 companies, including Hilton Hotels and Northrop Grumman, have relocated their headquarters to the region, Donatelli points out.
"Once the federal government gets back to some sense of normalcy, what is going on in the private sector in Washington, D.C., will become more apparent," he says. Just exactly when that normalcy will return is anybody's guess. Eventually, though, the federal government will begin to lease new space again, says Donatelli, adding that First Potomac is poised to capitalize on that demand.
The federal workforce, he says, is smaller today than it was 20 years ago. And contrary to popular belief, Donatelli adds, the federal deficit is largely attributable to the cost of entitlement programs, along with military spending, as opposed to the actual size of the federal workforce.
"The federal government can't and won't shrink indefinitely," he says.
Anna Robaton is a regular contributor to REIT magazine.