Weyerhaeuser consolidates its position as a timberland REIT powerhouse.
05/24/2016 | by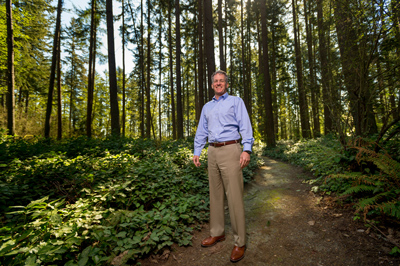 In 1900, Frederick Weyerhaeuser and 15 partners purchased 900,000 acres of Washington state timberland from the Northern Pacific Railway. It was the largest private land transaction in United States' history to date, and it is considered the start of a new era for the nation's timber industry.
Fast forward to today, and the company Weyerhaeuser founded continues to think big. In November 2015, Weyerhaeuser (NYSE: WY) announced it would merge with rival timberland REIT Plum Creek. The transaction was finalized in February, making Weyerhaeuser one of the largest REITs in the U.S. and the nation's largest non-governmental owner of timberland.
Doyle Simons, the company's president and CEO, recently spoke with REIT magazine about the merger, the outlook for timber prices, the growing role of wood in commercial construction and more.
REIT: What are your main priorities at this time regarding the merger integration process?
Doyle Simons: We are intensely focused on the integration process, and we have two main priorities: Ensuring all of our employees are aligned behind a common culture and a common vision; and capturing the cost and operational synergies associated with the transaction.
Our common culture is something we absolutely need to get right, and I've been spending a lot of time meeting with our employees to outline our new vision. Ultimately, the vision is working together to be the world's premier timber, land and forest products company. I went out on the road the first full week after we closed this transaction and walked through the vision statement with over 500 employees in small meetings to make sure every employee understood exactly what kind of company we're building.
Our new senior management team is working really well together, and our employees understand the opportunity this merger creates both for them and for our shareholders. So we're really excited, and I'm encouraged by the progress we have made thus far. We just need to ensure that everybody remains focused and moving in the same direction.
REIT: Where are the main synergies emerging?
Simons: We have targeted $100 million in cost synergies, primarily reducing overlap in our corporate and regional operations. I'm highly confident we will meet or exceed that run rate target by the end of year one. 
Up Close

Family: Wife, Alane; daughters, Kelsey and Kendall.
Education: Baylor University; University of Texas Law School
Community Activities: Member of the board of visitors for the University of Texas M. D. Anderson Cancer Center, and the Baylor University Hankamer School of Business Advisory Board. Member of the board of directors for United Way of King County, Washington.
The other bucket is operational synergies, and these are the ones I'm most excited about as we move forward. These are things that come from applying best practices, for example, increasing the efficiency of our transportation and haul operations, and optimizing the way we harvest and merchandise logs across our combined 13.2 million acres of timberlands.
We're targeting $10 million to $20 million of operational synergies this year, but the opportunity is much larger than that. It's a huge opportunity for us going forward.
REIT: What are your projections for the housing market?
Simons: We are expecting housing starts to rise 10 percent in 2016 to approximately 1.2 million to 1.25 million units, similar to the 11 percent gain seen in 2015. Housing is expected to continue its growth trend over the next several years, driven by continued employment growth and favorable demographics.
These trends will also gradually increase the share of single-family starts closer to its long-term average as more people can afford and choose single family ownership.
REIT: Where are timber prices headed?
Simons: There are two different log markets, one in the South and one in the West.
In the South, we have more than 7 million acres as we combine these two companies. We anticipate modest improvement in pricing in the South in 2016, somewhere in the 2 percent to 4 percent range. As we move forward, and housing continues to improve, we think that there's an opportunity for logs to return to their pre-recession level of more than $40 per ton over the next few years.
The West is a different market as about 50 percent of our revenue there relates to export markets. The key markets are Japan and China.
Two-thirds of our exports go to Japan and we're encouraged by Japan's solid markets. Japanese housing demand remains strong due to low mortgage rates. This has resulted in a high demand for Douglas fir logs.
China's markets appear to be stabilizing, and we see China continuing to be an important market going forward, with increasing demand driven by continuing urbanization and a rising middle class.
In terms of domestic markets, as the California market gets going, we think that's a real positive for Western log prices.
REIT: Are there any notable trends that are driving the strategy of the wood products division?
Simons: Wood products producers are investing in their mills to improve performance, and in some cases enhance production capacity, as the housing market continues to improve. Weyerhaeuser's strategy is to focus on operational excellence and capital investment designed to drive our cost structure toward the first quartile to outperform competitors in any market. 
As dealers and builders have merged and housing activity has continued to grow, they are looking to leverage their scale. Weyerhaeuser's strategy is develop customer and distribution channels that will withstand this pressure, while providing diversification and a mix of high-quality products for our customers that result in top-quartile performance across the cycle.
REIT: Why did Weyerhaeuser see a need to launch an Operational Excellence (OpX) program?
Simons: We are essentially tied to the commodity business, and the way you win when you are tied to the commodity business is to have the right cost structure and out-execute the competition. Through operational excellence, we are making step-change improvements that will enable us to deliver industry-leading performance in each of our businesses.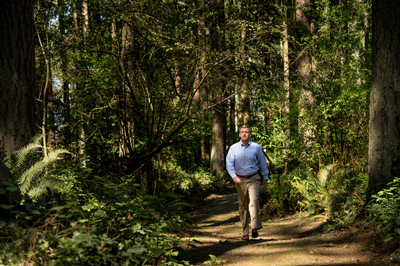 In 2014 and 2015, we laid out specific OpX targets for each of our businesses. We have met or exceeded virtually every one of those targets, captured over $330 million in OpX improvements and significantly improved our relative performance versus the competition. 
But the point of operational excellence is that it's never done. If we do it right, it's something that becomes integral to the fabric of the company. We are incenting and empowering our employees to identify opportunities to reduce costs or improve efficiency.
I'm proud of the progress we have made and of the hard work of our employees, but we have a lot more opportunity ahead of us.
REIT: What do you consider the most important environmental regulatory issues facing Weyerhaeuser and the timberland REIT industry?
Simons: If we want more land growing trees, then the biggest environmental issue for us is the tax code. The tax code today appropriately recognizes the long-term nature of investments in timberlands. Tax reform should preserve the important provisions in the tax code governing timberlands so that landowners can maintain investments in forests and continue to make these forests more productive.
Weyerhaeuser is also closely monitoring regulatory and legislative action to reduce atmospheric carbon. This includes the Environmental Protection Agency's Clean Power Plan and the commitment by the U.S. at the recent Paris climate talks.
Our working forests efficiently capture carbon from the atmosphere, converting it into a solid form: wood. Wood products can then be incorporated into buildings and other uses, where carbon is stored for decades. Wood-based fuels can also be substituted for fossil fuels, reducing our reliance on non-renewable fuel sources.
As new carbon policy develops, it is imperative that it recognizes the important positive role that working forests and wood products can play in mitigating the impacts of climate change.
REIT: Are you optimistic that the U.S. and Canada can make progress on the softwood lumber dispute, which involves U.S. concerns over the impact of government-subsidized imports from Canada?
Simons: It's an important issue for Weyerhaeuser and one that most players have been working on for many years. We're encouraged by the fact that the U.S. and Canadian governments have begun discussions. We're very actively involved with the U.S. coalition, which is providing advice and counsel to the U.S. Trade Representative. 
Although we still have work to do, we believe the parties will reach a new agreement. It will be good for the countries and parties involved and will also allow folks to switch their attention back to the issue of promoting the benefits of wood as a sustainable building product and increasing its use in commercial construction.
REIT: Do you expect wood to play a growing role in commercial construction?
Simons: Absolutely. Today, virtually all non-residential construction in the U.S. is concrete and steel. But new engineered mass timber panel technology and construction methods are now structurally competitive for a broader range of building types, while significantly reducing the carbon footprint compared to traditional concrete and steel. 
It's a really exciting occurrence and a big opportunity for us going forward. It has been more quickly adopted in Europe and Canada, but we are making inroads into the U.S. You're starting to see examples of that on the West Coast, and I think there's more to come as we work to educate people, change mindsets, and update building codes.
REIT: Weyerhaeuser was recently recognized by the State Department for its environmental sustainability efforts in Uruguay. How do those activities there reflect your larger sustainability goals?
Simons: We were honored that the State Department recognized our sustainability efforts in Uruguay, which are consistent with Weyerhaeuser's companywide values. The department's Award for Corporate Excellence recognized how we translate our core values into action – things like supporting the communities where we live and work and responsible management of our timberlands.