Office REIT Cousins Properties is looking forward to a bright future refocusing on urban properties.
05/26/2017 | by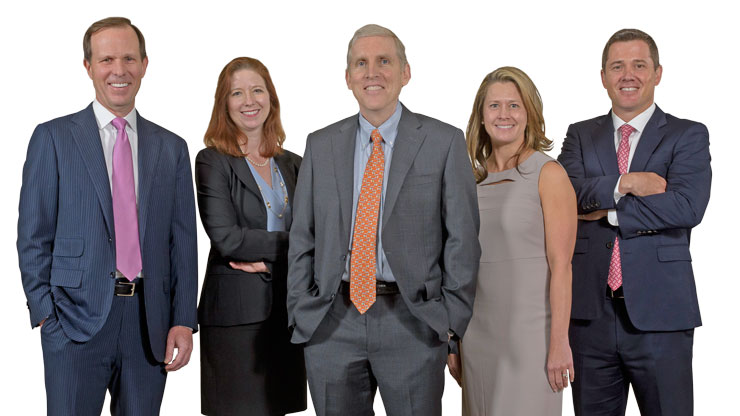 Cousins executives (left to right): EVP and CFO Gregg Adzema; EVP, General Counsel and Corporate Secretary Pam Roper; President and CEO Larry Gellerstedt; Director, Investor Relations Marli Quesinberry; EVP and COO Colin Connolly.
In this real estate cycle, properties in gateway cities such as New York and San Francisco have drawn intense attention – and competition – from investors clamoring for a piece of an iconic skyline. However, Cousins Properties Inc. (NYSE: CUZ), an Atlanta-based office REIT, is staying true to its focus on six Sun Belt markets.
The company's leadership studies each market carefully to identify key submarkets where demand for class-A offices is strong, but land isn't so plentiful that competitors can easily muscle in with a new trophy building. "A lot of times, the public investors only refer to the New York and the Washington markets as 'high-barrier,'" says Cousins Properties President and Chief Executive Officer Larry Gellerstedt, an Atlanta native who took the position in 2009. 
"We've been able to demonstrate that there are higher-barrier markets even in these lower-barrier" cities.
With about 17 million rentable square feet in its portfolio, Cousins Properties specializes in pockets of its markets where younger workers, who are less interested in a lengthy commute from suburbia, are helping revitalize downtown cores and urban areas. Its 20-story One Buckhead Plaza in Atlanta, for example, is close to public transportation and is stocked with amenities such as a salon and fitness center. A high-end grocery and a hotel are located within walking distance.
"It's not an urban experience like living in Manhattan, but it's more of an urban experience than living in some of the suburbs that are 20 miles out," Gellerstedt said.
Long Story
While Cousins may be one of the nation's oldest publicly traded real estate companies— it went public in 1962—it has only recently returned to its core office strengths and its long-held mantra to operate with a conservative balance sheet.
While most companies have spent the past few years enjoying the current recovery, Cousins Properties had to deal with the effect of collapsing oil prices in the Houston market. That led the company to a novel strategy.  Last fall, Cousins Properties merged with competitor Parkway Properties Inc. , and then spun off the Houston assets into a new independent REIT just known as Parkway, Inc. (NYSE: PKY). (See below.)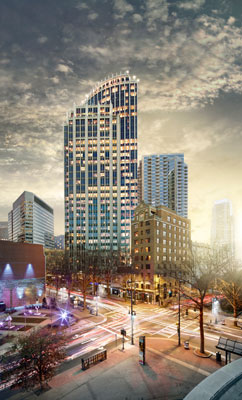 So far, Wall Street applauds the changes devised by the Cousins Properties leadership team.
"They've done a good job this cycle simplifying the story," says Joseph "Jed" Reagan, a senior analyst with Green Street Advisors. "Now they're one of the best regarded companies in their peer group."
How it got there, however, is "a long, winding story," adds David Rodgers, a senior real estate research analyst with Robert W. Baird & Co.
Lessons Learned
Indeed, Cousins Properties has lived several lives since it was founded in 1958 by Tom Cousins, a 26-year-old salesman who went on to build homes, townhomes and, in 1965, an office building in downtown Atlanta. In the 1970s, the company expanded into regional malls, real estate finance and even insurance, only to be forced to retreat to its core products as the market softened. Three decades later, the company received another lesson about the importance of maintaining a laser focus.
Like many real estate investors, Cousins Properties got caught up in the housing boom of the 2000s – when the appetite for everything from homes to office towers was insatiable. And, again, like many of real estate companies, Cousins Properties felt the pain of a popping bubble.
Gellerstedt points to a development known as Terminus as a microcosm of what happened during the period. Construction of Terminus 200, a cousin to the mixed-use Terminus 100, was launched in 2007. The launch occurred without much preleasing, which was an exception to the company's normal requirements, and with more leverage than Cousins Properties typically used. It also included residences, something the company had not done in recent years.
Within a few years, the company had to take a write down and later had to restructure the loan as preleasing requirements weren't met. "They had gotten out over their skis in development and multiple property types," Reagan recalled. "They kind of lost focus."
To be sure, Cousins Properties wasn't the sole real estate company that made such mistakes. "We had a lot of company at that point," says Gellerstedt, adding that "mistakes are things you learn from." And, while many of its peers lost assets to foreclosure, Cousins Properties was able to hold on to Terminus 200 until it became a prized asset.
Sharpened Focus
The bruised company emerged from the financial crisis with the mandate of achieving critical mass in its markets, finding sites that will command top dollar in rents, maintaining a conservative balance sheet and having a diversified customer base.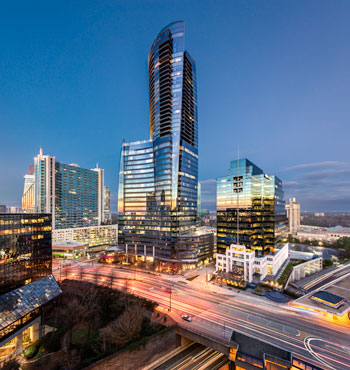 So far, so good. In Atlanta, Cousins Properties is the number one class-A office owner by square footage with 20 percent market share in the upscale Buckhead area. The same numbers are reported for Charlotte's Uptown district. The percentage grows to 24 percent in Austin and 28 percent in Tempe.
The company also commands superior rents. Asking rents in Atlanta's Buckhead are $40.20 per square foot, 49 percent higher than Atlanta overall. In Charlotte's Uptown, Cousins Properties asks for $33.36 per square foot, 26 percent above that metro area's average. The national average came in at $31.97 for the fourth quarter, according to Reis Inc.
Cousin Properties' portfolio, whose assets boast an average age of 20 years, is 93 percent leased, according to financial filings. That beats the national vacancy rate of 15.8 percent, according to Reis, which calculates Atlanta with an 18 percent vacancy rate and Austin at a tighter 12.2 percent. It indicates that the company owns some of the most appealing space in its markets. "You'll see investors talk about how the quality level of our portfolio really stands out," Gellerstedt says.
 "Acquiring and developing trophy properties in historically higher-growth CBD submarkets significantly has and should continue to improve the quality of the company's office portfolio," Rodgers wrote in a client note earlier this year. "High-quality assets are generally less susceptible to the various stages of the office real estate cycle, require less capital commitments to maintain higher occupancy levels and attract higher credit quality tenants."
The company also boasts a diversified tenant base, important because gambling too much on one tenant or a specific industry is risky. Currently, no single industry represents more than 20 percent of the customer base. Financial services top 20 percent – with Bank of America being its largest tenant – followed by the legal sector at 15 percent and professional services at 13 percent. Other well-known large and varied tenants include Wells Fargo, Blue Cross Blue Shield and Hearst Communications Inc.
What's more, less than 10 percent of total tenants will see their leased space expire each year through 2020, buffering Cousins Properties from seeing large blocks of empty space that weigh on net income. Nearly 30 percent of leased space is under contract until 2025 and beyond. 
"It's really a transformed company," Reagan says.
Next Chapter
Gellerstedt isn't done tweaking the firm's strategy. The 2017 objectives include reducing debt by selling 25 million shares of common equity.
Cousins Properties is also selling some real estate to cement its position as an urban, trophy property owner with a portfolio that charges rents with a premium of as much as 53 percent over competitors. Properties on the market include Atlanta's American Cancer Society Center, which has a data center, and Emory Point, a luxury residential community near Emory University. The work should reduce exposure to its headquarters city, which grew with the Parkway Properties deal, and minimize  woes should that market sour.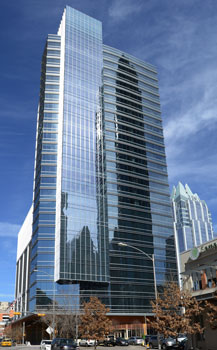 The company has retired $204 million of debt through asset sales and refinanced $358 million at historically low long-term rates, according to financial filings. It has minimal debt maturing in 2018. When compared to peers, the balance sheet is now healthy, according to Rodgers.
With the big picture taken care of, he says it is time for Cousins Properties to "go out there and execute extremely well at the property level," he says. "That's what we want to see them continue to do and even get better at."
Gellerstedt, who has a background in private real estate, says Cousins Properties is primed and ready to deliver. In his previous positions, his job was to find a building, get it stabilized and harvest results. But his task is different now.
"The REIT space, a lot of it is absolutely having an income stream that the investors can count on and put a multiple on. Just building and flipping things is not something that they're able to do with that," he says. "It's not valued at the same level. Having a stable portfolio of assets and a very conservative balance sheet is something that's certainly valued in this space a great deal, and it's been fun." 
Last year, Cousins Properties' urban office space in the Southern U.S. was still recovering after a deep recession. Tumbling oil prices were weighing on returns and Wall Street analysts were agitating for change.
Executives realized the company had to act. They came up with a creative solution.
Cousins Properties acquired competitor Parkway Properties and simultaneously spun off the combined company's Houston assets into a separate company, Parkway Inc., which is led by president and CEO James Heistand. That allowed investors who want to make an oil-related real estate play to do just that.
"The move essentially detached Cousins from Houston, which was and is a struggling market and had really been dragging on the stock's performance," says Jed Reagan, an analyst with Green Street Advisors. "Strategically, it made sense."
For now, it isn't simple to compare current results from the prior year. Stocks of both companies have spent the last several months largely stagnant. Even so, with the stress of the Houston market removed, 
Cousins Properties' fundamentals appear to be on solid ground. It boasts 33 assets—largely in Atlanta, Charlotte, Austin and Tampa—that are roughly 93 percent leased.
"The merger puts them in a very good position," says David Rodgers, an analyst with Robert W. Baird & Co.