Single-family rental REITs are solidifying their position in the residential housing sector.
05/31/2017 | by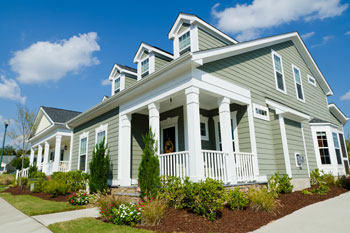 The fallout from the financial crisis of the previous decade forced a reckoning for the American dream of homeownership. 
Housing prices crashed, foreclosures and abandonments spiked, and credit markets seized up. In a country where owning your own home was seen as a milestone of maturity, the prospect of renting seemed more and more appealing to a growing swath of the population. The dislocation in the housing market created an opening for a handful of well-capitalized companies to begin building up portfolios of single-family properties to rent to those who still yearned for a yard and didn't like the idea of sharing walls with neighbors.
According to research from the Joint Center for Housing Studies of Harvard University, record demand growth spurred an influx of more than 8 million new units of rental housing stock in the United States in the decade between 2005 and 2015. Conversions of single-family houses from owner-occupied to rental accounted for roughly 80 percent of the increase, as the single-family share of the total rental stock climbed from 34 percent to 40 percent in the 10-year period."This growth is notable not only because it is so substantial, but also because institutional investors have taken a much more active role in this market than in the past," the Harvard researchers reported. "By creating large portfolios of homes across many markets, large-scale investors are testing the waters for a new model of owning and operating scattered-site properties that could expand the range of housing options available to renters."
Colony Starwood Homes (NYSE: SFR) CEO Frederick C. Tuomi recalls the early frenzy of trying to build up a portfolio of rental homes essentially one by one.
"It was like drinking from a fire hose, buying thousands of homes a week," he says. "These were homes that were bought on the foreclosure channel, which means you had to be on the courthouse steps with cash, making bids and closing immediately."
Tuomi had left multifamily REIT Equity Residential (NYSE: EQR) in 2013 to become chief operating officer of Colony American Homes (CAH), a single-family housing venture backed by Thomas J. Barrack Jr.'s private equity firm Colony Capital. CAH used about $2 billion raised in equity capital to amass a portfolio of approximately 20,000 homes. In early 2016, CAH merged with Starwood Waypoint Residential Trust, a publicly traded single-family company spun off from Starwood Capital, and became Colony Starwood. (Barrack and Starwood Capital CEO Barry Sternlicht now serve as co-chairmen of the firm.)
Tuomi and other pioneers in the sector paint a similar picture of investors' views of their initial efforts to get large-scale, single-family residential companies off the ground: Lots of skepticism.
"We had a lot of naysayers," he says. "We knew from the very beginning that this business was going to be a durable, long-term, income-generating growth vehicle in the future. Someday, it would be a legitimate sector on its own within the REIT universe."
A Welcome Invitation
Those who might have harbored lingering doubts about the viability of single-family home REITs as a long-term segment of the residential sector received a wake-up call in January.
The initial public offering of Invitation Homes (NYSE: INVH) on Jan. 31 raised more than $1.5 billion. The single-family REIT founded by private equity firm Blackstone in 2012 immediately became the largest listed company in the sector with an equity market cap approaching $7 billion. It boasts a portfolio of nearly 50,000 rental homes spread from coast to coast in 13 markets ranging from Atlanta to Los Angeles to Minneapolis. Bryce Blair, the former CEO of multifamily REIT AvalonBay Communities, Inc. (NYSE: AVB), serves as Invitation Homes' executive chairman.
Invitation Homes' IPO raised the number of listed single-family housing REITs in the United States to five. Joining Invitation Homes and Colony Starwood are American Homes 4 Rent (NYSE: AMH), Reven Housing REIT (NASDAQ: RVEN) and Silver Bay Realty Trust (NYSE: SBY). (Silver Bay announced in February that it had been acquired by Tricon Capital Group Inc. in a deal expected to close during the second quarter.) 
"We all cheered when we saw Invitation Homes' success. The more the sector has small wins or big wins like that, the more people get comfortable with it as an asset class," says Chris Czarnecki, CEO of private residential REIT Broadtree Residential. Broadtree Residential's portfolio includes more than 650 single-family homes.
Investor Acceptance
Tuomi says the investment community has "absolutely" come around on single-family housing REITs. He notes that his management team has held around 300 meetings with investors in the last 24 months. The parade of capital has included everything from dedicated REIT investors to generalists to hedge funds, according to Tuomi. As of the end of 2016, Colony Starwood's largest institutional shareholders included Cohen & Steers Inc., BlackRock and State Street Corp.
"We've proven ourselves and the dialogue is definitely different," Tuomi says. "Investors have spent a lot of time watching us, and they've voted with their checkbooks."
Czarnecki points out that investors value the stable flow of income that REITs offer, which is consistent with the single-family rental business. "We've proven the thesis to the investors."
Recent returns from Broadtree's publicly traded competitors suggest Czarnecki is correct. Through the end of the first quarter of 2017, total returns of the three listed single-family rentals REITs tracked by the FTSE NAREIT U.S. Real Estate Index had doubled up the S&P 500, 13 percent to 6.3 percent.  In 2016, single-family rental REITs had total returns of 26.7 percent, compared with 12 percent from the S&P 500.
Playtime is Over
A 2016 analysis of the single-family rental market by Green Street Advisory & Consulting illustrates the opportunities available to REITs. Institutional investors' portfolios represent a scant 1 percent of single-family rental housing in the U.S., according to Green Street. Meanwhile, Green Street projected that of the 3.9 million new renter households that are estimated to be coming to market by 2020, nearly 40 percent will opt for single-family residences.
For their part, single-family REIT executives say their companies have matured beyond the start-up phase and are now working on refining their businesses to maximize operations.
"It's about getting better at our craft," said Blair, the Invitation Homes executive chairman, at a 2016 panel on the growth of the sector.
"We're in the mode of continual, step-wise improvements to the operating platform, continual optimization in terms of revenue management and expense control," Tuomi remarks.
According to Czarnecki, Broadtree has put significant thought into how to best structure its processes and infrastructure to operate efficiently in an admittedly resource- and time-heavy business. For example, the company has cut the amount of time between when a resident moves out and the next resident moves in.
He adds that the network of third-party service providers has become more robust in the five years that Broadtree has been in business. "You've seen professional businesses and entrepreneurs build products specifically geared toward supporting the rental space," he says. "It gives you a lot more flexibility."
Tuomi cites Colony Starwood's investments in technology as key to the company's future. Colony Starwood has a mobile, cloud-based technology platform that facilitates everything from signing a lease to maintenance requests for employees and residents. He notes that smart home technology has even eliminated the need to have an employee on site to show prospective tenants around a rental house. Those kinds of technological capabilities have allowed Colony Starwood to focus more attention on capitalizing on its growth prospects, according to Tuomi.
"The ability to continue to acquire and grow and roll up this industry is a very exciting prospect for the future," he says. "We've got everything we need set up to be positioned for future growth." 
Renting is the New Black
Research suggests that single-family home REITs entered the market at a time when it has arguably never been more popular to rent.
According to a Joint Center for Housing Studies of Harvard University report, approximately 43 million families and individuals lived in rental housing as of mid-2015, a surge of roughly 30 percent from 2005. Moreover, the overall share of U.S. households that rent rose from 31 percent to 37 percent during that 10-year period.
The Harvard researchers attributed the rise of renting to more than just the well-documented swell of millennials entering their 20s. In fact, the largest increase came from renters in their 50s and 60s, who added 4.3 million to their ranks from 2005 to 2015. Households aged 40 and over now account for the majority of all renters, according to the Harvard data.