John Williams, Preferred Apartment Communities, Dies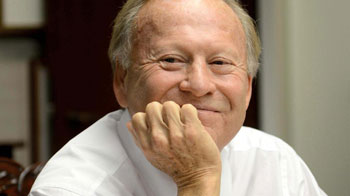 John Williams, the co-founder, chairman and CEO of Preferred Apartment Communities, Inc. passed away on April 16.
Vice-Chairman and CIO Daniel DuPree will succeed Williams as chairman and CEO. Leonard Silverstein, a co-founder of the company, has been appointed vice-chairman and will continue as president and COO.
In a joint statement, DuPree and Silverstein described Williams as a "visionary" who "understood the importance of creating a company that is built on culture, associates, reputation and brand."
Williams also founded Post Properties, Inc. in 1970. He took Post Properties public as a REIT in 1993 and resigned as chairman in 2003. Williams was a member of Nareit's Board of Governors during his tenure at Post Properties.
Williams is survived by his wife Nancy; three children, Jay, Sarah Brook and Parker; and two grandchildren, Jack and Harrison.
Suzanne Sorkin has joined Aimco (NYSE: AIV) as a vice president with day-to-day responsibility for investor relations as well as other finance matters.
Ashford Hospitality Trust, Inc. (NYSE: AHT) named Jeremy Welter as COO and David Brooks as chief transactions officer, general counsel and secretary. Brooks previously served as COO.
Mack-Cali Realty Corp. (NYSE: CLI) appointed CEO Michael DeMarco to the board of directors.
The Community Development Trust (CDT) named Grace Cheng as its new CFO, replacing John Divers who retired after almost 20 years with CDT.
CoreSite Realty Corp. (NYSE: COR) promoted Mark Jones to chief accounting officer and designated him as the company's principal accounting officer. Jones has served as vice president, controller since May 2012.
Arthur Coppola announced that he will retire from his position as chairman and CEO of Macerich (NYSE: MAC), with effect from Dec. 31, 2018. Coppola is a founding partner of the original Macerich Group, which he joined in 1976. The company said CFO Thomas O'Hern will take over as CEO following Coppola's retirement.
DiamondRock Hospitality Co. (NYSE: DRH) named Jay Johnson as its new executive vice president and CFO, and promoted Briony Quinn to senior vice president and treasurer.
RLJ Lodging Trust (NYSE: RLJ) announced that Leslie Hale, executive vice president, COO and CFO, will become president and CEO on Aug. 22. She will replace Ross Bierkan, who will retire on that date.
Simon Property Group (NYSE: SPG) announced that Andrew Juster, executive vice president and CFO, will retire at the end of this year.  
Spirit Realty Capital, Inc. (NYSE: SRC) said Michael Hughes has been named executive vice president and CFO and Ricardo Rodriguez has been appointed to the role of CFO at Spirit MTA REIT.
UDR, Inc. (NYSE: UDR) appointed Tracy Hofmeister, the company's vice president -chief accounting officer, as principal accounting officer.
Ventas, Inc. (NYSE: VTR) named Peter Bulgarelli executive vice president of office and president and CEO of Lillibridge Healthcare Services, Inc.