If you've heard of "Smart Growth" or "Live, Work, Play," you already know a little something about Preferred Apartment Communities (NYSE: APTS). Those expressions are widely credited to the late John Williams, former founder, chairman, and CEO of Post Properties, Inc., and co-founder of APTS with Leonard Silverstein, the REIT's current vice chairman, president, and COO. Those phrases are just the tip of the iceberg when it comes to the innovative ideas resulting from the Williams-Silverstein collaboration.
"John and I wanted to get back into multifamily investing in the fall of 2009, at the depths of the recession, but we needed a strategy to raise capital," says Silverstein. "We learned that money continued to flow through wealth management channels, while the public markets were pretty much shut down."
Silverstein, a securities and corporate finance attorney who had represented publicly-traded companies, and Williams, who had been a client of Silverstein, discovered that emulating non-listed REITs could be part of a new model for a more comfortable way to access capital.
"We tried to build a better mousetrap and a new paradigm for REITs to take advantage of the capital flow that we saw during the recession, yet stay in the environment we were more comfortable with as a publicly traded company," says Silverstein.
Differentiating Strategy
PAC's initial public offering (IPO) in 2011 was followed in 2012 by the creation of a non-listed preferred stock to be sold as a new asset class through the independent broker-dealer channel. Other REITs have since replicated the model.
As a relatively smaller REIT, PAC needed a differentiating strategy compared to the larger apartment REITs, says Aaron Hecht, a senior analyst with JMP Securities.
"They used a combination of raising capital through preferred stock sales and invested in mezzanine loans with very high yields, both of which were very powerful to their bottom line," says Hecht.
Unlike their peers, PAC has been able to raise as much as $100 million per quarter from their preferred stock program, says Jim Lykins, a vice president and research analyst for D.A. Davidson & Co.
"It takes a while to get something like this up and running with retail investors but once you do, then the spigot remains turned on," says Lykins, adding the preferred stock program has been a huge success and has provided the company with a cheaper source of capital.
"Despite such a robust level of capital being raised each month, they are nowhere near being in danger of having too much capital to deploy," Lykins adds. "They would likely have to raise 33 to 40 percent more capital before they could be in any danger of not being able to put this money to work accretively."
Diversification of Assets
Despite its name, PAC invests in more than luxury apartments. While the REIT's property portfolio is about 60 percent multifamily, including some student housing as well as apartments, the other 40 percent is split evenly between grocery-anchored retail sites and class-A office buildings.
"There are people who only like pure play REITs, but property diversification works well for PAC," says Lykins. "The rationale behind the strategy is not having all your eggs in one basket if an asset class becomes out of favor at any given time."
"Our core focus from the beginning has been multifamily investments because that was John's background," says Silverstein. "When Dan DuPree and Joel Murphy joined our company, we wanted to take advantage of their backgrounds in retail and office." [DuPree, the former president and COO of Cousins Properties (NYSE: CUZ), joined PAC's board at the time of the IPO and its management team in 2014. He was appointed chairman and CEO following Williams' death in 2018. Murphy joined PAC in 2014 to head up the grocery-anchored shopping center division. He was previously the head of the retail division at Cousins.]
The diversification is supported by the dual channels of capital raising through traditional methods and the preferred stock program.
"Diversification of their assets is another way to differentiate their company from their peers," says Hecht. "Also, when the management, which has expertise in other asset classes, saw a mismatch between cap rates for apartments versus other assets, they were able to take advantage of that to invest in those other assets."
On the multifamily side, the company is completely vertically integrated because of the leadership's expertise in the development and management of multifamily housing.
"On the retail and office side, we use third party managers on the property level," says Silverstein. "They are very submarket-focused for management and leasing purposes. We've reaped the rewards from their local expertise."
The fundamentals are generally positive in the multifamily sector, says Lykins, with favorable occupancy rates and positive rent growth, although the rate has slowed.
"Oversupply has been problematic in some markets but drilling down submarket by submarket, PAC has still been able to find good acquisitions across their footprint at favorable cap rates," he says.
PAC also benefits from a young portfolio of buildings which have lower expenses, says Hecht.
"Their retail investments are in grocery-anchored sites with other internet-resistant, needs-based tenants," says Lykins. "They are ramping up the office portfolio and thus far have made great acquisitions in great locations at favorable cap rates with good tenants."
PAC's investments are primarily in the Southeast, Texas, and the Mid-Atlantic, with a couple of outliers in Tempe, Arizona, and in San Jose, California.
"We focus on non-gateway markets where demographic and economic trends have been going in the right direction," says Silverstein.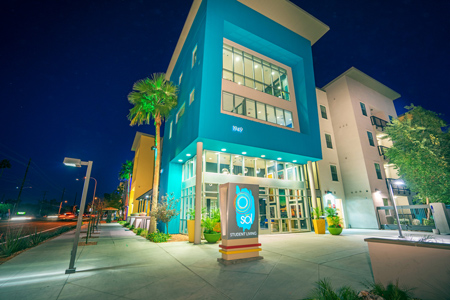 While there's some overlap of investments in different assets in the same market, each vertical is driven by the fundamentals of its property sector, says John Isakson, CFO for PAC.
"For multifamily, we're looking at regions with 1 million or more people with good household income and job growth," says Isakson. "In office we're looking at vacancy rates and companies relocating to the area. In retail, we're looking at sales per store, education levels, and household income."
PAC continues to acquire all three types of assets and tries to balance growth against cap rates.
"We're in the real estate business, which by definition is a long-term business, but as a publicly traded company we have to report on a quarter-by-quarter basis, so we focus on managing expectations of investors on a quarterly basis while managing the long-term value proposition of real estate in general," says Silverstein.
Pipeline of Deals
Development is in the DNA of PAC's leadership, according to Lykins, but instead of direct development, they designed their real estate loan investments program with the option to purchase properties upon completion at favorable cap rates relative to the market. "They get stabilized properties built to their standards and a pipeline of acquisitions well into the future."
While PAC doesn't directly develop any apartments in order to reduce their risk exposure, they get the upside of development by providing capital to third party developers.
"Our loan investment program allows us to specify what we want to be developed in terms of the apartment size and amenities and to have an influence on their design," says Silverstein. "Then when the building is complete, we have the option to buy it at a discount to market value."
In the multifamily business, Silverstein says, investment in student housing helps drive innovation in the amenities for apartments for younger generations.
"Advanced technology is the most important amenity in student housing and in regular apartments, too," says Isakson. "Popular amenities can be transitional, so we focus on sustainable long-term amenities such as strong broadband and cell boosters that are not likely to become outdated."
Electric car hook-ups are in all the garages at PAC's properties along with wiring and piping that can be used for easy future expansion. The average age of PAC's apartments is 4.2 years, which gives the company an advantage when it comes to the latest in technology and reduced maintenance costs and capital expenditure.
Challenges and Opportunities
Looking forward, PAC plans to continue maintaining apartments as the core of their business and predicts continued growth in that property sector.
Supply is just one half of the equation, says Isakson, so you need to look at absorption rates and future demand to see the complete picture. "In 2018 we saw more absorption of apartments than any other year in the recovery," he says. "We think new supply may have peaked."
On the demand side, Isakson believes that continued wage growth and growth in labor participation bodes well for the apartment sector.
"If we can sustain wage growth of 3 percent or so, then there's lots of runway for the multifamily sector," Isakson says. He anticipates rent growth in 2019 of 3 to 3.5 percent, and up to 4 percent in some markets, along with stable occupancy rates of about 95 percent.
"One challenge PAC faces is that they recently had a turnover in their mezzanine loan program that created a drag on earnings early in 2019," says Hecht. "The expectation is that they'll backfill those loans, so we expect to see higher earnings later in 2019 and into 2020." Lykins anticipates that PAC will see moderate growth in 2019.
"One issue they now have challenging them is dealing with the law of big numbers, as it takes a lot more to move the needle now than it did a year or two ago," says Lykins. "We anticipate the company continuing on an upward growth trend, albeit at a more moderate pace, but that's not any different from their peers who have gone through the same evolution."
Silverstein says everyone at PAC is excited about 2019, particularly now that the Federal Reserve indicated it doesn't intend to hike interest rates for the rest of the year.
"The way we're diversified by asset class means we're really set up well for a growing economy," he says. "Analysts sometimes get frustrated by our diversification by asset class, but we think it's great for our stockholders."