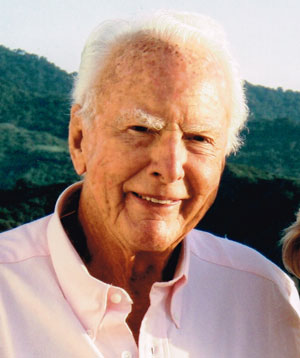 Kilroy Realty Founder Jim Kilroy Dies at 94
John B. "Jim" Kilroy, Sr., founder of Kilroy Realty Corp. (NYSE: KRC), died on Sept. 29 at the age of 94.
Kilroy began his career in the real estate industry in 1947 with the founding of Kilroy Industries, which incorporated five years later. The privately held company focused on serving the defense and aerospace industries after World War II. It would be the predecessor to Kilroy Realty, which held its initial public offering in 1997.
Today, Los Angeles-based Kilroy Realty owns, develops, acquires and manages office and industrial real estate assets on the West Coast. Kilroy stayed with the company until he retired from his position as chairman of in 2013. Kilroy's son, John Kilroy, Jr., took over as president of Kilroy Industries in 1981 and currently holds the title of CEO and chairman of Kilroy Realty.
"Jim Kilroy was a dynamic and spirited innovator who helped lead the way in modernizing real estate investment and development," said Steve Wechsler, president and CEO of NAREIT. "His charm, wit and warmth will be sorely missed."
Acadia Realty Trust (NYSE: AKR) announced the official retirements of Jonathan Grisham, senior vice president and CFO, and Robert Masters, senior vice president and senior legal counsel. Grisham and Masters have been with the company since its inception in 1998 and have transitioned their responsibilities to their successors, John Gottfried and Jason Blacksberg, respectively.
Paul Szurek was appointed president and CEO of CoreSite Realty Corp. (NYSE: COR), replacing  Thomas Ray, who retired. Szurek previously served as CFO of Biltmore Farms, LLC, a residential and commercial
real estate development and operating company.
Extra Space Storage Inc. (NYSE: EXR), announced that Joseph Margolis will succeed Spencer Kirk as CEO effective Jan. 1, 2017. Kirk will continue to serve on the company's board of directors. Margolis has served as the company's chief investment officer since July 2015.
Richard Smith retired from the positon of president and CEO of FelCor Lodging Trust Inc. (NYSE: FCH). Troy Pentecost, COO, has been appointed to the additional positions of president and interim senior executive officer while the board works to find a permanent CEO.
Investors Real Estate Trust (NYSE: IRET) hired Mark Decker Jr. as president and chief investment officer. Decker replaces Timothy Mihalick as president, with Mihalick continuing to serve as CEO.
Robert Tanenbaum is joining Park Hotels & Resorts, Hilton Worldwide's planned spinoff of its real estate operations, as executive vice president for asset management, according to a regulatory filing. Tanenbaum previously served as executive vice president and COO of DiamondRock Hospitality Co. (NYSE: DRH).
RLJ Lodging Trust (NYSE: RLJ) appointed Ross Bierkan as president and CEO and Leslie Hale as COO. Bierkan was initially appointed as interim president and CEO in May, following the departure of Thomas J. Baltimore, Jr. In addition to being named COO, Hale will continue to serve as CFO, a position she has held since 2007.
Welltower Inc. (NYSE: HCN) said Matthew McQueen, senior vice president – legal, has been promoted to senior vice president, general counsel and corporate secretary. McQueen joined Welltower in April 2015 from Sidley Austin LLP.