CEO Hamid Moghadam positions Prologis to succeed in the global economy.
09/28/2016 | by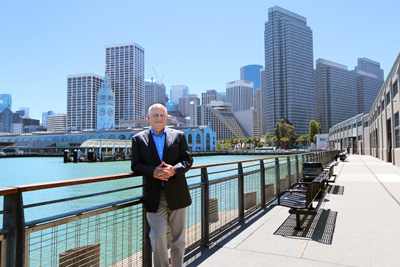 Hamid Moghadam became steeped in real estate at an early age. As a kid in Iran, he would ride around with his father, a real estate developer, to visit construction sites. He also had ambition, leaving for MIT at age 16 to pursue an engineering degree. After he graduated from Stanford business school in 1980, his plans to return home were thwarted by the Iranian revolution. As an Iranian looking for a job in the United States during the hostage crisis, he was rejected by more than 30 companies. Yet, his persistence landed him a job with one of his Stanford professors who had started a real estate management company.
Wanting to follow in his father's entrepreneurial footsteps, Moghadam formed AMB Property Corp. in 1983, a predecessor of today's Prologis Inc. (NYSE: PLD), where he now serves as CEO and chairman of the board. With two partners, an assistant, a credit line, and a few hundred feet of office space, Moghadam slowly built AMB, eventually concentrating in warehouses. In 1997, Moghadam took the company public.
In 2011, AMB merged with ProLogis and assumed the name, dropping the "L" to lower case "l" Prologis. Now, Prologis is the largest REIT in the industrial property sector, almost three times the market capitalization of its nearest competitor.
REIT magazine recently spoke with Moghadam, a former NAREIT chair, to get his thoughts on the evolving state of the industrial sector, staying disciplined and what's new around the world.
REIT: You have characterized the last six months as the best in company history. How do you repeat this kind of success going forward?
MOGHADAM: The success has a lot to do with the foundation we have been building since we completed the merger of AMB and ProLogis back in 2011. There was a lot of wood to chop to put these two companies together. We sold off real estate, got out of a lot of the smaller markets and concentrated our business in the key global markets. We took $120 million a year out of the cost structure of the company, and at the same time made the company better because it was leaner and more responsive. We also totally restructured and simplified our private capital business. It's more profitable and more streamlined. We also took the balance sheet from high leverage of the (pre-merger) ProLogis days to the verge of being upgraded to an A- credit rating. The combination of all that work and preparation, together with a good healthy market, is something that will help us repeat past success.
REIT: The growth of e-commerce has played a large role in your earnings growth recently. What's the potential here for Prologis and industrial REITs?
MOGHADAM: It's enormous. We are in the early stages of the acceptance of e-commerce as a major mode of retailing. About 9 percent of retail sales are online, and it's not hard to imagine that number doubling or tripling in the next five to 10 years. Warehouse intensity is about three times as much for online as it is for bricks-and-mortar retail. Online warehouses deal with parcels, whereas bricks-and-mortar warehouses deal with pallets. Parcels demand more space. For online, you also have to allow for a higher volume of returns, and you must have space to provide more product options for the consumer.
REIT: Why do top tenants choose Prologis?
MOGHADAM: To start, you have to have the right properties in the right locations at the right price—otherwise you wouldn't get a shot at the customer. We win tiebreakers by putting the customer at the center of our business. If the building you lease today doesn't work for your tomorrow, we have a lot more space where that came from, in a lot of different markets. We have a group that does nothing other than solve problems for our global customers across geographic divisions. So if you are a big-time company and have ambitious growth and expansion plans, you can make a gazillion little deals, or you can come to Prologis for one-stop shopping.
REIT: Prologis is known for having a disciplined development program. What are some of the highlights of that strategy?
MOGHADAM: If you want to meet the needs of your customers, you have to have the ability to develop new product for them. Our operating portfolio, which is 670 million square feet, is at any given time 5 percent vacant. The chances of being able to serve the customer with a current vacancy that we have is pretty low. If you want to meet the needs of those customers in emerging countries or mature economies, you need to be in the development business. In order to develop, you need to own land. We have an enormous land bank, so we can meet the needs of a lot of customers. Land is hard to come by near large, consumption-driven markets. We have it, so land gives us a huge competitive advantage. We have $1.5 billion of land that we can put to good use for our customers.
REIT: What would be your criteria for purchasing another private portfolio?  
MOGHADAM: We are not a big buyer of portfolios. Our purchase of KTR [Capital Partners] last year was the largest deal we have done as a company since AMB and ProLogis came together because we are picky about our locations.
A lot of private portfolios came up last year and the market absorbed them. Last year and 2014 were exceptional in that regard, with more deals than I ever remember happening. So a lot of these portfolios are getting aggregated into companies, and it's going to be hard to have other big portfolios come about. For a lot of portfolios we look at, we would have to resell 70 percent of them. The appeal of the KTR portfolio was that about 90 percent of it was a good fit for our portfolio.
REIT: How do you continue to secure new sites in key markets, without paying too much for the land?
MOGHADAM: You have to have a good understanding of the growth profile of each city and position yourself ahead of time to take advantage of that expansion. For example, we are building a very major industrial park in Tracy, California. The site, called the International Park of Commerce, is in the Central Valley, 45 miles east of the Port of Oakland and offers direct access to major highways. Ultimately, when completed, it will be approximately 23 million square feet of development, and is expected to be the largest industrial park in the country. Three years into it, 22 percent of the park has already been put into production.
REIT: With Europe in an early recovery phase, what types of opportunity does that present going forward post-Brexit?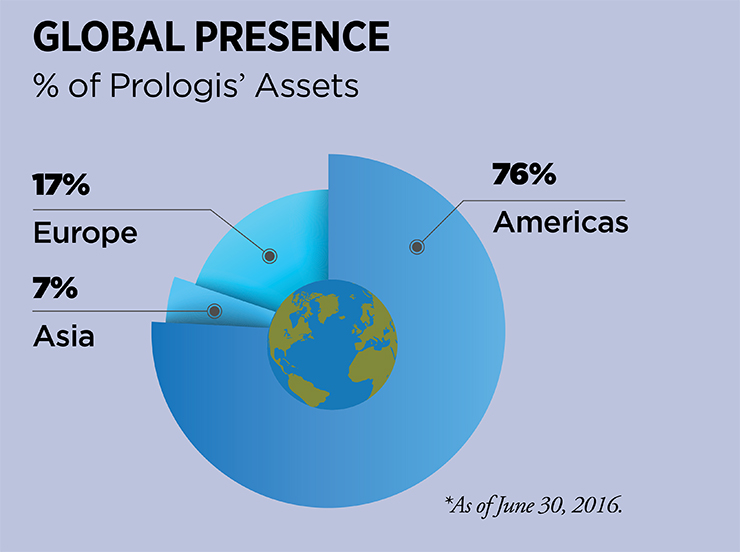 MOGHADAM: We are very excited about our business in Europe. It's a high-consumption economy. A lot of people spend a lot of time fretting over Brexit, but at the end of the day, people need to buy clothes and other nondiscretionary goods. Life goes on.
The supply chain there is like the U.S. was in the 1960s. Up until now, you have had small distribution buildings in individual countries; now you can get to the Continent as one market. 
Our European portfolio is 96 percent leased, rents are up modestly and we have some really high-quality new buildings in some of the key markets. 
REIT: In Asia, what excites you the most in terms of demand, and what has been critical to succeeding there? 
MOGHADAM: Asia is a big place, so you have to look at parts of Asia very differently.
What is exciting about China is the enormous growth potential. We are not even in the first inning; we are in the warm-up phase of logistics in China. Whether the economy expands by 4 percent or 6 percent, there is an enormous amount of growth that is going to take place in the next 20 to 30 years. So we can be developing there for the next three decades and not saturate demand.
In Japan, it's a very different story. It's not about pure growth, but of the restructuring of the supply chain. The population is in decline. The economy has historically been an export-oriented one, but it is now becoming import focused because Japanese companies are now making products in China and importing them into Japan. The supply chain needs of an import economy are very different than those of an export one. How you lay out the warehouse is very different. New buildings only account for 3 percent to 4 percent of the installed base in Japan. There's a lot of old obsolete product, which doesn't compete. So we think the base can go up to 20 percent or 30 percent, and that's enough business for the next 20 years. 
REIT: Given that Brazil is still in a recession, what are your thoughts on the long term for that market?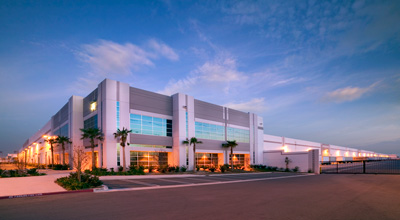 MOGHADAM: The economy has been soft the last two years but our occupancy is at 100 percent. I would say rents are off peak by 10 percent. But it is the most important economy in Latin America. It's going to have a lot of growth, and it's a good entry point because things are attractively priced and the currency is cheap.
There is a slow transition of political power without a single drop of blood being shed. That says a lot about the potential for Brazil in the long term. 
REIT: What advice do you have for young professionals looking to become leaders? 
MOGHADAM: Get a breadth of experience early in your career. If you want to be a successful real estate professional, first and foremost, learn the product.
A lot of real estate people are financial wizards. They know cash flows, but they don't know the product. Get out there and do some marketing of the product to know what customers really want. Learn something about how to finance the product, about how to entitle land and get approvals.
Try to get a wide variety of skills, and don't get overly focused on plugging numbers into a computer. Pick an employer that can give you opportunities.