Business storage REIT Iron Mountain adapts to life in a high-tech world.
09/22/2017 | by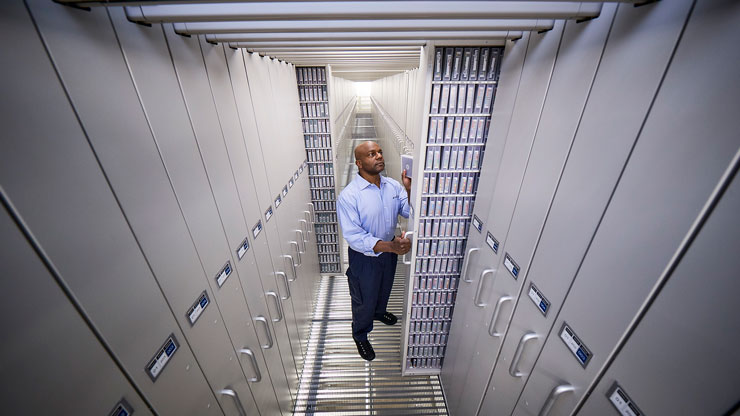 Priceless art is a hot topic at Iron Mountain Inc. (NYSE: IRM), but you won't find masterpieces adorning the walls of the company's offices.
Instead, they're all locked away in the ultra-secure storage facilities of Crozier Fine Arts, which was purchased by Iron Mountain in 2015 to add to its array of storage and information management real estate offerings. The Boston-based REIT owns and operates facilities at 1,400 sites in 52 countries around the world. Its customers include roughly 95 percent of the Fortune 1000 companies.
A small percentage of Iron Mountain's business involves storing unique assets. Even though the company has the master copies of interviews conducted by director Steven Spielberg with Holocaust survivors in connection to the release of the Oscar-winning film "Schindler's List," Iron Mountain's primary focus lies in providing the real estate to store paper documents and computer tapes for corporate clients.
"We may be a pretty boring business," jokes CEO Bill Meaney, "but we are very durable."
Stability comes up as a theme, too, when analysts talk about the company.
Andrew Wittman of Baird Equity Research notes that Iron Mountain's underlying business is "continuing to prove more resilient than expected." Andrew Steinerman, an analyst who covers Iron Mountain for J.P. Morgan, likens the business storage REIT to being "as reliable as [pro basketball superstar] Steph Curry" from three-point range. He praises the company's management team for balancing its longstanding orientation toward physical records with the demands of an evolving economy.
In the five years since Meaney became CEO, Iron Mountain has set its sights on enhancing its position as a truly global company. Meanwhile, Meaney says, it is working to refine the real estate solutions it can provide to become a one-stop shop for corporate clients.
From Mushrooms on a Mountain…
Iron Mountain, which was originally known as Iron Mountain Atomic Storage, took root in 1951 at the hands of former mushroom farmer Herman Knaust. Based in the Hudson River Valley, he initially targeted corporate clientele from the New York metropolitan area.
Knaust offered them a safe place to store documents: an old iron ore mine purchased in the 1930s to farm his fungi. (Hence the Iron Mountain name.)
By 1980, Iron Mountain was eyeing expansion beyond New York. It started with purchases of land and facilities in New England. Eventually, the company was setting up shop in all the major U.S. markets.
Iron Mountain held an initial public offering in 1996, and in 2012, the company's board of directors approved a plan to become a REIT. It began operating as a REIT on the first day of 2014.
Meet Mr. Meaney
Meaney became CEO of Iron Mountain in 2013 following Richard Reese's second stint as chief executive. Meaney, a former CIA officer, had a lengthy track record in the international arena. Immediately prior to joining Iron Mountain, he spent eight years as CEO of The Zuellig Group, a $12 billion business-to-business conglomerate based in Hong Kong.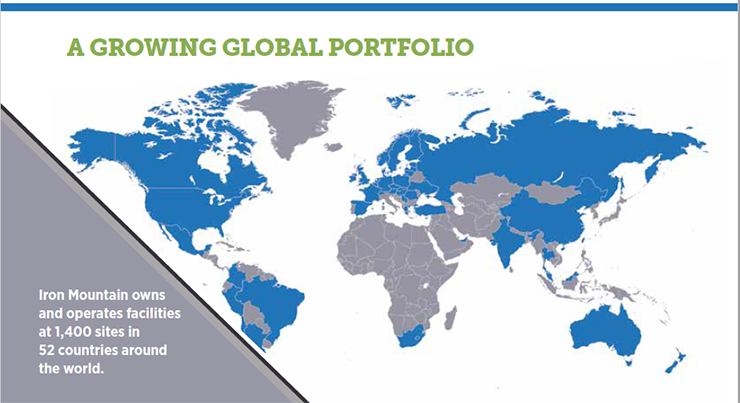 "I've spent almost all of my career outside the United States," he says. "The thing that attracted me to Iron Mountain is that it already was a very strong and very global brand, but its global presence was still fairly limited."
Meaney set to work improving Iron Mountain's global visibility. One of his primary objectives became operating in fast-growing emerging markets in places like Asia and South America. Eventually, the company set a goal of generating at least 20 percent of Iron Mountain's sales from emerging markets by the year 2020.
The business storage REIT is currently ahead of schedule. Iron Mountain's business in emerging markets grew from 10 percent of its total portfolio when Meaney took over to 18 percent in the second quarter of this year.
"While we're growing in every market, including in our most developed market in the United States, we have the fastest growth in those emerging markets," Meaney remarks.
Total Recall
To help meet its global mandate, Iron Mountain has made its presence felt in the transactions market. Its biggest deal came in 2016 with the acquisition of international competitor Recall Holdings for $2 billion.
Meaney cites a number of benefits derived from the combination of the two companies. First, a handful of major global corporations are looking for a single source from which they can quickly retrieve documents anywhere around the world, he says.
Other customers want the security of partnering with "the clear market leader," Meaney notes. "With the Recall acquisition, we feel confident that is Iron Mountain."
Once it had Recall under its umbrella, Iron Mountain could fortify some of the weak spots in the company's global portfolio. Notably, this included the Southeast Asia region, where Recall was a stronger player.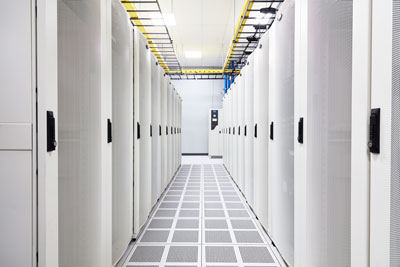 Additionally, Meaney points out that profit margins on Recall's operations have grown since the acquisition. Prior to the deal, Recall was attempting to compete globally, but doing so at roughly a quarter of the size of Iron Mountain, according to Meaney.
Meanwhile, J.P. Morgan's analysts estimate that Iron Mountain will realize $80 million in annual costs savings in 2017 from the Recall deal. They're estimating those annual savings to grow to $105 million as of 2020.
So far, Karin Ford, a REIT analyst with MUFG Securities Americas Inc., says the acquisition appears to be paying off.
"We expect Iron Mountain to accelerate its FFO and dividend growth in 2017 as a result of overhead cost savings and synergies generated by its merger with Recall Holdings," she wrote in a note to investors following Iron Mountain's second quarter earnings call in July.
Paper Chase and Server Space
As Iron Mountain continues its global expansion, the ever-growing share of work being done digitally and stored in the cloud naturally raises questions about the viability of its foundation in real estate for retaining paper records.
Meaney, however, takes a more macro view of what it is that Iron Mountain has to offer. He emphasizes providing "enterprise storage solutions" with the ability to address all of a company's needs through "adjacent" lines of business to paper storage. While its paper storage customers keep their boxes with Iron Mountain for an average of 15 years, the company has seen the entry point of the customer conversation shift from a storage-centric one.
"For most of our customers today, the discussion starts with how Iron Mountain can help your digital transformation," Meaney says. 
That led to Iron Mountain's entry into data centers, a real estate sector that seems to be a natural fit with the company's core business. According to Meaney, existing customers actually came to the company in search of digital storage space, which prompted the move into the sector. 
"We view Iron Mountain's expanding focus on data centers positively, given strong demand trends as well as natural synergies with its traditional customer base," Ford says.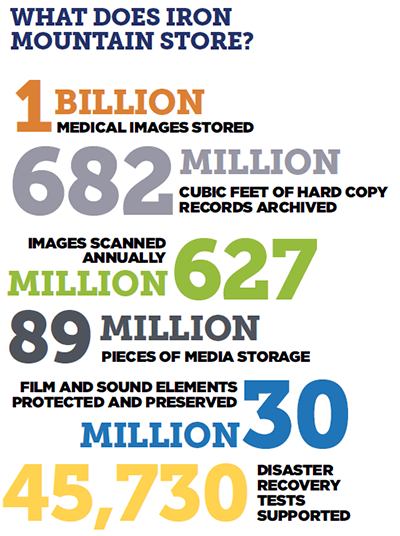 Iron Mountain's expansion in data centers has proceeded deliberately through a mix of development projects and M&A. "We're very disciplined in terms of our return criteria" for data center assets, Meaney says. 
Iron Mountain now leases space to multiple tenants in each of its four data center facilities in Boston, Pittsburgh, Kansas City and Northern Virginia. In July, the business storage REIT announced a $130 million deal to acquire FORTRUST, a private data center company in Denver.
In comparison, Equinix (NASDAQ: EQIX), the largest data center REIT, owns 182 data centers in more than 20 countries.
"Iron Mountain's data center business is relatively small at the moment, but has seen a nice growth trajectory," Steinerman says.
An Ongoing Challenge
In terms of what's next for the business-to-business storage REIT, Meaney says Iron Mountain's top priority will be maintaining the strength of paper storage-centric business. Storage accounted for 83 percent of Iron Mountain's net profit margins in the second quarter of 2017 and 62 percent of the company's $950 million in total revenues, which grew more than 8 percent from the year-earlier period.
Ironically, though, communicating with the investment community about the strength of Iron Mountain's core storage operations will remain one of the company's greatest challenges, according to Meaney.
He says he recognizes that the "low-tech" nature of the business in an increasingly high-tech world means investors will continue to raise questions—even as Iron Mountain chugs along.
"You can consider us to the enterprise what the self-storage companies are to the consumer," Meaney says. "The challenge is just getting the equity markets to understand and really appreciate the durability of the business."