Iron Mountain Inc. is the global leader for storage and information management services. Iron Mountain's portfolio includes records management, data management, document management, data centers, art storage and logistics, and secure shredding to help organizations to lower storage costs, comply with regulations, recover from disaster, and better use their information.
Performance Details
Previous trading day's Close
$26.16
Current high for the day
$30.21
Current low for the day
$29.77
30 days average volume
3.19
Last paid dividend value
$0.62
Previous quarter FFO
$957.90mil
Last updated: Jan. 22 2021
REIT corporate boards have seen their oversight and stewardship duties intensify this year as companies across all sectors have adjusted to a new operating normal.
REIT corporate boards have found themselves playing an increasingly active and visible role this year as they support management teams in navigating a global health crisis and an economic downturn.
While their core stewardship mission remains unchanged, boards have had to adapt quickly to shifting priorities, all while determining if current changes to the business landscape are temporary adjustments or longer-term structural alterations.
 "Boards should be extremely engaged right now because in a lot of sectors important changes are taking place," Cedrik Lachance, EVP and director of global REIT research at Green Street, said during Nareit's REITworks: 2020 Virtual Conference in September.
REIT boards have long been charged with two fundamental tasks—making sure that the company has good management in place and that the strategic direction of the company is sound.
COVID-19 hasn't really shifted priorities as much as it has magnified existing ones, says Walter Rakowich, former CEO of Prologis, Inc. (NYSE: PLD) and current board member at Ventas, Inc. (NYSE: VTR),  Iron Mountain Inc. (NYSE: IRM), and Host Hotels & Resorts, Inc. (NYSE: HST).
During times of crisis, liquidity and balance sheet management are a top focus, and  cash flow management, operating costs, and dividends are all issues that have been front and center for boards to deal with this year."The role of boards is the same in many respects. We're still there to govern, to evaluate and choose the CEO, help the CEO with the management team, plan for succession, and help plan and approve strategy," Rakowich says.
Yet boards are also more focused on the wellbeing of employees, health and safety issues, and maintaining or enhancing corporate culture when so many people are working remotely.
In some cases, board members are engaging more with key employees below senior management.
"It enables us to see who is doing what in the organization outside of senior management, getting a better understanding of what their jobs are, and it also enables us to understand succession a little bit better," Rakowich says. It also helps the board get some insight into the company's culture versus just talking to the CEO or the CFO, he adds.
The current environment has also rapidly accelerated decision-making. "We have a more constant drumbeat of meetings now that everything is virtual," Rakowich says. As such, the board has more opportunities to ask questions about whether or not the company has the right strategy.
"When you are in an environment like COVID it changes everything, but in general we all have to be more nimble because the pace of change in society is more rapid," he says.
Legal Doctrine
The key role that boards are playing in the current COVID crisis is underpinned by legal doctrine.
The mandate for both Delaware and Maryland-incorporated REITs is that boards have a duty to be responsible regarding shareholders' investments and a duty to act in the best interest of the company.
Adam Emmerich, a partner at Wachtell, Lipton, Rosen & Katz, notes that the 1996 Delaware court decision in the Caremark case also reinforced the role of the board to supervise and be knowledgeable about "risky" activities that the company might undertake, and to be responsible in establishing a framework to mitigate and reasonably minimize those risks. "COVID, for many companies, is about as big of an existential risk as you could possibly imagine," he says.
Some boards held virtual meetings as frequently as once a week during the height of the pandemic to assess and supervise the company's response. "That's really part of the Caremark doctrine in a lot of ways, because when you're facing an existential crisis the buck stops in the boardroom," Emmerich says.
Obviously, management is still in charge of day-to-day responsibilities. However, the number of meetings that board members have, the extent to which they drill down, and the intensity of the interaction with management and outside experts responsible for advising the board has really expanded in response to COVID, Emmerich adds.
Valued Judgement
While a board's seasoned judgement and perspective have always been valued, today that insight is essential.
Debra Cafaro, Ventas chairman and CEO, says having the support of an engaged and knowledgeable board of directors during this challenging environment has been a "huge benefit to the company."
Ventas views its board as a competitive advantage that serves as an asset to both management and shareholders across market cycles.
"We have worked hard for two decades to thoughtfully build a board that is a diverse, independent, and impressive group of individuals who provide sound judgment, hold our company and management to high standards, and think strategically about creating long-term value," Cafaro adds.
Shruti Shah, a partner in the consulting practice at KPMG, points out that it is the board's role to challenge management, ask tough questions, and provide guidance.
"Boards often feel like they are the gatekeepers and protectors," Shah says. "All of the individuals on a board feel very obligated to make sure that they are asking the right questions and they're getting the answers that they feel they need to have in order to be comfortable that they are providing responsible governance."
That role is particularly important now, as navigating the current environment is fraught with challenges and uncertainty. As the gravity and scope of the pandemic came into focus, many companies took a triage approach to prioritize where to focus attention and resources to deal with the immediate impacts on the business.
In the early days of COVID, there was a lot of discussion on liquidity, valuation, and how valuations might be impacted. Another immediate issue for boards was understanding how the company itself was going to work remotely. How was the company dealing with issues such as cyber security? How was company culture being impacted? How was the REIT managing health and safety for employees who were returning to the office?
Much of board attention going forward relates to how long the pandemic is going to last, and what the outlook is for the economy and the particular sector.
"That is a really critical area of focus right now. What deals can be done now to mitigate some of the losses? How do we protect ourselves or hedge against risks, and what does the strategy look like to account for that?" Shah says.
 Some of the most important topics boards are now tackling relate to whether disruption and shifts in behavior caused by the pandemic are permanent, and if so, what the implications are for demand for space and REIT business models. 
"All REIT boards are struggling with the potential for permanency of some of these challenges," says Keith Townsend, partner at King & Spalding. "It's just basic blocking and tackling and discharging their fiduciary duties to be thinking about …what kind of secular change this may represent for their business on a go-forward basis," he adds. 
Connie Moore, former CEO of BRE Properties and a board member at Columbia Property Trust, Inc. (NYSE: CXP), noted during the REITworks webinar that "it's our job to really ask those tough questions about strategy and should it shift."
According to Lachance, "a lot of boards have to adjust how they think about the next several years, and it's important to have frank discussions with management teams."
Fresh Perspectives
Ensuring that the best board is in place to help position the company for unforeseen developments—such as a global health crisis—is a detailed process that can be years in the making.
W. P. Carey Inc. (NYSE: WPC) is one REIT that has gone through a fairly significant board refresh, adding seven new board members over the past five years. "That really allowed us to evaluate the company strategy with new voices, differing opinions, and a fresh perspective," says Jason Fox, CEO. The average tenure on W. P. Carey's board is now 4.6 years.
Board insight is an important value-add to the company's vision. "The board is front and center in helping shape our strategy across a number of areas—investments, capital markets, how we look at our balance sheet, asset management, ESG, and corporate culture," Fox says. For example, the board has supported and been a part of management's plan to shift the strategy from what had been a hybrid REIT with an investment management platform to a pure- play net lease investment REIT.
W. P. Carey conducts annual board reviews and uses a matrix to evaluate the skills and experience that are represented and where there may be voids that need to be filled. "Diversity is very important. We do want to look for a broad set of skills and backgrounds," Fox says.
One skills gap that W. P. Carey wanted to fill was finding someone with a background in both legal and talent management. The company found that with Tonit Calaway, who joined the board in September. Calaway is EVP and chief legal officer and secretary at BorgWarner Inc., a worldwide automotive industry components and parts supplier.
Ventas also routinely monitors the tenure, diversity, and skill sets of its board members. "We are very thoughtful about board refreshment, elevation, and succession," Cafaro says. "We often plan two to four years in advance. We want to retain important institutional knowledge on our board and also bring in new perspectives over time."
The company has made a point to broaden its selection criteria as it has looked for potential board candidates. For example, Sean Nolan joined the board in 2019. His three decades of experience in the biopharmaceutical industry have helped make valuable contributions to enhance Ventas' efforts to expand its research and innovation business. "It's also important that we build a group that works well together and is effective as a unit," Cafaro adds.
Lachance noted that the coronavirus crisis is going to force a rethinking of what skill sets are most important within an organization. "That evolution is taking place really quickly in the minds of board members and investors, and how to define the right skill set going forward is going to change quite a bit based on what we witnessed over the last six months."
Changes Remain a Work in Progress
In recent years there has been a massive shift in shareholder expectations related to a company's board of directors. Investors have been increasingly insistent that boards have more diversity of various kinds—age, gender, ethnicity, and skillset—and not just a "club" of other CEOs, Adam Emmerich, a partner at Wachtell, Lipton, Rosen & Katz, notes.
One of the drivers behind that focus has been the rise of index funds with firms such as BlackRock, State Street, and Vanguard among those dominating the landscape. Index investors tend to take a very large position in every public company within a particular index.
"Those three investors in particular have been very outspoken in their requirements of what they expect for corporate boards in terms of diversity, human capital management, and the whole range of ESG factors," Emmerich says.
Another factor impacting REIT board composition is that there has been a continued push towards separating the chairman and CEO roles.
As recently as 2014, less than half of publicly traded REITs had separated those roles and now it is closer to 60%, notes Stephen Boyd, senior director at Fitch Ratings. However, roughly one-third of REIT boards can be comprised of insiders or non-CEO executives. "It can be good in some ways, but generally speaking we like to see more independence," he says.
Expanding women and minority representation on boards is still very much a work in progress, yet REITs are beginning to move the needle.
Historically, there has been a dearth of minority professionals in commercial real estate in general. So, part of the issue is investing time and resources in bringing more diversity to the real estate and REIT industry, which in turn would create a bigger pool of minority candidates for board positions, says Walter Rakowich, former CEO of Prologis, Inc. (NYSE: PLD) and a member of three REIT corporate boards.
REITs have stepped up in a variety of ways to help their employees, tenants, and communities during the coronavirus crisis.
What began as a global health pandemic quickly turned into an economic crisis with a far-reaching and potentially long-lasting impact. REITs across all sectors of the economy have spent the last few months adapting to the new landscape created by COVID-19, as they deal with both the immediate challenges of the crisis as well as prepare for possible longer-term fundamental changes.
From the onset of the crisis, REITs across the country quickly embraced their role as good corporate citizens and have actively watched out for others—their employees, tenants, and communities—as they grapple with the new challenges. This has produced an array of generous and creative responses that have evolved to meet the changing needs of those in the communities where they operate.
Continue reading for a sample of the many ways in which REITs have been giving back during an unprecedented time. Please note, this list is by no means intended to represent all of the good works the companies mentioned are doing, nor does it include all those companies and industry leaders who have stepped up in so many ways. Nareit is maintaining an ongoing list of the REIT industry's efforts to support their tenants, employees, and communities on REIT.com.
Fulfilling a Need for Space
From the start of the crisis, finding space to perform essential tasks while following guidelines for physical distancing proved challenging. However, many REITs quickly stepped in to offer their facilities as a solution.
Shopping center REIT Brixmor (NYSE: BRX) responded quickly to local needs by finding creative and meaningful ways to use its shopping centers as community assets. The REIT fast-tracked approvals of drive-through testing centers, blood drive locations, farmers markets, and food trucks. In Palm City, Florida, for example, Brixmor even hosted a drive-in movie night at Martin Downs Town Center.
Elsewhere in the retail REIT sector, Tanger Factory Outlet Centers, Inc. (NYSE: SKT) properties have been used for Red Cross blood drives, food collection sites, curbside food pickup, and as staging areas for law enforcement and emergency medical services.
As communities received the much-needed supplies, not only did they need a place to deliver them safely, but also to store them as well. Iron Mountain Inc. (NYSE: IRM) made floor space available inside its facilities for securing supplies needed by health responders and food and drug retailers, as well as providing overflow storage for businesses stockpiling inventory due to service or supply chain disruptions.
Efforts to provide space were not limited to the United States. Through its Space for Good program, Prologis, Inc. (NYSE: PLD)  offered unoccupied buildings and yard space for COVID-19 relief efforts to local, state, and federal agencies in the U.S., and to hospitals and relief organizations throughout the world. So far, Prologis has donated more than one million square feet in 13 markets and $5.5 million in in-kind rent to government agencies and health organizations.
Diverse Donations
While the need for physical space was critical, REITs also stepped up to provide a variety of other essential monetary and non-monetary donations.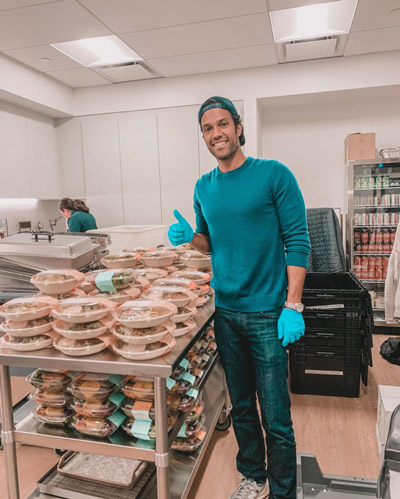 Corporate Office Properties Trust (NYSE: OFC) provided a grant of $20,000 to the Howard Hospital Foundation in support if its 'Care for Our Caregivers' program. The grant helped provide meals to the frontline caregivers at Howard County General Hospital, in Columbia, Maryland.
REITs spread their philanthropic efforts to causes at home and abroad. American Tower (NYSE: AMT) made grants through its foundation to organizations focused on supporting COVID-19 response and aid efforts, including the American Red Cross, UNICEF, Project Hope, Partners in Health Organization, Boston Resiliency Fund, PM CARES Fund (India), and many more. The foundation has recently committed an additional $2 million to support global relief efforts.
One of the ways that Digital Realty (NYSE: DLR) helped support the communities it operates in globally is through a $1 million philanthropic effort that includes donations to The World Health Organization's COVID-19 Solidarity Response Fund and The International Red Cross and Red Crescent Movement's COVID-19 Emergency Appeal. The REIT has also made direct contributions to smaller charitable organizations across Europe, North America, and the Asia-Pacific region selected by its employees living across the six continents where it operates.
In addition to monetary contributions, REITs also tapped into their unique expertise to provide assistance. Partnering with Feed the Children, Americold Realty Trust (NYSE: COLD) transported more than 84,000 pounds of food to aid the nonprofit's COVID-19 relief efforts. "Americold associates work year round to help put food on tables around the world, and as testament to our 'Cold Hands, Warm Heart' culture, we are glad that we were able to jump in and make an immediate impact," said Americold president and CEO Fred Boehler.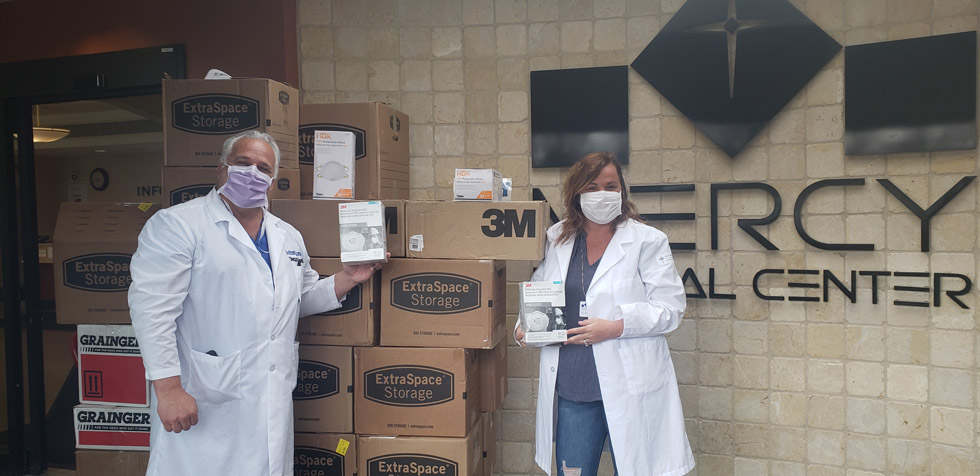 Meanwhile, an unexpected discovery allowed Extra Space Storage Inc. (NYSE: EXR) to do its part during the crisis. Extra Space employees in hurricane-prone areas of the country donated more than 10,000 N95 masks to local hospitals in need after they realized their storage facility emergency response kits included the much sought-after masks. "One of our guiding principles is to 'Do the Right Thing," said Gwyn McNeal, chief legal officer and head of people at Extra Space. "We'll restock the hurricane kits when supplies aren't in high demand."
Assistance to Employees & Tenants
REITs actively engaged in helping their own employees impacted by the crisis as well as the many tenants that were so drastically hurt by the shutdowns that took place.
In the case of Arbor Realty Trust, Inc. (NYSE:ABR), the mREIT launched a $2 million rental assistance program to help thousands of tenants and families significantly impacted by the COVID-19 outbreak. The Arbor Rental Assistance Program (ARAP) was created to supplement existing government rent relief programs and leverage private capital to fill critical gaps for those impacted by a loss of income. The program was offered to tenants at the properties Arbor finances across the country on a first-come, first-served basis.
The idea of bridging a gap and being a real partner in the community was key for Camden Property Trust (NYSE: CPR). The multifamily REIT established a $5 million tenant relief grant to serve as a bridge between when a resident might have lost a job and the receipt of federal benefits. There was more demand for the grant than expected, with the entire $5 million amount allocated in about 16 minutes. Checks were sent out to residents within 24 hours of their grant applications being approved.
Retail tenants have been particularly hard hit by the COVID-19 crisis, and REITs knew it was vital to act fast. Aware that immediate access to capital was critical to keeping its tenants' businesses afloat, Kimco Realty Corp. (NYSE: KIM) piloted a complimentary Tenant Assistance Program (TAP) to assist tenants in identifying and applying for applicable federal and state loans to help their businesses survive the financial impact of the coronavirus.
Other retail REITs have been helping their tenants through practical, hands-on assistance. RPT Realty (NYSE: RPT), for example, established a complimentary Tenant Concierge Service to provide its small business tenants with direct access to a law firm to assist in applying for governmental aid.
Washington Prime Group Inc. (NYSE: WPG) also saw the need for real-world help. The REIT partnered with the Institute for Justice Clinic on Entrepreneurship and members of the University of Chicago faculty to launch the Open for Small Business initiative. It has provided an easy-to-use lease modification as well as other relevant templates for the deferral of payments until local entrepreneurs get back on their feet. The initiative has also hosted a range of educational webinars.
Finding a Creative Approach
Challenging times tend to encourage new ways of looking at and using resources that are on-hand, and REITs have shown they know how to use everything at their disposal during a crisis.
A shortage of personal protective equipment (PPE) to protect frontline care workers prompted Lamar Advertising Co. (Nasdaq: LAMR) to join forces with Louisiana State University (LSU). Lamar supplied vinyl billboard material for conversion into PPE  for immediate use by healthcare workers caring for COVID-19 patients at medical facilities across Louisiana. LSU established a large-scale production facility on the Baton Rouge Campus and Lamar's billboard material has been converted on-site into heavy-duty, reusable gowns.
While supplying PPE equipment fulfilled a vital medical need during the crisis, paying homage to the countless individuals who have been at the front line of the pandemic reflected a more emotional need.
From the early days of the coronavirus crisis, Empire State Realty Trust, Inc.'s  (NYSE: ESRT) Empire State Building lit up the New York skyline. In partnership with iHeartMedia, the Empire State Building beamed a light show synced to Alicia Keys' Empire State of Mind. The iconic building also dedicated its tower lights to a different first responder organization in late April and early May, shining in their representative colors to acknowledge their bravery and service.
Other REITs have also shown their colors when it comes to supporting first responders. In Boston, the Prudential Center, owned by Boston Properties, Inc. (NYSE: BXP), lit up in red, white, and blue in honor of first responders nationwide.
Meanwhile, social distancing rules forced employees at Ventas, Inc. (NYSE: VTR) to opt for a virtual 5K/10K race to earn mile-matching donations from the Ventas Charitable Fund. By staying active and doing good, employees helped raise $10,000 for Direct Relief and Meals on Wheels America, two organizations dedicating efforts to COVID-19 relief.
Address
One Federal Street
Boston, MA 02111
United States
Company Contacts
Stuart B. Brown, Barry Hytinen
Nate McCurren, Anjaneya Singh