Looking back on his career roots, Dallas Tanner describes himself at 25 as a "get-your-hands-dirty kind of entrepreneur who loved residential real estate." It was Tanner's tycoon spirit that spurred him and his fellow young partners to form Treehouse Group Companies and dig into the workforce housing market in Phoenix. When they later raised institutional capital—a deal that ultimately led to the creation of Invitation Homes (NYSE: INVH)—Tanner says his investors, The Blackstone Group, were able to see his vision of transforming the single-family rental industry in a similar way to how the multi-family space had been transformed in the 1970s and 1980s. 
"We thought, 'There are 15 million people that rent single-family homes. Why not do it professionally?'" Tanner recalls. 
It was far from a bad idea. Invitation Homes' partnership with Blackstone led to a tremendous amount of growth in a short period of time and ultimately the REIT's initial public offering (IPO) and a merger. Just before the 2012 Blackstone deal, Tanner and his partners owned 3,000 units in Phoenix. Today, Invitation Homes owns 80,000 units across 17 markets—and a 96.5% occupancy rate to boot.
Such "rocket ship" growth, in Tanner's words, could not have been achieved without his team's strong management skills. 
"Today we have a $16 billion market cap, but we are still experiencing all the growth and challenges of a new company in some ways," he says. "People can't really appreciate how difficult that degree of execution is."
Tanner says that in order to continue its growth trajectory, Invitation Homes is now focusing in on the customer experience. And the REIT is certainly living by its mission statement: "Together with you, we make a house a home."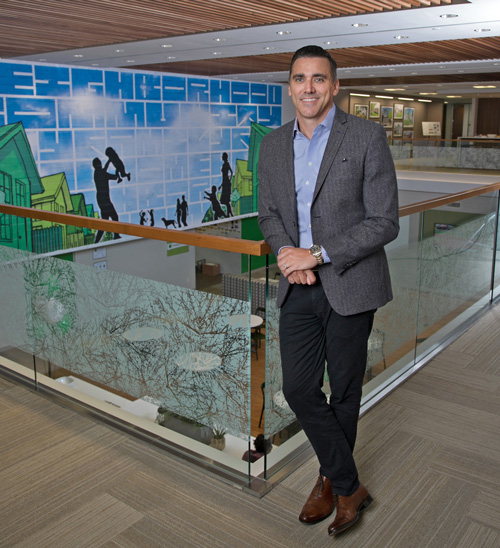 Tanner recently spoke with REIT magazine about his passion for community engagement, keeping up on customer living trends, and why energy is contagious at Invitation Homes. 
What was your path to starting Invitation Homes and opening the way for the single-family rental industry?
When I was in college, I started a business with two partners in Phoenix called Treehouse Group Companies. The idea centered around workforce housing and buying blighted apartments and manufactured housing developments. We wanted to do value-added improvements while building good will in an asset class with very sustainable returns. This was in 2004 and 2005, when everyone was getting outsized returns in land and land development. At Treehouse Group, we wanted to be a more risk-adjusted part of a portfolio—a conservative, coupon-clipping type of real estate investment. 
We then started raising money from a few family offices, and we bought about 1,000 units in the Phoenix market. We ultimately built an internal property management company alongside Treehouse Group. In 2009 and 2010, the single-family housing situation was getting pretty rough in the U.S., so we started looking at a way to buy single-family homes and bought about another 1,000 single-family rentals in Phoenix.
By the end of 2011, across our three verticals—single-family, manufactured housing, and apartments—we had about 3,000 units in Phoenix, and we were running it all on an internalized platform. We had a self-sustaining business unit, and companies like Blackstone were trying to develop a platform like ours on a national scale. No one had done it yet in single-family.
The long story short is that we agreed to partner with Blackstone and put several billion dollars to work. We ended up doing three or four times that with them prior to our IPO. It was a terrific partnership. We had the right capital partners: entrepreneurs who were passionate around single-family housing.
What was the turning point? 
We started buying homes with Blackstone in April 2012 and formed Invitation Homes. Then we started to build out the management company and pick the markets that we wanted to participate in.
We have come a long way from the early days of using cashier's checks and buying properties at auction to huge structured financed deals today that are the first of its kind with life insurance companies and Fannie Mae. It's just remarkable. And we're still in the earliest of innings in terms of where this industry is going to go. The future is really exciting.
So, how crazy have the last seven years been for you?
Over the first five years [from 2012 to 2017], we built the company home-by-home, through our first 50,000 homes in 13 markets. It wasn't built through a huge transaction or a big M&A opportunity. It was building the processes and people that could run a business like this in scale. Our thesis was that you have to have scale to be able to offer the right suite of services. 
Blackstone believed in that same vision and gave us the resources to go out and do it. That's the reason why Invitation Homes has been so successful today. Within six months after we went public in January 2017, we executed a merger for another 30,000 units. We've been on a rocket ship of growth, but we've also been able to run a stabilized business. 
Seven years into this vigorous growth, how does the business operate today on a day-to-day basis?
There's a lot happening on a day-to-day basis, both mechanically and strategically, because we keep continuing to mature as a business.
The business itself is a fine-tuned assembly line. We have homes that we're buying and selling every day. We have homes that are being rehabbed up to our fit and finish standards. We have leasing teams that are out leasing and renewing properties. And we have the corporate office teams that are refinancing and looking at new instruments to help expand the space. 
I always tell people that we're a real estate company that uses its technology to enable our processes, systems, and customer service. We want to be very high-touch with our customers. The average customer today stays with us for about three years, which is almost two times the average length of stay in the multi-family space, so our customers are a little bit stickier.
Generally speaking, the average age of our customer is around 39 years old. We usually have two earners in the home, and often they are making decisions based around school districts and transportation to get to and from work. They want to be in safe, high-quality neighborhoods where they can make a home for their family. 
We have a proactive maintenance process called ProCare. When someone signs a lease and moves in with us, we go through a move-in process with them and teach them all the mechanics of the home. We come back 45 days after move-in to touch up any issues they may have. After that, we're not going to be back in that home unless they call us or need something until about six months. Then we're in the home every six months whether there's an issue or not, just to make sure they're happy and the home's systems are working well.
What are Invitation Homes' company goals for the next five to 10 years? 
I think what we'll see is the leasing lifestyle becoming more commonplace. We have a resident base that continues to stay with us longer and longer. Every quarter that average length of stay increases in our portfolio. We'll start to figure out ways to optimize that experience for our customers. We'll want to grow our asset base and make sure that we're continually looking for smart growth. Even within our portfolio, from an ancillary revenue perspective, we'll want to grow in order to create more experiences for our customer.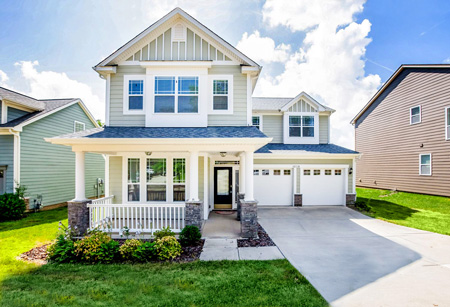 We'll continue to help people allow for things like optimizing their kitchens, optimizing flooring—generally optimizing the way their homes fit them. It's not all that dissimilar from the decision between owning and leasing a car. A lot of people 10 to 15 years ago would have never thought of leasing a vehicle, but now it's a common practice. With a leased car, you can have perforated seats and have Bluetooth and all of those upgrades. We think our home business is very similar. We're dealing with a customer who wants to stay with us typically much longer than in the past. They're less transient in nature, and the more we can make that house feel like a home for them, the better off we think the customer experience will be, which will lend itself to continued growth and outperformance. 
Do you think making that ongoing connection to the home and its residents helps you stay on top of home and lifestyle trends?
Absolutely. We have to be in touch with what's happening in our markets. We have to find ways to continually connect with our customers.
We just did a designer home showcase in Atlanta where we brought in a number of well-known designers and bloggers discussing affordable styles and how to make your house feel like a home. Emily Henderson, who was the winner of the television show HGTV Star about 10 years ago and is now a widely-known interior designer, spearheaded that effort. She works with Target as one of their style experts and handpicks reasonably priced home items that can help streamline customers' space. 
We want to stay connected to our customers through product offerings, opportunities to customize their experience, and incentives. We have pretty big purchasing power as a company with more than 80,000 homes and we want to extend some of our discounts beyond our regular services to our customers, too. This is the fun, innovative lab-type of thinking that we're doing as a team right now. We have a real opportunity here.
Do you have an internal group that's working on innovation? 
We have an internal team that's super-focused on innovation and customer experience. It's a big focus for us over the next couple of years in terms of what we want our customer experience to look and feel like. This business can have really strong occupancy long-term with a compelling market rate growth. We think people are willing to pay for that experience.
What about your personal goals for the company? 
As a co-founder of the business, I have a unique passion for our particular brand. It's something I take very seriously. I want Invitation Homes to be known as a neighborhood-friendly brand that's focused on community engagement. I want people to know that we make sure this experience of leasing a home is more than just a typical relationship between a resident and a landlord. This is also our first year with dedicated dollars in every market going back into the communities, determined through our corporate team and our local management teams. 
I envision a day where we offer community engagement opportunities for our residents, when it's not just about our associates and our teams getting involved and giving back, but we have a real sense of community amongst people that lease from us too. Beyond just running the business, making sure that we're part of the housing solution in our markets and that we're consistently focused on giving back is something I want to do really well. 
It sounds like you've been an entrepreneur from a young age. Who have your mentors been throughout your career?
My dad has been a mentor for me in business. He's always been a self-made guy and has built a number of different companies in the Phoenix market around the construction and aggregate materials businesses. He's always encouraged me and was a partner when I was starting some of my early businesses in the early 2000s.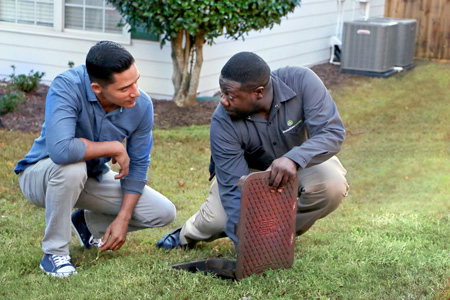 Also, as we've built Invitation Homes, I have to give a lot of credit to my partners at Blackstone. John Gray and Bill Stein have been terrific mentors in terms of helping me think about the business on a much bigger scale. Their support has been extremely meaningful to me as we've built the business together.
Do you have a motto you live by? 
I have two mottos I like to live by. The first is always be anxiously engaged in a good cause. I love that term. I've got a lot of natural energy, so it's important to be anxiously engaged and not passive about anything. 
My second motto is anyone can be average. I don't want to be average, nor do I want anyone on our team to be average. Life is too short. The more you put your energy behind things and focus on being excellent, the better. Energy is very contagious. Our team is full of extraordinary leaders. We don't have anyone that's really average—it wouldn't work long-term. 
So energy is a quality you look for when hiring?
I want people who are high energy, but who are also meticulous in thought. But you can't teach passion and you can't teach instincts, right? If you give me somebody who has got a lot of passion and pretty good instincts and works hard, we can figure out all of the rest. We have people with a lot of passion, and they're backing the Invitation Homes brand. That's one of the reasons we've been able to grow as fast as we have.
What hobbies do you have outside of your professional life that might surprise your colleagues? 
I'm happily married to my college sweetheart. We have five kids, so any time outside of work right now has been focused on spending time with my family. We spend a lot of time outside and we love to travel. We're also pretty active in our community and church. But if there's any extra time, 
I'm going for a run or a swim or riding my bike for sure.