The commercial real estate industry must take steps now to improve racial diversity.
09/27/2020 | by
REITs and commercial real estate have historically had a low percentage of Blacks and other people of color among the executive and corporate board ranks. Addressing racial diversity and inclusion has been a target of improvement for many years now, yet the killing of George Floyd in May, and the protests supporting social justice that followed, have brought those efforts into sharper focus as companies prioritize efforts to examine ways in which they can do more to address lingering inequality.
Duke Realty Corp. (NYSE: DRE), a long-time leader in corporate responsibility matters, is one example of a REIT that is committed to raising the bar both internally and across the industry. In mid-July, nearly all of its 400 employees tuned in to a companywide webcast to hear five of their Black colleagues tackle such questions as: what was it like for you growing up? what does it mean to be Black in America? what has your experience been like as a person of color in the commercial real estate industry?
Such frank conversations have rarely taken place in corporate America. The discussion at Duke Realty, hosted by the company's long-standing diversity and inclusion council, helped many employees glimpse life through the eyes of their Black colleagues. More talks centering around the issue of diversity are planned.
"Companies such as Duke Realty, that already have extensive diversity and inclusion programs are now doing even more," says Duke Realty CEO James Connor. Two of thirteen members of the REIT's board of directors are Black.
"I've also spoken to a number of CEOs whose companies have lagged in this area. They're scrambling to play catch-up and put programs in place. They now see that they can no longer just talk the talk. They recognize that diversity, inclusion, and racial justice are issues that strong, well-run companies are addressing proactively," Connor says.
An Inconvenient Truth
It's no secret that the commercial real estate sector still lags on diversity, particularly racial diversity. A recent study by CREW Network, which works to transform the industry by advancing women, confirms this. Conducted in partnership with the MIT Center for Real Estate, the study is based on a survey taken between January and April of this year. Nearly 3,000 industry professionals (including some in Canada and the U.K.) provided full responses.
Only 16% of U.S. respondents said their workplaces are "very diverse," meaning that people of color make up at least 25% of employees. The majority of U.S. respondents (62%) said that people of color account for less than 15% of the professionals in their workplaces.
That said, more than half of all respondents said they've noticed a workplace culture shift on diversity. Among the biggest factors driving that shift are external pressures from the industry and mandates from CEOs and other top executives, according to the study.
The culture shift that's underway appears to be driving change. CREW Network's study found that the heightened focus on equity and diversity in some organizations has given rise to policies that are "more supportive of work/life balance," bias-awareness training, and greater access to professional development opportunities, among other initiatives.
"Diversity, equity, and inclusion isn't a passing fad," says Christine Gorham, director of development at Caddis Healthcare Real Estate and president of CREW Network. "It's an investment in our companies, our future, and our culture. It can no longer be just lip service. The industry has to take action."
Making a Difference
Several REITs had begun taking a more strategic approach to diversity and inclusion even before  protests erupted earlier this year. Take JBG SMITH (NYSE: JBGS), for instance. Last September, the company, which owns and develops mixed-use properties in the Washington, D.C. metro area, hired its first-ever vice president of diversity and inclusion, Dawnita Wilson.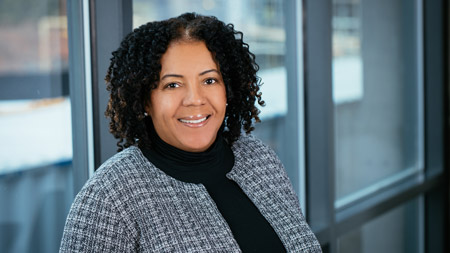 Wilson was previously director of global diversity and inclusion for Sodexo, a publicly traded food services company with more than 450,000 employees worldwide. Since joining JBG SMITH, she has developed a comprehensive, multi-year diversity and inclusion strategy and taken a deep dive into the company's culture.
"With cultural change being such a major factor in results-driven diversity and inclusion efforts, understanding what's contributing to or hindering your progress is critical, as is establishing relationships and building credibility," Wilson says.
Aside from developing a strategic plan, Wilson's first initiatives have focused on what she calls "low-hanging fruit," or opportunities to adjust existing systems, practices, and processes to enhance diversity and inclusion.
For instance, she's overseen changes to how and where the company recruits talent, and the new approach is already yielding results. Wilson credits a newly-formed partnership with the University of Maryland with helping JBG SMITH, based in Bethesda, Maryland, to recruit a highly diverse class of summer interns this year. More than half of the 13 college students who participated in the firm's first-ever virtual internship program are women and people of color.
"Diversity and inclusion really just need to be part of how we do things, how we conduct business," she explains.
Wilson has also launched a diverse, cross-functional employee group that's helping to execute the firm's new diversity and inclusion strategy and bring greater visibility to those efforts. As a result of the group's work, JBG SMITH recently launched a new blog series, which is a platform for members of the firm's executive team and other business leaders to share insights on diversity and inclusion and celebrate related achievements.
Reflecting on her reasons for joining JBG SMITH, Wilson says she was drawn to the firm by the opportunity to "build and execute a vision and strategy" for diversity and inclusion, with the strong support of the company's senior team, and to do so in an industry where there's plenty of opportunity to make a difference.
"It's no secret that there is still a lot of work to be done in the real estate industry when it comes to diversity and inclusion. So, I knew I would have my work cut out for me," she says.
Doing the Right Thing
Wilson's point isn't lost on the leadership team at Prologis Inc. (NYSE: PLD), which has been working for years to foster greater diversity within the company's ranks, not just because it's the right thing to do, but because it makes good business sense. The San Francisco-based REIT is one of world's largest owners and developers of logistics real estate, with a portfolio spanning 19 countries. It has more than 1,700 employees.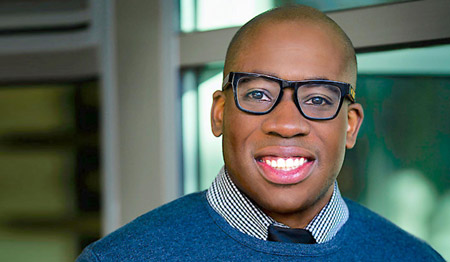 "We're a global company. Our customer base doesn't fit one profile," says Uzo Akotaobi, vice president of human resources and inclusion & diversity. "Diversity within our ranks brings different perspectives and experiences to the table, enabling us to solve the problems of a complex, interconnected world," he says.
Among other initiatives, Prologis has reexamined its approach to recruiting, training, mentoring and promoting talent in recent years, and made changes designed to foster a more inclusive and diverse culture — in that order.
"We have the 'I' before the 'D' intentionally as inclusion is about creating a culture where everyone can succeed, not where any one group feels marginalized and they have to show up differently at work in order to succeed," says Colleen McKeown, the firm's chief human resources officer.
To recruit larger numbers of minorities, Prologis has begun casting a wider net among colleges, as it also continues to provide scholarships through the Urban Land Institute, and directly at universities. It's looking beyond the usual suspects with real estate programs to highly-ranked institutions like Georgia Tech, which has a highly diverse student body. The firm is also working to raise its profile outside the insular world of industrial real estate by participating in a wide variety of community events, such as Denver's annual Startup Week.
"We develop relationships with organizations that have reach into communities that may not be aware of the opportunities in real estate. We want to introduce this great organization and industry to different communities," says Akotaobi, who happens to be relatively new to commercial real estate himself. He joined Prologis in September 2018 and has since worked closely with McKeown to build on existing company efforts to promote inclusion and diversity.
"We have a CEO [Hamid Moghadam] who totally gets it and fully supports it," says McKeown, referring to Moghadam's willingness to look beyond the industrial real estate sector for talent. "The easy button is, metaphorically, to hire yourself, but it's the short-term answer. We look for people [from diverse backgrounds] and set them up for success," she adds.
Grooming New Leaders
Last fall, Prologis launched a program designed to foster greater diversity within its leadership ranks. The High Potential Employees (HiPE) program exposes participants to key areas of commercial real estate. Prologis seeks diverse candidates for the program, although they must have a science, technology, engineering, and math (STEM) degree.
Participants are mentored and trained by the company's subject matter experts in construction, leasing, property management, capital deployment, and valuation. They're also taught leadership skills. Associates who graduate from the program are hired for leadership roles throughout Prologis. The inaugural HiPE class was a diverse set of people that included people of color and women and individuals with veteran status.
"We tell leaders within our company: 'Hire for what you cannot teach.' We teach real estate very well. So, we hire a diverse group of people and leverage their differences and strengths," Akotaobi explains. "It's about culture add, as opposed to culture fit."
Given Prologis' deep commitment to diversity, it's not surprising that it was among the companies that took a public stand this summer in support of the protests for racial justice. But Prologis didn't just issue a solidarity statement, it also committed $1 million to support organizations on the front lines of the fight against systemic racism.
Scholarships, Mentoring, and More
Like Prologis, Duke Realty has rolled out programs in recent years that have fostered greater diversity within its ranks, including a partnership with Chicago's Roosevelt University that has enhanced recruiting efforts.
In 2016, the company launched the Duke Realty Fund for Education and Advancement of Minorities in Real Estate (DREAM) at Roosevelt University. Each year, the DREAM program provides $5,000 scholarships for two years to four students working toward master's degrees in real estate. Duke Realty executives mentor scholarship recipients and give them first notice of open positions at the firm.
Four years ago, the company also unveiled an executive mentoring program that has proven highly effective at creating more professional development opportunities for women and people of color, and improved hiring and retention rates for minority groups at mid- and senior-level positions.
How have such programs helped to move the needle at Duke Realty? Over the last nine years, the company's minority headcount has risen to 13% from less than 10%. Women now make up 46% of its workforce, up from less than 40% nine years ago. Last year alone, 67% of the candidates hired for mid- and top-level positions were either women or people of color. What's more, of the 55 promotions awarded last year, nearly half went to women and 18% went to members of minority groups.
An Evolving Playbook
Clearly, the playbook for fostering diversity and inclusion continues to evolve as real estate organizations fine tune existing efforts and experiment with new approaches. As McKeown of Prologis notes, working toward greater diversity is an iterative process—one that should be based on regular feedback from employees.
"Companies really need to listen to their employees," she advises. "Find a way to get feedback and figure out what's working. If something's not working, then pivot. It's a journey." 
Sources of Talent
Cedric Bobo, a former investment banker, has long believed that where you're born shouldn't determine where you end up. That belief helped him rise to the pinnacles of Wall Street during the first phase of his career and later to co-found Project Destined, a social impact platform that strives to help underserved students become stakeholders in their communities.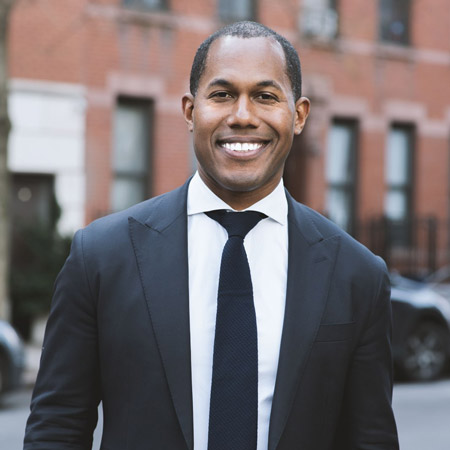 Bobo launched Project Destined in Detroit in 2016. Later, he set his sights on the Bronx at the urging of two of his nonprofit's earliest supporters, former New York Yankees star Alex Rodriguez and his wife, Jennifer Lopez, a Bronx native.
Shortly after Project Destined began working in the Bronx, Brookfield Properties unveiled its plans to make its first-ever investment in the borough, a $950 million, mixed-use development along the waterfront in the Mott Haven neighborhood. A partnership between the fledgling nonprofit and one of the world's largest real estate managers ensued.
"We knew we were going to be a new neighbor in the Bronx and wanted to make sure we were learning from the students who live in the neighborhood and will drive change," says Charlie Howe, a senior associate at Brookfield who's helping to oversee the company's project in the Bronx, called Bankside.
Project Destined and Brookfield kicked off their partnership with a boot camp-style real estate education and mentoring program for 60 high school and college students from the Bronx. The students took intensive courses on the fundamentals of real estate, taught by Project Destined mentors and 25 Brookfield professionals who volunteered their time.
Later, the students were placed on teams that developed business ideas with input from Brookfield volunteers. The teams then pitched their ideas—including proposals for hotel and retail space adjacent to Bankside—to panels of judges comprised of Brookfield volunteers and other real estate practitioners, as well as business school students.
The program culminated in a Shark Tank-style contest at the National Basketball Association's headquarters in Manhattan. The teams of students pitched their ideas to a panel of judges that included Brookfield Property Group Chairman Ric Clark, Alex Rodriguez, Bronx Borough President Ruben Diaz, and NBA Deputy Commissioner Mark Tatum. The winning team split a $10,000 prize.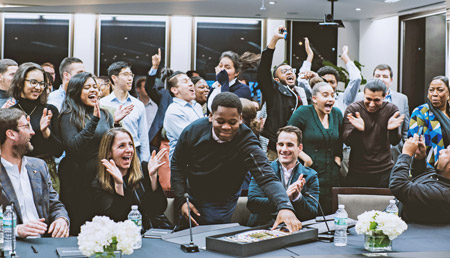 "The program was a cool way to leverage what our professionals do at Brookfield every day into a learning opportunity for the students, who got first-hand insight into what the industry is all about," Howe says.
Bobo says the purpose of his nonprofit isn't simply to teach students the proverbial nuts and bolts of real estate. It also aims to help students from underserved communities see themselves in a different light and cultivate professional connections in the world of real estate.
"I emphasize education and ownership because you think of yourself differently in this world when you project yourself as an owner in your community," Bobo says.,  
Just as importantly, his nonprofit aims to get major real estate companies to view urban markets, like the Bronx, as sources of talent, he says.
"What we're creating is the same kind of appreciation for talent in urban markets that happens on the basketball courts and sports fields across urban America. These students are being treated like the talent that they really are," he explains.
Brookfield and Project Destined continue to work together in the Bronx and have also partnered on programs in Los Angeles, Baltimore, and Nashville. This summer, Project Destined launched a virtual internship program on real estate digital marketing with the support of Brookfield and other firms. Brookfield has also hired several of the now-former students who participated in its inaugural program with Project Destined.
Morningstar's Minority Empowerment Index
The Morningstar Minority Empowerment Index provides exposure to U.S. companies that stand out for their commitment to racial and ethnic diversity. Currently, 11 REITs are included in the index. Commitment is measured through policies, programs, and performance, as well as societal impact. Companies are judged not only on the basis of their own workforces and boards of directors, but also on their supply chains and community interaction.
The REITs currently included in the index are (in order of weighting as of June 30): Prologis, Inc.; Equinix, Inc.; AvalonBay Communities, Inc.; Welltower Inc.; Equity Residential; Weyerhaeuser Co.; Healthpeak Properties, Inc.; Ventas, Inc.; Iron Mountain Inc.; Kilroy Realty Corp.; and, SL Green Realty Corp.
Read more from September/October issue of REIT magazine, available now in an interactive PDF.