Content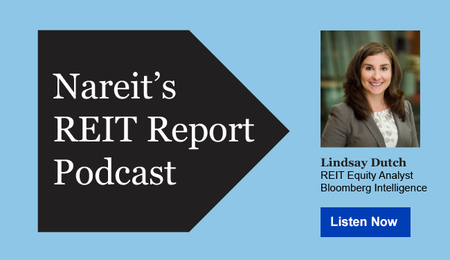 Lindsay Dutch, REIT equity analyst at Bloomberg Intelligence, was a guest on Nareit's REIT Report podcast. She spoke about the proposed acquisition of DCT Industrial Trust Inc. (NYSE: DCT) by Prologis, Inc. (NYSE: PLD) and its impact on the industrial REIT sector.
Dutch observed that industrial REITs have been expanding their portfolios to satisfy strong warehouse demand and to grow their cash flow. However, the entitlement process for industrial development can drag out, especially for sites near or around high-population cities, she noted. For Prologis, the acquisition of DCT "provides expansion much quicker."
As to whether Prologis can and should expand further, Dutch replied: "I'm not sure if they need to from a competitive standpoint, since they already have such size and scale compared to their peers." Going forward, Prologis may look to Europe and Asia rather than the United States for further expansion, she added.
Looking more broadly at the industrial REIT sector, Dutch noted that first quarter results confirm that demand is still "really very strong" and rents are rising. She added that the Prologis/DCT deal is unlikely to measurably change the competitive landscape and trigger a flurry of mergers and acquisitions as Prologis is "already such a giant in the space."