Today, and every day for the next 15 years, roughly 10,000 Baby Boomers will turn 65. Advancements in healthcare also are allowing retirees to be more active and live well into their late 80's or longer.   
As more Americans enter retirement and live longer, an investment strategy that generates income may be critical to maintaining their lifestyle and ensuring that they can support themselves financially. While traditional investment strategies, such as those used by most target-date funds, have been helpful in sustaining wealth in the retirement years by reducing exposure to risk, they typically have not maximized the necessary level of income that some retirees may need to fund their day-to-day living expenses. 
New research from Wilshire Funds Management that has been sponsored by NAREIT, based on more than 40 years of investment return data and advanced portfolio optimization techniques, has shown how adding a range of high income-generating assets, including REITs, to model retirement portfolios would have produced a nearly 40 percent gain in income returns – while maintaining nearly the same total returns and risk profiles as retirement portfolios with more traditional investment allocations.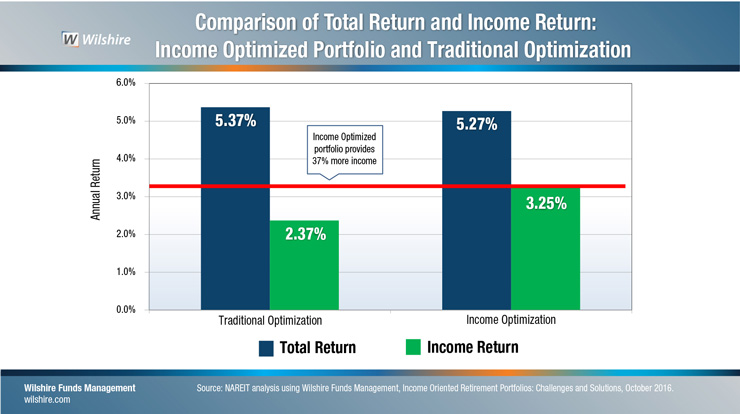 Wilshire's research, described on the following pages, provides new insights into retirement portfolio designs that have been effective in boosting income returns while attempting to minimize risk.  
Download the Wilshire Study
NAREIT is the worldwide representative voice for REITs and publicly traded real estate companies with an interest in U.S. real estate and capital markets. NAREIT is not acting as an investment adviser, investment fiduciary, broker, dealer or other market participant, and no offer or solicitation to buy or sell any security or real estate investment is being made by this Site. The content on this Site is for informational purposes only and the Site is not intended to be a solicitation related to any particular organization, nor does NAREIT intend to provide investment, financial, legal or tax advice, and no information, services, or materials offered by or through this Site shall be construed as such. Past performance does not guarantee future results. Information presented on this Site pertains only to listed securities. Investment results cited are based on research by Wilshire Funds Management sponsored by NAREIT.