Updated Research by Wilshire Offers Target Date Fund Managers a Potentially Better Way to Build Retirement Portfolios
In 2012, Wilshire Associates published a NAREIT-sponsored study which determined appropriate asset allocations for listed equity REITs in target date funds (TDFs). Using data covering the 35-year period from 1976 to 2010, the Wilshire analysis demonstrated that allocations to U.S. or global listed equity REITs and property companies increased expected long-term investment returns and portfolio diversification. 
The Role of REITs and Listed Real Estate Equities in Target Date Fund Asset Allocations
Now, NAREIT has sponsored an update of the Wilshire study incorporating data on market returns through the end of 2015, and the results reaffirm the important role of REITs in investment portfolios. 
Key Findings:
Positive impact of REITs: Better performance, lower risk
Over the 40-year period 1976 – 2015, listed equity REITs had low correlations with other major asset classes.   Because of these low correlations and their high annualized returns, there are potential diversification benefits from adding REITs to an investment portfolio.
Optimal allocation
The updated analysis shows that an allocation of up to 16% in U.S. listed equity REITs is optimal for investors planning to retire in 40 years, or 7% for an investor who just retired in 2015.  
Time for Target Date Fund industry to optimize
A number of leading TDF providers including UBS,  BlackRock, JP Morgan, PIMCO, Allianz Global Investors, Alliance Bernstein, Invesco, American Century, and Schwab have put significant REIT allocations into their funds. However, a number of other investment firms' TDFs remain under-allocated to REITs, potentially hindering the performance of those funds.
Four for one
The updated report also highlights the notable attributes of REIT-based real estate investment, including potential inflation protection, capital appreciation over the long term and dividend income.
Download a free copy of Wilshire's 2012 Research Report - The Role of REITs and Listed Real Estate Equities in Target Date Fund Asset Allocations and the updated 2015 results.
Optimal Target Date Glide Path Allocations Emphasize REITs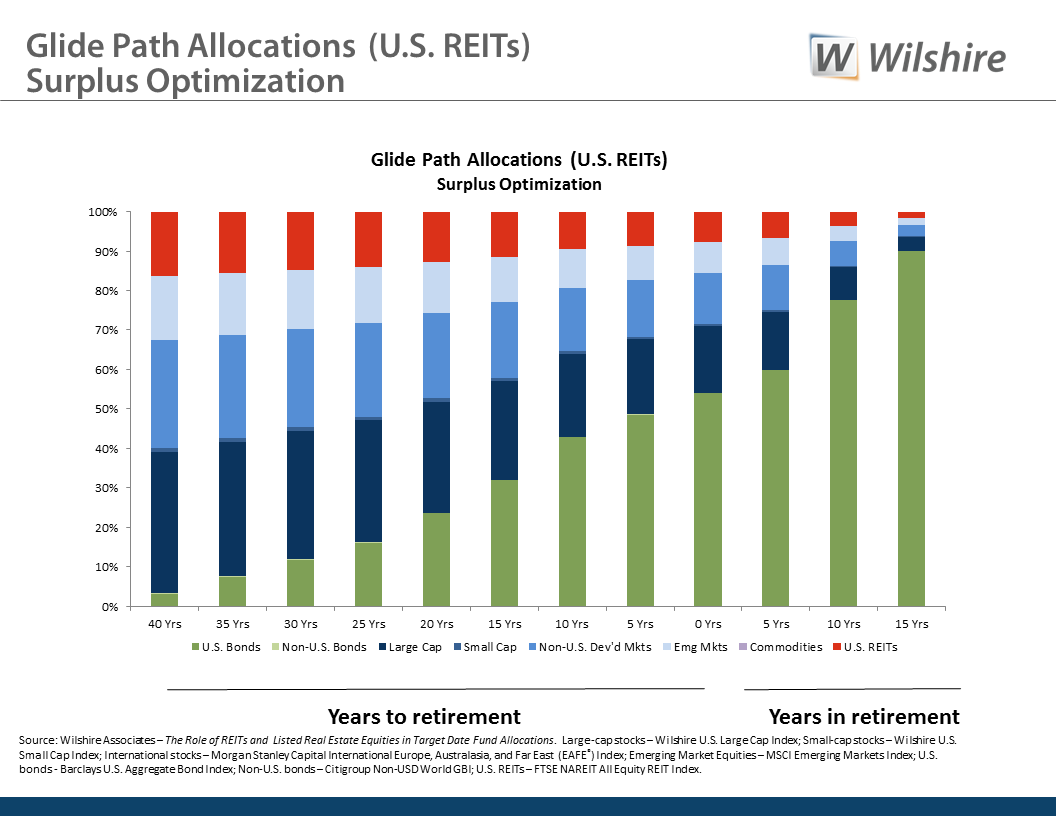 Leading Target Date and Target Risk Fund Providers' Maximum Real Estate Allocations by Investment Manager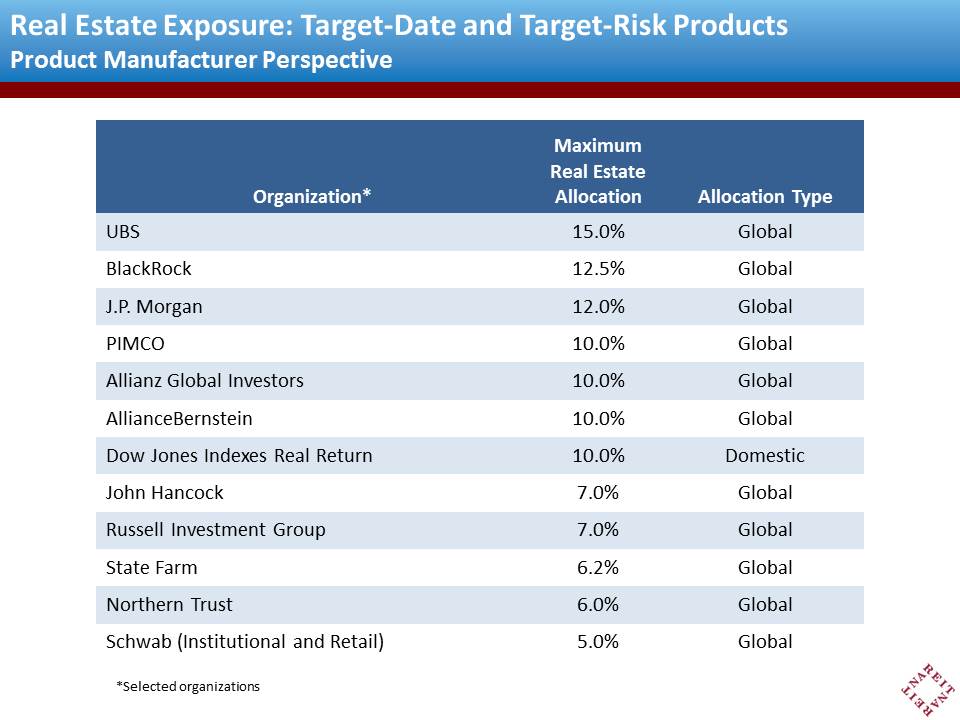 (Source: NAREIT, as of 12/31/2015)

Additional Research and Resources