Six REITs were named as 2019 Green Lease Leaders by the Institute for Market Transformation (IMT) and the U.S. Department of Energy's (DOE) Better Buildings Alliance.
IMT and DOE noted that green leasing continues to grow as a best practice across markets and building types. The awards are intended to shine a light on forward-thinking real estate companies and practitioners who effectively modernize their leases to spur collaborative action on energy efficiency and sustainability in buildings.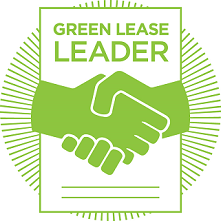 Maria Vargas, senior program advisor at DOE and director of the Better Buildings Initiative, noted that Green Lease Leaders "are leading the way by demonstrating how smart leases enable landlords and tenants to work together to keep costs down while ensuring energy efficiency and workplace comfort."
The following REITs received silver recognition in the landlord category: Hudson Pacific Properties, Inc. (NYSE: HPP); Office Properties Income Trust (Nasdaq: OP); Rexford Industrial Realty, Inc. (NYSE: REXR); SITE Centers Corp. (NYSE: SITC); and STAG Industrial, Inc. (NYSE: STAG).
Kimco Realty Corp. (NYSE: KIM) was cited for team transaction recognition, in conjunction with WeWork, CBRE, Cushman & Wakefield, and Allen Matkins.
Cliff Majersik, executive director for IMT, noted that a green, high-performance lease is "an incredibly effective tool to help landlords and tenant companies achieve significant win-win business, energy, and health benefits that are good for the real estate industry, good for cities, and good for the air we breathe."
(Contact: Fulya Kocak at fkocak@nareit.com)
Get Nareit Developments blog posts delivered straight to your inbox.
Subscribe