A look into how industrial REITs are adapting to a future heavily shaped by e-commerce.
07/16/2018 | by
There is no doubt that one of the trends that has had the biggest impact on the real estate industry over the past decade has been the growth in e-commerce. While the rise in online shopping has clearly posed challenges for many retail real estate owners and tenants, it has been an absolute boon for other sectors—including industrial REITs. 
To estimate just how much of an impact e-commerce has had, and will continue to have, Duke Realty Corp. (NYSE: DRE) released a report that showed for every $ 1 billion increase in e-commerce sales, another 1 million square feet of fulfillment space is needed. 
Such a pace creates its own share of challenges and opportunities for industrial REITs as they seek to meet consumers' insatiable appetite for rapid delivery right to their doorstep, along with being able to serve more traditional tenants in light manufacturing and distribution.
Part of the challenge is not merely building for today's demand but planning for tomorrow's needs. Through 2021, Duke estimates another 339 million square feet of industrial space will be needed. In other words, the market would absorb an average of 1.62 million square feet of additional warehouse space every week—the equivalent of more than 28 football fields—and that's just to meet the demand for warehouses geared to e-commerce.
As Mike Landy, president and CEO of Monmouth Real Estate Investment Corp. (NYSE: MNR), puts it, "Buildings today are called industrial real estate, but in name only are they similar to what was built in the prior century."
Bill Hankowsky, president and CEO of Liberty Property Trust (NYSE: LPT), says the industrial property of the future needs to be as flexible as possible. "We are trying to think not just about what's the right building today, but what's the right building 10 years from now," he says. 
The large regional warehouses most people identify with industrial REITs are being joined by smaller, local facilities aimed at speeding delivery times.
"Anything that can speed things up from the time a customer clicks buy to when it arrives at his or her doorstep, that's where we're heading as an industry," says Marshall Loeb, president and CEO of EastGroup Properties Inc. (NYSE: EGP).
Demand for infill space
Duke Realty, whose tenants include e-commerce heavyweights Amazon, Wayfair, Blue Apron, UPS, and FedEx, has seen the most increased demand for urban, close-in industrial facilities.
"Tenants want to be as close to major metropolitan areas as possible, so they logistically can get product to their customers as quickly as possible—in many instances, in less than an hour," says Jim Connor, Duke Realty chairman and CEO.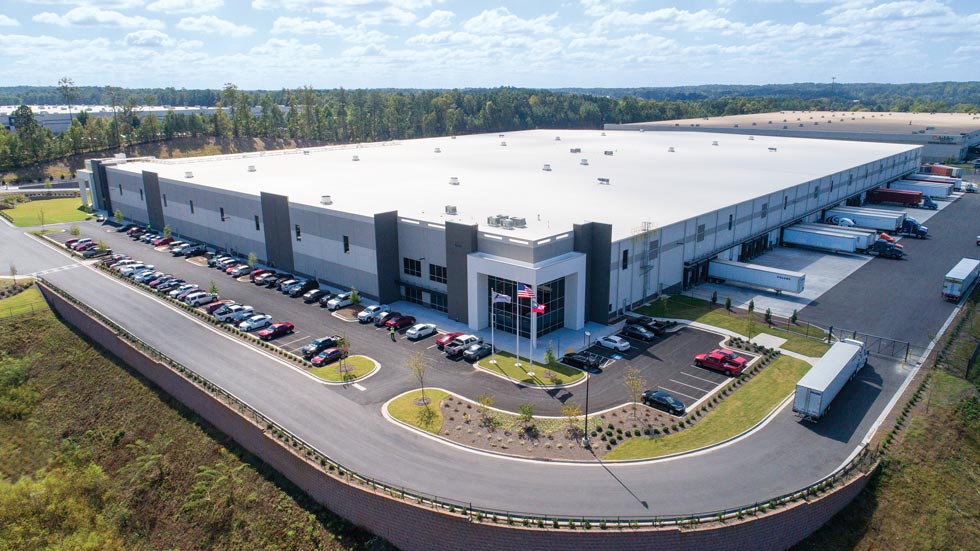 Property owners are well aware of this rapid delivery trend and that has created a dogfight for space in infill markets.
"The reality is that developing logistics space in these areas is difficult and expensive, which in turn is leading to a chronic undersupply in the most desirable places," says Chris Caton, head of global research for Prologis Inc. (NYSE: PLD).
In the New Jersey Meadowlands, for example, less than 10 miles from midtown Manhattan, there isn't much land left to develop. Office buildings are either being razed or converted to make space for warehouses. 
"It's tough to do new development because there's very little land to develop," says James Breeze, national director of industrial research at Colliers. "Occupiers are having to be creative."
In addition to consumer preferences, the demand for infill space has also been driven by higher transportation costs. Van rates (an industry measure of enclosed tractor trailers) rose to $2.16 per mile in April, up 49 cents from the same period a year earlier, a 29 percent increase, according to DAT Solutions, a firm that tracks trucking data. 
With higher costs, and worsening traffic, many industrial tenants can't get away with just one distribution center per city, especially in fast-growing metropolitan areas such as Dallas, Atlanta, and Phoenix. "A lot of our markets are so geographically spread out, you need an east and a west location," Loeb says. "Otherwise, drivers spend much of their day in the truck." 
That has helped contribute to the increased demand for smaller facilities, or those in the range of 100 million to 300 million square feet, notes Richard Thompson, international director, supply chain and logistics solutions at JLL. "When freight costs go up, companies say, 'I have more facilities in more places,'" Thompson says.  
In smaller cities, retailers are also using infill locations to supplement their larger warehouses. Best Buy, for example, recently leased a 40,000-square foot space from EastGroup for its deliveries in Charlotte, North Carolina, with a larger distribution center farther away. For the retailer, the warehouse options "are like tools in a toolkit," Loeb says. 
Demands on design 
Shifting demands from tenants and consumers have also impacted warehouse design.
To start with, in many infill areas, there's nowhere to go but up. In Seattle, Prologis is due to deliver a three-story, two-level, 590,000 square foot warehouse this year. Dubbed Prologis Georgetown Crossroads, the state-of-the-art facility will feature truck ramps leading up to an upper level and a third floor. It's situated about a mile from Interstate 5 and five miles from downtown.
"We are looking around the corner at what our customers need and homing in on a strategy for competitive advantage that we can capitalize on for the long term," Caton says. 
Special features and amenities tailored to modern tenants are important to incorporate into the facility design, Caton adds. That includes better clear heights, mezzanine space, rooftop solar to meet higher power demands, and secure, attractive grounds. REITs can also consider adding amenities for larger groups of employees, such as wellness programs and car-sharing initiatives. "Logistics customers also want facilities that can flex with their evolving needs," Caton adds. 
Meanwhile, automation is also influencing industrial real estate space design and usage. Amazon bought Kiva Systems in 2012 and started using robots in its warehouses in 2014. It now uses robots extensively around the globe. The robots can move pallets, sort items and shift inventory around a warehouse. 
With more automation, column spacing needs to be wider, and there's a need for super-flat flooring to bear the increased weight loads of higher shelving, newer racking technologies, bigger conveyor systems, and mechanized forklifts. Meanwhile, so-called "cross-docking" allows delivery of supplies on one side and shipment on the other side.
"When you get storage up to 40 feet high, you have to have exceptionally flat flooring," Thompson says. "If you are picking a big pallet high up on a rack, you can't have any issues with that."
In addition, warehouses must be adaptable to accommodate the office space of shipping facilities and showroom space for wholesalers and retailers. 
In EastGroup's portfolio, for example, some tenants use the front for showrooms and the back for shipping. "Because we are last-mile, we end up with showroom space," Loeb says. "It's a blurring of retail and industrial." 
Investing for the long term
As long-term property owners, REITs must anticipate what the market will need down the road and be prepared to invest appropriately, executives stress.
Connor has highlighted this at Duke's Monday morning investment committee meetings, justifying the higher costs of building for the long term.
 "If state-of-the-art today is a clear height of 36 or 40 feet, why aren't we building 40-foot clear, why aren't we investing in all of the features that are going to differentiate this building not only today, but over the long term?" he says.   
Other REITs take the same forward-looking approach. Liberty, for instance, announced in March that it broke ground on an 840,000 square-foot facility in Butts County, Georgia, in the Atlanta-Savannah corridor. Scheduled for completion in the fourth quarter, the building will be able to serve as an e-commerce fulfillment center or a regional distribution facility.
The building will have 40-foot clear heights, which allows room for a mezzanine with conveyors, or for high racks. It will also include wide foot-column spacing—56 feet by 51 feet—to allow for larger order picking equipment commonly used in e-commerce. There will be 156 dock doors and wider 70-foot speed bays. The property will also have 176 trailer and 439 car parking spaces. 
REIT executives stress the need to be flexible in the ever-changing world of industrial real estate. "Things evolve and you want to have the capacity to grow with your tenants," Landy says. Case in point, he notes that a Monmouth facility near the Pittsburgh airport houses GE's Center for Additive Technology Advancement. When the facility was first built for GE, they were not in the business of manufacturing 3D printers—now they are the second largest manufacturer, according to Landy.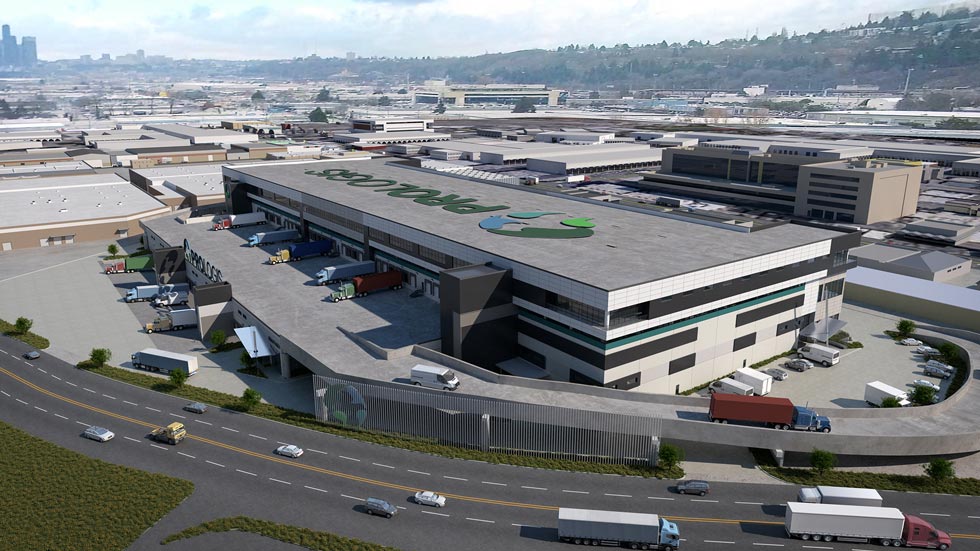 Are There Workers Nearby? 
And while investing in the physical attributes of a property is key, choosing a location is also critical because distribution centers need to be close to available labor pools, executives add.
A 1-million square foot auto-part warehouse might employ 200 people, notes Hankowsky. That same building might need 600 people for supplying a grocery chain. But for e-commerce, it could run to 900 people or more in the same space, due to the speed needed to get packages to market. 
This comes at a time of record-low unemployment, which dropped to 3.9 percent for April, the lowest level since 2000, according to the U.S. Bureau of Labor Statistics. That makes placement of warehouses even more critical. 
Duke now commissions labor analytics studies before it buys land or a building. That practice helps the company close lease agreements with tenants, whether it's a dot-com or a logistics company, Connor notes.
For a deal that Duke struck with Amazon in the first quarter for a facility in the St. Louis area, the company handed over its study for the region, an aid that helped seal the deal. "You know what the labor analytics are for the surrounding 30-minute drive and how that's going to work for your clients," Connor says. 
E-commerce's potential
When it comes to e-commerce, in a sense it's still early days. Sales for the category grew 16 percent in 2017 to $454 billion, according to the U.S. Census Bureau. Yet that only accounted for 8.9 percent of all retail sales, leaving plenty of room for upside.
Internet retailers and logistics companies are bulking up for continued growth. Amazon now has 300 distribution centers in the United States, with another 30 planned to open this year, according to a report by Colliers International. Meanwhile, logistics companies such as UPS and FedEx have estimated large increases in capital expenditures for 2018, notes Green Street Advisors in an industry report.
Meanwhile, about 120 million square feet of big-box buildings, defined as having 200,000 square feet or more, hit the market last year, according to Colliers. Almost all the space was leased: net absorption last year totaled 116 million square feet.