A look at how infrastructure REITs will use 5G wireless technology to build and support digitally connected communities.
09/24/2019 | by
Infrastructure REITs play an integral role in shaping our communities by providing the backbone for new technology to take hold and connect us in ways barely imagined just a few years ago.
Like the rest of the REIT industry, infrastructure REITs encompass a range of specialties, but the primary purpose of those supporting the digital economy lie in cell towers, small cell technology, fiber connectivity, and data center platforms. By developing essential infrastructure, these REITs are helping to provide benefits as diverse as improved digital literacy in remote areas, access to telehealth and other online health services, and remote energy usage monitoring—to highlight just a few examples.
"Telecommunications infrastructure is at the intersection of real estate and digital technology as it helps to drive innovation and expand access to mobile broadband for communities, both urban and rural," says Mneesha Nahata, vice president, corporate legal finance and risk management for Boston-based tower REIT American Tower Corp. (NYSE: AMT). American Tower is the world's largest REIT and a leading global owner, operator, and developer of wireless and broadcast communications real estate. She notes that the combination of real estate and digital technology will bring about "positive change on a global scale and meaningfully contribute to the sustainable development of digital connectivity worldwide."
Maintaining world-class communications infrastructure is a requirement for success for both urban and rural communities in a rapidly changing global economy. Similar to railroads, highways, and airports generations ago, cutting edge communications infrastructure is what modern communities and countries need to stay competitive.
"In all communities, today's businesses increasingly rely on wireless connectivity to stay competitive," says Bob Ackerman, senior vice president and COO at Houston-based tower REIT Crown Castle International Corp. (NYSE: CCI). Crown Castle is the largest provider of shared communications infrastructure in the U.S. "Small cell and fiber technology will enable the connectivity that is essential to providing our businesses with the access they need—whether it's accepting payments on a mobile card reader, completing a sale on the go, or reaching consumers."
Chris Sharp, CTO of Digital Realty (NYSE: DLR), a San Francisco-based data center REIT, expects the adoption of 5G-enabled sensors and devices to help urban communities become smarter cities through data and analytics.  
"The movement of people, things, and data should all become more efficient," he says. "As a greater share of the population migrates to dense, urban environments, achieving smart-city capabilities will likely become mission-critical for many major metropolitan areas."
The Next Generation
With the advent of fifth generation (5G) wireless network systems, the benefits that accrue to communities from infrastructure REITs are likely to increase proportionally. 5G deployment will immediately improve the performance of current wireless services by providing higher access speeds, lower latency (less delay in processing data messages), and more system capacity.
5G is a platform for innovations that will not only enhance today's mobile broadband services but will also expand mobile networks to support a vast array of devices and services and connect new industries with improved performance, efficiency, and cost.
The transition to this next generation is expected to be a lengthy—and likely uneven—process. Service providers will determine where to deploy 5G first, with the decision largely based on areas currently served by legacy 4G LTE networks, but experiencing capacity issues.  As with previous generations, it will take time to realize the true breadth of innovation capable on 5G networks. A typical network technology cycle lasts 15 to 20 years, with multiple network technologies in use simultaneously. As a result, 4G will coexist with 5G for a number of years, with 5G gradually taking over share as it develops.
A recent Accenture report projected 5G wireless technology will see significant economic and community benefits, noting that this next generation of wireless technology is expected to create 3 million new jobs and boost annual GDP by $500 billion. It's believed that by 2035, 5G will enable $12.3 trillion of global economic output and support 22 million jobs.
According to Nokia, 5G will support a 100-fold increase in network speed. 5G will also empower new user experiences like virtual reality, augmented reality, and will enable the ecosystem of connected objects—cars, machines, sensors, and other devices.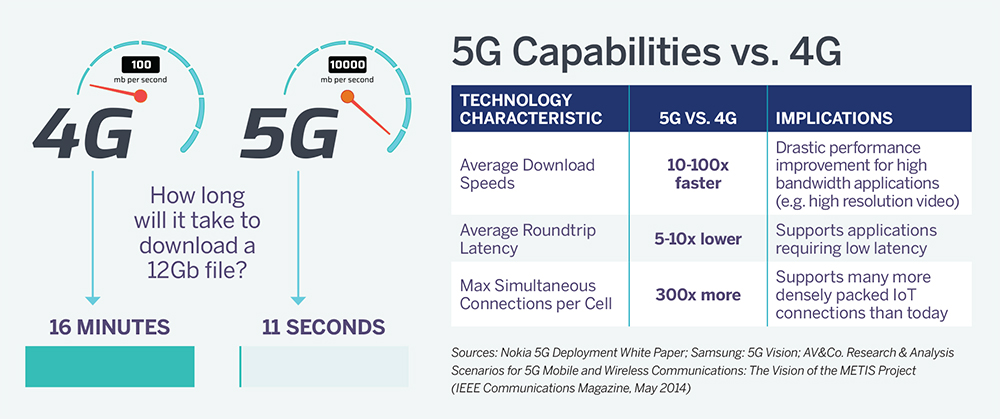 While the potential benefits of 5G for new foms of data usage may appear limitless, those in the industry stress that there is a long lead time before these features are fully realized as it will take time to build out the necessary architecture across the country. 
For example, data centers will be tasked with significantly increasing  computing capacity while vastly improving the speed at which that data is processed. Digital Realty is currently collaborating with other industry leaders within the communications infrastructure landscape to make sure its business is prepared for widespread adoption.  
Sharp says Digital Realty, which has more than 2,300 customers worldwide, is currently testing various architectures and workload performances throughout its footprint to better understand the market opportunities and 5G requirements for data centers to best position itself to either partner or prudently allocate capital. 
"We think the first wave of 5G infrastructure will be designed to accomplish two things. First, network functions will be virtualized and centralized to enable broader distribution. The next step will be to distribute infrastructure to handle the step-function growth in bandwidth that 5G will enable," Sharp says.
Digital Realty expects the benefits of 5G to come in two primary forms: handling an explosion in the number of connected devices, and ultra-low latency.
 "Everyone from local governments to auto manufacturers to factory operators is deploying sensors in just about every imaginable type of device and machine," Sharp says. "Existing 4G networks weren't designed to support that many devices, and all this device traffic can slow communications down so much the devices become almost unusable."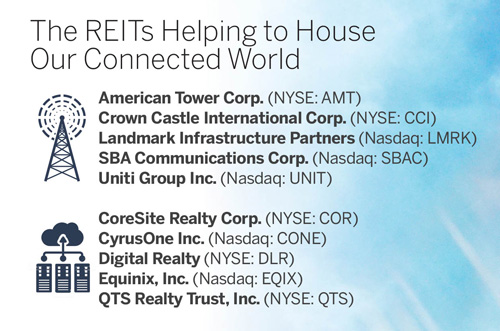 The low latency enabled by 5G will permit people to communicate with devices in real time, while devices will become smarter. Cars will be able to make real-time decisions with the help of core infrastructure and by communicating with the cars and other devices around them, like street lights, or even the roads themselves.  
"In a nutshell, 5G has the potential to solve current last-mile constraints, enabling users to unlock new, distributed workflows," Sharp says. "Traffic lights and cross-walks will be able to change based on real-time conditions, businesses will be able to hire locally but operate remotely, and people will be able to automate the mundane, so they can focus on what really matters to them."
Ultimately, communities will become more efficient—for residents, for businesses, and for government.  
Positive Community Impact
Crown Castle's Ackerman says that just like previous wireless infrastructure before it, 5G will have significant, positive economic impacts on communities, and will bring improvements to public safety, smart city technology, health care, entertainment, and more.
Ackerman points to research suggesting that smart community solutions, enabled by 5G and applied to the management of vehicle traffic and electrical grids, could produce $160 billion in benefits and savings through reductions in energy usage, traffic congestion, and fuel costs.
"Wireless networks and connectivity play a key role in emergency medical situations. For example, when stroke victims are connected to hospital staff by videoconference during the ambulance ride to the hospital, they can get admitted faster and get access to blood clot medicine more quickly, which will reduce brain cell loss," Ackerman says.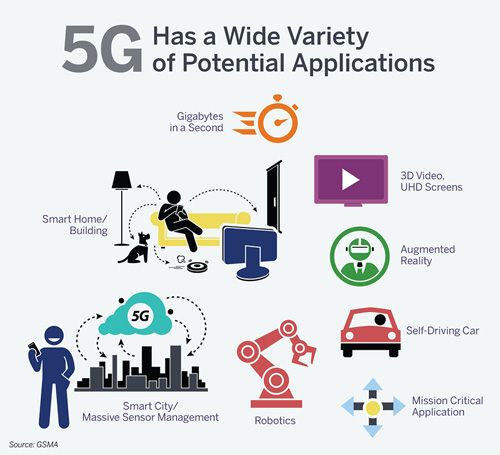 Jonathan Schildkraut, chief strategy officer at Dallas-based data center REIT CyrusOne (Nasdaq: CONE), says because wireless requires so much less capital as a last-mile connection to the customer, it will likely offer a level of network performance that many residential and business locations would not otherwise be able to access. 
"In general, greater connectivity supports greater economic opportunity," he says. "But, the speeds and capabilities from 5G will also open up the opportunity for new business models whose demands for communication into and out of the network core were not possible under early network iterations."
American Tower's Nahata says that the potential for 5G technology is extensive and still has not been fully realized given the early stages of the rollout. "The 5G buzz has created excitement about its capabilities such as telehealth, self-driving cars, and augmented virtual reality applications.  Most significant will be the tremendous number of opportunities that open up to businesses small and large, new and old, as this next generation wireless network is built out across the country." 
Telecommunications infrastructure will be the backbone for the 5G network. The expanded capacity of 5G will provide millions of jobs and support innovation by businesses and communities for years to come, she adds.
"Many people see 5G as the next transformative technology that will change lives," Ackerman says. "Deploying 5G is not only exciting for consumers and businesses—it will be essential to catapult today's industry; maintain America's leadership in technology and telecommunications innovation; and protect our national security."
Benefits To Urban and Rural Communities
The roll-out of the next generation will help bridge the digital divide and close the technology gap that many rural communities experience. This development may also bring business to rural areas, as better network access will allow companies to take advantage of the cost savings of cheaper land and labor in rural communities.  
"The response has largely been favorable, and anticipation has been the name of the game," Sharp says. "Local communities see the many benefits next generation technology will bring, but they also are aware of the potential drawbacks. The growth in bandwidth that will enable wireless broadband will create competition and new opportunities that should benefit local populations."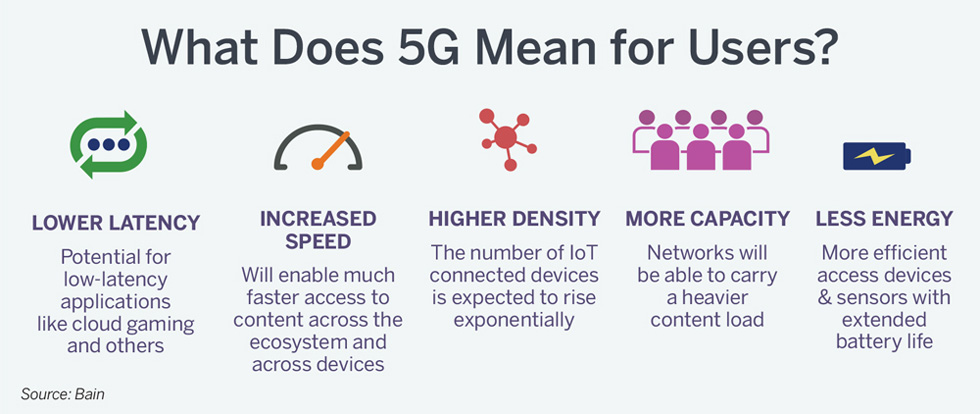 Communities want to ensure that traditionally under-served populations also participate in the benefits of next generation technology, and they are pursuing various strategies with the mobile operators to achieve that goal. 
Schildkraut notes that in more densely populated markets where 5G access points (also called cell sites or nodes) can be placed close enough together, 5G will work as a mobile network overlay—enhancing the experience of a range of potential uses including mobile phones, wireless tablets, laptop computers, and the Internet of Things (IoT). 
In less densely populated markets, carriers are looking to run next generation access points along traditional telecommunications right-of-ways—and, from there, the carriers will leverage wireless infrastructure as a way of delivering vastly improved fixed-internet access to residential and business consumers, replacing dated, slow, and "too expensive to overlay with fiber" last-mile wireline connections, Schildkraut says.
In both urban and rural communities, wireless infrastructure will likely serve as a last-mile wireline replacement, delivering a broadband experience that would not otherwise be possible given the capital requirements of overbuilding the existing networks with fiber. 
"The network capacity opened up by 5G will enable the direct connecting of billions of devices to one another, which will allow for the capture of incredible amounts of data," Schildkraut says. This will benefit communities large and small in numerous ways, and REITs will be an important part of making it happen. 
Serving the Underserved
unWired Broadband was founded in 2003 with the goal of meeting the need for fast, reliable internet in rural and underserved areas. It all started with a single tower site near Clovis, California, and a scattering of customers who were underserved by more traditional broadband providers. As a comparatively small broadband provider, they couldn't afford huge capital expenditures. Crown Castle stepped in and worked closely with unWired Broadband on a custom agreement that gave them 40 new tower leases to work with. The agreement allows a period of time to set up their equipment and acquire customers before any payments are due. Today, they serve a mix of residential and enterprise customers, from small farms to multi-billion-dollar businesses with mission-critical high-bandwidth needs. 
Staying Alert
The Wireless Emergency Alerts system is an essential part of America's emergency preparedness in cities, and since its launch in 2012, wireless emergency alerts have been used more than 40,000 times to warn the public about dangerous weather, missing children, and other critical situations—all through alerts on mobile phones thanks to advancements in wireless infrastructure. The system relies on the reach cell towers provide to make this rapid spread of critical information possible. Furthermore, the FCC utilizes fiber and relies on the infrastructure for all alerts and communications.
It Takes A (Digital) Village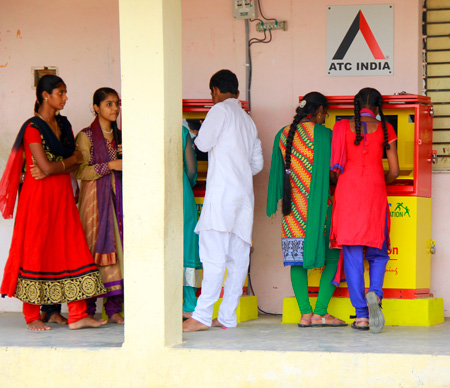 American Tower is looking to improve connectivity in developing countries where access remains limited due to cost, scalability, power outages, and educational barriers. To help alleviate this problem, the company is using its communications infrastructure to build Digital Villages near its tower sites to bring broadband connectivity to remote and rural areas in India, Nigeria, and Ghana. Digital Villages are computer-equipped centers or kiosks that use the uninterrupted power supply and broadband link from American Tower sites. 
"Our Digital Villages initiative uses digital connectivity to provide tele-education in underserved communities. By bridging the gap, we can help advance global efforts to reduce poverty, increase quality education, and improve access to employment," American Tower's Mneesha Nahata says.
Since the Digital Villages initiative launched with a focus on promoting India's National Digital Literacy Mission, as of Dec. 31, 2018, more than 90 digital learning centers and more than 140 education kiosks loaded with self-learning software for K-12 courseware have been established across the country in rural villages, resulting in the graduation of over 22,000 students. In Nigeria, 21 Digital Villages have been established as of the end of 2018, with 986 students enrolled, 612 graduates, and 66 graduates in placement positions. Ghana, meanwhile, had one Digital Village as of the end of 2018, with 40 students enrolled. American Tower is currently exploring opportunities to expand its Digital Village initiative in other countries in Africa and Latin America.
Tower Resiliency
Macro towers serve as one of the most resilient infrastructures to support connectivity for communities in times of natural disaster. Macro towers have reliable electricity access, are normally directly connected to the electric grid or independently generate power, and in some cases also house backup generators on-site. Whereas small cells tend to have only a battery enabled backup power source, macro tower sites are capable of maintaining back-up generators, which can be used to power tenants' equipment in the event of a natural disaster. Tower infrastructure helps impacted citizens stay connected to family, friends, first responders, emergency services, and law enforcement during emergencies.