On April 29, Nareit's Investor Outreach team joined the National Council on Teacher Retirement for a webinar to discuss the impact of COVID-19 on commercial real estate and REITs. More than 30 attendees registered for the webinar, representing more than 16 pension plans, investment consulting firms, and asset managers.
REITs own more than 520,000 properties across the U.S., ranging from data centers to hospitals. "Just as this is an unprecedented time for teachers, this is an unprecedented time for the economy," said Nareit's Executive Vice President, Research & Investor Outreach, John Worth.
In comparing the current market conditions to previous recessions, Worth explained that REITs are coming into this crisis much better prepared than during the global financial crisis. Leverage ratios were at or near the lowest in more than two decades in 2019:Q4, and REITs have reduced near-term financing needs by lengthening debt maturities. Strong balance sheets and sources of liquidity are competitive advantages that position REITs to weather the rocky period ahead.
Worth also noted the many creative ways REITs are supporting their communities and tenants during this crisis. Retail REITs are converting properties into drive-through testing sites, hotels are opening up their spaces for first-responders, many apartment REITs are working closely with at-risk tenants to support them—and one outdoor advertising REIT is even using millions of square feet of vinyl to repurpose as personal protective equipment (PPE) for health care workers.
REITs are trading at discounts to portfolio net asset values, creating potential opportunities for long-term investors to take advantage of market dislocations, said Worth. REIT prices react in real time to market conditions, while shocks to private real estate valuations are revealed over time as a result of reporting lags.
Nareit's Senior Vice President, Investment Affairs, Meredith Despins, went on to highlight an educational resource Nareit developed specifically for pension trustees, pensionsandrealestate.com. The goal of the interactive site is to help trustees think critically about how their plans invest in real estate and evaluate whether they're getting the most out of their real estate investments. Real estate is the third largest asset class, but research shows that most pension funds are not properly diversified with real estate.
Despins went on to explain that investing in both REITs and private real estate investments can be a powerful risk management tool, historically moderating the likelihood of negative investment returns and providing the opportunity to capture more of the upside in the form of higher returns. She illustrated this point with the interactive chart featured on pensionsandrealestate.com.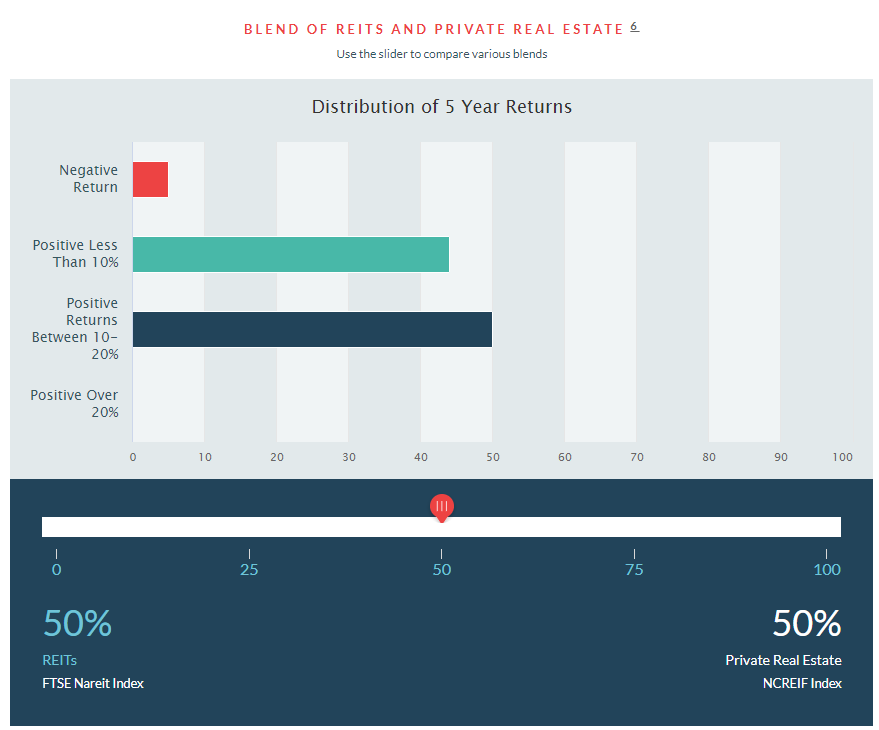 Finally, Despins and Worth emphasized that Nareit is here as a resource for pension fund trustees seeking to learn more about real estate investment.
(Contact: Meredith Despins at mdespins@nareit.com)
Get Nareit Developments blog posts delivered straight to your inbox.
Subscribe