REITs are helping their tenants and communities in a variety of ways during the coronavirus crisis and Nareit is highlighting how its member companies across different property segments are responding. Below is just a sample of what REITs are doing to help. To include your company's efforts, please contact Sarah Borchersen-Keto at
sborchersen-keto@nareit.com
.
DATA CENTERS
CyrusOne Inc. (Nasdaq: CONE) is donating $250,000 in addition to personal donations from CyrusOne's leadership team, and a $50,000 personal donation from CyrusOne's President and CEO Tesh Durvasula, to Feeding America, Member Food Bank, the North Texas Foodbank, as well as charities in Europe. The donations will help fund millions of meals for people in need.
Digital Realty (NYSE: DLR) said its facilities are 100% operational and that it has long prepared for the possibility of a pandemic within its overall business continuity plan, while ensuring the health and safety of all who interact with its facilities. The REIT added that all its data centers are equipped with supplies to ensure they remain fully operational if remote operation becomes necessary. Digital Realty is also undertaking a $1 million philanthropic effort to help support the communities it operates in globally. The effort includes immediate donations to The World Health Organization's COVID-19 Solidarity Response Fund and The International Red Cross and Red Crescent Movement's COVID-19 Emergency Appeal. The REIT is also making direct contributions to smaller charitable organizations across Europe, North America, and the Asia-Pacific region selected by its employees living across the six continents where it operates. Digital Realty is also waiving connectivity fees for six months for medical emergency services, education, and government services.
Equinix, Inc. (Nasdaq: EQIX) said all its data centers are fully operational and the company has activated its business continuity plans globally to provide seamless operations. The REIT is also engaging business-critical vendors and partners to make sure necessary supplies and services will continue to be provided. As new challenges and requirements emerge, Equinix said it will help organizations react quickly to mitigate IT and infrastructure risks. This includes extending certain Platform Equinix and other interconnection services for free to qualifying healthcare, education, research, and government services organizations providing public relief or other essential services.
QTS Realty Trust (NYSE: QTS) is boosting donations to eleven food banks in local communities in response to increased demand created by the crisis. The REIT has also established a program, in partnership with several leading financial institutions, to assist current and prospective customers who may be experiencing disruption in their business. QTS also continues to support its customers by providing software-defined orchestration capability to remotely access, monitor, and manage their data center infrastructure through QTS' Service Delivery Platform. QTS employees and their families, meanwhile, have collected and delivered antibacterial wipes and personal hygiene items to young people at risk, and have also raised cash donations.
DIVERSIFIED
Alexander & Baldwin's (NYSE: ALEX) Waianae Mall was the site partner location for the Waianae Coast Comprehensive Health Center and Hawaii Foodbank, along with many partners and volunteers, to provide food items to the Leeward Coast community. Shelf stable food items were distributed to more than 2,800 adults and children. Meanwhile, in March A&B designated 20%, or approximately $200,000, of its 2020 annual Kokua Giving budget for non-profits on the frontline of COVID-19 relief. A&B completed its first tranche of giving in June, with over $125,000 allocated to organizations serving a spectrum of COVID-induced needs.
Brookfield Property Partners L.P. (Nasdaq: BPY; Nasdaq: BPYU; TSX: BPY.UN), working with the company Optimus Ride, put together an effort to use self-driving vehicles to deliver boxes of nutritious food and groceries to families in need located in Southeast Washington, D.C.
JBG SMITH (NYSE: JBGS) and the Crystal City Business Improvement District (BID) granted a lease extension to the Junior League of Washington (JLW), allowing its annual Tossed & Found rummage sale to remain for an additional two months in a pop-up location donated by JBG SMITH and the Crystal City BID. Due to the cancellation of the sale, the JLW has been coordinating with its network of community partners to redistribute the merchandise to those in need as a result of the crisis.
Mack-Cali Realty Corp. (NYSE: CLI) has donated 42 hotel rooms, meals, and parking at the Residence Inn Weehawken Port Imperial for healthcare workers at Jersey City Medical Center, and has donated $100,000 towards the hospital's Emergency Response Fund.
W. P. Carey Inc. (NYSE: WPC) is supporting the NY Food Bank and the NewYork-Presbyterian Hospital COVID-19 Healthcare Workers Fund. Employees are also participating in City Harvest's Skip Lunch Fight Hunger campaign by raising money to feed local children and their families in need.
HEALTH CARE
Healthpeak Properties, Inc. (NYSE: PEAK) is supporting COVID-19 medical efforts by providing available space to hospitals/tenants at no charge. Vacant suites are being utilized for screening and isolation, and parking lots are being used for drive-through testing.
Ventas, Inc. (NYSE: VTR) has established an April rent deferral program for its triple-net leased senior housing tenants that comprise approximately 20% of its total portfolio by net operating income. Under the program, certain senior housing care providers who are Ventas tenants can defer 25% of their April 2020 payment obligation until the earlier of October 1, 2020 or receipt of government assistance. All amounts deferred are required to be used for operating expenses to care for seniors at Ventas communities. Ventas estimates that the amount of payments deferred under the terms of this program for April could be in the range of $3-9 million. Meanwhile, Ventas employees recently participated in a virtual 5K/10K race to earn mile-matching donations from the Ventas Charitable Fund. By staying active and doing good,  employees helped raise $10,000 for Direct Relief and Meals on Wheels America, two organizations dedicating efforts to COVID-19 relief.
Welltower Inc. (NYSE: WELL) said it is actively looking for capacity across its portfolio to enable more off-site COVID-19 testing and other assets that can offer effective quarantine for those exposed to the virus.
INDUSTRIAL
Americold Realty Trust (NYSE: COLD) said it is working closely with its customers—leading food producers, retailers, and distributors—to move products through the global food supply chain. In particular, Americold said it is working to support its many retail customers as they experience unprecedented demand for products. Its network of over 180 integrated facilities remain operational and open for business, keeping retailers stocked. Americold has also been providing free cold transportation to Feed the Children. Progress in 2020 includes 317,595 pounds of cold food delivered to families, over 68,000 families fed, and 11,148 miles traveled across the U.S. for deliveries.
Duke Realty Corp.'s (NYSE: DRE) team in Cincinatti donated masks and shoe coverings, providing American Mercy Home Care workers protection when visiting COVID-19 patients.
Prologis, Inc. (NYSE: PLD) announced that the Prologis Foundation has launched a $5 million global relief fund to provide financial support to nonprofits and community-based organizations on the frontlines of the response. In the coming weeks, Prologis will contribute to partners across the globe, with an emphasis on feeding those in need and assisting medical communities that have been impacted. Through its Space for Good program, Prologis has also offered unoccupied buildings and yard space for COVID-19 relief efforts to local, state, and federal agencies in the U.S., and to hospitals and relief organizations throughout the world. So far, Prologis has donated more than one million square feet in 11 markets and $4.4 million in in-kind rent to government agencies and health organizations.
Rexford Industrial Realty, Inc. (NYSE: REXR) is offering a Childcare Relief Program, providing subsidized care for its Rexford employee families who needs it the most. Up to a $1,000 maximum in childcare reimbursement will be available.
STAG Industrial, Inc. (NYSE: STAG) and its CEO Ben Butcher jointly donated $5,000 to a local fundraiser which raises money to purchase tablets for local hospitals to help COVID-19 patients who are otherwise unable to connect with their families. STAG is also encouraging those who are able to join the company in donating to the Lucy's Love Bus Emergency Fund, which is dedicated to addressing urgent needs of families who are facing financial hardship due to the pandemic. These funds help families pay for groceries, diapers, utility bills, and gas to help transport children to and from necessary medical appointments. 
INFRASTRUCTURE
American Tower (NYSE: AMT) is committed to ensuring its wireless infrastructure–nearly 180,000 towers throughout the world–supports the wireless voice and broadband networks that keep the world connected. As the U.S. and countries around the world work together to respond to the global health crisis, American Tower continues to prioritize the health and safety of its tenants, vendors, employees, and communities. American Tower is working to make certain its tenants can safely install and upgrade their wireless networks while adhering to health and safety protocols so that essential employees in the field can perform work. In addition, the company is equipping employees with everything they need to work effectively from home. Through its American Tower Foundation, the REIT is working with local, national, and global organizations to support COVID-19 response efforts, including the American Red Cross, UNICEF, Project Hope, Partners in Health Organization, Boston Resiliency Fund, the Greater Boston Food Bank, PM CARES Fund (India), and many more. The foundation recently committed an additional $2 million to support global relief efforts.
Crown Castle International Corp. (NYSE: CCI) is partnering with organizations like Computers 2 Kids, San Diego through its #ConnectedbyGood program, helping to advance access to education and technology in communities across the country.
LODGING & RESORTS
Apple Hospitality REIT, Inc. (NYSE: APLE) said Glade Knight, the company's founder and executive chairman, volunteered to forego his salary for the next six months. Justin Knight, president and CEO, volunteered to reduce his target compensation by 60%, and non-employee directors volunteered to reduce their annual fee by more than 15%.
Ashford Hospitality Trust, Inc. (NYSE: AHT) is partnering with local government agencies, medical staffing organizations, and hotel brands to support COVID-19 response efforts. To date, through various initiatives, more than 25 Ashford Trust hotels have provided temporary lodging for first responders, health care professionals, and other community residents impacted by the crisis.
Chatham Lodging Trust (NYSE: CLDT) said it would temporarily reduce compensation for its executive officers. Jeffrey Fisher, president and CEO, and Dennis Craven, executive vice president and COO, have both volunteered to reduce their salaries by 50%. Jeremy Wegner, CFO, has volunteered to reduce his salary by 25%. The Board of Trustees agreed to temporarily reduce their proposed 2020 base compensation by approximately 25%.
Hotels owned by Host Hotels & Resorts, Inc. (NYSE: HST) in Hawaii are helping their communities in numerous ways. Hyatt Regency Maui Resort and Spa donated boxes of hand sanitizer and personal protective equipment (PPE) non-latex gloves to the Maui Health Foundation. Andaz Maui donated toilet paper to construction workers working on county infrastructure projects, and Fairmont Kea Lani donated produce, dairy, and eggs to the Food Bank and other nonprofits, as well as PPE gloves to first responders. Host has also partnered with DC Food Project to hold a virtual food drive to help fill up Emergency Weekend Bags for Washington, D.C. students in critical need during this time. Host raised over $10,000—enough to feed 471 students and their families for at least 10 days. Meanwhile, Host has partnered with the American Red Cross to assist with critical blood shortages as a result of COVID-19.
Park Hotels & Resorts Inc. (NYSE: PK) intends to establish a $2.5 million corporate-level fund that will be made available by Park to its hotel management companies to address hardships faced by their employees. A voluntary salary waiver by Park's Chairman and CEO Thomas J. Baltimore, Jr. is expected to fund $500,000 of this corporate-level fund.
Executive officers and the board of trustees at Pebblebrook Hotel Trust (NYSE: PEB) have volunteered to substantially reduce their compensation for 2020. Jon Bortz, chairman, president, and CEO, has volunteered to forego his salary for the remainder of the year, effective April 1. Raymond Martz, CFO, and Thomas Fisher, chief investment officer, have both volunteered to reduce their salaries by 30% for the remainder of the year, also effective April 1. The board of trustees has also volunteered to reduce their Independent trustee compensation for 2020 by 30%. In addition, all three executive officers have agreed to forfeit any eligible cash bonuses for 2020 in lieu of shares and to forfeit all long-term share retention awards that were approved in February 2020.
MORTGAGE
Arbor Realty Trust, Inc. (NYSE: ABR) launched a $2 million rental assistance program to help thousands of tenants and families significantly impacted by the COVID-19 outbreak. The Arbor Rental Assistance Program (ARAP) is a goodwill initiative intended to supplement existing government rent relief programs and leverage private capital to fill critical gaps for people who are impacted by a loss of income due to COVID-19.
OFFICE
The Prudential Center in Boston, owned by Boston Properties, Inc. (NYSE: BXP), lit up in red, white, and blue in honor of first responders nationwide who are working on the frontline in the fight against COVID-19.
Brandywine Realty Trust (NYSE: BDN) said its IT Help Desk manager, Duval Dollar, is using his 3D printer to print free, FDA-approved face shields and ear saver strap extensions for vulnerable community members and frontline workers. Meanwhile, members of Brandywine's Richmond team worked together to donate 100 cases of bottled water to Blessing Warriors RVA, an organization that provides assistance to Richmond's homeless community. In addition, Brandywine's COVID-19 Fund currently has over $20,000 in individual employee donations. The company has matched each contribution.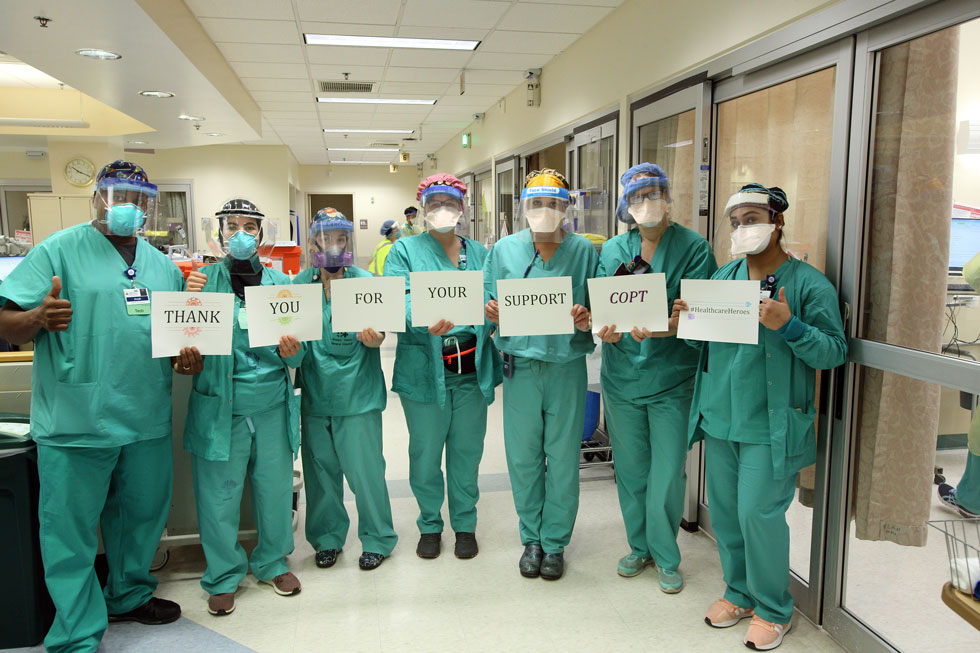 Corporate Office Properties Trust (NYSE: OFC) has started a virtual food drive to support the Maryland Food Bank. In honor of #NationalNursesWeek, COPT's downtown Baltimore properties joined the #LightBlue initiative. In addition, COPT has donated $20,000 to the Howard Hospital Foundation 'Care for Our Caregivers' program. COPT's William Barroll recently appeared on Midday Maryland to discuss COPT's $55k donation to organizations on the frontline of the COVID-19 crisis.
Empire State Realty Trust, Inc. (NYSE: ESRT) announced a partnership with iHeartMedia to reach those sheltering at home with New York's Z100's radio waves and Empire State Building's tower lights. The tower of the Empire State Building will illuminate the New York City skyline on March 27 at 9:00 pm and beam iHeartMedia's Z100 with a light show synced to Alicia Keys' Empire State of Mind. The light show will replay on March 28, and then again from March 30 through April 2. In addition, every night from April 24 through May 2, the Empire State Building will dedicate its tower lights to a different First Responder organization, shining in their representative colors to acknowledge their bravery and service.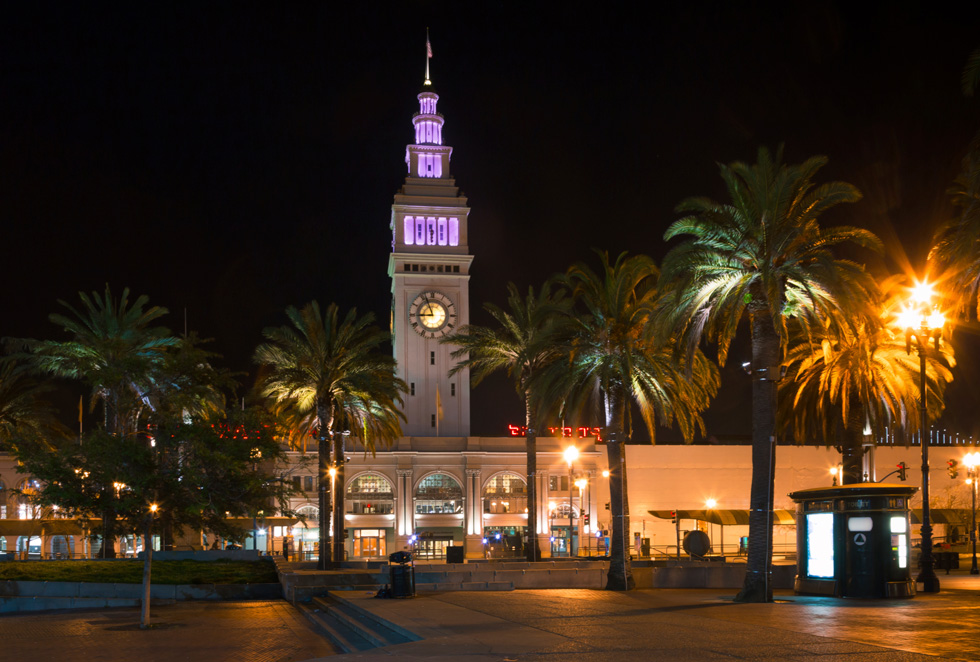 Hudson Pacific Properties, Inc. (NYSE: HPP) has reached out to local officials to explore ways it can support efforts around COVID-19, including offering up unleased space for critical response work. In San Francisco, Hudson Pacific has illuminated the iconic Ferry Building in purple light to honor the Bay Area's hospitality workers, in an initiative led by City Hall and San Francisco Travel. In each of its core markets, Hudson Pacific has also been purchasing hundreds of meals from local restaurants and helping deliver them to healthcare, homeless shelter, and other frontline workers. In addition, Hudson Pacific has donated $100,000 to organizations working at the intersection of COVID-19 and homelessness in its core markets.
SL Green Realty Corp. (NYSE: SLG) is supporting City Harvest's Skip Lunch Fight Hunger campaign. Through the end of June, SL Green will be raising money to help provide food for children and their families in need during this difficult time. SL Green also announced the formation and launch of "Food1st", a non-profit foundation to be organized as a 501(c)(3), to deliver thousands of meals daily to front-line, first responders and medical personnel, elderly New Yorkers, and food insecure families. SL Green has contributed $1 million as a down payment to the independent organization in the hope that other companies, organizations, and individuals will join the effort to address this crisis. As of the end of May, Food 1st Foundation had delivered 100,000 meals.
RESIDENTIAL
American Campus Communities, Inc. (NYSE: ACC) CEO Bill Bayless said the REIT will assist its student housing residents impacted by the pandemic by waiving all late fees and financial-related eviction proceedings at this time.  The company will work with residents and families who endure financial hardship on a case by case basis. To date, the REIT has forgiven $17 million in rent at its on- and off-campus communities. At the same time, employee hours on-site will be limited, but without any reduction in compensation. Employees will also receive extended emergency leave.
ACC and goPuff, a platform for consumers' immediate everyday needs, announced their collaboration on Jan. 26 to offer free delivery to ACC residents in over 40 select university markets.
Apartment Investment and Management Company (NYSE: AIV)  is partnering with Xfinity Communities to donate apartments outfitted with TV and high-speed internet service to medical workers at four Colorado hospitals for a minimum of 60 days. The donation of these apartment units aims to give those risking the most in the fight against the coronavirus a temporary home and the modern comforts they deserve while they keep their families and communities safe.
AvalonBay Communities, Inc. (NYSE: AVB) is assisting its residents by waiving late fees, providing flexible lease renewal options at no rent increase for leases expiring through June 30, and creating payment plans for residents unable to pay their rent as a result of the crisis. AvalonBay is also adopting new, temporary leave policies for its associates and is providing all regular, full- and part-time associates with up to four weeks of emergency paid leave to use in the event they or their families have been materially impacted by the coronavirus. AvalonBay has quickly and thoroughly altered the way it operates its communities and supports its customers, with the purpose of creating a better way to live.
Camden Property Trust (NYSE: CPT) said it will offer residents zero rent increases on lease renewals, waive late fees, create payment plans if needed, and halt evictions for residents who have been financially impacted by the pandemic. Employees are also receiving additional paid leave and/or emergency pay if impacted by COVID-19. Camden also established a $5 million Resident Relief Fund for residents experiencing financial losses caused by the pandemic. Due to the unprecedented financial need demonstrated by so many residents, Camden increased its initial commitment of $5 million to $10,359,000.
Equity LifeStyle Properties, Inc. (NYSE: ELS) has taken actions to prioritize the safety and security of its employees, residents, and customers during the pandemic, including a rent deferral program, suspension of eviction proceedings, and allowing extended stays for Thousand Trails members to facilitate compliance with shelter-in-place orders.
Equity Residential (NYSE: EQR) is endorsing the plan suggested by the National Multifamily Housing Council (NMHC) to provide support to residents impacted by COVID-19. That includes halting evictions for the next 90 days for those who can document that they have been adversely financially impacted by the pandemic. The REIT is currently offering resident renewals with no increase and providing flexible lease renewal options during the next 90 days. It is also creating payment plans for residents who are unable to pay rent because of the pandemic and waiving their late fees. Employees, meanwhile, are receiving extended emergency leave, while hours on-site are being limited without a reduction in compensation.
Essex Property Trust, Inc. (NYSE: ESS) has implemented a wide range of policies to protect and support residents, employees, and protect local jobs. Among those are a halt to evictions for 90 days for residents financially impacted by COVID-19, a 90-day freeze on rent increases for lease renewals, and payment plans and waiving of fees for residents unable to pay rent. Essex is also halting evictions for 90 days for commercial tenants whose businesses have been financially impacted.
Invitation Homes Inc. (NYSE: INVH) has made a contribution to a food bank in each of its markets, providing 150,000 meals nationally.
IRET (NYSE: IRET) has extended the time to pay April rent, is waiving all fees associated with credit card payments, has suspended eviction filings, and is offering rental deferment payment plans to residents experiencing financial hardship. Additionally, the company is offering flexible lease renewal terms.
Sun Communities, Inc. (NYSE: SUI) has developed a Coronavirus Financial Hardship Program that offers a 12-month payment plan for April and May rent to those that can prove significant hardships. In addition, Chairman and CEO Gary Shiffman and three additional executive officers have agreed to forgo their base salary for the second quarter of 2020. Each of the company's non-employee directors has also agreed to forgo Board of Director and committee compensation for the second quarter.
RETAIL
Brixmor (NYSE: BRX) teams are responding quickly to local needs by finding creative and meaningful ways to use its centers as community assets. The company is fast-tracking approvals of drive-thru testing centers, blood drive locations, farmers markets, and food trucks. The company's "BrixAssist" program is focused on identifying ways to support local small shop businesses across the portfolio, many of which have had to temporarily close in response to this crisis, while also partnering with many of the company's national and local tenants in their relief efforts. Brixmor also hosted a Drive-In Movie Night at Martin Downs Town Center, while Palm City residents donated canned goods for House of Hope.
Grocery stores at Cedar Realty Trust, Inc. (NYSE: CDR) centers are offering special shopping hours dedicated to older adults and senior citizens, who are among the most vulnerable to severe complications from COVID-19.
Federal Realty Investment Trust (NYSE: FRT) is donating the parking lot of a vacant Kmart at its Somerville, Massachusetts Assembly Row site for the deployment of a critical care decontamination system.
Teams at Kimco Realty Corp. (NYSE: KIM) are working quickly to provide additional assistance in the communities where the REIT operates, finding creative ways to use its conveniently located centers during the crisis. Kimco is fast-tracking the approval of drive-thru testing centers, blood drive locations, and school lunch pick-ups, and several of its centers are already offering these services. Kimco is also piloting a complimentary Tenant Assistance Program (TAP) to assist tenants in identifying and applying for applicable federal and state loans to help their businesses survive the financial impact of the pandemic. Meanwhile, representatives from Kimco and its Dania Point development recently brought fresh produce and vegetables from South Florida farms to nearly 800 South Florida families.
On Jan, 14, 2021, Kimco announced that it had once again deployed its TAP to assist small business tenants in applying for a share of the $284 billion in Paycheck Protection Program (PPP) funds recently approved under the latest federal COVID-19 relief bill.

Kite Realty Group Trust (NYSE: KRG) has provided employee stipends to support local businesses via local food orders, supported tenants in meal creation and delivery to the elderly and the at-risk population, provided meal delivery to local hospitals/healthcare workers with food from its small business tenants, and contributed to supporting the hospitality workforce. Kite is also supporting the WISH-TV "Hoosiers Helping Hoosiers" fundraising event that benefits furloughed hospitality, restaurant, and lodging workers. In addition, Kite has launched its KRG Small Business Loan program to provide expedited, low-interest loans to select KRG tenants.
PREIT (NYSE: PEI) has continued to support its tenants through social media and email blasts to consumers and is hosting a variety of community support initiatives including blood drives, mobile food pantries, and supporting restaurants that are offering discounted and free meals to the medical community. Malls across the PREIT portfolio are also partnering with food banks to help families in need. PREIT has also launched Shop Local pages on all of its mall websites, an effort designed to support the ecommerce platforms of the small businesses in its portfolio.
Regency Centers Corp.'s (Nasdaq: REG) team in Jacksonville, Florida delivered 108 warm meals to families in need. Lisa Palmer, president and CEO, said "I am extremely proud that our Jacksonville office has been able to partner with Aging True and Burrito Gallery to bring meals and some respite to the Relatives as Parents Program members in our community." Meanwhile, from Seattle to Miami, 75 Regency employee volunteers from 19 Regency Centers offices gave back to their local communities by way of food donations to those in need. During a two-week period, 2,100 meals were donated by teaming up and partnering with more than a dozen local charities.
RPT Realty (NYSE: RPT) continues to offer a complimentary Tenant Concierge Service to provide its small business tenants with direct access to a law firm that will assist in applying for governmental aid. The company is also promoting tenants through social media features and has rolled out a number of community support initiatives including donating more than 20,000 meals to support school lunch programs, at-risk populations, essential workers, and nursing home employees in its local communities. In addition to offering the medical community vacant spaces for storage, RPT is dollar matching employee donations with proceeds going to support hospital workers and volunteers.
Seritage Growth Properties (NYSE: SRG) has made available over 180 of its properties across 44 states and Puerto Rico, including full buildings and many of its parking lots, to governmental and community organizations for relief efforts.
Employees of SITE Centers Corp. (NYSE: SITC) raised over $13,000 for Ronald McDonald House Charities. The donation helped to provide eight full weeks of lunches for Ronald McDonald House of Cleveland, Inc. as well as $1,000 donations to seven other Ronald McDonald homes.
Simon Property Group, Inc. (NYSE: SPG) announced in a 2020 proxy statement that chairman, president and CEO David Simon will temporarily reduce his base salary to zero, while the salaries of other executive officers would be reduced by between 25 and 30 percent, effective March 28, in light of the impact of the pandemic on the company's business operations.
Tanger Factory Outlet Centers, Inc. (NYSE: SKT) parking lots have been used for Red Cross blood drives, food collection sites, curbside food pickup, and as staging areas for law enforcement and emergency medical services. Tanger's executive leadership team and Board of Directors have also elected to temporarily reduce their base salaries and cash retainers, respectively, in an effort to avoid a workforce reduction and to maintain healthcare benefits for all employees.
Westfield shopping centers in Los Angeles and around the country, owned by Unibail-Rodamco-Westfield (Euronext: URW), have launched #WestfieldCares, a program to highlight organizations and the charitable work they are doing to confront the effect COVID-19 is having on vulnerable populations in the community. The company's centers and its employees are posting on social media some of the ways they are working within their communities to celebrate and encourage giving back, with the hope of inspiring others to do the same.
Urban Edge Properties (NYSE: UE), in partnership with Community Board 9, delivered hot meals to its Bruckner Commons neighbors including NYPD officers, FDNY members, and EMS workers.
Washington Prime Group Inc. (NYSE: WPG) said it has offered to applicable governmental agencies all of its open air and enclosed assets to serve as potential distribution centers for emergency medical supplies, outdoor designated areas to perform COVID-19 testing, food depository stations, and other complementary services that may be required by communities in need. To date, the REIT has carried out over 150 goodwill initiatives related to COVID-19. The REIT has also partnered with the Institute for Justice Clinic on Entrepreneurship and members of the University of Chicago faculty to launch the Open for Small Business initiative to address the unprecedented business closures resulting from the coronavirus. Meanwhile, the company's Chautauqua Mall in Lakewood, New York hosted a parade to connect teachers and students separated by school closures.
SELF-STORAGE
Extra Space Storage Inc. (NYSE: EXR) is donating 10,000 N95 masks that the company had in storage for hurricane emergencies, and is offering two months of free storage to hospitals and first responders. Any of Extra Space Storage's 1,800 locations across the country will be offering storage space to help. Extra Space Storage also announced its recent partnership with American Express to support small businesses nationwide. Through the Stand for Small coalition, American Express partner organizations are providing resources and services to help small businesses during COVID-19.
Life Storage, Inc. (NYSE: LSI) is supporting healthcare professionals and local restaurants by partnering with WNY Feeds The Frontline and Fresh Catch Poke Co. to deliver 100 meals to Roswell Park Comprehensive Cancer Center.
SPECIALTY
CoreCivic, Inc. (NYSE: CXW) is giving every frontline employee a $500 Hero Bonus in appreciation of their service and dedication to the company's mission during the COVID-19 crisis. Frontline employees will also receive additional paid time off for use in 2020. CoreCivic has also announced a commitment to hire at its 73 active locations across the U.S. More information on the various ways CoreCivic is helping its employees and communities during the crisis is available on its website.
Iron Mountain Inc. (NYSE: IRM) is clearing space and making floor space available inside its facilities for securing supplies needed by health responders and food and drug retailers, as well as providing overflow storage for businesses now stockpiling inventory due to service or supply chain disruptions. The REIT has also added scalable operational capacity in order to digitize increased volumes of critical documents needed by remote workers.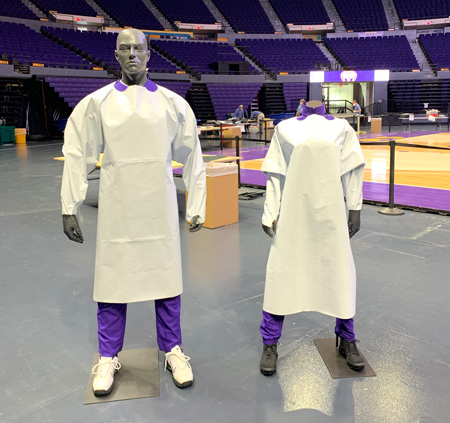 Lamar Advertising Co. (Nasdaq: LAMR) is showing its gratitude to those putting their health and safety on the line during the crisis with messages of appreciation and support on digital billboards across the country. These messages will be displayed throughout the duration to serve as a reminder of the sacrifices being made every day to help overcome these difficult times. Lamar is also supplying vinyl billboard material for conversion into personal protective equipment (PPE) for immediate use by healthcare workers caring for COVID-19 patients at medical facilities across Louisiana.
OUTFRONT Media, Inc. (NYSE: OUT) launched a digital out of home campaign, as its boards spread messages of thanks to essential workers and healthcare staff.
In lieu of its annual Community Service Day, The RMR Group (Nasdaq: RMR), manager of Service Properties Trust (Nasdaq: SVC), Diversified Healthcare Trust (Nasdaq: DHC), Office Properties Income Trust (Nasdaq: OPI), Industrial Logistics Properties Trust (Nasdaq: ILPT) and Tremont Mortgage Trust (Nasdaq: TRMT) is supporting organizations across the country with $50,000 in charitable donations. Additionally, RMR is increasing its matching gift program for employee charitable contributions to $1,000 per employee per year.
Get Nareit Developments blog posts delivered straight to your inbox.
Subscribe