The past two years have been transformative for ESG issues in the United States and around the world. Seismic events—including a global public health crisis, intensifying climate disruption, extreme economic volatility, and mounting social recognition of inequality and injustice—have made it more crucial than ever that the REIT and publicly traded real estate industry continues to play a critical role in delivering meaningful progress. 
As we look ahead this year, here are just a few ESG themes for the industry to watch in 2022. Join Nareit for a conversation about these ESG issues to watch on Jan. 19 at 2:00 p.m. ET.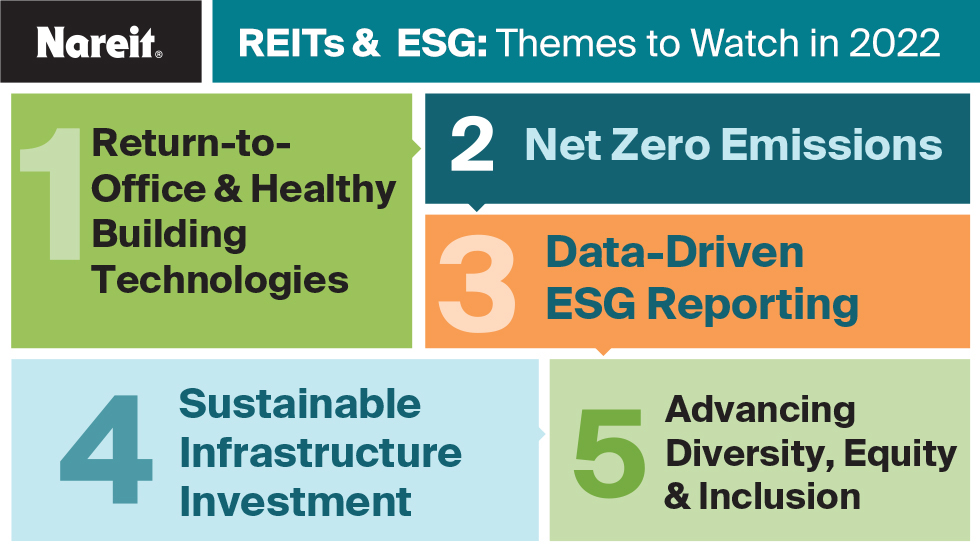 Return-to-Office & Healthy Building Technologies
The long-discussed return-to-office (RTO) is coming to fruition in fits and starts as some companies continue their in-person operations, some officially open their offices to more workers, and some pause their re-opening plans again in the first few months of the year.
How are REITs making their buildings healthier and safer when faced with a pandemic? REIT leaders must tailor their approach to RTO and adapt engineered controls, healthy building technologies, and policies in their offices and the buildings they manage to maintain safe workspaces for employees and tenants. Healthy building technology, such as no-touch doorways, elevators, sinks, and toilet flushes, air filtration systems, and enhanced cleaning protocols can play a key role in getting people back to the office in a safe way and reestablishing workplace camaraderie.
Pursuing healthy building certifications and health and safety ratings from certification bodies such as the Well Building Standard and FitWel have become a particular focus for REITs. These certifications will continue to help building managers integrate building science and public health-based strategies that will establish healthy buildings for the long term.
Today, improving health and safety in buildings while optimizing performance and reducing carbon emissions is critically important, which can only be possible by taking a holistic approach to indoor air quality, cleaning practices, and efficient technologies and practices.
REITs and commercial real estate will be expected to continue to transform advancements in building science and public health into practice to keep people and businesses healthy.
Net Zero Emissions
Following the 2021 COP26 Conference, more organizations than ever are making commitments to net zero emissions. Opportunities exist for REITs to serve as leaders to reduce their carbon footprint and to promote integrated ESG policies across all aspects of their operations. Because of commercial real estate's role in our built environment, REITs could be at the forefront of a net zero future.
REITs should strive for reducing energy consumption through energy optimization strategies, tenant engagement, and transitioning from "brown power" to "green power." Properties that are not "green enough" face the potential risk of steep fines and long-term value erosion.
In 2020, Hudson Pacific Properties Inc. (NYSE: HPP) achieved 100% net zero carbon across all operations through a combination of energy efficiency, on-site renewables, off-site renewables, and carbon offsets.
Some REITs are taking the next step to push to reduce Scope 3 emissions. Kilroy Realty Corp. (NYSE: KRC) is one company that has announced a goal to reduce its Scope 3 emissions 70% by 2050. In 2018, the REIT committed to achieve carbon neutral operations in Scope 1 and Scope 2 emissions and achieved that goal at the end of 2020.
2022 will be a year to roll up the sleeves to turn commitments into practical plans and impactful actions for the real estate industry. We expect that REIT leaders will continue to inspire and lead the way to towards a low carbon economy for the real estate industry.
Data-Driven ESG Reporting
ESG, when actively and holistically measured, managed, and disclosed, can ensure sustainable business performance and accountability for commercial real estate owners, investors, tenants, the workforce, and communities. There has been an increase in data-driven solutions within the ESG space that allow for more concrete reporting and comparisons between companies in recent years.
The ability to harness better quality data has enabled REIT leaders to benchmark and compare their strides in ESG to the industry as a whole and explore new options that advance their practices.
ESG is no longer a "nice to have" add on, but a "must have" that is becoming an integral part of all businesses. With increased focus on climate-related financial disclosures, verified energy and carbon data are becoming more important than ever. The demand and urgency for verified and assured high quality data is expected to only increase in the coming years.
Sustainable Infrastructure Investment
As cities grow and transform, there are built-in opportunities to be inherently greener. Developers are increasing their focus on electrification and sustainable materials while supporting greener transportation infrastructure by installing electric vehicle charging stations. It is no surprise that solar panels are taking over roofs globally.
While some REITs have already gotten a jump start by installing electric vehicle charging stations, other REITs have much to gain from becoming early adopters of sustainable infrastructure solutions.
According to a Brookfield Properties case study, EV charging stations will be standard at all future developments and major business parks.
There is significant rooftop space available across all U.S. REIT properties – upwards of 6 billion square feet – meaning the potential for REITs to expand their solar generation is vast, and therefore, may be a natural way for REITs to play a significant role in future efforts to expand renewable energy generation.
According to Nareit's 2021 REIT ESG dashboard, 37% of the top 100 REITs by equity market cap reported utilization of on-site renewable energy sources compared to 23% from the year before.
In 2022, we expect to see an increased focus on green infrastructure investments, from EV charging stations to solar panels to electrification and capital expenditures for deep energy retrofits.
Advancing Diversity, Equity & Inclusion
Over the past few years, the conversation around systemic racism has been amplified in the U.S. and globally. Business leaders have responded by taking a closer look at diversity and inclusion within their workplaces, and the REIT industry is no exception. The total economic contribution of U.S. REITs in 2020, the most recent year of complete information, was an estimated 2.9 million full-time equivalent (FTE) jobs and $197 billion of labor income, so continued DEI action and leadership are necessary and impactful.
REITs must continue to take steps to address DEI systematically, focusing on building more diverse and inclusive workforces and leadership pipelines while providing safe spaces and dedicated governance structures to hear the voices, concerns, and ideas of employees and other stakeholders.
By the end of 2021, 60 REIT CEOs had signed the CEO Action for Diversity & Inclusion™ pledge, committing to make their workplace a safe place to have difficult conversations about diversity and inclusion, to implement or expand unconscious bias education, to share best practices with peers, and to create and deliver strategic inclusion and diversity plans with their boards of directors.
Ventas, Inc. (NYSE: VTR), the first REIT signatory of the CEO Action Pledge, established their DE&I Committee—made up of more than 40 employees—to develop tangible goals and action plans to promote positive changes in DEI at their company and beyond.
Equity Residential (NYSE: EQR), winner of Nareit's 2021 Diversity, Equity & Inclusion Recognition Gold Corporate Award, made significant strides in diversity in 2021 by increasing the representation of women of color on their executive team by 17% and increasing their diversity and inclusion engagement score from the 75th to the 82nd percentile, according to an annual EQR employee engagement survey. They accomplished this by helping employees recognize the importance of understanding cultural differences and how they may appear in the workplace.
In 2022, we expect to see continued increase and momentum in DEI efforts and commitments from REITs.
Nareit's ESG Resources for REITs, Real Estate Industry, and Investors
Nareit offers a number of resources to support ESG progress in the REIT and commercial real estate industry, including events, webinars, reports, and guides. A sampling of these resources are listed below:
Sign up here to be notified of the latest ESG-related news from Nareit.
Please direct any ESG-related questions to fkocak@nareit.com.
Get Nareit Developments blog posts delivered straight to your inbox.
Subscribe