Nareit's 2019 Leader in the Light Awards winners are leading the way in ESG. 
02/04/2020 | by
Nareit's annual Leader in the Light Awards showcase those REITs that have produced superior, measurable results from the implementation of environmental, social, and governance (ESG) practices. 
"Since they were created in 1960, REITs have established a track record of superior sustainability practices. We are pleased to honor Nareit member companies that have demonstrated excellence in environmental stewardship, value creation at the community level, good governance, and transparency and accountability through public disclosure," says Fulya Kocak, Nareit's vice president for ESG issues. 
The 2019 winners were recognized in November at REITworld 2019: Nareit's Annual Conference in Los Angeles. Awards were presented to REITs in eight property sectors and in three additional categories: Leadership Personified; Most Innovative; and Best New Entry, an award introduced in 2019 that recognizes the leading application among companies participating for the first time.
Leadership Personified Award
Kevin Hagen, Iron Mountain Inc. (NYSE: IRM)
Kevin Hagen, vice president of ESG strategy at Iron Mountain, is the 2019 recipient of the Leadership Personified award. He's a proponent of teamwork when it comes to solving critical environmental, social, and economic challenges.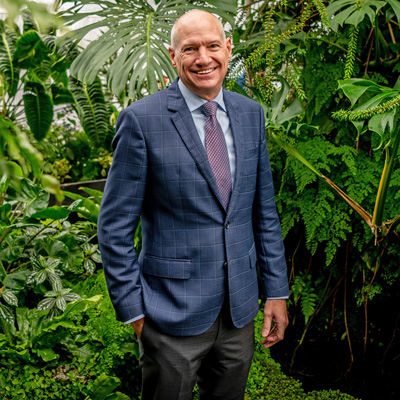 Hagen has been a driving force behind Iron Mountain's collaboration with other REITs on ESG issues. For instance, the REIT recently worked with Equinix Inc. (Nasdaq: EQIX), Digital Realty (NYSE: DLR) and other peers in the data center space to develop an open-source protocol that enables customers to claim the benefits of renewable energy contracts. The companies developed the protocol under the auspices of the Future of Internet Power (FoIP) initiative. 
"Now companies can rely on the same documentation and the same validation process for any data center" in which they rent space for their network equipment, explains Hagen. 
In 2019, Iron Mountain rolled out a Green Power Pass, the first generally available solution for the data center industry that meets the requirements of the FoIP protocol. The pass enables the company's data-center customers to report carbon emission reductions associated with green power consumed at any Iron Mountain data center. The Boeing Co., Credit Suisse, Akamai Technologies, and Goldman Sachs are among the early adopters of the pass.
"We have wonderful collaboration with peers in the REIT space. We share best practices, commiserate, and accelerate each other's efforts," Hagen says. "We are all punching above our weight class because we work together." 
Most Innovative
Boston Properties, Inc. (NYSE: BXP)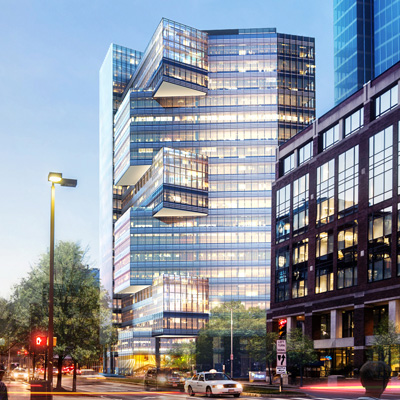 Boston Properties, according to Director of Sustainability Ben Myers, is paying attention to the interests of its stakeholders by tackling critical economic, environmental, and social issues. BXP—which in 2019 received the Most Innovative award for a second time—often relies on cutting-edge technology, financing methods, and other novel approaches to development and operations.
Since November of 2018, for instance, the company issued $1.85 billion of green bonds in two separate offerings. According to Myers, BXP has issued more sustainably labeled corporate debt than any other office REIT. "In an industry that can be resistant to change, innovation is hard," says Myers, who in 2018 received the Leadership Personified award. "I am delighted by the progress we continue to make on ESG issues."
BXP is undertaking ambitious efforts to reduce greenhouse gas emissions, energy and water use, and to divert waste from landfills. The company, which has a $3.6 billion development pipeline, also continues to deliver "the greenest buildings" in its markets, says Myers, noting that BXP now has more than 22 million square feet of space that's LEED-certified.
"We are using first principles thinking to pursue outcomes like carbon neutrality, climate resiliency, and a portfolio of buildings that supports the health, wellness, and productivity of our customers," Myers says. "We believe that these outcomes will mutually benefit our customers, shareholders, employees, and communities we serve."
Best New Entrant 
Hudson Pacific Properties, Inc. (NYSE: HPP)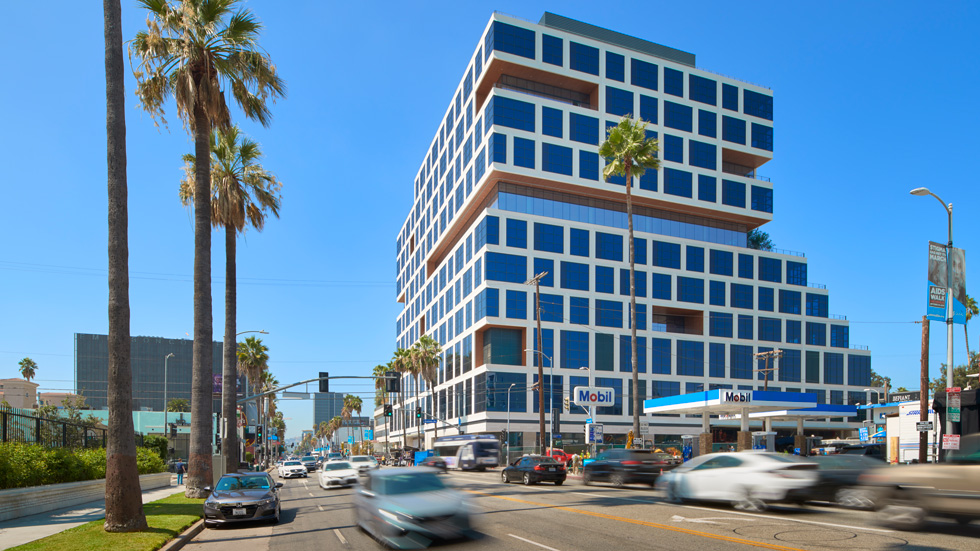 ESG has long been part of Hudson Pacific's DNA, says Natalie Teear, vice president of sustainability and social impact. To bring more structure and transparency to its ESG practices, Hudson Pacific released its inaugural corporate social responsibility report in 2019. The company—whose electricity consumption is entirely carbon neutral—also received a Green Star designation from GRESB and the organization's highest five-star rating for exceptional ESG performance. 
"Because ESG is a core part of who Hudson Pacific has been since day one,  we are building upon a really strong foundation," Teear says. She is now overseeing the development of a comprehensive ESG strategy and goals. In addition to continued environmental leadership, Hudson Pacific will be prioritizing social issues that are important to the company. 
"We are refining our strategy and taking a holistic approach focused on building sustainable, healthy, and equitable communities," Teear says. 
Data Centers
Digital Realty Trust, Inc. (NYSE: DLR)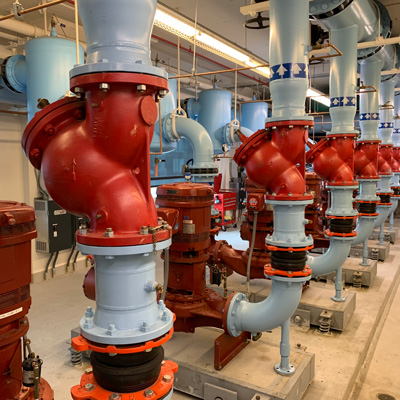 Digital Realty—which aims to power its global portfolio entirely on energy from renewable sources—captured the Leader in the Light award in the data center category for the third year in a row. 
In 2019, the company was one of the largest buyers of renewable energy among data center providers—with some 324 megawatts of solar and wind virtual-power agreements under contract as well as 60 megawatts enrolled in green utility tariffs. Digital Realty's European and U.S. co-location portfolios are already run entirely on renewable energy.
"Our focus has and continues to be progress toward our long-term goal of 100% renewable energy," says Aaron Binkley, senior director of sustainability. 
Digital Realty, says Binkley, continues to procure renewable energy, partner with its customers to help them achieve their ESG objectives and work toward its own carbon emissions reduction targets.
"We will continue to look for ways to leverage our scale and global reach to deliver greater value from our ESG efforts," he says. "Above all, we're dedicated to supporting our customers and will continue to engage with them to support their ESG objectives."
Diversified
Vornado Realty Trust (NYSE: VNO)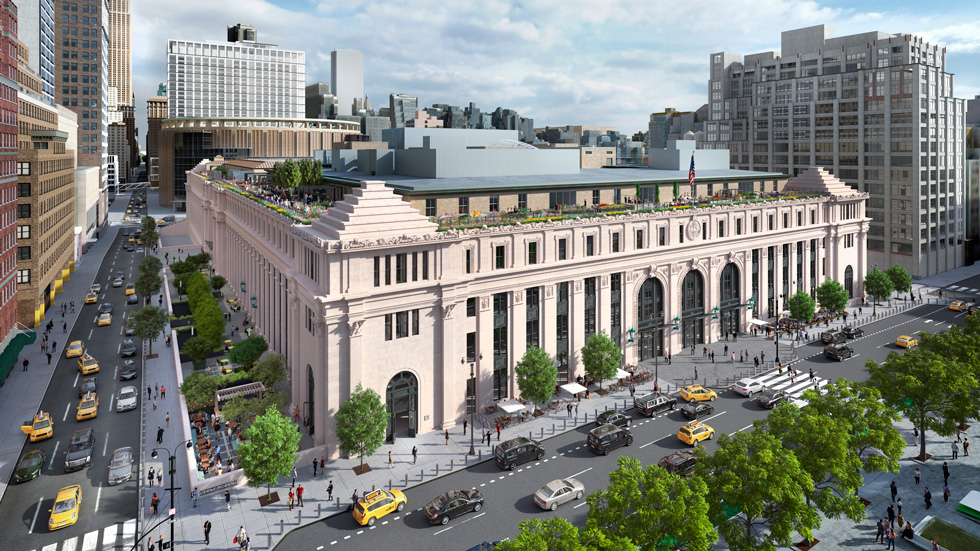 Vornado has plenty to show for its long-time commitment to sustainability. For starters, the amount of LEED-certified space owned and operated by the company recently surpassed 26 million square feet, which represents more than 95% of its in-service office portfolio.
Such accomplishments haven't gone unnoticed. Vornado has been a Leader in the Light award recipient for the last 10 consecutive years.
In 2019, the company was named among the Climate Group's EP100 members for its commitment to energy productivity. In connection with that recognition, Vornado committed to establishing an enhanced energy management system across its portfolio that will be ISO 50001-ready, as certified by the Department of Energy. 
"It's an exciting time to be part of the transformation of the energy markets to a low- and zero-carbon economy, and we expect to be a leader well into the future," says Daniel Egan, senior vice president of energy and sustainability.
Industrial
Prologis, Inc. (NYSE: PLD)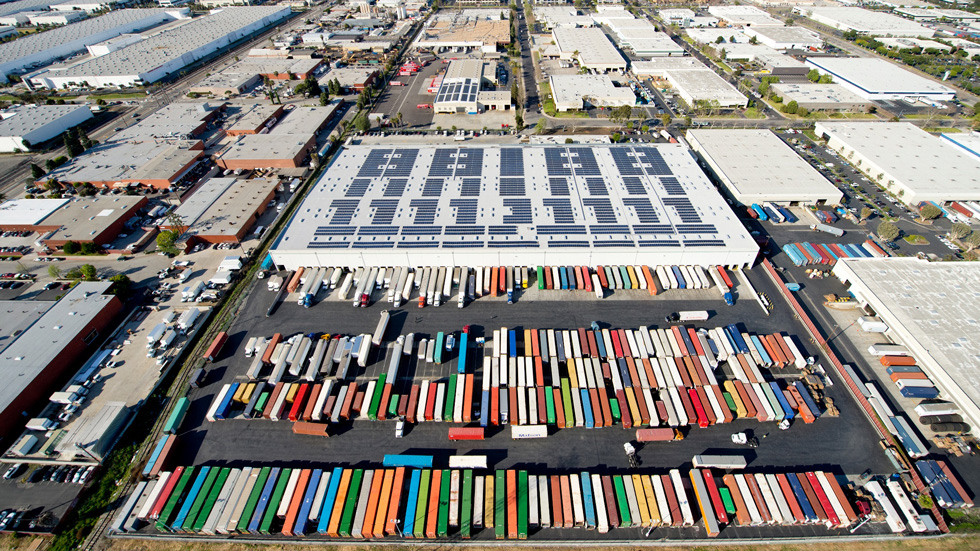 Prologis—a Leader in the Light winner in the industrial category each year since 2012—has ensured that ESG is fully engrained in its business and creates business value, says Deborah Briones, senior vice present and associate general counsel. 
The company has made major investments in solar projects, which have yielded environmental benefits and led to its ranking third in the U.S. for on-site solar capacity, trailing only Target and Walmart. 
The REIT is also making a difference in the communities that it serves—and helping its customers address their labor needs—through its Community Workforce Initiative. The initiative, which Prologis is scaling up internationally, has changed lives in places like Los Angeles, where it has already helped more than 150 high school students gain the skills needed for careers in logistics. 
By some benchmarks, Prologis is already among the most sustainable companies in the world. In 2019, it was the leading U.S. company in the Corporate Knights' 2019 Global Most Sustainable Corporations in the World index, and ranked sixth overall. 
"Our leadership in the ESG space has positioned us as not just a leader in the real estate industry, but globally amongst all corporations," says Briones. 
Retail
Kimco Realty Corp. (NYSE: KIM)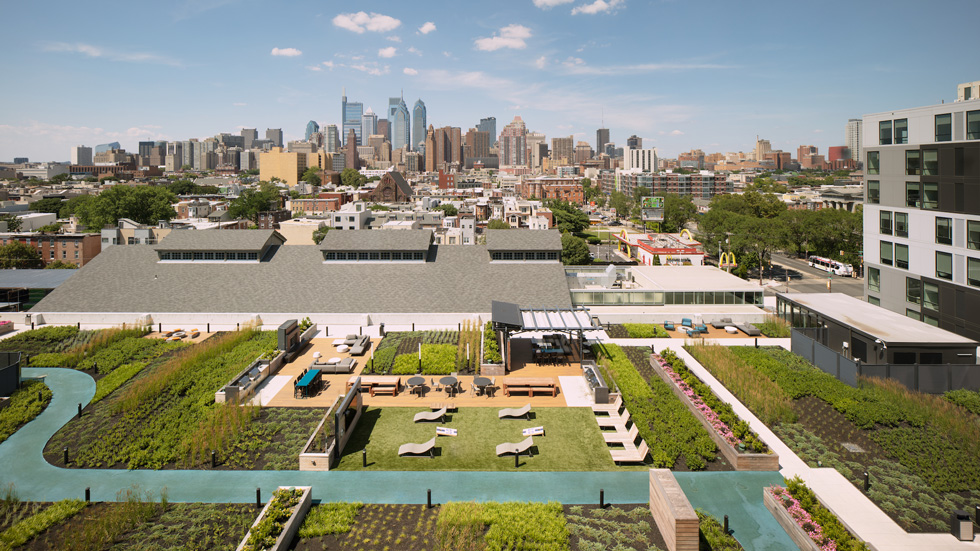 Several years ago, Kimco, a two-time Leader in the Light winner in the retail category, decided that leadership on the ESG front had to include a greater commitment to social issues. That shift in thinking led the company to roll out a multi-faceted employee engagement program that promotes diversity and inclusion as well as employee development, wellness, and recognition. 
Thanks to the initiative, Kimco employees have received more than 35,000 hours of professional development training as well as reimbursement for job-related college coursework. The company has also awarded more than $300,000 in college scholarships to dependents of its employees. 
In 2019, nearly half of Kimco's more than 500 employees participated in the company's annual wellness challenge and a new peer-to-peer social recognition program that highlights teamwork and individual accomplishments. 
"Expanding the frontier of ESG performance requires traveling new roads," says Will Teichman, vice president of business operations at Kimco, which has been certified as a Great Place to Work.
Kimco recently established a new internal governance structure and vision for its ESG program. Its top ESG priorities now include: embracing the future of retail; engaging local communities; leading in operations and resiliency; and fostering an engaged, inclusive, and ethical team.
"Having built a strong program foundation and momentum over the past few years, we felt it was important to pause, reflect, and engage before setting a course for the next several years," Teichman says. 
Health Care
Ventas Inc. (NYSE: VTR)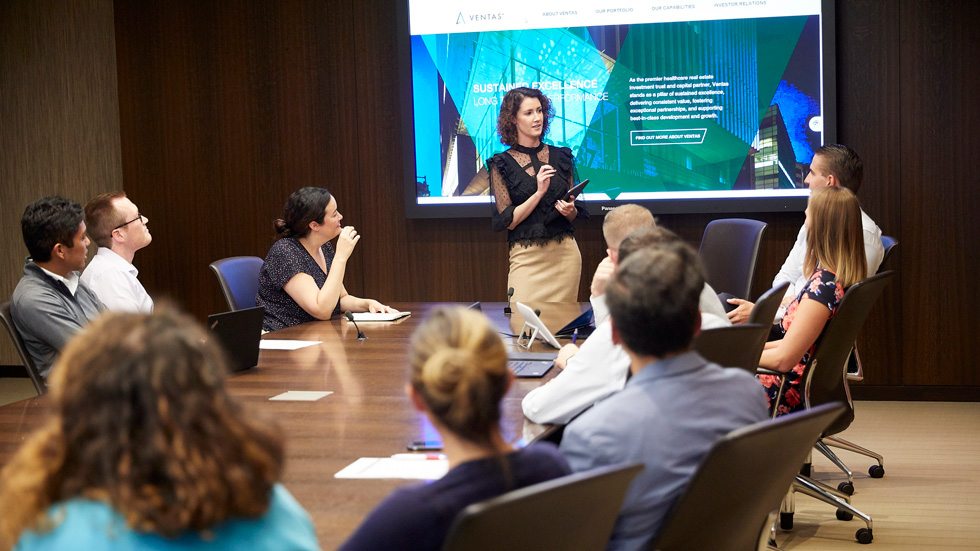 Ventas, a four-time Leader in the Light winner in the health care category, is taking action and has already achieved impressive results when it comes to diversity and inclusion. 
Through focused efforts, Ventas has achieved gender balance companywide, within a 5% margin. Women have made up 30% of its board of directors since 2016. In 2019, the company announced a goal to increase female representation at the leadership level to 25% by 2023. It's also working to increase the ethnic and racial diversity of its workforce. 
"We are stronger and more effective when our teams have a diverse set of perspectives stemming from differing backgrounds, ethnicities, genders and experiences," says Director of Sustainability Kelly Meissner. 
Responsible development also continues to be a top priority. Ventas has obtained or is pursuing LEED certification for approximately 95% of its development pipeline. What's more, the vast majority of its projects are being developed on brownfield or urban infill sites. 
Because of ESG leadership, in 2019 Ventas was named to the Dow Jones Sustainability Indices (DJSI) World Index for the first time, and remained on DJSI North America for the third consecutive year. 
"With our momentum and commitment, we're energized as we head into 2020 and remain dedicated to consistent ESG leadership and sustainable growth through the continued evolution of our enterprise," Meissner says. "Our newly established goals," she adds, "are designed to keep us accountable and drive change." 
Office
Kilroy Realty Corp. (NYSE: KRC)
A six-time Leader in the Light winner in the office category, Kilroy has been a leader on the environmental front for years, but lately the company has also worked to expand its social initiatives—which aim to improve building health, the well-being of employees and their families, and the ESG performance of its supply chain. 
In 2019, the company conducted a survey, the first of its kind for Kilroy, to gauge the ESG performance of its critical first-tier suppliers. Kilroy has shared the survey's findings with its suppliers in order to help them improve, says Sara Neff, senior vice president for sustainability. 
"ESG is truly integrated into all of our business practices," Neff explains. "We just couldn't do what we do if it was only our sustainability team working on ESG." 
As it expands its social initiatives, Kilroy continues to push boundaries on the environmental front. For instance, the company has begun to address the embodied carbon tied to its development projects. Embodied carbon refers to emissions associated with building construction.
"In 2018, we set the goal of getting to carbon neutral operations by the end of 2020—which is great—but now it's time to address the carbon emissions tied to our building materials," says Neff, noting that Kilroy will benchmark the carbon impact of its building materials and set meaningful goals to reduce that impact. 
Lodging/Resorts
Host Hotels & Resorts, Inc. (NYSE: HST)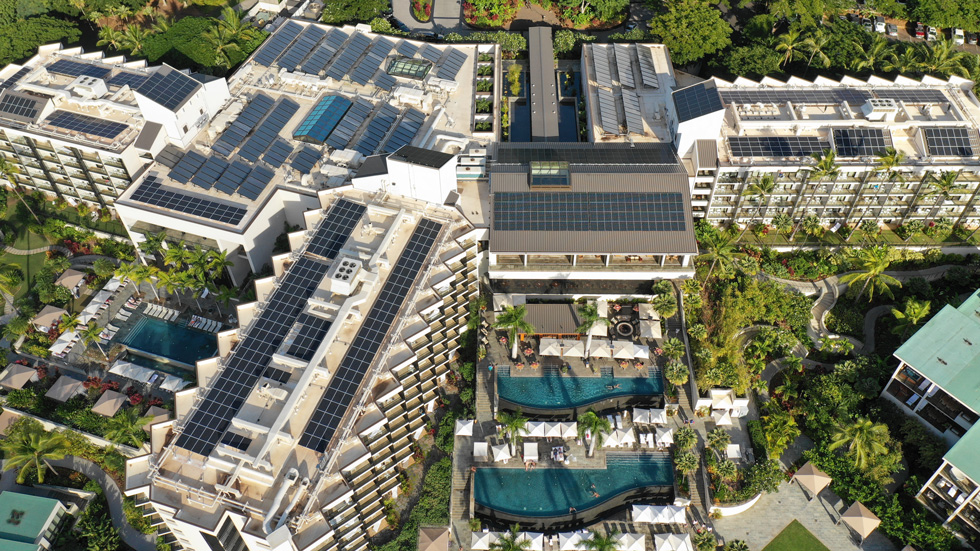 Host Hotels & Resorts, a five-time Leader in the Light winner in the lodging sector, clearly excels at more than hospitality. In 2019, the company was added to the Dow Jones Sustainability World Index for the first time and was named Overall Global Sector Leader by GRESB.
Additionally, the company published its first-ever Human Rights Policy and Supplier Code of Conduct and was the first lodging REIT to formally join AHLA's 5-Star Promise initiative to advance human rights within the hospitality industry.
The number of LEED-certified hotels in its portfolio grew to eight properties, including recertification of two properties LEED for Existing Buildings Gold Certification. What's more, Host exceeded its science-based emissions reduction target for 2020 by 25% and met its energy reduction and waste diversion goals early. Host has also increased its reporting transparency and social disclosure, including information on human capital management practices. In addition, the company issued a new green bond—the first of its kind in the lodging industry. 
"Winning Leader in the Light reflects the great teamwork and collaboration of our employees across the company," says Joanne Hamilton, executive vice president of human resources and leader of Host's Corporate Responsibility program. "It's this 'all hands on deck' approach that will help us continue to be a leader in our industry as we develop our next generation corporate responsibility goals." 
RESIDENTIAL/APARTMENTS
AvalonBay Communities, Inc. (NYSE: AVB)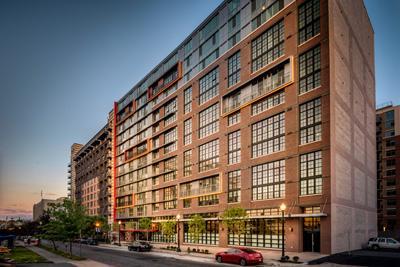 AvalonBay, a four-time Leader in the Light winner, is taking bold steps to combat climate change by working towards science-based, emissions reduction targets. 
In 2019, AvalonBay established science-based targets for reducing greenhouse gas emissions and had those targets approved by the Science Based Targets Initiative (SBTi). To be approved based by SBTi, company targets must be in line with what the latest climate science deems necessary to meet the goals of the 2015 Paris Agreement. 
"With the setting and approval of our science-based targets, we are rapidly shifting toward a low-carbon future in the multi-family sector," says Mark Delisi, vice president for corporate responsibility and energy management at AvalonBay, which is now implementing a plan to achieve its targets through investments in onsite solar power installations, among other measures. 
AvalonBay is also creating a better way to live by giving back through its Building Strong Communities philanthropy program. The company has already achieved its 2020 goal of $2.2 million in cash and in-kind donations to charitable organizations, including a four-year, $1 million national partnership with the American Red Cross.