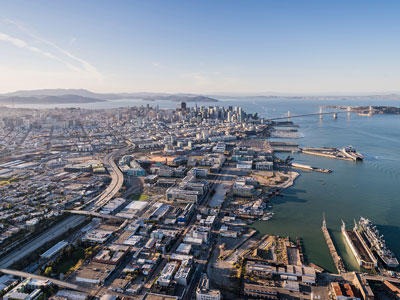 Longtime San Franciscans may remember the Mission Bay neighborhood, located on the southern end of the city, as the home to one of the Southern Pacific Railroad Company's railyards. Trains ran in and out of the railyard for nearly 100 years until the 1990s.
That part of the area's history might seem strange, though, to the influx of scientists, researchers and entrepreneurs who have migrated to the Golden Gate City in recent decades. To them, Mission Bay is an enclave of the biotechnology industry. 
When life science REIT Alexandria Real Estate Equities, Inc. (NYSE: ARE) began looking into setting up shop in the area in the early 2000s, the railyard had essentially been abandoned for the better part of a decade. Catellus, a real estate company that was spun out of Southern Pacific, which later became a REIT and subsequently merged into Prologis (NYSE: PLD), had created large-scale master plan with the city of San Francisco to remake the area. The plan included thousands of residential units, an expansion of the research campus of the University of California, San Francisco (UCSF) and, ultimately, an expansion of the university's medical center complex.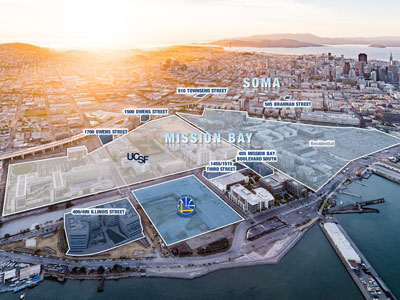 "Alexandria has been a driving force in translating the vision for Mission Bay into a reality," said Todd Rufo, director of the San Francisco Office of Economic and Workforce Development. "Since the beginning, Alexandria has been a strong collaborator with the city in turning Mission Bay into a leading innovation district that today is home to world-class science and technology companies – driving jobs and economic development."
Looking to harness the spirit of innovation in the cradle of the biotechnology sector, the city of San Francisco wanted to bring in a wide variety of life science companies, ranging from small start-ups to major pharmaceutical manufacturers, to open offices in the area. That's where Alexandria entered the picture. Discussions with Catellus began in 2004, and Alexandria acquired a number of parcels of land in the neighborhood in 2005.
The Alexandria Center for Science and Technology – Mission Bay was born.
"We were very fortunate to be part of the visionary founding group that recognized underutilized and abandoned railyards had the potential to become one of the leading life science innovation centers in the entire country," says Stephen A. Richardson, chief operating officer and San Francisco regional market director with Alexandria. 
Project Info

Owned by life science REIT Alexandria Real Estate Equities, Inc.
Part of approximately 3.7 million rentable square feet, including development, of office and laboratory space in Alexandria's San Francisco Bay Area life science cluster.
Tenants include Bayer AG, Celgene Corporation, Merck and Pfizer.
Technology company Uber will be moving into the 423,000-square-foot office building at 1455/1515 Third Street once the facility is complete in 2018.
"Since the early 2000s, Alexandria has been a key partner in leading the transformation of Mission Bay from a former railyard into a new mixed-use, mixed-income neighborhood that includes a life science and technology cluster where cutting-edge companies are collaborating with UCSF," says Tiffany Bohee, executive director of the San Francisco Office of Community Investment and Infrastructure. 
The Cluster Model
In total, Alexandria's Mission Bay campus boasts more than 1 million square feet of what Richardson describes as "class-A, mission-critical" facilities for the life science industry.
In addition to the UCSF Medical Center and a research campus for the university, the Mission Bay campus consists of five properties owned by Alexandria. They include 455 Mission Bay Boulevard South, with tenants such as major biotech and pharmaceutical companies Bayer AG, Nektar and Twist Bioscience. Not all of the tenants in Alexandria's San Francisco portfolio are in the biotech business. For example, Uber, creator of the groundbreaking transportation service, will have an office at 1455/1515 Third Street, a new building scheduled to open in 2018.
For the tenants in the life science industry, Alexandria's Mission Bay campus embodies the company's "cluster model," a formula that it sums up as "Location + Innovation + Talent + Capital." Essentially, Alexandria seeks to build its properties around "the belief that life science companies are most successful when located in the epicenter of the world's top life science clusters, immediately adjacent to world-renowned academic and medical institutions, cutting-edge scientific and managerial talent, and sophisticated capital."
"Everybody is within walking distance of one another in Mission Bay," Richardson says.
In addition to life sciences companies, tenants in the Mission Bay center include venture capital firms and academic researchers. As an added bonus, they can all collaborate on treatments with clinicians at UCSF's nearby medical center.
"It is a great testament to Alexandria for making this happen, and I credit Joel [Marcus, Alexandria's chairman, CEO and founder,] with executing on his tremendous vision," says Mike Powell, a general partner with biopharmaceutical venture capital firm Sofinnova Ventures. Alexandria isn't alone in capitalizing on the opportunities presented in the Mission Bay area. Multifamily REITs such as AvalonBay Communities Inc. (NYSE: AVB), Equity Residential (NYSE: EQR), Essex Property Trust Inc. (NYSE: ESS) and UDR Inc. (NYSE: UDR) own apartment buildings in the neighborhood.
More Development
The size and scope and high-quality real estate in Mission Bay and the rest of Alexandria's San Francisco projects have helped Alexandria attract joint-venture partners. As part of a multi-property deal with TIAA in 2015, Alexandria sold the institutional investor 40 percent of its 409/499 Illinois Street asset for $189.6 million. The transaction also included a 49.9 percent interest in Alexandria's 1500 Owens Street project for $73.4 million.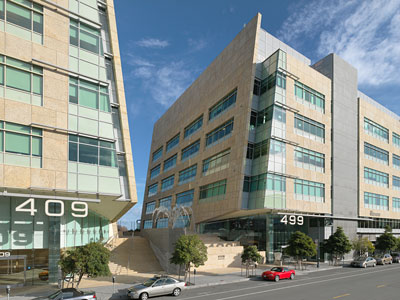 Alexandria's assets are "very highly valued, very desirable investments because of the mission-critical nature of the buildings, investment-grade tenancy and class-A quality," according to Richardson. "We are honored that large, sophisticated institutional investors such as TIAA are so enthusiastic to be  joint-venture partners with us."
New projects from Alexandria in Mission Bay and the nearby area seem likely to generate more interest from potential partners. In addition to the office property opening in 2018 that Uber will occupy, two new facilities are slated to open next year. That will add a combined 450,000 square feet of space.
Pro basketball superstar Stephen Curry and the rest of the NBA's Golden State Warriors might be moving into the neighborhood soon, too. Builders are supposed to break ground on the new Chase Center in the heart of Mission Bay in 2017. The proposed indoor arena is currently scheduled to open in 2019.
Overall, Richardson says, the master plan for Mission Bay has played a part in the creation of tens of thousands of jobs. Furthermore, small businesses have set up shop nearby to serve local residents and the employees and companies located in Mission Bay. 
"Alexandria's investment generates resources that are used by the city to fund critical community benefits in Mission Bay like affordable housing, parks and new public infrastructure which benefits not just Mission Bay, but the city as whole," Bohee says.