The coronavirus-induced shift to remote work is fueling changes for office and residential REITs alike.
11/18/2020 | by
The unprecedented reliance on working-from-home, prompted by the COVID-19 pandemic, is driving major operational changes for both office and residential REITs.
COVID-19 has made its mark on just about every facet of Americans' lives, but one of the biggest impacts is how and where people work. The pandemic has forced millions to work in their houses or apartments rather than going into the office.  
While working remotely is widely accepted due to the crisis, experts say it won't eliminate the need for office buildings. It will, however, alter how they're utilized and how tenants interact in them—and flexibility will be key.
With many companies continuing to work remotely, some are putting plans in place to return to the office. That may mean shifting to a hybrid model where employees go in two or three days and work virtually the rest of the week. Experts say few companies likely will abandon their offices altogether.
For many companies and employees, working in an office means greater productivity, collaboration, and socialization. Despite the rapid adoption of virtual-collaboration technologies, people miss face-to-face interactions.
While virtual meetings have helped bridge the gap, they're not conducive to building and maintaining a strong company culture or the hiring and training of new talent, Behler continues."People still want and need to feel connected to their colleagues," says Albert Behler, chairman, president and CEO of Paramount Group, Inc. (NYSE: PGRE). "In speaking to our tenants, and based on our own experiences, there seems to be no surrogate to in-person meetings. People desire to collaborate, and corporate leaders want to mentor employees in person."
"Companies recognize this, and in some cases, our tenants have approached us about the potential need for more space as they evaluate how best to reconfigure their offices," Behler adds. He also believes employers will demand dedicated space going forward versus sharing a floor with multiple firms.
Bringing Tenants Back
Companies are understandably very cautious about the health and safety of their employees, resulting in a slow return back to the office, notes Ted Klinck, president and CEO at Highwoods Properties, Inc. (NYSE: HIW). He estimates 15% to 30% of Highwoods' tenants have returned, depending on the market.
However, in talking with tenants, Klinck says many are eager to get back full time or adopt a hybrid model. "And it's incredibly important for real estate owners to work closely with their tenants to ensure a safe return to work," he explains.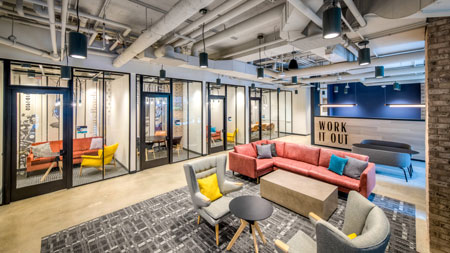 Many building owners are boosting health/wellness features that some were already incorporating pre-COVID-19. Look for more keyless entry and touch-free elevators. Experts say easy-to-clean surfaces and antimicrobial materials will become standard.
For Highwoods, it starts with frequent and transparent communications with customers via its building systems platform outlining safety protocols. That includes EPA-approved disinfecting chemicals, increased cleaning of frequently-touched surfaces, installation of hand-sanitizer stations, reconfiguration of spaces to promote social-distancing, and installation of signage limiting the number of passengers on elevators and in public areas.
Highwoods is also upgrading HVAC systems to bring in more fresh air and provide more ventilation.
When tenants return to Paramount's offices, they'll encounter temperature scans, signs and barriers in lobbies, and substantially increased cleaning standards. Additionally, contact-tracing technology, using location data, is being developed to help employees safely distance themselves and be alerted if they may have been exposed to a sick individual, Behler explains.
Paramount's buildings will also have upgraded air-filtration systems and sensors to measure indoor air quality.
Returning to the office is also about staying connected. Since some employees will continue working remotely even post-pandemic, they'll need to connect frequently and seamlessly. That could mean creating small meeting rooms for a few employees to communicate virtually with remote co-workers. Companies will likely invest in upgraded technology to connect more effectively with remote workers. 
"Work from home is a brave new world, with a range of views among firms, leaders, and employees, says Michael Knott, Green Street's managing director and head of U.S. REIT Research. "Some cheer it, some pan it, and many fall in the middle."
Prior to COVID-19, Knott notes, the office building became an amenity arms race among companies battling for talent. But now, things like coffee shops and gyms may hold less appeal for workers, while providing the highest degree of safety and wellness will be prioritized, including simple things like getting workers safely and efficiently up elevators.
In terms of location, Knott says drive-to office buildings will fare better in the near term than markets that are mass-transit-dependent.
Multifamily Also Adapts
Meanwhile, multifamily owners are repurposing space for more versatility and productivity as more residents work-from-home. The trend is impacting unit design, common areas, and amenities.
Eric Bolton, chairman and CEO at MAA (NYSE: MAA), believes work-from-home isn't going away anytime soon. "Society has found an ability to work from home that has a lot of appeal to a number of people," he says.
In response, MAA is adding more work nooks in units, which are small areas within existing floorplans where shelving or other built-ins are added in an effort to accommodate work-from-home needs.
MAA is also looking to repurpose closet space to create desk-type setups, where at the end of the workday residents can close the door to separate home and work life.
More broadly, MAA is reevaluating common areas and amenity spaces. "Sometimes, areas were more oriented toward making an impression on leasing, like a billiards room," Bolton says. MAA is repurposing some of those spaces into co-working with social-distancing partitions between workstations. 
MAA is repurposing a property in Dallas, for example, where an old leasing center is being transformed into offices and a coffee bar. The REIT is also developing a new property in Orlando that will include co-working in part of its leasing center.
AvalonBay Communities Inc. (NYSE: AVB) is also adapting to the prevalence of its tenants now working-from-home. The REIT provides work-lounge areas in many newer communities. It's also considering office pod furniture solutions in common areas where space can be reserved online. Additionally, residents are looking for more outdoor workspaces, says Matt Birenbaum, AvalonBay's CIO.
With increased work-from-home needs, MAA and AvalonBay also plan to roll out enhanced high-speed internet packages across their portfolios.
Will Units Get Bigger?
Many apartment owners were moving toward developing larger units pre-COVID-19 since older millennials can afford a bit more space, and downsizing baby-boomers are leaving single-family homes, Birenbaum explains.
With increased work-from-home, more people are seeking larger units, although that trend may be challenged with the recession and employment trends, Birenbaum points out. He predicts square footage will increase, but it still varies between urban and suburban submarkets.
"I wouldn't be surprised if the average size for the industry as a whole grew by 10% to 15% through the course of this decade," Birenbaum notes.
In the suburban Northeast, in places like New Jersey and Long Island, AvalonBay has been building communities that include rental townhomes with larger units.
AvalonBay is also planning a project in suburban Seattle with a mix of flats and townhomes and a large co-working lounge in the clubhouse. The REIT is also considering more furnished units in some markets where residents can rent a furniture package with a home-office layout.
Despite growing demand for larger units, Bolton says much of the decision process around development in terms of unit size and mix remains largely a function of economic considerations. In high-cost real estate markets in more urban-oriented locations, the ability to build bigger units doesn't really work, he explains.
"You're going to wind up creating a more expensive product from a rent perspective, and you're going to price yourself out of the market," Bolton notes.
More affordable regions and more suburban locations can accommodate larger properties and more two-bedroom units and still keep a price point that's affordable to the majority of the renter market, Bolton says. Meanwhile, downtowns and more expensive coastal markets will continue to orient toward smaller units.
With its footprint largely in the Sun Belt region, MAA's projects underway or in the design phase will push for a little higher percentage of two-bedroom units, Bolton notes.
Also popular are "two-bedroom splits" with the living area/kitchen/dining room in the middle and bedrooms on either side. The work-from-home trend is creating a growing demand for this design, as it allows renters to work on one side and live on the other.
Shift to the Suburbs
More Americans are seeing the appeal of the suburbs amid COVID-19 concerns and many want larger units. "Part of that is wanting more space to work from home," Birenbaum notes.
Analysts see the same shifts in demand, although where the market ultimately settles longer term remains elusive.
"What matters is urban vs. suburban as well as coastal vs. Sun Belt," notes Haendel St. Juste, managing director and senior REITs analyst at Mizuho Securities. Suburban is doing better than urban, and the Sun Belt is doing better than coastal markets, he explains.
Suburban portfolios with a bit more space have a competitive advantage over an owner of a large, urban dense portfolio in the big coastal markets where land is expensive and rents are high, St. Juste notes. 
Multifamily is far from dead, and Sun Belt markets are holding up well, Knott agrees. "Meanwhile, urban coastal markets are in the midst of a significant reduction in demand, occupancy, rents, and a painful spike in concessions," Knott says."People take less space and pay more rent because of the convenience. That's changed now," he notes. "Has it forever changed? That's the big question… but multifamily is not permanently impaired."
However, most apartment owners, Knott adds, believe the business model will be fine and don't believe massive changes to the property type are in order.
Single-family Rentals Booming
Meanwhile, demand for single-family rental homes has surged during the pandemic. According to The National Rental Home Council's latest Single-Family Rental Market Index, increasing demand for "extra space away from dense urban centers" is a big driver.
Realizing they'll be working and studying from home for at least the foreseeable future, people want affordable homes in good neighborhoods filled with many of the same amenities offered by single-family homes.
Occupancy rates increased 15 percentage points between the first and second quarter. Nearly 60% of operators say homes are spending less time on the market, up from 35% in the first quarter.
"In a typical year, we see occupancy decline seasonally in the summer months," says Kristi DesJarlais, SVP of communications at Invitation Homes Inc. (NYSE: INVH). "However, this summer we have seen occupancy rise. We're currently experiencing a record-high occupancy of 97.5% overall." 
Additionally, DesJarlais says the number of days to re-resident continues to compare favorably to 2019, improving five days year-over-year in the second quarter. "The ripple effects of COVID-19 seem to be intensifying a shift in preferences toward single-family space over denser housing options," she notes.  
In surveys of residents who've moved into the REIT's homes this summer, nearly 30% are choosing a leasing lifestyle somewhere outside of a more urban area.
Within that 30%, roughly 46% want homes with more space. "They're moving from a denser footprint to something with more space, a yard, and perhaps, a home office," DesJarlais says.
"This sector is in a perfect spot," St. Juste notes. "Single-family rental has been able to continue to push rents, not give concessions, increase occupancy, increase retention, and continue to drive and improve revenue."
What began as a short-term shift to remote work could have long-term implications on residential and office properties. Even after the crisis ends, many Americans may continue working from home. Landlords and developers who embrace this trend early will outperform their competition in attracting new tenants and renters and retaining existing ones.
Flexible Solution
While co-working, or flexible space, has been a disruptor in the office sector, the COVID-19 pandemic has certainly put pressure on its business model.
Social distancing protocols have kept employees away from offices in general, and for co-working, which relies on density and short-term memberships, the health crisis resulted in a big drop in business. Co-working spaces are known to be filled with high-touch, high-traffic amenities like gaming consoles and cappuccino bars, which have been taboo during the pandemic.
That being said, some experts say companies will desire flexible space and short-term leases during and post-pandemic, and co-working is poised to rebound.
"Lease-term flexibility will be increasingly prized in an uncertain world, as companies and society may need to engage in some degree of reimagination of how office space is used," says Michael Knott, Green Street's managing director and head of U.S. REIT Research.
It may take some time to formulate and implement HR policies around workplace flexibility and then flow that through to a real estate footprint strategy, Knott says. Therefore, shorter-term leases will be more highly valued in the interim.
"These factors mean that flexible-space operators that can focus on adding value for customers and owners could be a longer-term winner, but prior 'cool' co-working-focused strategies that merely arbitraged density and serving coffee won't cut it, as the marketplace had already began to signal prior to COVID," Knott adds.
The idea of flexible office is here to stay, says Ted Klinck, president and CEO at Highwoods Properties, Inc. (NYSE: HIW).
"In the short term, it's going to be challenging," Klinck notes. The flexible business model is based on high-density occupancy, and he says there has always been debate on how well the flexible model will perform in a recession.
"I think we're starting to see how that plays out," Klinck says. "It has been difficult for a lot of the operators. But long term, I think there's a need for co-working and demand for flexible space."
Not everyone agrees about co-working's future.
"We believed, even pre-COVID, that the pendulum had, in this cycle, swung too far to one side with the rise of co-working and ultra-dense floorplan layouts," Albert Behler, chairman, president, and CEO of Paramount Group, Inc. (NYSE: PGRE) says. "It's now poised to swing back in the opposite direction, and we had started to see some aspects of that."