Multifamily REITs are working to address the digital divide in the apartment sector.
09/24/2019 | by
The National Multifamily Housing Council's 2017 Resident Preferences Survey found that more than half of respondents were "interested or very interested" in smart thermostats, smart lighting, and smart locks, and were willing to pay about $30 per month on average for such features.
When UDR Inc. (NYSE: UDR) President and COO Jerry Davis built a house for his family nearly two years ago, he outfitted it with internet-connected thermostats, light switches, and door locks—the type of smart home technology that's increasingly found in single-family dwellings, but rarely in apartments.
Davis and other executives at some of the nation's largest multifamily REITs have set out to do something about this digital divide amid what some experts say has been a relatively slow rate of technological change in the apartment sector.
Early this year, UDR and several other publicly traded multifamily REITs participated in a $32 million investment in SmartRent—an enterprise-wide, smart home platform for multifamily property owners, managers, and renters. The platform allows renters to control their smart home devices from any location using a single app. SmartRent creates proprietary software that integrates with their own hardware and also works with thousands of other smart home devices—from door locks and elevator controls to popular consumer devices, such as the Alexa voice assistant or the Nest Learning Thermostat.
Joining Forces
UDR and others invested in SmartRent via an early-stage venture capital fund focused on technology designed to enhance the operation of multifamily portfolios. UDR, Essex Property Trust, Inc. (NYSE: ESS), and MAA (NYSE: MAA) were the initial investors in the approximately $110 million fund, managed by fledgling Real Estate Technology Ventures, or RET Ventures. The fund now has 20 limited partners that collectively own about 1 million units.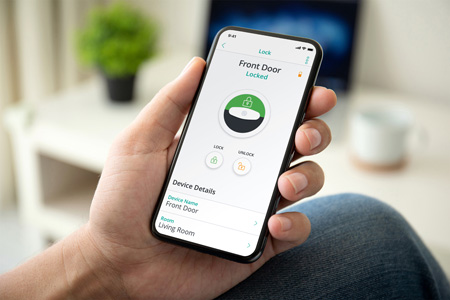 Bain Capital Ventures led SmartRent's recent $32 million series B funding round, joined by the RET Ventures fund and its industry backers—which now also includes Aimco (NYSE: AIV) and Boardwalk REIT (TSX: BEI.UN). 
"The fund gives us access to all the latest technologies that are having or will have an impact on the multifamily business," UDR's Davis says. "You can be at the forefront of what's coming and decide whether you want to implement that service." UDR not only invested in SmartRent but also piloted the technology.
The Dawn of the Smart Apartment?
Founded in 2017 by Lucas Haldeman—previously chief technology and marketing officer at the former Colony Starwood Homes—SmartRent is capitalizing on pent-up demand among renters, particularly millennials, as well as property owners and managers. Over the last year and a half, the platform has grown its footprint from a handful of apartments to some 40,000 units; and it's expanding its reach to the tune of about 15,000 units monthly. 
The trouble is, most smart home devices are designed for a single user in a single location, not organizations that manage thousands of apartments in different markets. And, of course, most landlords don't take kindly to the idea of renters installing their own smart thermostats or locks.
Even in apartments equipped with such devices, renters must often download multiple apps to control them, and property managers have the unenviable task of keeping track of numerous resident usernames and passwords.
"We saw a need for multifamily organizations to have a single platform that helped them document, control, and secure smart home technologies across their entire portfolios," says Haldeman, who developed a similar platform in his previous role at the former Colony Starwood Homes. In 2017, Colony Starwood changed its name to Starwood Waypoint Homes and subsequently merged with Invitation Homes Inc. (NYSE: INVH).
Not Just for Tenants 
SmartRent's appeal is also rooted in the fact that it's designed to help property managers improve operations. For instance, the platform is equipped with leak sensors, which means property managers can nip a potentially costly problem in the bud. 
"What we like about SmartRent is that while it has attributes that appeal to residents, it also has the ability to alert us—and residents—immediately of a leak in a dishwasher, washing machine, or water heater," says Davis, adding that early-detection has helped his company hold down insurance claims related to water damage.
SmartRent, Davis says, has also addressed other operational hassles, such as having to rekey locks when units turn over, hold keys at a building's front desk for dog walkers or other service providers, and shuttle keys to residents who've lost theirs. 
SmartRent's digital locks allow renters to access their apartments using a pin or smartphone. They can also create temporary access codes for guests, dog walkers, and other service providers. Property managers can also generate a special code in case of an emergency, like a flood or fire.
UDR initially installed SmartRent in about 10,000 of its nearly 50,000 units. The pilot program, according to Davis, generated a roughly 30% return based on monthly rent premiums (of about $25 per unit) and operational expense savings. The company plans to install SmartRent in another 20,000 units. "What's exciting about this platform is you can underwrite it two ways as an owner," based on operational expense savings or anticipated rent premiums, says Haldeman. 
Sparking Change
By investing in SmartRent and other promising early-stage firms, RET Ventures aims to lay a stronger foundation for technological change in the apartment sector, says John Helm, managing director of the Park City, Utah-based venture capital firm. 
In recent years, money has flooded into the real estate tech ecosystem, but a relatively small portion of it has gone toward so-called rent tech, or technology for multifamily owners and operators, says Helm, a former McKinsey consultant and former CFO of Marcus & Millichap. Helm also ran and successfully exited two venture-backed real estate tech startups.
"We thought the vendor ecosystem from the technology standpoint could use some strengthening, and we basically decided to form a fund to do that," says Helm, recalling a conversation with a top executive at Essex Property Trust. 
"Think of us as an outsourced corporate-development arm for the fund's limited partners," Helm says. "Our mission is very simple: we invest in companies that can help our limited partners better operate their portfolios."
There's an App for That
As has been the case in other sectors, the smartphone is transforming the apartment sector, leading major players to rethink everything from the way they operate their properties to the way they communicate with prospective tenants. Indeed, the RET Ventures fund has invested in platforms that rely heavily on mobile technology.
Earlier this year, for instance, the fund invested in SightPlan, a property maintenance and resident-service software that handles multiple tasks from a single app. Among other things, SightPlan allows maintenance employees to view their work orders remotely, eliminating the need for them to schlep to an office to get marching orders. 
The fund has also invested in Amenify, a real estate tech startup that supplies property owners with a network of vetted service providers—from dog walkers to massage therapists to cleaners—to offer their residents. Renters can book services from their smartphones. 
"I'm sure you've read about the amenity wars in the office industry. Well, it's spread to apartments," Helm says, adding that many property managers are also exploring the idea of adding building-wide Wi-Fi to ensure occupants don't encounter dead spots, among other benefits. 
Smartphones also promise to transform the leasing process. UDR, for instance, is developing an app that would allow prospective renters to take self-guided tours. The app would not only guide consumers through a given property—with beacons transmitting information on building features along the way—but allow them to access specific units using a temporary code. 
"We believe our residents and [potential] customers prefer self-service," Davis says. "We want to give them the ability to do self-guided tours, without being sold. They can go at their own pace and determine what they want to see." 
Off to a Good Start
With more money flowing into PropTech (property technology), it's come a long way in just a couple years, but challenges remain, says Patrick Klein, senior vice president and chief technology officer at Essex Property Trust, which is also piloting SmartRent. 
"We are constantly in the marketplace reviewing and evaluating technologies that may bring value to our customers, employees, and investors," Klein says.
"There are many solution providers who have offerings that sound interesting on paper, until you evaluate them through a proof-of-concept and find challenges. The investment into PropTech over the last couple years has enhanced the number and choice of solutions, which benefits the industry and our platform too," he adds. 
The rapid pace of innovation also poses both an opportunity and a challenge for companies when it comes to vetting new technology, says Joseph Fracchia, senior vice president and chief information officer at MAA, which is piloting SmartRent, as well as some other smart-home technology platforms. 
"One big challenge that affects all industries is the rapid pace of technology innovation," Fracchia says. "Innovation cycles have always gotten shorter and shorter as time marches on, but with the length of the innovation cycle today, it puts pressure on companies to plan further and further into the future and anticipate change so that they execute before the next thing rolls out and the advantages of today's thing gets smaller."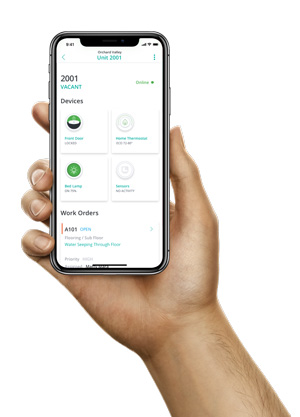 So far, the RET Ventures fund has made 10 investments, but Helm says his firm has "mapped the tech stack" for the typical apartment building and identified 50 discrete areas for investment. "We're still in the first inning. There's so much still to be done," he says. 
Safety in Numbers
Why has the apartment sector lagged in terms of technological change? RET Ventures' John Helm points to its fragmented nature. 
"Multifamily is a large, fragmented industry," he explains, noting that there are an estimated 26 million apartments in the U.S., and some of the industry's largest players own a small fraction of them. 
"So, it's difficult for one company to try to go it alone. We have a philosophy that there's strength and safety in numbers," says Helm, adding that large multifamily companies have tended to take a wait-and-see approach to emerging technology partly because of the high cost of deploying it across their portfolios. 
"Correctly, people have waited to see these technologies get proven in other industries, and they have been," says Helm, noting that the advance of mobile technology has major implications for the apartment sector.
Not only is new technology costly to deploy across large portfolios, but identifying the right vendors and solutions can be difficult for any one company given the increasingly wide array of PropTech options, says Joseph Fracchia at MAA.
Memphis, Tennessee-based MAA was drawn to the RET Ventures fund partly because of the efficiencies it brings to vetting tech companies and their products. 
"With more than 3,000 companies making up the property technology sector, the fund can evaluate more companies and solutions than any one of us can do on our own," explains Fracchia. "In addition to identifying great investment opportunities, the fund helps us identify the right technology innovations that MAA can evaluate to shape our future business strategy," he adds.