Morningstar Fact Sheets
An Easier Way to Tell the REIT Story to your Clients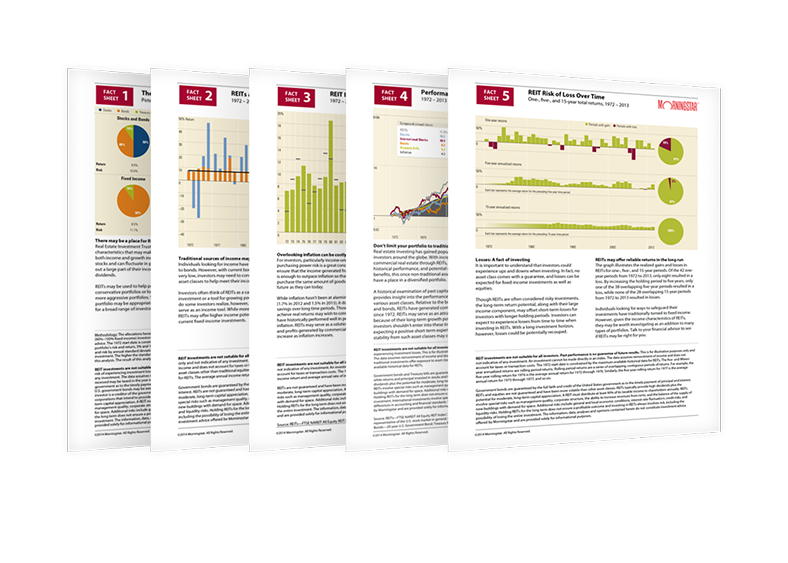 Download your choice of five printable, FINRA-reviewed Fact Sheets. Each one explains a potential benefit of REITs by illustrating key facts about the performance of stock exchange-listed Equity REITs over the longest period for which data are available: 1972-2013
Quick Fact: Adding a 5% allocation of REITs to a hypothetical portfolio INCREASED RETURNS and DECREASES RISK.
Quick Fact: REITs rewarded investors with a relatively REGULAR INCOME RETURN AVERAGING 7.6% through 42 years of market fluctuations.
Quick Fact: The income return of REITs OUTPACED INFLATION FOR 36 OUT OF 42 YEARS.
Quick Fact: REITs provided the LARGEST INCREASE IN WEALTH over 42 years when compared to stocks, bonds and Treasury bills.
Quick Fact: An investment in REITs generated NO LOSSES when held for 15 years during any of 28 overlapping periods from 1972 to 2013.
---
Additional References
Click below to access the references of your choice
---
How REITs Work
This whiteboard video provides insight into what REITs are and how they work. Watch the video to learn more about the rules that govern REITs and how they operate.