Content

Message from the President

NAREIT's grassroots program, as the stories in this issue of NewsBrief illustrate, brings REIT management teams together with their elected representatives – not just in Washington, but in their own states and districts. NAREIT arranges for Senators and Representatives to tour facilities owned by REITs, meet with REIT employees and discuss local issues with REIT managers. In the process, the important roles that REITs play in the lives of their communities – as creators of jobs, generators of economic growth, and as good corporate citizens – is made clear in a very powerful and human way.

NAREIT's grassroots outreach initiative has been a central element of our Policy and Politics program for several years, and it is one that we have steadily expanded. Last year, we arranged 63 meetings for REIT leadership teams and their legislators. That was an increase from 39 meetings in 2011, 35 in 2010 and 22 in 2009. We have conducted 28 meetings so far this year, and we intend to surpass last year's record.

The August break in the congressional calendar, when legislators are home in their districts, is an excellent time to arrange grassroots events. If you would like to arrange a grassroots event for your company, please let us know. To do so, please contact Kate Smith (ksmith@nareit.com) at NAREIT.







Steven A. Wechsler
President and CEO
 
SEC Issues Guidance on Real Estate Acquisitions

The Securities and Exchange Commission published guidance on July 16 regarding REIT disclosure issues related to real estate acquisitions.

The guidance is effective immediately. It includes updates on when Rule 3-14 financials, Rule 3-05 financials or net lease/significant tenant financials apply to an acquisition transaction, as well as confirmation that Rule 3-14 financials are not triggered at the time of a shelf takedown. The SEC also said that in certain cases, it is permissible to use pro forma assets when measuring the significance of an acquisition for purposes of Rule 3-14.

The SEC also limited the scope of the "significant in the aggregate" test to acquisitions made after the most recent year for which audited financials are provided.

The SEC confirmed that Rule 3-14 financials are not required if the property leasing history that would be reflected in the Rule 3-14 financials would cover fewer than three months. Additionally, the SEC said Rule 3-14 financials may be unaudited if the property leasing history reflected in the Rule 3-14 financials covers fewer than nine months.

The SEC also expanded the guidance on when financial information for significant triple net lease tenants must be disclosed and how such information can be disclosed. The SEC also provided clarifications and changes related to the application of Rule 3-14 to public non-listed REITs conducting blind-pool offerings subject to Industry Guide 5.

(Contact: Victoria Rostow at vrostow@nareit.com)
SEC Guidance on PNLRs Covers Dividend Coverage, NAV

The SEC also issued guidance on July 16 regarding disclosures applicable to public, non-listed REITs (PNLRs). The guidance includes items on dividend coverage, dilution, limitations on redemption programs and net asset value (NAV) estimates.

The SEC provided new guidance on current staff interpretations of Industry Guide 5, particularly with respect to prior performance disclosure. The SEC also issued guidance on prospectus readability.

The PNLR guidance is effective immediately.

(Contact: Victoria Rostow at vrostow@nareit.com)
Research on Interest Rates and REIT Returns


In response to market concerns about the impact of expected increases in interest rates, NAREIT's Brad Case, senior vice president of research and industry information, and Calvin Schnure, vice president of research and industry information, have conducted an exploratory analysis of the relationship between interest rate changes and REIT returns.

REIT returns do tend to be lower in months when interest rates are increasing if other economic and stock-market effects are held constant, but the effect is very slight when other influences are taken into account. Moreover, there seems to be an important difference between "late-cycle" interest rate increases that come because the Fed is trying to hold back the economy and "early-cycle" increases that arise because, as in the current market, the economic recovery has finally started to take hold.

For example, during one very comparable period, January-June 1996, yields on 10-year Treasury bonds increased by 22.3 perecent but equity REIT returns were strong at an annualized rate of 12.7 percent. Another comparable period was June 2005-May 2006, when yields increased by 27.8 percent but REITs returned 14.5 percent.

When completed, the analysis will be summarized in materials for investor presentations as well as a research paper.

(Contact: Brad Case at bcase@nareit.com)
REIT.com Videos: CEO Spotlights
REIT.com's video team sat down with three dozen REIT CEOs during REITWeek 2013 to discuss recent company developments, strategic plans and thoughts on where the market is headed. New videos will be made available on REIT.com regularly for the next several weeks. Below is a sample of the interviews currently available.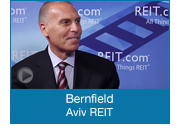 Craig Bernfield, chairman and CEO of Aviv REIT (NYSE: AVIV), discussed some of the factors that led to the company going public earlier this year.

"In many respects we were building toward becoming a public company for a long time," Bernfield said. "We've been investors in the space for decades. I, personally, have been building the company for the last 24 years. The timing was more evolutionary, as opposed to market timing. We felt that there was a tremendous opportunity to be consolidators in our sector, which we have been to the extent of our capabilities and resources. We felt that if we tapped the public market and had the more permanent capital base and lower our cost of capital over time, it would put us in a better position to take advantage of the opportunities that we know are out there."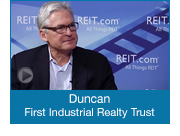 Bruce Duncan, president and CEO of First Industrial Realty Trust (NYSE: FR), offered his views on how a recovering economy is impacting fundamentals in the industrial sector.

"As the economy improves, you need industrial facilities to be able to distribute and assemble more goods," he said. "Our business is doing pretty well. For the last 11 quarters, there's been absorption in the industrial market. For First Industrial, since the first quarter of 2010, we gained 820 basis points in occupancy."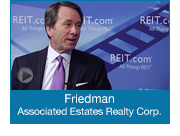 Jeff Friedman, chairman, president and CEO of Associated Estates Realty Corp. (NYSE: AEC), discussed his company's expansion efforts, including recent expansions into West Coast markets in 2012.

"The start date for our development on Wilshire Boulevard is planned for the end of the first quarter of 2014, and things are coming in just as we hoped," he said. "With regards to the expansion plans, we've been very patient. We've worked through our West Coast team and have recently entered into a joint venture in downtown Los Angeles to develop and build 272 units in a five-story building downtown."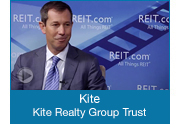 John Kite, chairman and CEO of Kite Realty Group Trust (NYSE: KRG), discussed his company's recent foray into the Nashville, Tenn., market and why that market was appealing.

"Nashville was a great market for us to go into," he said. "It's a very vibrant market. You're probably familiar with Nashville from the standpoint of the country and western music industry, which is very large in Nashville, but also Vanderbilt University is based in downtown Nashville, and there's a lot of ancillary business, along with the health care industry, which is very big in Nashville. So, it's just a very vibrant market. The suburb that we acquired the asset in is in the southern part of the market, which is very high-income. I think one of the biggest things for us is we look at markets that are strong on the face, but also from a disposable income perspective."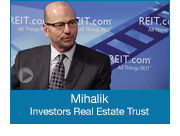 Timothy Mihalik, president and CEO of Investors Real Estate Trust (NYSE: IRET), talked about the effects of the energy boom in western North Dakota and its effect on housing development in the region.

"As you can imagine, there is a tremendous amount of demand," he said. "We're able to build multifamily units that come out of the ground fully occupied. We look to develop throughout that market. We're very excited about what that means for the future."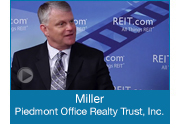 Don Miller, president and CEO of Piedmont Office Realty Trust, Inc. (NYSE: PDM), shared his opinion regarding what is needed to get absorption and rent growth in the office sector back on track.

"It's kind of the classic problem: We've got to generate more job growth," he said. "And job growth probably comes from both economic activity improvement, of course, but also a political environment that would be more conducive to growth and jobs. We're seeing a very onerous regulatory environment right now, a difficult tax environment. So, all those things are contributing to lesser job growth than we'd like to see. Until we can see that economic activity, it will be hard for the office market to get back on track where we'd like to see it."

(Contact: Matt Bechard at mbechard@nareit.com)
Dip Into the New Issue of REIT Magazine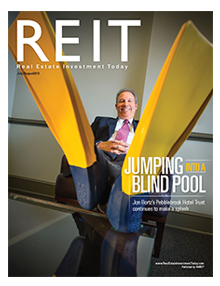 With the summer heat stifling much of the country, the cover of REIT magazine's July/August issue couldn't be more appropriate. Playing off his company's "blind pool" status at the time of its IPO, Pebblebrook Hotel Trust (NYSE: PEB) Chairman, President and CEO Jon Bortz dons a pair of swim flippers under the title "Jumping into a Blind Pool." The article looks at how Pebblebrook has taken advantage of market opportunities to now boast a portfolio consisting of 26 hotels with nearly 5,000 rooms.

Parkway Properties (NYSE: PKY) is another company whose journey is featured in this issue. "Ready for the Next Challenge" looks at Parkway's successful two-year initiative to reshape and revitalize its portfolio.

Two other features shine the light on sustainability in the commercial real estate industry. "Cultivating Green Data" explores how some companies are utilizing sophisticated data collection to enhance their sustainability programs and the results they are producing. "The Next Wave of Sustainability" looks at what areas companies are addressing beyond energy efficiency as a way to become even more "green."

(Contact: Matt Bechard at mbechard@nareit.com)
REIT.com Videos: Market Insights
REIT.com's video team sat down with more than 70 industry leaders during REITWeek 2013 to get their insights into the current state of the REIT market, where things are heading and what specific issues and trends they are watching. New videos will be made available on REIT.com regularly for the next several weeks. Below is a sample of the interviews currently available.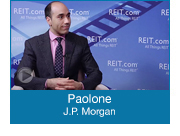 Tony Paolone, executive director with J.P. Morgan, said his enthusiasm for the office sector could grow with more improvement in the broader economy.

"What we hope for and what we're looking at going forward is if you have an instance where the job growth starts to pick up in the country, we'd look to get a bit more bullish on the office sector. You would start to see more absorption of space and that would start to turn into some pricing power for landlords," he said.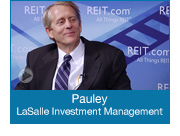 Keith Pauley, managing director with LaSalle Investment Management, discussed the potential effects of rising commercial property values on the market going forward.

"I think a lot depends on the direction of the macroeconomic environment," he said. "At this point in time, we're at a very favorable place in terms of real estate fundamentals, and we're in a sweet spot in terms of the real estate cycle. Most companies are reporting very positive trends in terms of operating results. Most of the companies are able to borrow today on more favorable terms than their existing debt. I think, taking that together, the companies are in a very good place in terms of their earnings outlook, and I also think they're in a good position to compete for acquisitions and grow their portfolios."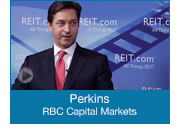 John Perkins, managing director and co-head of U.S. real estate investment banking with RBC Capital Markets, discussed the market for REIT initial public offerings.

"There are a number of sectors that have started to look at the public markets again," he said. "I think industrial is one sector where we may see more. There's a bit of a hole in terms of the capitalization in the public markets for industrial. I think you'll see renewed interested there."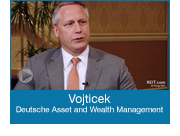 John Vojticek, investment advisor with Deutsche Asset and Wealth Management, added that the dedicated REIT community has become more discerning regarding IPOs.

"Low-quality companies and low-quality assets have come to the market less frequently overall," he said. "The real move we see recently is private REITs coming into the public market. They are either doing that by just listing their shares or doing some amount of equity. That trend should clearly continue."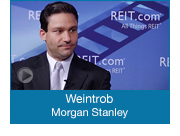 Seth Weintrob, managing director at Morgan Stanley, discussed how the actions of the Federal Reserve are impacting REITs' cost of capital.

"There's no question that the Fed's policies have benefited all rate-sensitive sectors," he said. "I think real estate is probably at the foremost in terms of the benefit. That said, I think it has actually impacted real estate generally, not just REITs, per se. You're also seeing the private capital in the space benefiting from low interest rates, lowering their cost of capital."

(Contact: Matt Bechard at mbechard@nareit.com)
Order Your 2013 Compensation Survey Today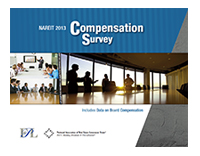 With 110 organizations participating and providing information on a record 124 positions, the NAREIT Compensation Survey remains the most comprehensive survey of its kind in the industry. Click here to order your 2013 NAREIT Compensation Survey today or click here to view a sample.

NAREIT and FPL Associates L.P., which conducted the survey, have captured the latest market trends and developments across the real estate industry and broader legislative/corporate governance areas. As usual, comparisons are made to prior years' studies in order to identify current trends, and address relevant questions and competitive issues and approaches to compensation and benefits within the real estate industry.


The survey report provides the latest insights into the following:
 
Compensation program design/structure and latest trends.


Employment agreement practices in terms of prevalence and key features.


Board of Directors practices, including retainers, meeting fees, equity award grants and stock ownership guidelines.


Compensation data for 124 positions across 28 functions, including a variety of unique real estate roles.
NAREIT Corporate Members who participated in this year's survey receive one complimentary copy. Additional copies may be purchased at a discounted rate of $500 per copy. Non-participating Corporate Members also can receive copies at a reduced rate of $2,000 per copy. Bulk discounts also apply.
(Contact:
Megan Peichel
at mpeichel@nareit.com)
REITs in the Community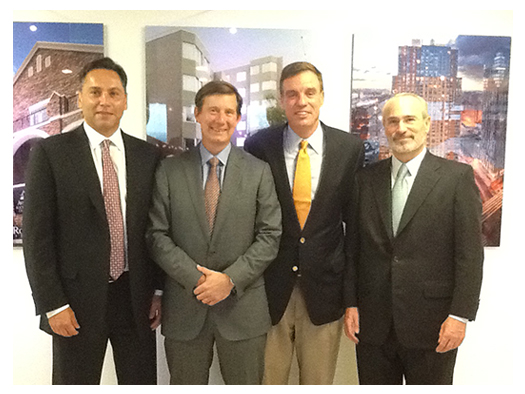 July 12, 2013: Sen. Mark Warner (D-VA), second from right, visited the AvalonBay Communities, Inc. (NYSE: AVB) headquarters and met with (left to right): Tim Naughton, chairman and CEO of AvalonBay; 2013 NAREIT Chair Ed Walter, president and CEO of Host Hotels and Resorts (NYSE: HST); and Steve Wechsler, president and CEO of NAREIT. Warner, a member of the Senate Banking Committee, was updated on recent activities at both AvalonBay and Host Hotels. He also received a briefing on legislative issues important to the REIT industry, including the pending debate on tax reform, modifications to the Foreign Investment in Real Property Tax Act (FIRPTA) rules and the extension of the Terrorism Risk Insurance Act. In addition, comments were provided on Warner's proposed legislation on reforming Fannie Mae and Freddie Mac, as well as its potential impact on the industry.

(Contact: Kate Smith at ksmith@nareit.com)
REITs in the Community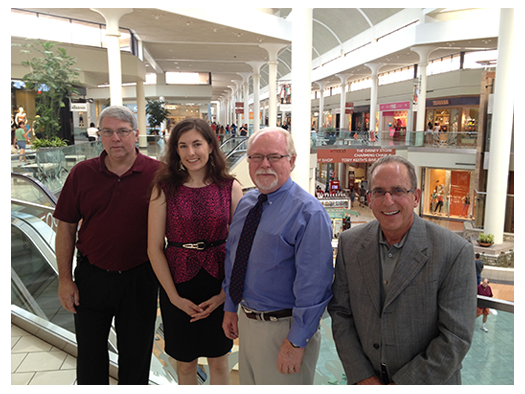 July 15, 2013: Rep. Ron Barber (D-AZ), second from right, met with the senior general manager of GGP's (NYSE: GGP) Tucson Mall, Jeff Berger, right. Along with Jim Copeland, left, operations manager, and Shannon Luedke, second from left, marketing assistant, Berger briefed Barber on the economic impact of the mall on the Tucson region and GGP's investment in the local community.

(Contact: Kate Smith at ksmith@nareit.com)