CyrusOne Inc. (NASDAQ: CONE) has elected Katherine Motlagh as EVP and CFO. Prior to joining CyrusOne, Motlagh was CFO for the Europe, Africa, and Latin America regions at American Tower Corp. (NYSE: AMT). Motlagh replaces Diane Morefield, who announced her retirement earlier this year. Morefield will work with Motlagh to ensure a seamless transition, remaining full time until Dec. 31, and then part time through March 1, 2021. Meanwhile, Morefield has been appointed an independent director of UDR, Inc. (NYSE: UDR).
Equinix, Inc. (NASDAQ: EQIX) announced that Andrew Eppich, a six-year veteran of Equinix originally from Toronto, has been appointed managing director, Canada.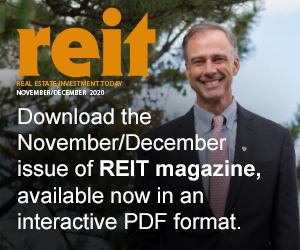 Host Hotels & Resorts, Inc. (NASDAQ: HST) said Joseph Ottinger, the company's assistant controller, has been appointed as SVP. Ottinger will succeed Brian Macnamara as SVP and corporate controller when Macnamara retires at year end. Host also announced that Sourav Ghosh has been appointed EVP, CFO and treasurer. He previously served as EVP, strategy & analytics. Meanwhile, Tejal Engman, VP, investor relations, was promoted to SVP, investor relations. Engman joined Host in 2019.
Mid-America Apartment Communities, Inc. (NYSE: MAA) appointed Edith Kelly-Green to the board of directors. Kelly-Green is a founding partner in The KGR Group.
Office Properties Income Trust (NASDAQ: OPI) said Christopher Bilotto has been appointed as president and COO of OPI, effective Jan. 1, 2021. Bilotto has been vice president of OPI since 2019 and COO since May 2020. He is also SVP of The RMR Group (NASDAQ: RMR). Bilotto succeeds David Blackman, who is retiring from RMR on June 30, 2021 and therefore resigning from his executive officer positions at OPI, RMR and other affiliated companies, effective Dec. 31.
Shirley Goza will retire as general counsel, secretary, and VP of QTS Realty Trust (NYSE: QTS) effective Dec. 31, following 14 years leading the company's legal and governance functions.
Realty Income Corp. (NYSE: O), announced that Christie Kelly will become EVP, CFO, and treasurer, effective Jan. 19, 2021. Kelly joined the company's board in November 2019 and currently serves as a member of the audit committee. Upon her appointment as CFO, Kelly will resign from her board position.
The RMR Group (NASDAQ: RMR) promoted Jennifer Francis to EVP. She is also president and COO of Diversified Healthcare Trust (NASDAQ: DHC), a client company of RMR.
Laura Clark was named as CFO of Rexford Industrial Realty, Inc. (NYSE: REXR). Clark will succeed Adeel Khan, who will continue to assist the company in a transitional role. Clark most recently served as SVP, capital markets, at Regency Centers Corp. (NASDAQ: REG).
Mary Fedewa, founding member, COO, and board member of STORE Capital Corp. (NYSE: STOR), was appointed president. The company also announced the promotions of Tyler Maertz to EVP of acquisitions and Craig Barnett to EVP of underwriting and portfolio management.
Welltower Inc. (NYSE: WELL) appointed Shankh Mitra as CEO and a member of the board. Mitra, who had been serving as vice chair, COO and CIO, succeeded Thomas DeRosa, who lledWelltower for more than six years. Mitra will retain his CIO title and will continue to lead Welltower's data analytics-driven capital allocation and operator relationships.