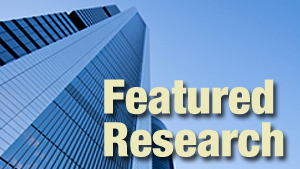 The study, sponsored by NAREIT, is based on data provided by more than 300 U.S. DB plans with $2.8 trillion of assets, and analyzes the period 1998 through 2011, during which fundamental changes occurred in DB allocations including heavy net inflows into alternative and real assets. CEM used its extensive databases to examine how allocation decisions paid off in terms of gross returns and realized returns net of fees charged by investment managers. Private equity had a higher gross return than listed Equity REITs but charged fees nearly five times higher than listed EquityREITs. As a result, listed equity REITs realized a net return of 11.31% vs 11.10% for private equity.
REIT.com offers real-time and daily data for the FTSE NAREIT U.S. Real Estate Index Series as well as the FTSE EPRA/NAREIT Global Real Estate Index Series. In addition, historical data is available for the FTSE NAREIT U.S. series.
---
The latest news on the manufacturing and industrial sector was a bit stronger than it had been through the spring. Manufacturing production rose 0.5 percent in July, matching the rise in June, and is 5 percent higher than 12 months ago. Nevertheless, the recovery is not complete, as output remains 5 percent below its pre-recession peak, according to NAREIT Vice President of Research and Industry Information Calvin Schnure. Going forward, the outlook has softened due to the weakening global economy, but will get some support from economic fundamentals, including moderately lean manufacturing inventories.
---
Public REITs' access to a variety of available and affordable capital sources in both the public and private markets has long been one of their key strengths. This section of REIT.com provides a summary and detailed listing of REITs ability to raise secondary equity, debt and launch initial public offerings.
Private real estate markets posted a 2.6 percent total return in the third quarter, according to the NCREIF NPI. Public real estate markets eased off after strong gains earlier in the year, with a minus 2.6 percent total return on the FTSE NAREIT All Equity REITs Index. Returns over year-ago remain solid, with the NPI up 11.3 percent and REITs enjoying a 13.2 percent total return. Fundamental forces are aligned for continued improvements as positive economic trends have increased demand for commercial real estate while supply of new properties remains tight
---
NAREIT announced that new research by Wilshire Funds Management, a business unit of Wilshire Associates ("Wilshire®"), offers target date fund (TDF) managers a better way to build their 401(k) and other retirement portfolios. Additionally the research found that REITs boost returns and reduce risks for retirement savings. TDFs are popular investment products designed to simplify 401(k) or IRA portfolio planning for millions of Americans now responsible for their own retirement planning. Over the next decade, the vast majority of retirement assets are expected to be invested in TDFs and other asset allocation products.
---
Markets crash more often and fall harder than traditional models of investment returns would predict. From January 1926 to April 2009, the S&P 500 Index suffered 10 monthly losses greater than 15.74 percent, or eight times more often than an investor would expect based on the "normal" distribution of returns assumed by many investment strategists and their models. NAREIT commissioned Morningstar to conduct this analysis of nearly 20 years of data for nine global asset classes, including stocks, bonds, real estate and cash. The analysis covered how these asset classes performed and used the latest portfolio optimization techniques to produce optimal portfolios assuming both normal market conditions and events such as the financial crisis of 2008 - 2009.
---
A wealth of charts and tables are available highlighting the REIT approach to real estate investment. In addition, REIT.com provides access to NAREIT's extensive internal and third-party research library.