How is the Global Listed Property Market Configured?
While the U.S. remains the largest and most efficient listed real estate market, the listed real estate market is increasingly becoming global. The growth is being driven, importantly, by the appeal of REITs.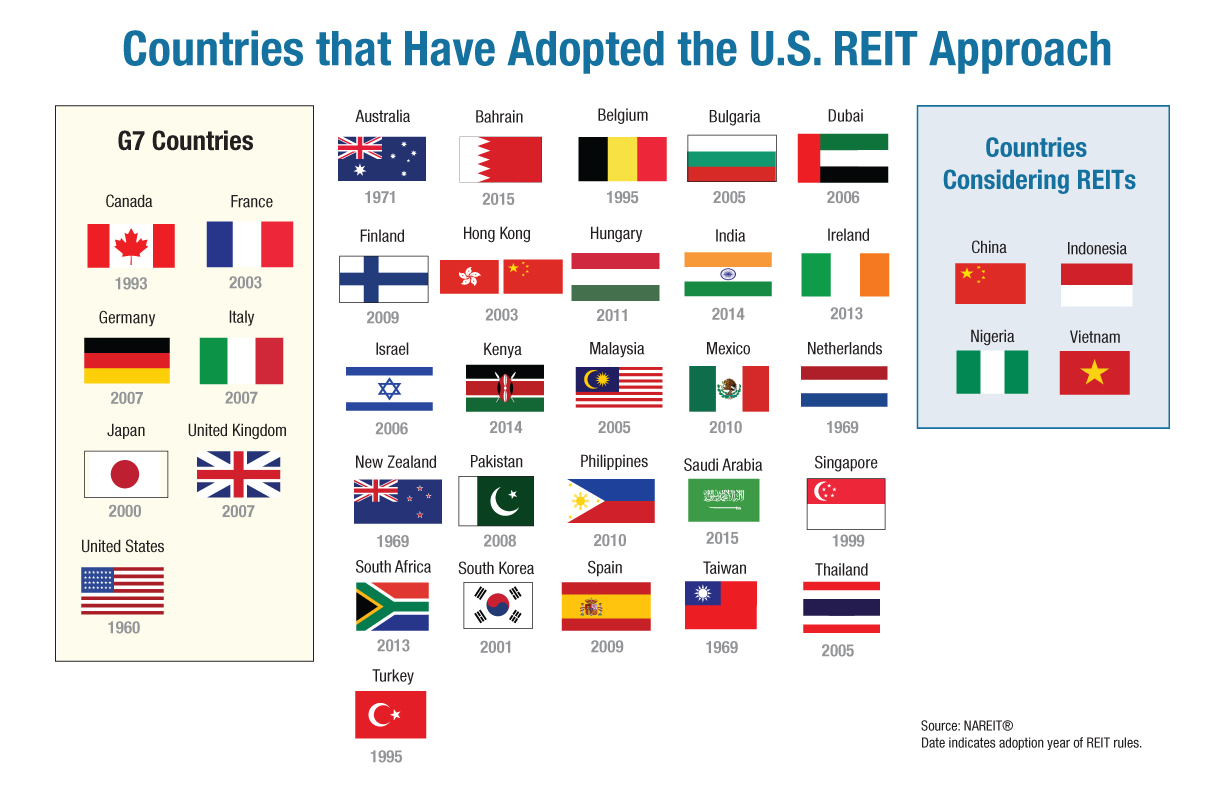 The most comprehensive index for the REIT and global listed property market is the FTSE EPRA/NAREIT Global Real Estate Index Series, which was created jointly by the index provider FTSE Group, NAREIT and EPRA, the European Public Real Estate Association. The index is used by a variety of institutional investors, money managers and funds to manage real estate investment on a global basis. It contains both REITs and non-REIT listed property companies. The Global Index Series contains the Developed Markets indices and the Emerging Markets indices.
As of June 30, 2015, the FTSE EPRA/NAREIT Global Real Estate Index included 471 stock exchange-listed real estate companies in 48 countries around the globe. Of the $1.2 trillion in equity market capitalization represented in the Developed Markets index, 79 percent came from REITs.
The FTSE EPRA/NAREIT Emerging Market indices provide investors with a diverse representation of more than 150 publicly traded Equity REITs and listed property companies from 16 emerging markets across the Americas, Europe, the Middle East, Africa and Asia.
What Benefit Does a Global Listed Real Estate Allocation Provide in a Global Investment Portfolio?
Research done by the investment consulting firm Ibbotson Associates showed that an allocation to global listed real estate improves the returns of a global investment portfolio.
Other resources:

- The Basics of REITs
- REIT FAQs
- REIT Directory
- REIT Indexes
- Forming a REIT
- Glossary of REIT Terms
- History of REITs
Ibbotson charted risks and returns for various asset classes (stocks, bonds, real estate and cash) for the period 1990-2007 and constructed optimized portfolios of these assets – with and without an allocation to global listed real estate – at a variety of levels of portfolio risk (volatility). The firm's research showed that the addition of global real estate boosted the returns of portfolios throughout the risk spectrum. For example, an optimized portfolio of moderate risk (defined by a 10 percent standard deviation) produced an average annual return of 9.9 percent without a global real estate allocation, and 10.9 percent with a 20 percent global real estate allocation – an increase of 102 basis points.
Both the historical and forward-looking analyses concluded that U.S. real estate should be between one-third and two-thirds of the real estate allocation in an optimized global portfolio.
How Can I Add a Global Listed Real Estate Allocation to My Portfolio?
The easiest and most cost-efficient way to add a global listed real estate allocation to a portfolio is purchasing an investment in a mutual fund or exchange-traded fund of these securities. A list of such funds can be found in our Investing section.